Amazing Adventures You Can Have In The Canary Islands
10 amazing adventures you can have in the Canary Islands
January 27, 2023

By Jeanette Parkin
If you'd like to add a bit of swim, surf and cycling to your next sun, sea and sand break, the Canary Islands are a paradise for outdoor adventures.
That famed eternal spring brings year-round opportunities to, quite literally, get to grips with the varied terrain of the Canaries, which tops out in Tenerife at the 3,718m (12,198ft) summit of volcanic Teide (Spain's highest mountain) and goes as low as you dare to dive into the Atlantic Ocean. In between are lush laurel forests, sheer rock faces and an endless parade of surf-worthy waves.
Sound like your bag? Here are some of the extreme adventures you can get stuck into on your next break in the beautiful Canaries.


1. Hit the hiking trails in Gran Canaria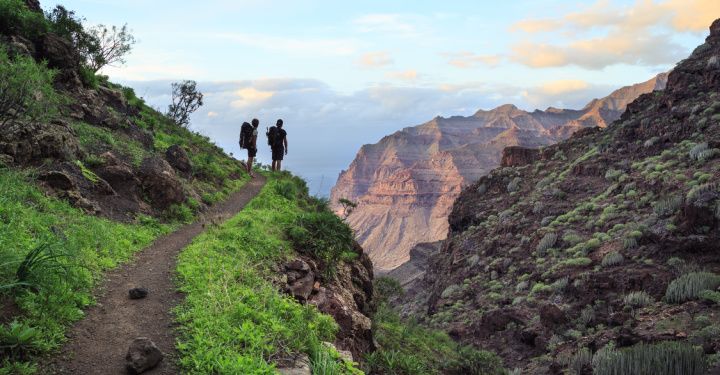 Sitting roughly in the middle of the archipelago of seven main Canary Islands, Gran Canaria features both the lush vegetation of the western isles and the semi-arid conditions of those in the east, such as Lanzarote and Fuerteventura. The island's unique climate and geology makes Gran Canaria a continent in miniature, which means diverse hiking trails, varying in difficulty, terrain and scenery. There aren't many places in the world you can ramble past waterfalls, through forests, on to sand dunes and past sharp volcanic structures. It's a truly magical place to pull on the walking boots and access hidden nature.
Autumn's Gran Canaria Walking Festival is an event for all ages and abilities, while the Transgrancanaria, held in late winter/early spring, offer various challenges but is, overall, a tougher race event.


2. Go surfing in Lanzarote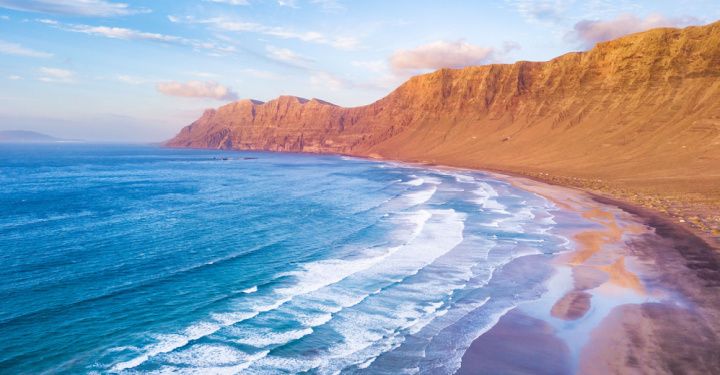 All four main islands, but especially Lanzarote, are excellent surf spots. They're popular surf destinations year round – and have been since the 1970s – though the swells from September to April are as dependable as the sunshine.
On Lanzarote's wilder northern shore, Caleta de Famara is flanked on one side by sheer cliffs. Down in the village, daily life ticks by relatively undisturbed by tourists. It's out on the waves that the real action happens in Famara, Lanzarote's favourite surf spot. If it's your first time, Surf School Lanzarote will have you riding the waves with confidence.


3. Take to the water for kite and windsurfing
Those warm winds associated with the Canary Islands not only keep holidaymakers from overheating, they also support the booming kitesurfing industry. As one of the windiest islands, Fuerteventura offers the ideal introduction to kitesurfing. Use summer's strong trade winds at El Burro beach in Corralejo to get in the air (Fuerteventura Kite School can show you the ropes).
Try Tenerife for windsurfing, which is a much more familiar sight on the offshore playground. El Medano, on the south coast, just 20 minutes by road from popular resorts Playa de las Americas and Costa Adeje, features windsurfing schools and equipment hire – as well as reliable wind and waves, especially in summer. Surf Center Playa Sur is one of a handful of surf schools at the shore.


4. Reach new heights with rock climbing in Tenerife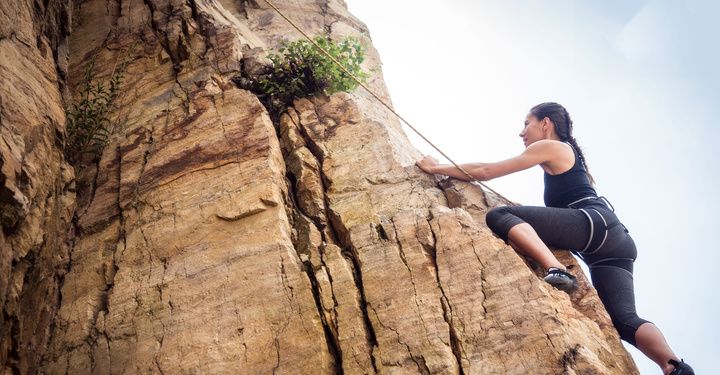 Tenerife is your island if rock climbing floats your boat. There's a variety of trad, sport and bouldering climbs across the island's craggy landscape.
If those terms mean absolutely nothing to you but you want to give it a go, Tenerife Climbing House runs experiences for everyone, from beginners to experienced climbers.


5. Conquer mountains across the Canaries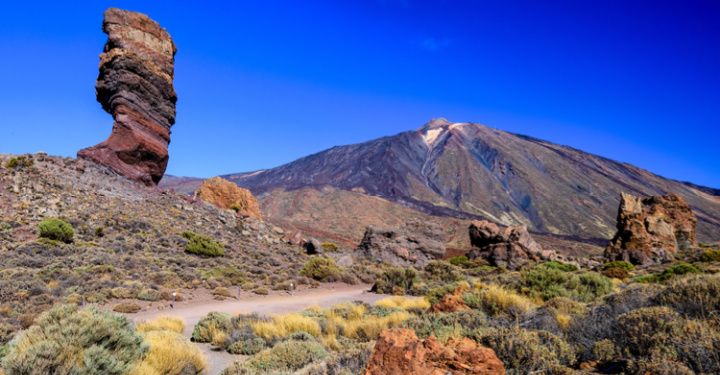 It's easy to forget that Spain's highest mountain – and one of the largest volcanoes on the planet – casts shadows on Tenerife. It's especially easy to forget anything on a vertical angle when lying in a horizontal one on a sandy beach.
But cast your eyes upwards and tackle some of the Canaries' highest peaks. Mountain climbing is possible not only on Mount Teide on Tenerife, but on the islands of Gran Canaria, La Palma and La Gomera. The challenge obviously varies from peak to peak, but some of the most popular climbs are Tenerife's Pico Viejo, Las Pilas on La Gomera, Pico de las Nieves on Gran Canaria, and La Palma's Caldera de Taburiente, which is surrounded by waterfalls and pine forests.


6. Discover a diver's paradise in El Hierro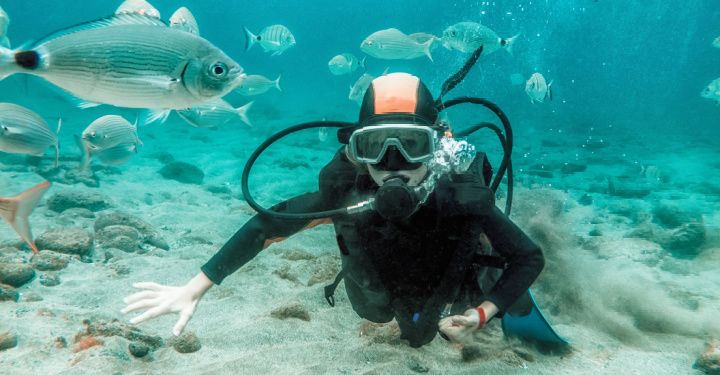 Scuba diving is a popular pastime in Canarian waters, but for a site you might not have considered before, take a look at the island of El Hierro.
A total of 46 dive sites surround the smallest of the main Canary Islands, and the marine ecosystem has made a remarkable recovery following an underwater eruption in 2011. The marine reserve by the fishing harbour of La Restinga is spectacular, with steep drop-offs and caves and the chance to see turtles, dolphins, tuna and the occasional shark. The Green Shark is a recommended dive school in La Restinga.


7. Try your hand at deep-sea fishing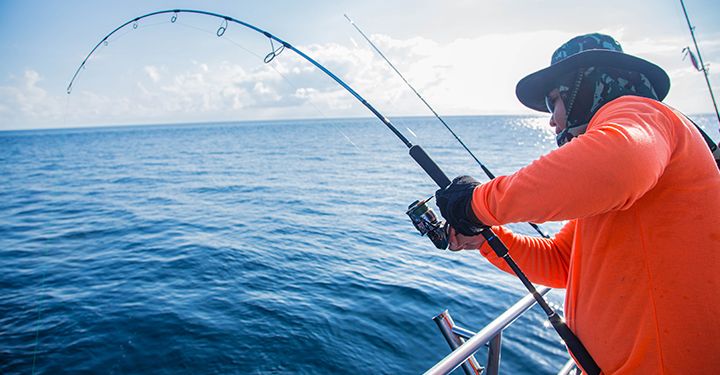 Forget snoozy sessions on the riverbank, deep-sea fishing will sap every ounce of energy you've got – and have you begging for more.
Fishing charters are available in the major resorts and harbours of the main Canary Islands, such as Puerto del Carmen in Lanzarote, Los Cristianos in Tenerife, and Las Palmas in Gran Canaria, so you don't need to go anywhere special. You do, however, need to pack your sense of adventure and your best wrestling moves, as the biggest beasts of the ocean will put up a fight. Expect to land mako, dorada, tuna, marlin and barracuda; most excursions operate a tag and release policy.


8. Choose cycling in La Gomera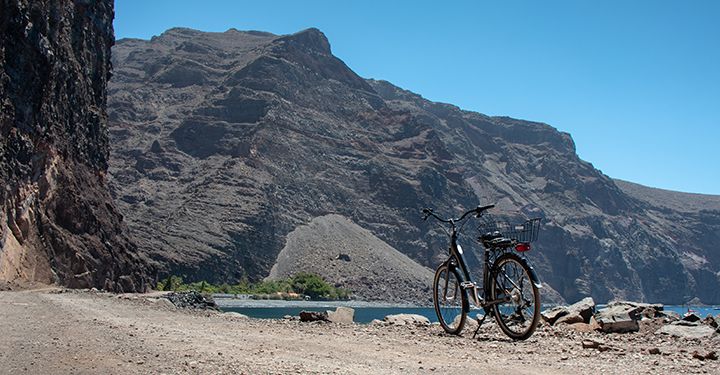 The Canary Islands are fair-weather training grounds for many of the world's top cycling teams, so it's fair to say that bicycles and Lycra-clad bodies are a common sight on the island's roads. Handbiking is also widespread in the Canaries and you'll soon get used to spotting the tall flags of these low-riding bikes as you drive around.
Rental shops are located in almost every resort of the Canary Islands, with bikes to suit your style. The quiet roads and magnificent mountainous landscape of the island of La Gomera is a great destination to enjoy peaceful rides and challenging routes. Gomera Cycling, in Playa Santiago, offer bike hire and excursions.


9. Explore Tenerife by mountain bike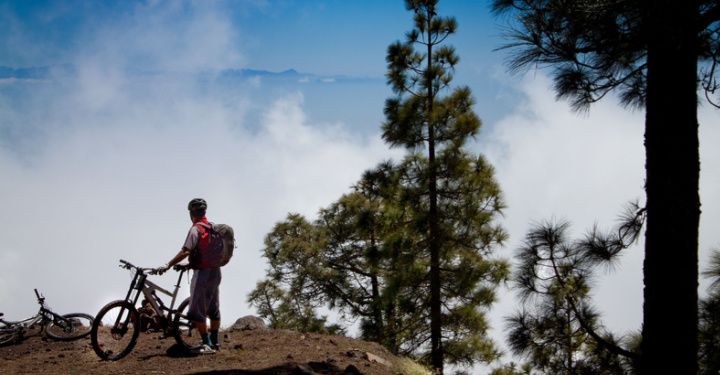 Going off-road and finding the rough terrain demanded of ardent mountain bikers is, as you might imagine, pretty simple on islands known for their rugged environment. Routes for all abilities snake through the Canaries' varied lands, within damp forests and past waterfalls and into near-chokingly dry volcanic desert-scapes.
Tenerife has excellent provision for holidaymakers hoping to hop on two robust wheels and set off down the slopes. Lavatrax MTB Tenerife offers mountain-biking holidays and excursions. They operate from September to June, closing during July and August as both the heat and the risk of forest wildfires are high (meaning many routes are closed).


10. Set sail on sea kayaks in Fuerteventura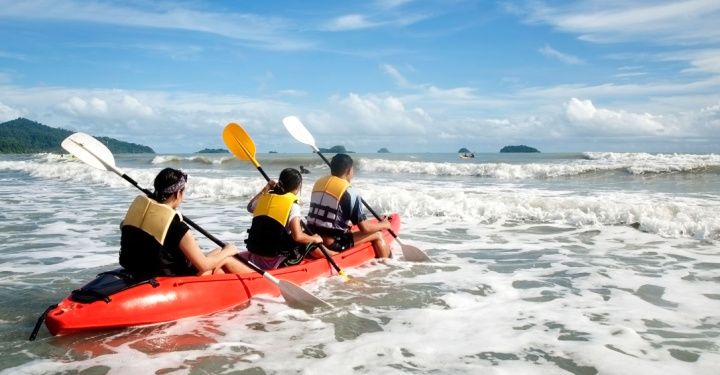 You can book sea-kayaking excursions on any of the main Canary Islands, though Fuerteventura is often cited as the best place to clamber aboard, get comfy, and cruise waist-height with the waves.
Kayak Fuerteventura offers day trips for beginners as well as local guidance for more experienced kayakers. The set-off location of the day's adventure is determined by wind and sea conditions, but you might be able to sail past the sand dunes of Corralejo or paddle out to the nearby nature reserve of Lobos Island.


Have a comment or question about this article? You can contact us on Twitter or Facebook.