Updated February 25, 2022
Published April 30, 2021
Blessed with feisty volcanoes, fine sand beaches, arid desert, lush rainforests and luscious food, the Canary Islands are perfect for an island-hopping adventure. These eight idyllic Spanish islands, just off the coast of Africa, are best explored by ferry, although seven of them are also connected by regular Binter Canarias flights from Tenerife and Gran Canaria.
Flights take less than an hour, so taking to the air is your best bet if you only have a week and want to visit more than one island. For more picturesque hopping, plan a two-week stay and use the Canary Islands' great-value ferry network to explore.
Whether you choose to arrive by sea or sky, here's your guide to island hopping in the Canaries.


Island hopping between the eastern Canary Islands
With easy flight connections to Lanzarote and Fuerteventura, and ferries that take around two hours to travel between the islands, Gran Canaria is the perfect base for your island-hopping holiday through the eastern Canaries.
For a stay that combines the best of all worlds, take five days to explore Gran Canaria, fly or ferry hop to Lanzarote, spend a few days here – allowing a day, at least, to lounge on neighbouring La Graciosa's pristine beaches – and then end your stay in Fuerteventura where flights leave for UK airports including London Gatwick, Bristol and Liverpool.


Gran Canaria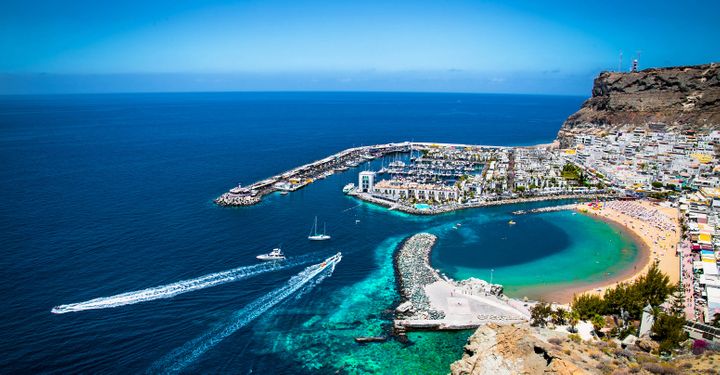 Home to the Canary Islands lively second capital, Las Palmas, this stunning island is known as a 'continent in miniature' because of its diverse scenery. From the vast Maspalomas sand dunes and its stunning golden beaches, to the pristine pine forests of Tamadaba and the dolphin-studded seas near Mogán, delightful Gran Canaria has something for everyone.
When night falls over those dramatic landscapes, head for Las Palmas' old town lined with ornate Spanish colonial-style architecture and seek out one of the island's tapas bars where you should order local-loved potato dish papas arrugadas doused in a fiery chili and garlic mojo rojo sauce.
Island-hoppers tip: The flight time from Gran Canaria to Lanzarote is 45 minutes, while ferries take just under four hours to do the trip from Las Palmas to Arrecife.


Lanzarote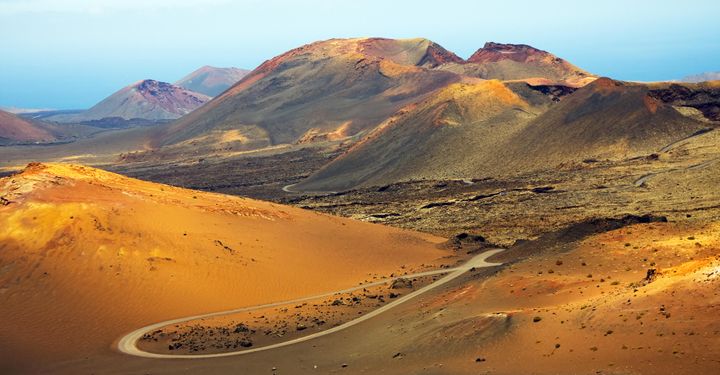 Renowned clubbers hangout and a haven for sports celebrities, Lanzarote's lunar landscapes and blackened lava fields were used by astronauts training for Nasa's Apollo 17 mission back in 1972. Apart from breathtakingly dramatic scenery, you can expect beautiful beaches, bath-warm seawaters and a bohemian lifestyle on this island where architect César Manrique created his surreal Jardín de Cactus and other architectural marvels.
Other things to do in Lanzarote include hiking through rugged and colourful volcanic terrain in Timanfaya National Park, lazing on Papagayo's golden beaches and supping on lapas – limpets in garlicky sauce – and other local tapas in the lava caves of Manrique's Jameos del Agua, a cultural space dubbed 'eighth wonder of the world' by Hollywood legend Rita Heyworth.
Island-hoppers tip: Hop over to little La Graciosa. Ferries from Lanzarote's Órzola to La Graciosa's Caleta del Sebo take around 30 minutes.


La Graciosa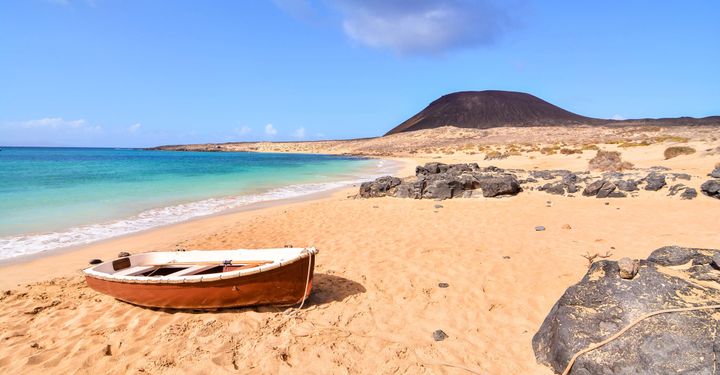 The newest addition to Canary Island ferry-hopping itineraries is laidback La Graciosa, a peace-seekers paradise where locals use bikes to get around.
Surrounded by three idyllic islets, La Graciosa belongs to the Chinijo Natural Park, one of Europe's largest marine reserves. The best way to discover the island's rich and varied marine life and near-deserted coves is by boat.
Back on land, hike the northern slope of the Montaña Bermeja volcano for stunning views over Playa de las Conchas, and then do like locals and hire a bike to explore La Graciosa's labyrinth of unpaved roads.
Island-hoppers tip: This unspoilt island is only a 30-minute ferry ride from Lanzarote, but there isn't much in the way of accommodation. If you want to spend the night here, make sure to book in advance.


Fuerteventura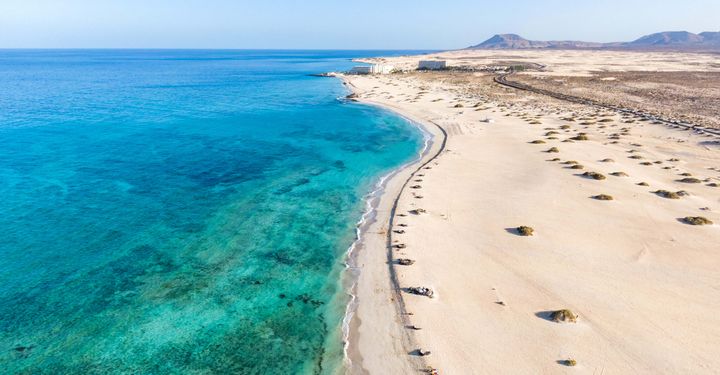 This sun-blessed UNESCO Biosphere reserve is a magnet for kite-surfers, who congregate on one of the island's best beaches, Playa de Sotavento. For best views of Fuerteventura's glittering seascapes, desert-like sand dunes and dramatic volcanic landscapes, make a beeline for Corralejo Natural Park. From here, it's a 15-minute boat ride to Lobos, a pristine islet that is home to the endangered monk seal.
Back on dry land, make a beeline for the windmill-studded village of Antigua, where your taste buds will be tickled by a tour of the Queso Majorero museum dedicated to the island's delicious nut-flavoured goat's cheese.
Island-hoppers tip: There are four ferries per day linking Lanzarote's Playa Blanca, with Corralejo in Fuerteventura and the trip takes 30 minutes.


Island hopping in between the western Canary Islands
Abundant ferry connections and excellent air links make Tenerife your best base for island hopping around the western Canary Islands.
With its blissful climate and buzzing nightlife scene, you could easily spend a week on Tenerife. From here, it's best to trace a leisurely circle, flying to La Palma and spending several days here, before hopping over to La Gomera for a few days, then catching a ferry to El Hierro. Return from here to Tenerife, where flights leave for London Gatwick, Luton, Bristol, Manchester and more.


Tenerife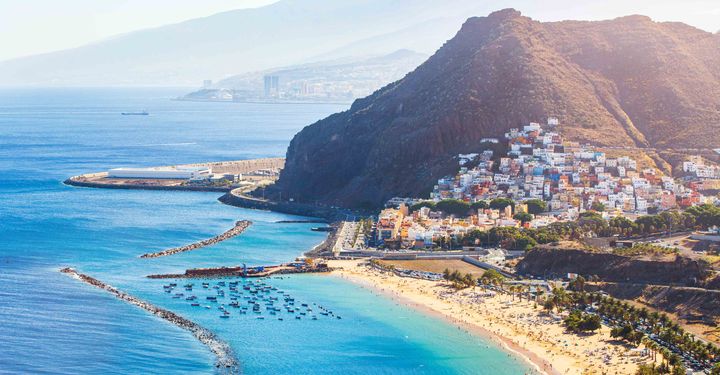 Dubbed 'the island of eternal spring' because of its balmy climate, Tenerife is the largest in this group of islands. An easy ferry hop from Fuerteventura, this sun-drenched island, with its smouldering black- and red-sand beaches and vibrant nightlife, is packed with things to do, though it's best visited during its celebrated carnival, which is second only to Rio's.
Tenerife is also renowned for champion-grade golf courses, but if you prefer wilder thrills, make a beeline for the island's less touristy northern half, or scale mighty Mount Teide, the world's third largest volcano.
Island-hoppers tip: There are daily flights from Tenerife to La Palma – flight time is 30 minutes. There are also regular ferries linking the two islands and journey time is around three and a half hours.


La Palma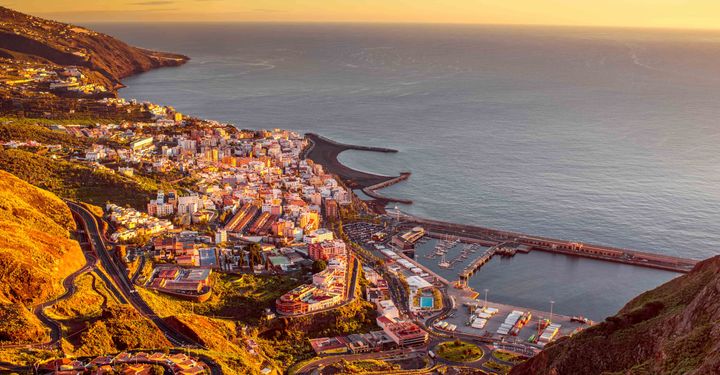 With its lush forests, stunning beaches and breathtaking volcanoes, the UNESCO-listed starlight reserve of La Palma easily merits its title of Isla Bonita, or Beautiful Island. Huddled around its boat-dotted port, the main town Santa Cruz is a delightful hotchpotch of narrow cobbled streets and houses with wooden balconies.
The best way to discover the island is to head out on one of its scenic hiking trails. When the sun sinks over those volcanic landscapes, head for world-renowned observatory El Roque de Los Muchachos for a stargazing session beneath satin-black skies.
Island-hoppers tip: There are several ferries a day from La Palma to La Gomera and the trip takes between two and four hours.


La Gomera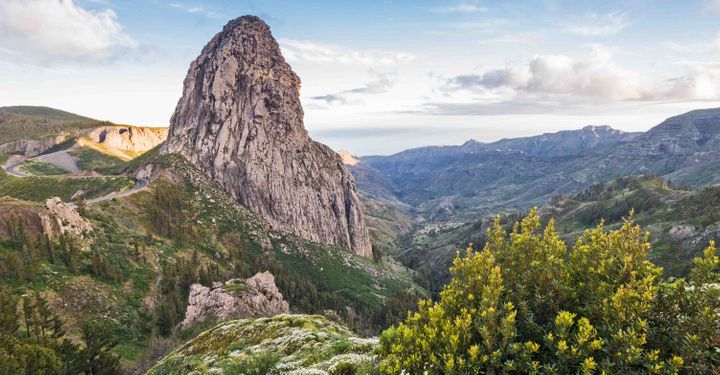 For a get away-from-it-all Canary Islands experience, you can't do better than La Gomera. This near-circular bite-sized island famed for its ancient Silbo whistling language is a wonderland of wild walking trails, dizzily steep cactus-spiked ravines, authentic villages and pristine seascapes centred around the UNESCO-classed Garajonay National Park.
Things to do in La Gomera include Garajonay's eerie and ancient tropical laurel forest, the majestic black sand beaches of Valle Gran Rey and dramatic views from cliff-top Agulo, which are best enjoyed from the hamlet's spectacular glass-bottomed Mirador de Abrante restaurant.
Island-hoppers tip: La Gomera is also an easy day trip option from Tenerife. A 50-minute ferry connects Los Cristianos to La Gomera's port city, San Sebastian.


El Hierro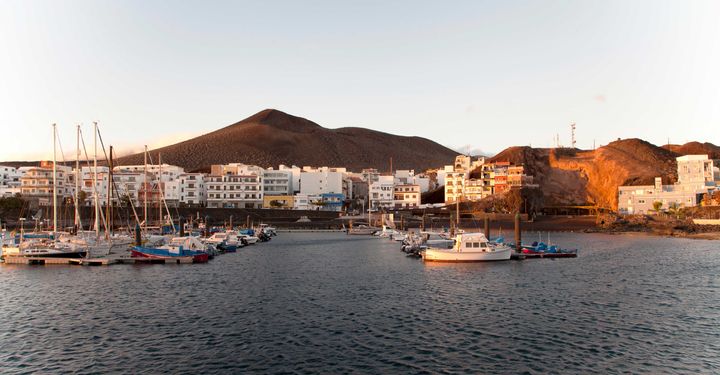 One of the smallest pearls in the Canary's glittering necklace, this UNESCO-listed biosphere reserve, where power is sourced from wind, sun, and water, is also one of the archipelago's most sustainable islands.
Perfect for all abilities, well-signposted trails lead hikers to discover striking sights, ranging from the fertile slopes of The Gulf Valley to the cave-like Guinea Lava Tubes where the El Hierro's first inhabitants, the Bimbaches, once lived.
With several marine reserves, El Hierro's waters are rich in marine life, while land areas teem with wildlife, including the gallotia simonyi, El Hierro's – slightly terrifying – endemic lizard that can grow to the size of a small cat.
Island-hoppers tip: With only a few ferries per week out of Tenerife, you'll need to plan in advance if you want to make the two-and-a-half hour trip to visit this remote island. If you prefer to fly, there are daily flights from Tenerife. The trip takes 40 minutes.


Have a comment or question about this article? You can contact us on Twitter or Facebook.