Updated June 15, 2023
Published December 8, 2021
From busy resort bays to desert-like dunes and black volcanic sands, Gran Canaria's beaches are as diverse as they come. And with over 80 dotted around the island, covering almost 60km (37 miles) of coastline, there's always one close by.
So whether you're looking for secluded shores or Blue Flag with all the facilities, discover the best beaches to visit on a Gran Canaria holiday here.


1. Playa de Maspalomas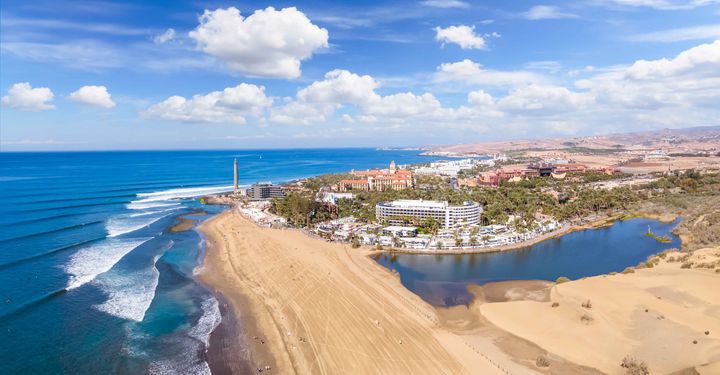 Arguably the most iconic beach in the Canary Islands, Playa de Maspalomas is a picture-perfect swathe of rolling sand dunes that fall away to a flat golden shore. Stretching for around 3km (1.9 miles), the beach is the second longest on the island, so there's plenty of room for everyone to sunbathe and stroll through the dunes.
There are lifeguard towers spread along this Blue Flag beach and small snack bars too, so you can enjoy a full day basking in the sun, sipping cool drinks and safely splashing in the sea. For a fuller lunch or sundowner drinks, head to the lighthouse at the western end of the beach and enjoy the views.


2. Playa del Ingles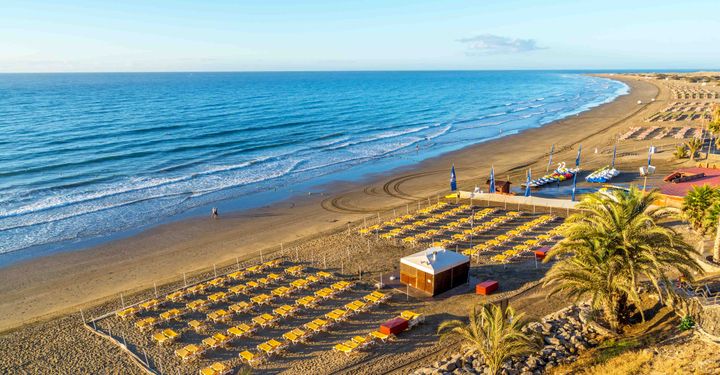 Stretching north from Playa de Maspalomas is Blue Flag Playa del Ingles, another of Gran Canaria's most popular beaches. The 2.7km-long (1.7 miles) swathe of golden sand is also backed by dunes, but you'll find more facilities here, from jet-skis to banana boats and even paragliding.
There are showers, restaurants and bars all along the beachside promenade too – the perfect retreat when the heat of the day becomes too much.


3. Playa de Puerto Rico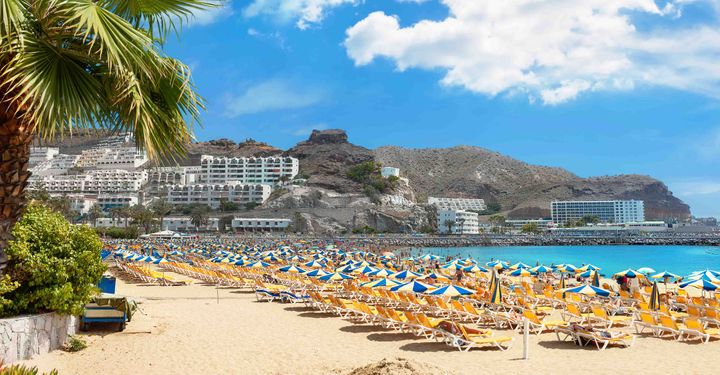 Backed by gently swaying palms and a lively pedestrianised promenade, Playa de Puerto Rico has a warm Caribbean charm to it. The sand is soft and golden, and the water is calm and a brilliant shade of blue, making this a popular choice for families. There are also watersports on offer and a good selection of restaurants along the shore, so you'll have everything you need steps away.
As the main beach for the resort of Puerto Rico, it can get busy here. But with sun-loungers aplenty and lots to do in the area (read: visit the harbour or wander through the buzzy town), you'll always find spots freeing up for you to sunbathe.


4. Las Canteras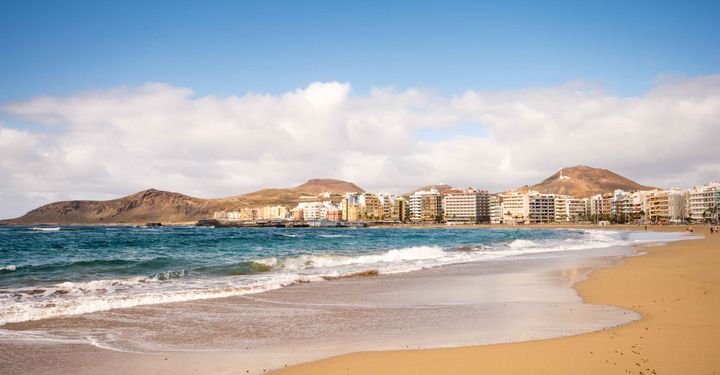 City beaches don't get better than Las Canteras, the beautiful sandy shore right in the heart of Gran Canaria's capital, Las Palmas. Away from the more touristy resorts, this is very much a locals' hangout, and you'll find the atmosphere here is friendly and relaxed.
Grab a sun-lounger and settle in for the day, leaving only for lunch at one of the many local bars and restaurants. You'll also want to bring your snorkel as the bay is sheltered by a lava rock reef and you can spot all manner of colourful creatures. If you're a keen surfer, head to the southern end – you might even catch a few waves.


5. Playa del Confital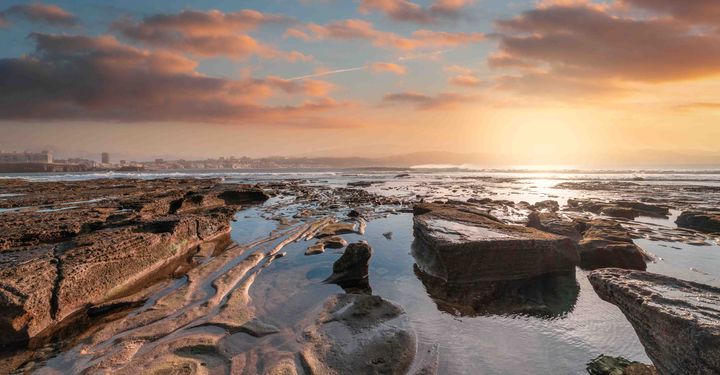 On Gran Canaria's far northern tip, not far from Las Palmas and Las Canteras, is Playa del Confital. Despite its proximity to laidback Las Canteras, the vibe couldn't be more different here. In fact, this wild, rocky shore isn't like any other beaches on the island, with rugged natural beauty and crashing waves ideal for surfing.
The beach is part of a protected nature reserve so there are no facilities, but that's all part of the charm. Bring a picnic, find a spot on the sand, and spend your day soaking up the local atmosphere, paddling in rock pools and strolling along the wooden boardwalk to watch the surfers. If you do want to try catching a few waves yourself, you can hire a board in Las Palmas, but be careful as the rocky shore and powerful waves demand an experienced skill level.


6. Amadores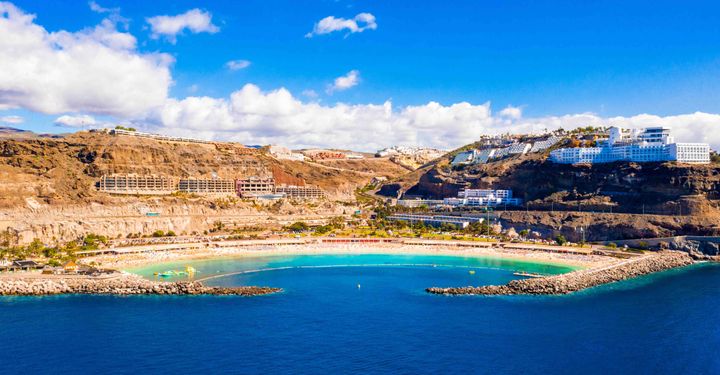 It might be man-made, but that doesn't make Amadores any less spectacular. The horseshoe-shaped beach is characterised by its powder-white sand and is lapped by calm, crystal-clear water, making it another great choice for families. There are sun-loungers spread across the sand and lots of restaurants to choose from, serving everything from local seafood to curry!
If all day beach basking gets a bit much for you, this is the place to head. With a spa area for massages, a nearby mini golf course, and a kids' playground all close by, you won't need to stay put for long.


7. Playa de Mogán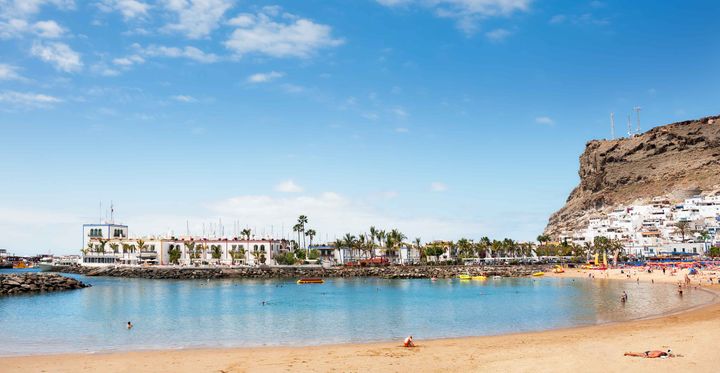 Wander away from the yacht-lined marina in Puerto de Mogán and within minutes you'll find the golden sands of Playa de Mogán. Sheltered by the surrounding cliffs, the water at this lovely beach is incredibly calm and warm, and the wind almost never picks up – ideal for long lazy days sunbathing and swimming in the sea.
When you want to get active, take advantage of the calm water and hire a stand-up paddleboard for a few hours or, if you've got little ones in tow, perhaps a pedalo instead. There are lots of beach bars and restaurants to choose from shoreside, but you could also wander across the canal to the marina and watch the boats while you dine.


8. Gui Gui Beach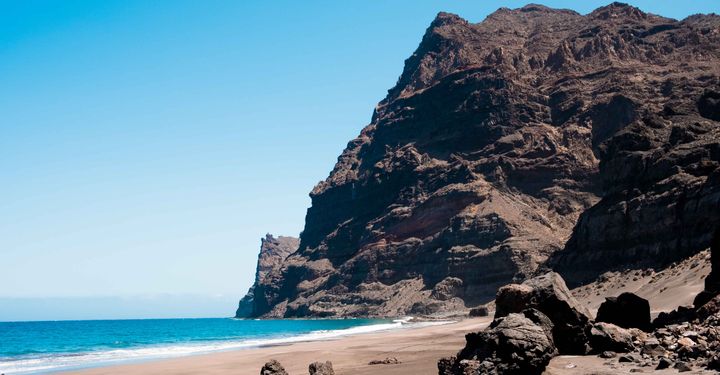 For a beach day with a side of adventure, pay a visit to Gui Gui Beach on Gran Canaria's west coast. This wonderfully wild shore is only accessible by boat from Mogán or La Aldea, or via a challenging 5km (3.1 mile) hike across the countryside near Tasartico.
If you can handle the trek, the dramatic landscapes are worth the effort – think crashing waves, soft sand and views all the way out to Mount Teide on Tenerife. Plus, there's a good chance you'll only need to share with a nudist or two!


9. Sardina del Norte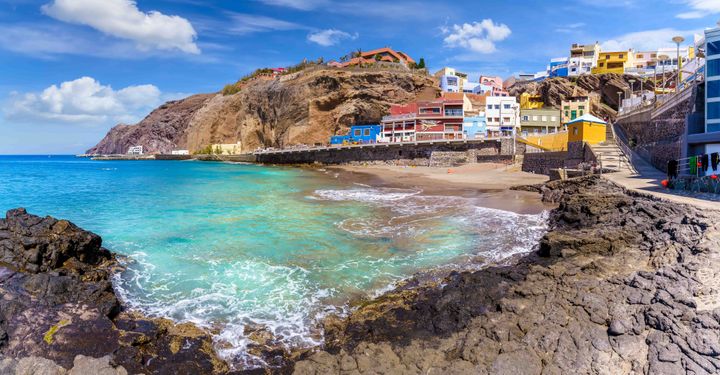 South-facing Sardina del Norte is a lovely little sunspot on Gran Canaria's north coast. There's only a small stretch of golden sand here, but for divers, this spot is one of the best places on the island. Various dive schools from across the island will get you kitted up to head beneath the waves, where you'll find a seabed full of creatures such as octopus, lobsters, seahorses, angel fish and more.
When you've had your fill of the underwater world, the atmosphere on the surface here is pretty idyllic too. Soak up some sun then enjoy some of the delicious and freshly caught seafood in the beach's surrounding village.


Have a comment or question about this article? You can contact us on Twitter or Facebook.