10 of the best things to do in Gran Canaria
Updated June 14, 2023
Published July 23, 2019
By Katie McGonagle
Gran Canaria is a small island with big ambitions. It's often called a mini continent thanks to its weather – with five micro-climates, it's almost guaranteed that if it's raining in one area, the rest of the island will be basking in blue skies. But it has more than just sun and sand going for it.
This is the island that launched Christopher Columbus on his voyage to the Americas, and it's also home to one of the biggest cities in Spain. Its hotels cater equally to families, couples and the LGBTQ+ market, with options to suit all budgets.
If you're stuck for ideas on what to do once you've had your fill of kicking back on the beach, here are ten of the best things to do in Gran Canaria.


1. Take in the views from Roque Nublo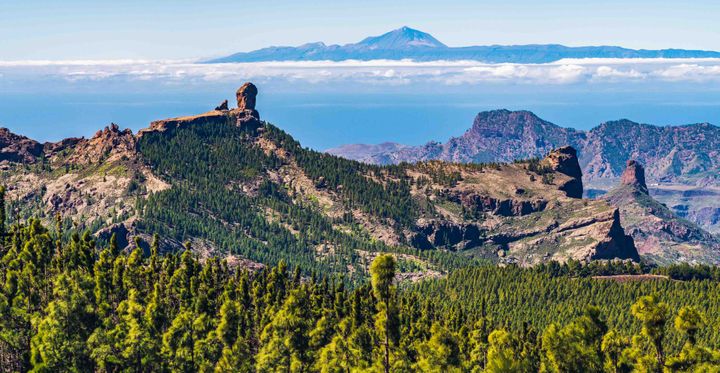 The Maspalomas dunes are the icon of Gran Canaria's coast; inland, the towering Roque Nublo defines the island's landscape. This towering volcanic rock, located in the Tejeda region, soars 80m (262ft) above tree-dotted valley below, and although you can't climb it, the views from its vantage point are some of the most photographed on the island.
The 4.8km (3 miles) route is considered an easy hike – it's an uphill trek but the terrain is fairly flat – and takes in other unusual natural formations on the way. Get to the car park early to guarantee a spot.
2. Picnic on the sand dunes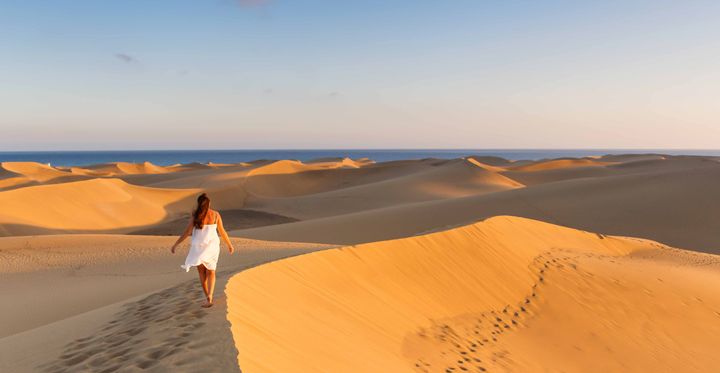 Set in Gran Canaria's south, within easy reach of many of the island's best resorts, the Maspalomas dunes feel more like the middle of the Arabian desert – but since Morocco lies less than 640km (400 miles) away, that's not surprising.
These natural dunes have been a protected nature reserve for more than a century, with migratory birds often spotted, and you'll find a pretty seafront walking route towards the famous Maspalomas lighthouse.
If you fancy giving your thighs more of a workout, try racing up the softer sand dunes and setting up for a picnic. There's a nudist beach nearby, however, so families should check with hotel staff or local tourist offices to make sure they don't stray too far!


3. Snap a panoramic pic at the Caldera de Bandama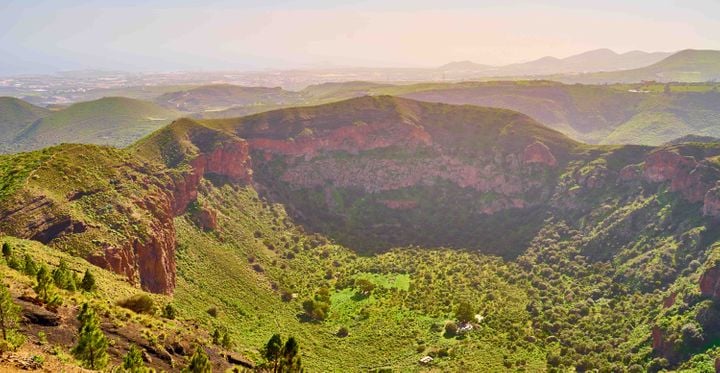 Like its fellow Canary Islands, Gran Canaria owes its dramatic landscapes to volcanic activity, and nowhere is that clearer than the Caldera de Bandama. This volcanic crater is about 1,005m (3,300ft) wide and more than 198m (650ft) deep, reaching highs of nearly 579m (1,900ft) above sea level at the highest point along its rim, the Pico de Bandama.
The easiest way to reach it is by renting a car and driving about 20 minutes inland from Las Palmas, stopping at a viewpoint or parking up to tackle the walking route to the base. Make sure to wear sturdy shoes, though, as it's steep and there are areas of loose gravel.


4. Sip a creative cocktail at a rooftop bar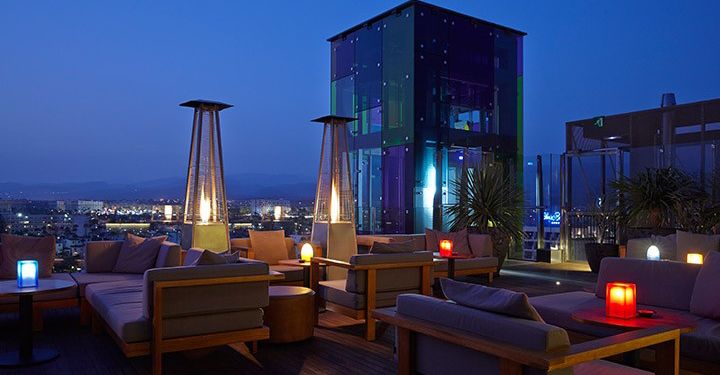 If you order a drink at Atelier Cocktail Bar, get ready to face a dilemma. When it arrives, looking more like a work of art than a simple booze-and-fruit juice combo, you'll have to fight the urge to get stuck in at least long enough to take the obligatory Instagram photo.
The artful options range from spicy 'Pineapple Wagon' – a tasty brandy and rum combination – to sweet and aromatic gin-based concoctions.
Sip them while enjoying views across the neon-lit resort of Playa del Ingles – the bar is on the eighth floor of the super-chic hotel Bohemia Suites & Spa, so it has the best vantage point – and see if you can get a peek at the 360-degree views from the hotel restaurant on the same floor.


5. Find out why frogs and dogs are icons of the capital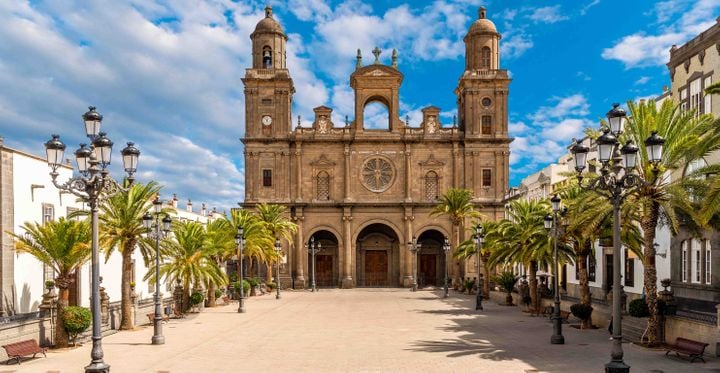 Las Palmas is home to many a pretty plaza, where outdoor cafes and bars buzz from mid-morning until late at night as diners take their time over a late lunch or an early evening glass of vino.
The Old Town, Vegueta, is the most rewarding spot for a stroll with its pretty streets and historic buildings, but it's also home to eight bronze statues of dogs guarding the Catedral de Santa Ana, a reference to the island's name, which is derived from the Latin word for 'dog'.
Just a few minutes away is another much-photographed animal icon: the Plaza de las Ranas, which earned its nickname from the two frog-shaped water fountains that sit facing each other in the heart of the square.


6. See where Columbus stayed before setting sail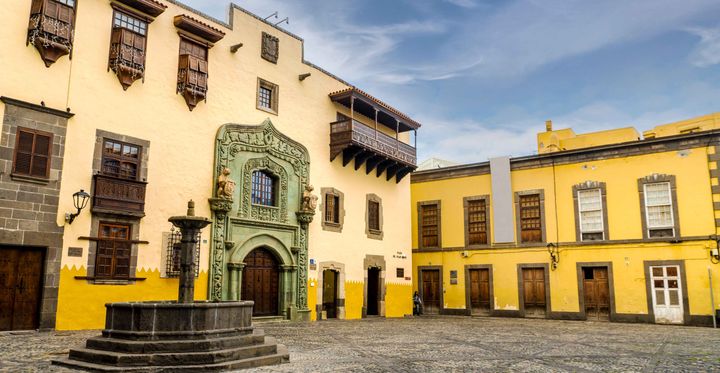 Gran Canaria was the launching post for Christopher Columbus' eventful voyage to the Americas in 1492, and the Casa de Colón – which means 'House of Columbus', though it was actually the governor's residence and just a temporary home for the explorer before his journey – pays homage to that expedition.
The museum is pretty, set around a courtyard and with a model ship, antique globes and even two resident parrots to entertain kids, but enthusiasts will find the historic maps charting the progress of transatlantic travel most engaging. Entry is €4 or €2 for concessions.


7. Dance with the locals in Teror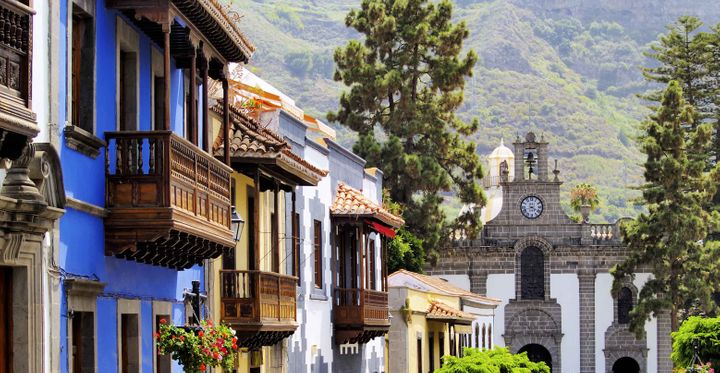 A town called Teror might not sound like a tourist magnet, but this inland spot is just about the prettiest place on the island. Best reached by hire car from Las Palmas – about a half-hour drive inland – it's a popular pilgrimage spot for islanders thanks to its basilica, but it has plenty to offer tourists too.
The wooden balconies adorning almost every one of its pastel-hued buildings are charming enough, but the Sunday market also boasts stalls selling food and souvenirs, plus live music that the locals love dancing along to.
If all those moves make you peckish, El Encuentro restaurant does Canarian cuisine for a very reasonable price.


8. Take a helicopter flight over Playa del Ingles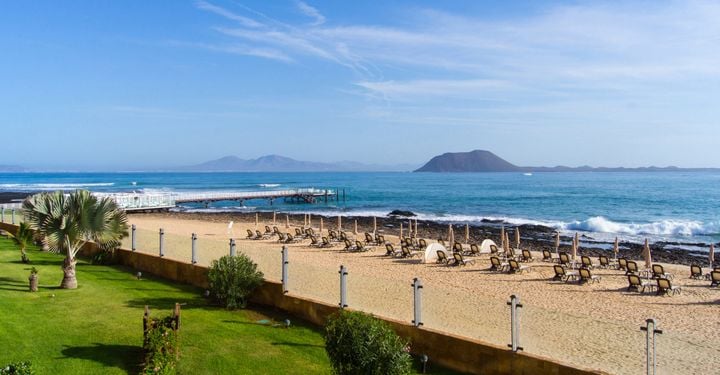 Most visitors to Gran Canaria stay somewhere on the south coast, home to most of the island's hotels and its best beaches. But to get a new perspective on this hotspot, take a helicopter ride. There are many companies offering a host of flights and most firms will collect you from your resort as part of your tour. Rides typically start from 10 minutes and cost from around €98 per person.
It's not just about spotting your hotel and favourite beach bar from the air; the real joy is in watching the landscape transform from golden sand to rugged valleys and dry, sweeping scenes that feel a world away from the coast.


9. Eat tapas at Mercado del Puerto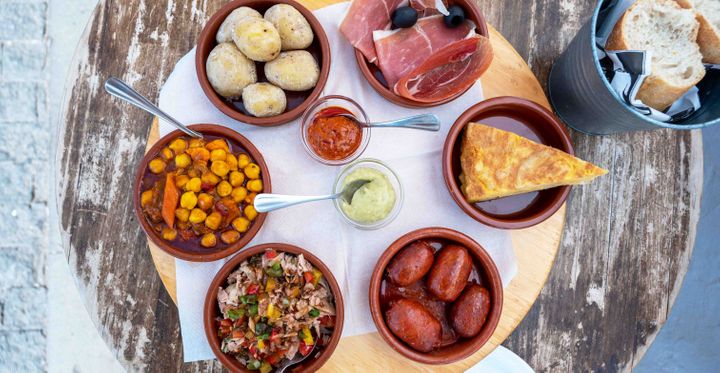 No visit to Spain would be complete without at least one tapas lunch along the way, and the best place to tick that box is Mercado del Puerto in Las Palmas.
This historic building dates from 1891 and is famed for its ironwork, but these days it's just as well known for its array of stalls selling strong Canarian cheeses, cured meats of every kind, and other light bites, all nicely washed down with a cold beer.


10. Go stargazing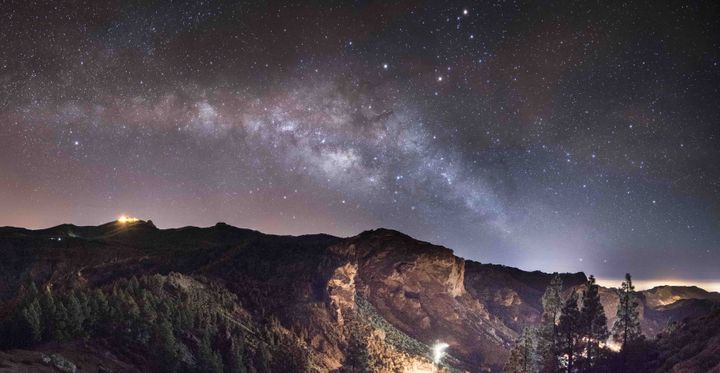 The nightlife in Gran Canaria is famous, but it's not just confined to bars and clubs; with their dark, clear skies, the Canary Islands are known as a haven for stargazing.
The best views of the night sky can be found away from well-lit tourist spots at the island's highest points, such as the San Antonio volcano or the observatory at Roque Saucillo. Astroeduca offers educational tours to guide visitors through the constellations, with options for family tours and discounts for under-12s.


Have a comment or question about this article? You can contact us on Twitter or Facebook.