Things To Do In Lanzarote
10 of the best things to do in Lanzarote
November 10, 2021
Golden beaches and perfect weather have made the volcanic island of Lanzarote a favourite with British holidaymakers. But stunning shores and sunshine are just the tip of the iceberg on this colourful Canary Island.

From dramatic natural landscapes to underwater museums and historic towns, here are ten of the best things to do on a Lanzarote holiday.


1. Go volcano hunting in Timanfaya National Park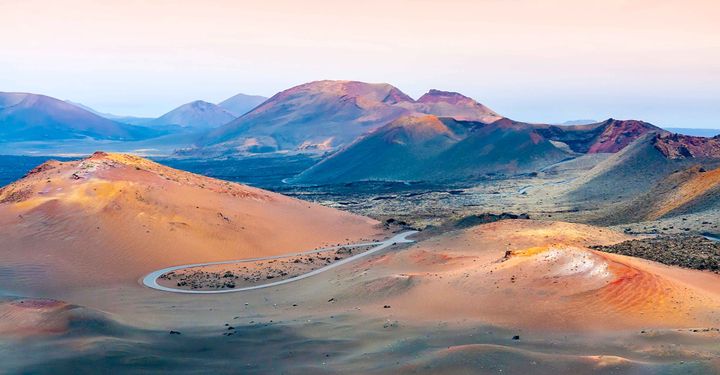 First of all, the volcanoes here haven't erupted in nearly two centuries – so no need to worry. Secondly, they are absolutely spectacular. Spanning a colossal 51 square kilometres (19.7 square miles), Timanfaya's vast lunar-like landscape formed during 6 years of intense volcanic eruptions in the 18th century.
As you can't drive around the park yourself, the most popular way to see the sights is to join a coach tour around the park, with various photo opportunity stops en route. Alternatively, book in advance for a guided walk along the epic Tremesana Trail, which covers around 4km (2.4 miles).
For intrepid explorers, the self-guided but challenging 9km (5.6 miles) Coastal Trail is the other option. Whichever way you choose to see the park, make sure you stop for lunch with a view at the onsite El Diablo restaurant, where your dishes are cooked using geothermal heat.


2. Sink your toes into the sand on Playa de Papagayo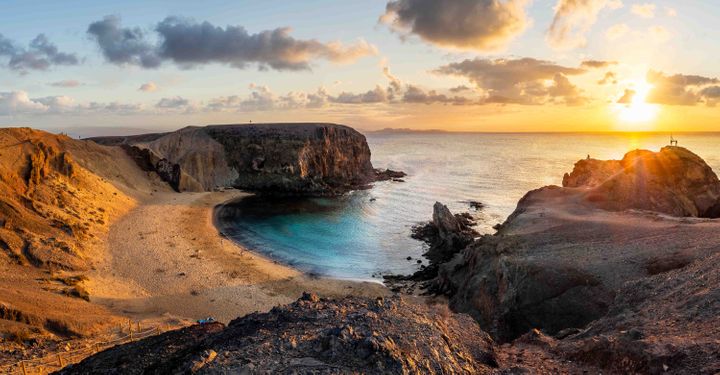 Beaches are bountiful on this Canary Island and include both golden shores and dramatic black sands. In fact, with so many beaches to choose from, your hardest task is picking just one!
If you need to narrow it down, choose the gorgeous Playa de Papagayo, which is undoubtedly one of Lanzarote's best beaches. Located on the south coast, this stunning spot is actually made up of several small bays split between lava rocks.

Backed by sloping cliffsides and lapped by impossibly aquamarine water, the beaches are all incredibly beautiful. The rocky inlets also make for great snorkelling opportunities and there is plenty of space, so the sands never get too crowded. For lunch, head to the small beach shack for a casual bite.


3. Sip cocktails in the caves of Jameos del Agua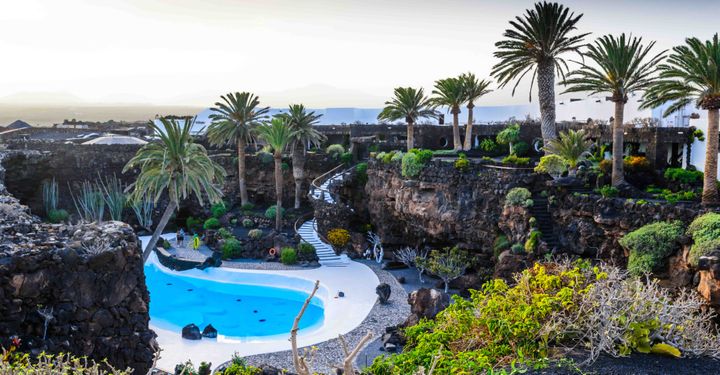 In the north of the island, hidden between a complex of lava caves, you'll find the brilliant Jameos del Agua. A hub of art and culture, this underground location was designed by Lanzarote's most famous artist, César Manrique, and is a testament to his funky and off-the-wall style.
Pay a visit to the caves and, among the rocky enclaves and open-air areas, you'll find a restaurant, concert hall, bar, and even a large, curved swimming pool. There is also a lake filled with albino crabs and a giant lobster sculpture. Stay until after sunset when the venue really comes to life, with live music and foodie events a regular occurrence.


4. Catch some waves at Famara beach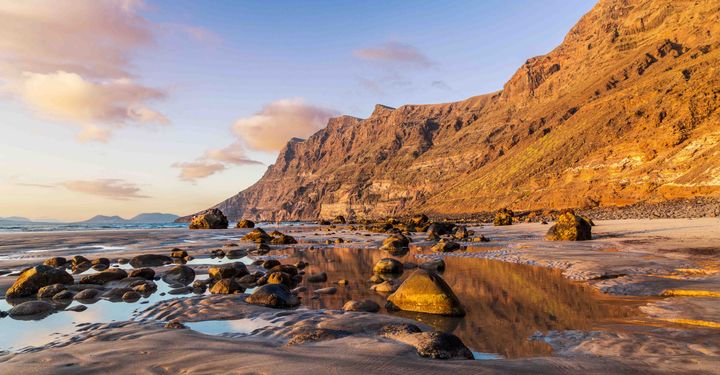 With 5km (3.1 miles) of soft sand and spectacular sunset views, it's not just surfing that draws people to Famara beach – though for many, it's the main reason to visit. There are various surf schools in town so you can learn to ride your first wave, or practice carving through the reef breaks like a pro.
When you need a rest from the water, head into colourful Famara town, where there's a typically relaxed surfer vibe. Fresh seafood restaurants and boho surf cafes are the staple here, but you'll also find a few bars, shops and hotels.


5. Go shopping at Teguise market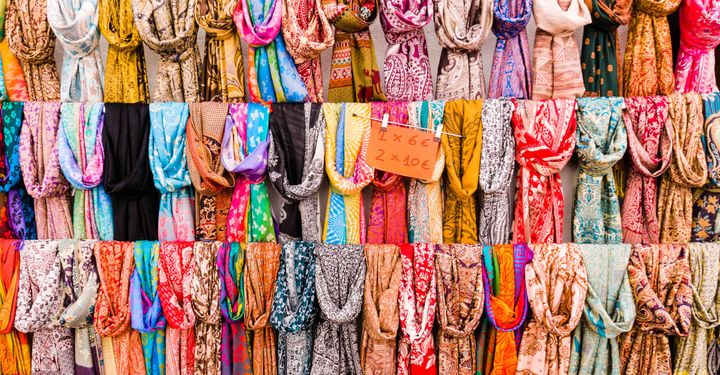 The small town of Teguise was once the capital of Lanzarote and is awash with historic buildings as a result. Wander the streets and admire the pretty whitewashed buildings or stop for lunch a local restaurant. While the town is lovely all week, for the full experience you'll want to visit on a Sunday, when it comes alive for the market.
As the biggest in Lanzarote, the market draws in locals and tourists alike, and there is always a real buzz. Shop for souvenirs or sample and buy some of the local produce – or just take it all in with an ice cream!


6. Admire the views from Mirador del Rio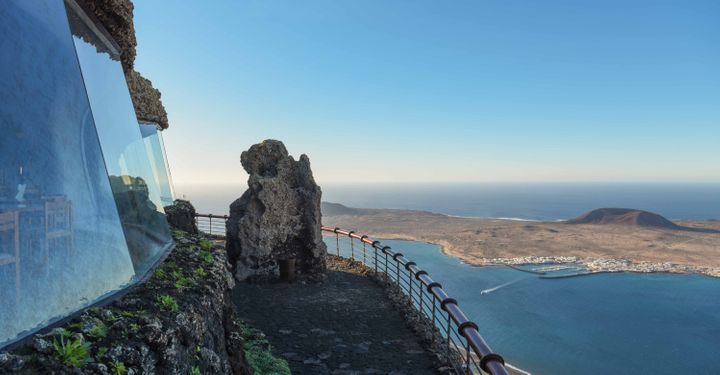 Perched on a clifftop in the north of Lanzarote you'll find the magnificent Mirador del Rio viewpoint. At 400m (1,312ft) above sea level, the views from the glass-fronted building are incredible, reaching across the sea to the small island of La Graciosa. Designed by César Manrique, the viewpoint carefully blends into its rocky surroundings and is one of the artist's many triumphs on the island.
Pay €5 to access the site and you can spend an hour or so enjoying the views and walking around the area. Head inside to the cafe for coffee with a view, then stop into the souvenir shop to pick up something to remember your visit.


7. Avoid the prickles in the Jardin de Cactus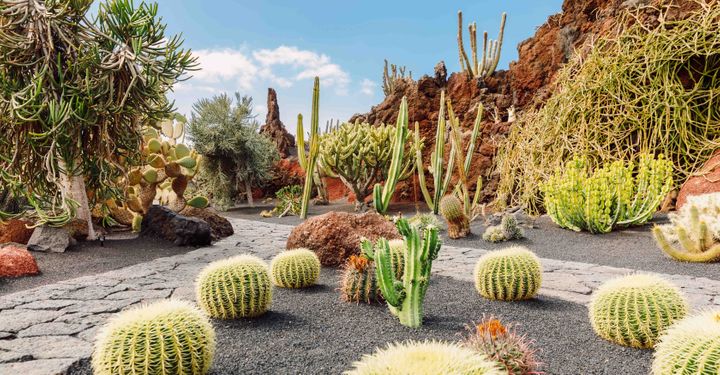 If you're a keen gardener or proud house plant parent, you'll love Lanzarote's Jardin de Cactus. This beautiful location is, as the name suggests, full of over 4,500 cactuses, from at least 450 different species taken from across all five continents.
The garden is another brainchild of César Manrique and was built to beautify an old quarry. Nowadays the quarry is picture perfect, with the vivid greens of the cactuses a striking contrast to the dark volcanic rock and the white of the windmills which overlook the site. While you're there, make sure you pay a visit to the onsite cafe to try a cactus burger!~


8. Explore the Cueva de los Verdes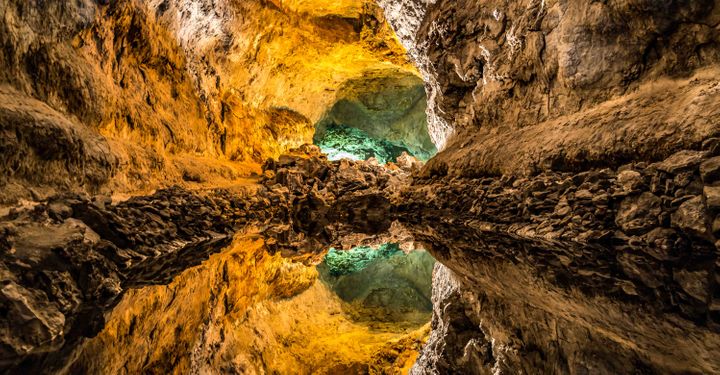 Ever wondered what it would be like to head inside a volcano? Well, on Lanzarote, you can find out. The island's Cueva de los Verdes (Green Cave) is actually a 6.4km-long (4 miles) lava tube, formed thousands of years ago when the Monte Corona volcano erupted.
Around 1.6km (1 mile) of the lava tube is open for visitors to explore with a guide, who can tell you all about its formation and geological history. You'll also notice the unique formations and green colours that give the tube its name.


9. Scuba dive to the Museo Atlantico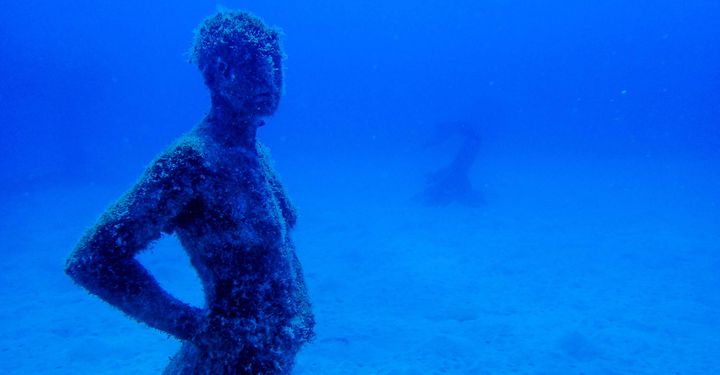 Lanzarote's clear waters are one of the best places in Europe to scuba dive, with reefs and shipwrecks galore beneath the waves. There are several scuba diving schools around the island that cater for divers of all abilities, so you can enjoy the underwater world no matter your experience.
As well as spotting colourful marine life, pay a visit to the Museo Atlantico, the only underwater museum in Europe. At 14m below the surface, near Coloradas, you'll find 10 groups of sculptures by artist Jason deCaires Taylor. With varying themes ranging from the refugee crisis to the power of nature, and technology, this eerie museum is a fascinating and totally unique experience.


10. Sample Lanzarote's local wine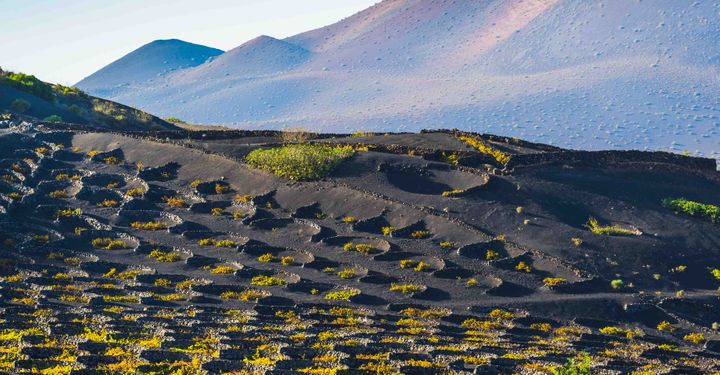 Wine lovers, rejoice! Little Lanzarote is home to some excellent wines. The fertile volcanic soil and warm sunny weather make for prime grape growing conditions, and the locals are experts at harvesting and ageing them.
The island's main wine making region is La Geria, and you can visit several different wineries here. To avoid missing out on the tastings, book a guided tour with a driver and then settle in for a few hours of bliss among the vines. As well as sipping on the good stuff, you'll also learn more about the traditional production methods still used across Lanzarote.


Have a comment or question about this article? You can contact us on Twitter or Facebook.