Updated September 22, 2023
Published February 28, 2022
Lanzarote's year-round sunshine and out-of-this-world landscapes make it a top choice for holidaymakers of all kinds. Its long coastline is dotted with classic beach resorts, quiet fishing villages, and laidback surf towns.
No matter if you're travelling with the family, looking for a romantic week away, or you just need a peaceful place to relax on the sand, check out our pick of the best resorts for a Lanzarote holiday.


1. Costa Teguise
Best for families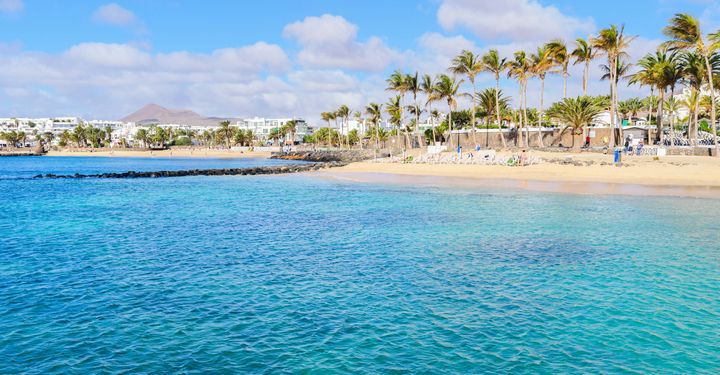 With not one, not two, but five beaches, Costa Teguise is perfect for a family holiday in Lanzarote. If you've got tiny tots, Playa Bastian has calm waters and is sheltered from the wind, while teenagers can learn to windsurf or try watersports at Cucharas Beach.
Activities aren't limited to beach fun in Costa Teguise, either. Aquapark Costa Teguise is a must-visit, with slides, wave pools, a go-kart track, and a paintballing centre. There is an aquarium in the resort centre, too. For family dinners, head to the seafront promenade and you'll be spoilt for choice with restaurants.


2. Puerto Calero
Best for couples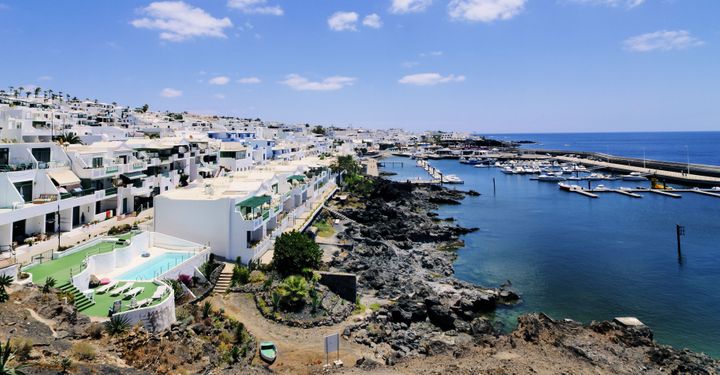 Centred around a huge, glamorous marina, Puerto Calero is an exclusive and luxurious resort best suited to couples. If you're into sailing or simply like to admire big, beautiful boats, you could spend hours on the waterfront, dining in top restaurants and watching yachts dock in and out. The atmosphere here is upmarket and tranquil, and the volcanic hills in the distance create an idyllic backdrop for a romantic getaway.
There is no beach in the resort itself, but it's just a ten-minute drive down the coast from Puerto del Carmen, so you won't have to go far for sand and sea.


3. Playa Honda
Best for travellers on a budget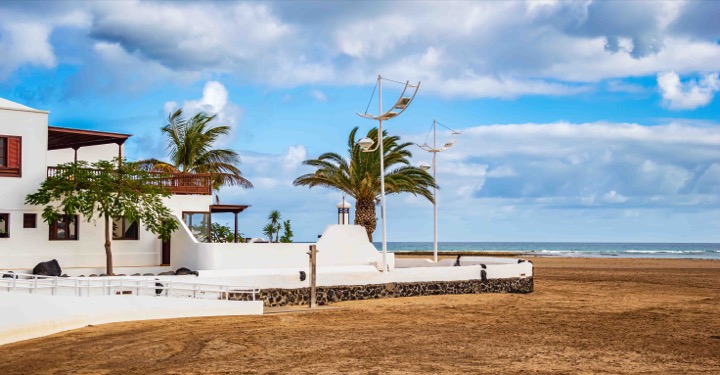 Trying to keep costs down? Head to Playa Honda. Close to the airport, and a short drive to island capital, Arrecife, there's a huge range of accommodation on offer here, from beachside hotels to cheap self-catering apartments.
Start your holiday with the ultimate free activity: a day on the beach. The resort has four golden and wonderfully underdeveloped beaches to choose from – Playa Honda, Playa de la Concha, Playa de Matagorda, and Playa del Cable. In the town itself, there are plenty of restaurants and bars, including fast food spots and bars with happy hours to help you save your pennies.


4. Puerto del Carmen
Best for nightlife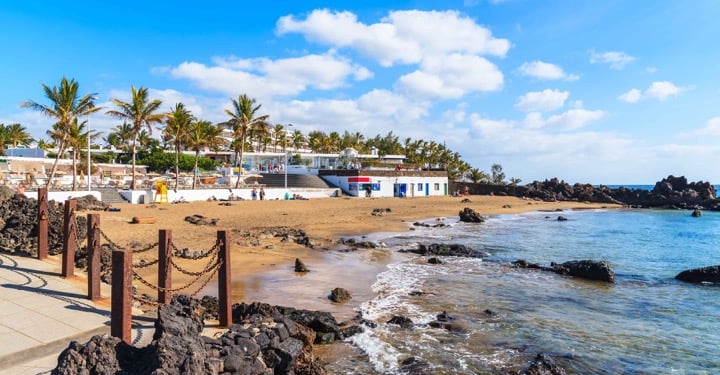 Puerto del Carmen is Lanzarote's most popular resort and is the place to be if you're looking for good nightlife alongside beautiful beaches. The resort is just a ten-minute drive from the airport, so you can be sipping cocktails at a bar along the seafront 'strip' within an hour of landing. If you're after a more relaxed nightlife scene, head to the old harbour area, where you can dine on fresh seafood while admiring the yachts as they sail into dock.
After a night of overindulgence, Puerto del Carmen's three sandy beaches are the perfect place to recover. All three seaside spots have Blue Flags, and clear, calm water, so you can relax without a worry.
To keep the party going, several of the beach bars host live musicians, and during the month of July, the Fiesta de Nuestra Señora del Carmen brings parades, dancing and performances along the promenade.


5. Caleta de Famara
Best for surfers and nature lovers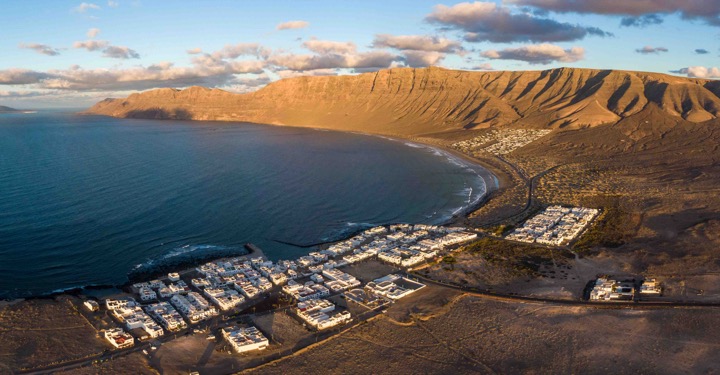 If you're hoping to experience the natural beauty that Lanzarote is so famous for, head to Caleta de Famara. This west coast resort is removed from the major tourist spots in the east, and as a result it is still wonderfully wild and unspoilt – in large part because of the windy weather, which makes it a hotspot for surfing.
Playa de Famara, the main beach, is one of the most spectacular on the island, with the towering Risco de Famara cliffs stretching into the water, and epic waves crashing onto the sand. For the best coastal views, take a surf lesson and head out onto the water, or try out kitesurfing.
After an active day in the sea, pile your plate high with delicious, freshly caught seafood at one of the relaxed restaurants in town.


6. Arrieta
Best for a quieter place to stay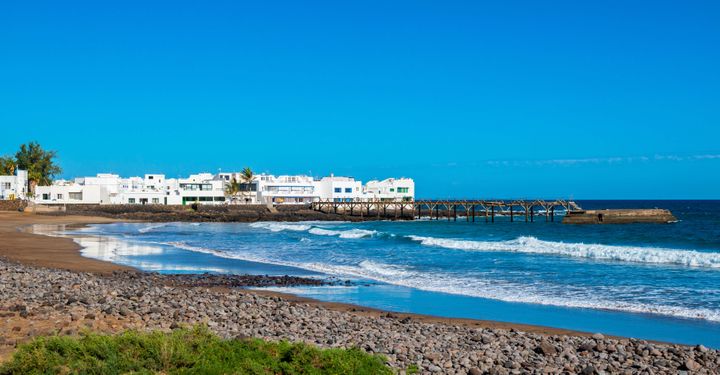 For a digital detox, consider Arrieta. This small village on Lanzarote's north coast is a real hidden treasure, far removed from the tourist beat. The main attraction here is the traditional Canarian fishing harbor, where fishermen still unload their catch of the day every morning. Sample their hard work yourself in one of the town's many seafood restaurants.
During the day, make a beeline for Playa de la Garita, where soft golden sand meets turquoise waters. Or, for a more adventurous holiday activity, head just ten minutes up the coast to visit the Cueva de los Verde – a fascinating lava tube that stretches for miles. Entry is €10.


7. Playa Blanca
Best all rounder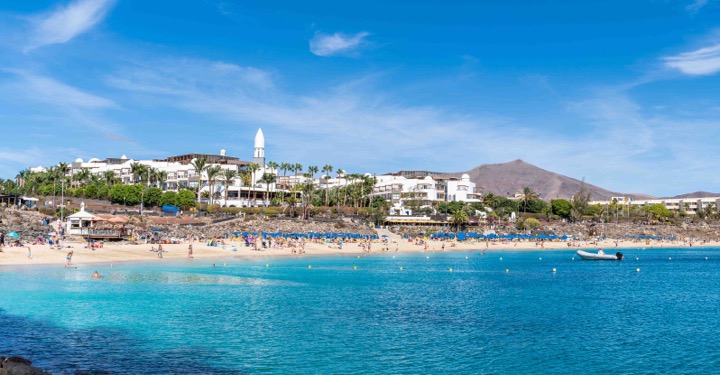 Playa Blanca has it all – beautiful beaches, a yacht-lined marina and a laidback atmosphere to put you in the holiday mood. Take your pick from the three sandy beaches: Playa Dorada is your best bet for watersports and family fun, Playa Blanca is smaller but closest to the action, and pretty Playa Flamingo is a little further out.
In the evenings, stroll from bar to restaurant, sipping sangria and sampling freshly caught seafood or a hearty estofado stew. When you're not on one of the beaches, check out the famous local market or take a walk along the promenade, admiring the sea views from the Faro de Punta Pechiguera lighthouse at one end to Papagayo at the other. The epic lunar landscapes of Timanfaya National Park - one of the best things to do in Lanzarote - are also only a 15-minute drive away.


Have a comment or question about this article? You can contact us on Twitter or Facebook.