9 of the best beaches in Lanzarote
December 8, 2021
If you're looking for blissful beaches on your next holiday, Lanzarote is the one. Ringed with mile after mile of spectacular shoreline, this popular Canary Island is famous for its super clear water and golden sands. From big busy beaches to tiny, isolated coves, Lanzarote has a beach for everyone.
Here are nine to put on your must-see list.


1. Playas de Papagayo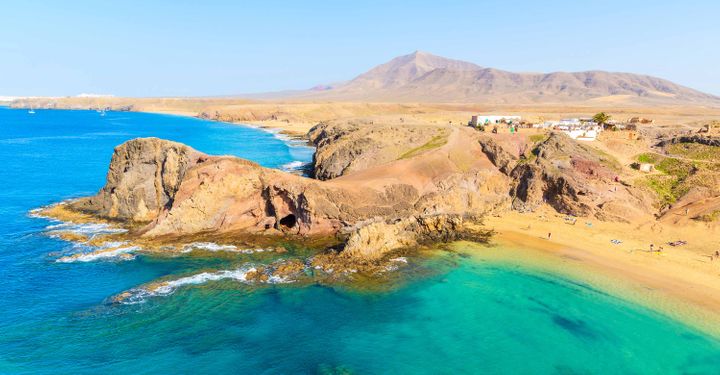 Whether you're visiting to sunbathe or just for the view, a visit to Playas de Papagayo is one of the best things to do in Lanzarote. A series of coves split by volcanic cliffs, this beach is actually made up of six separate bays, each with soft golden sand and calm turquoise water.
They're not the easiest to access (you'll need a car, and it costs to park) but the effort is worth it. Not only are they some of Lanzarote's finest and most famous sands, but they also have some of the best snorkelling conditions in the Canaries, too.
If you're looking for lunch, the namesake bay of Playa de Papagayo is the only one with any facilities, but its relaxed beach bar is the ideal spot to grab a bite.


2. Playa Chica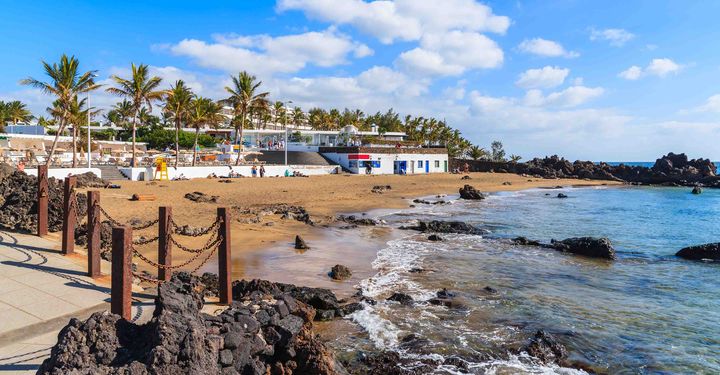 When it comes to beautiful beaches, Playa Chica is proof that size doesn't matter. No more than 100m (328ft) in length, it's one of the prettiest shores in Lanzarote. Thanks to the beach's calm, warm water, and central location in Puerto del Carmen, it can get very busy, but arrive early to bag a sunbed and you're in for a lovely day by the sea.
Snorkelling is popular in Playa Chica's shallow waters so bring your own for a little underwater exploration. You can also check out some of the family-friendly activities on offer nearby: you're just a 20-minute drive from one of Lanzarote's best waterparks, Aquapark.


3. Playa de Famara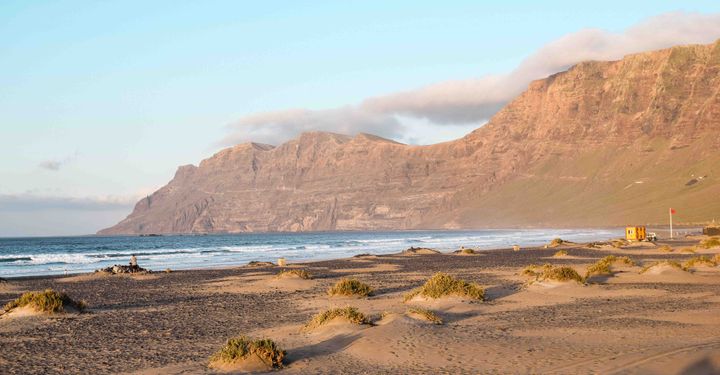 The wild untamed shores and crashing waves at Playa de Famara make for prime surfing and windsurfing conditions – and that's why this epic northern beach is so popular. With 6km (3.7 miles) of dark golden sand and strong winds that whip up the waves, surfers are in their element here.
For non-surfers, as long as you don't mind a breeze, the beach has plenty of space for sunbathing and lots of lovely bars and restaurants in the nearby village of Caleta de Famara. This is also one of the best spots on the island to watch the sunset, so grab a sundowner and watch the sun disappear behind the surrounding volcanic hills.


4. Playa Flamingo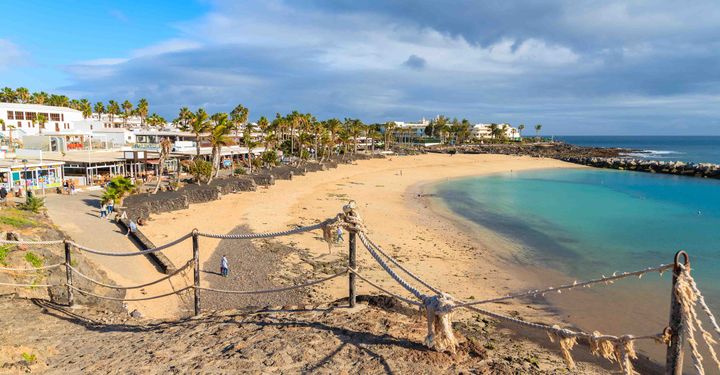 A great choice for families, Playa Flamingo is a picturesque 200m (656ft) stretch of honey-coloured sand, shaded by a palm-lined promenade and lapped by calm turquoise water. Though not one of Lanzarote's biggest beaches, this is definitely one of the most popular thanks to its location in the heart of Playa Blanca.
While parents relax and enjoy the sun, little ones can splash safely in the sea, which is protected by two breakwaters at either end of the beach. For an al fresco lunch, choose from one of the many restaurant terraces along the promenade, or wander over to the nearby marina.


5. Caletón Blanco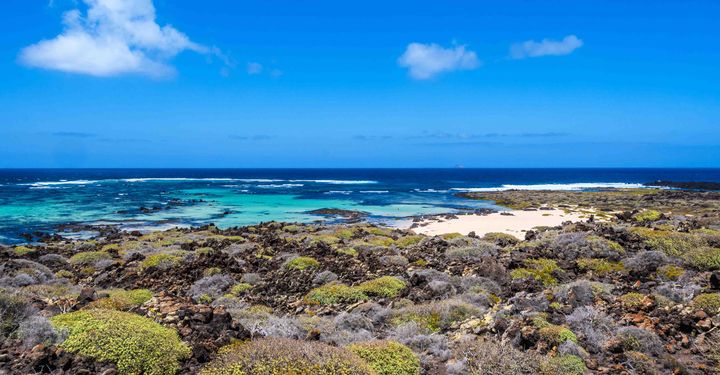 On the northeast coast of the island, Caletón Blanco is not your average Lanzarote beach. The first thing you'll notice here is how brilliantly white the sand is – a stunningly stark contrast to the dark volcanic rocks and lush green vegetation surrounding it. It's particularly spectacular on sunny days when the light makes the sand really dazzle.
At the shore, changing tides create little rock pools and lagoons, which are great for toddlers to splash around in but not so great for swimming. Thankfully, with stronger winds in this part of the island you shouldn't need to get wet to stay cool.


6. El Golfo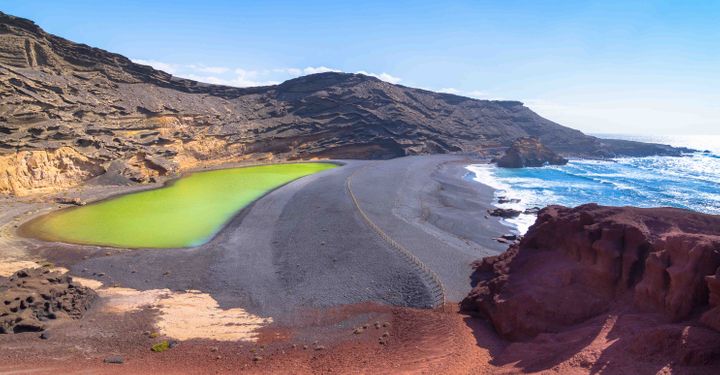 Small and remote, El Golfo might just be the most unique beach in all of the Canaries. While its striking black sand is impressive, El Golfo is special for something else entirely.
In fact, the beach's real showstopper is its luminous green lagoon, Charco de los Clicos which sits surrounded by rich red and yellow cliffs to one side, and black sand and cobalt blue sea to the other. You can't access the beach itself but there is a viewing platform from where you can snap pictures and appreciate the spot's true beauty.


7. Playa del Reducto
No list of Lanzarote's best beaches would be complete without mention of Playa del Reducto, the large and lovely beach of the capital city of Arrecife. This Blue Flag shore stretches for 600m (1,969ft) around the south of the city and is blessed with beautiful white sand and gently swaying palm trees.
The beach is sheltered by natural reefs, which keep the turquoise water calm and shallow, while a wide promenade lined with bars and restaurants looks over the beach.


8. Playa de las Conchas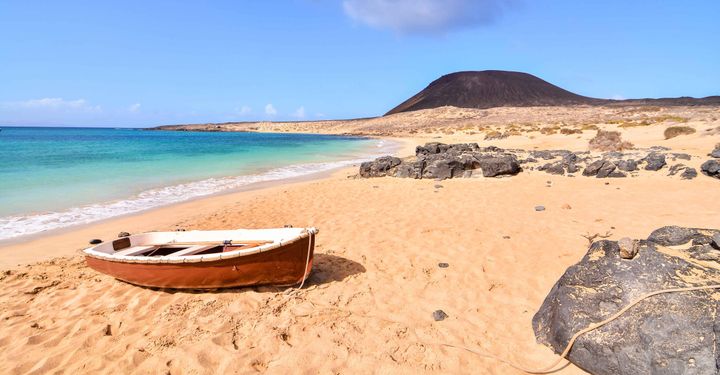 Technically not on Lanzarote at all, the unspoiled paradise of Playa de las Conchas can be found on the small islet of La Graciosa, just north of the mainland. You'll have to take a 20-minute ferry and then hike for around an hour (or hire a bike and cycle for 35 minutes) but the stunning castaway-style beaches you'll find here are well worth the extra effort.
Make sure you pack a picnic lunch as there are no bars or restaurants here, just swathes of golden sand and crashing waves. You'll need to be careful swimming in the sea though, as the tides can be very dangerous.


9. Playa las Cucharas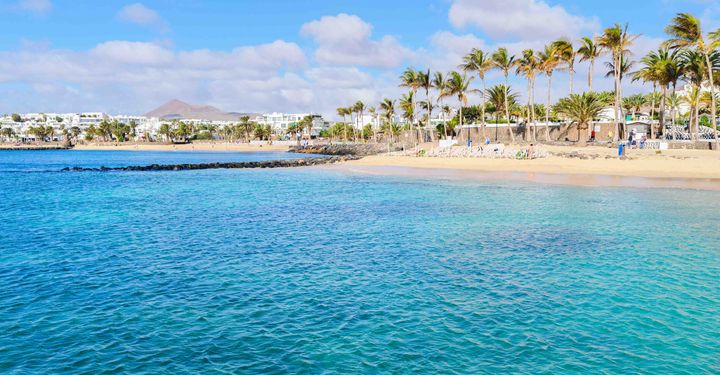 There is something for everyone on the sandy shores of Playa las Cucharas, a classic beach in the heart of popular Costa Teguise. The beach itself is fairly large at 640m (2,133ft), and is bordered by lush gardens and a promenade lined with restaurants, bars and shops.
Families with younger children – or those who just want to max out on chill time – should head for the northern end of the beach, where the water is calm and the atmosphere relaxed. At the other end of the shore, there's a real pace change; surfers, windsurfers and lively youngsters can be found enjoying the choppier waves and plethora of watersports.


Have a comment or question about this article? You can contact us on Twitter or Facebook.