Covid-19 advice:
Where you can go on holiday | Check FCDO updates before you travel
Find out more
9 things you probably didn't know about Lanzarote

With golden beaches, year-round sunshine and just enough nightlife, Lanzarote is a beach-break classic, though you probably already know that this Canary Island is a little offbeat.
You might have heard about cave-dwelling blind albino crabs and artfully reimagined volcanic bubbles. Perhaps you've clapped eyes on the moon-like landscape around the Fire Mountains of Timanfaya, or held on tight as a friendly camel transports you around the dunes of ash-grey sand.
Maybe – just as you've pigeonholed the landscape as sand and rock – you venture into the oasis that is the Valley of a Thousand Palms.
There are plenty more surprises in store in lovely Lanzarote, writes Jeanette Parkin.
1. You can find beaches that are all yours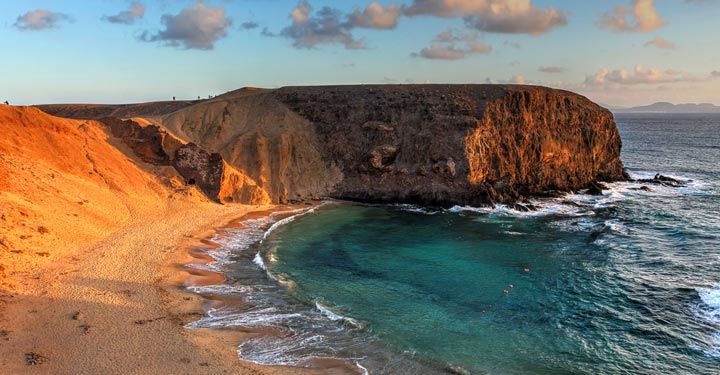 From the honeyed bays of Punta del Papagayo in the south, to the vast caramel-coloured sands of Puerto del Carmen, there is no shortage of beautiful beaches around the main resorts. Step on to them in summer any time after 11am, however, and there is no shortage of bronzing bodies and salt-dipped swimmers either.
Luckily, it's easy to find your own patch of glorious ocean-side paradise.
Hop on a ferry from Orzola to the nearby island of La Graciosa, where the roads are sandy tracks, the population numbers in its hundreds, and the beaches are blissfully quiet.
There are quiet bays in the north of Lanzarote too, such as the snow-white lagoon of Caleton Blanco.
In the south, fitter holidaymakers can walk across the hills and away from the busy beaches of Papagayo and Mujeres to find a hushed oasis in one of the neighbouring bays. A lack of car access keeps these beaches just as nature intended.
2. You can admire the sunset from a volcano cone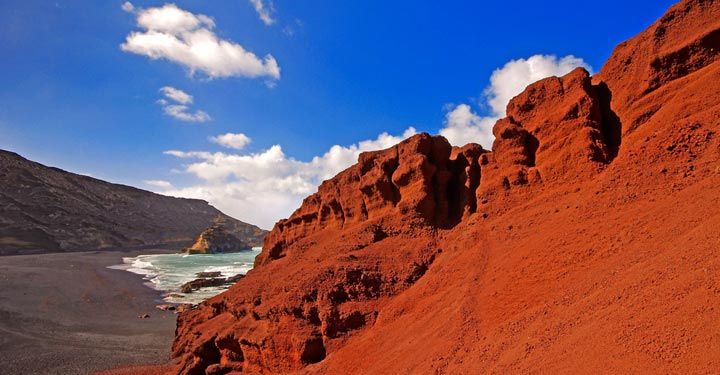 With most resorts, towns and villages huddled along the eastern and southern coasts of the island, Lanzarote is seriously lacking in places to watch the amber sun dipping into the ocean at the end of day. So, if you're going to try and catch a sunset, make it a spectacular one.
Looming above the resort of Playa Blanca is Montana Roja, the Red Mountain. Pack water, wear sensible shoes and park around the streets of Montana Baja, where you'll quickly find the worn track.
You can walk around the rim of the caldera or dip into the mouth of the extinct volcano, where visitors spell out names or create love hearts with stones, made to be visible from the rim. Claim a spot on the western edge as the sun goes down for a far-reaching sunset to remember.
If this sounds too strenuous, check out the sunsets from El Golfo (see number five for more information)
3. You can step back in time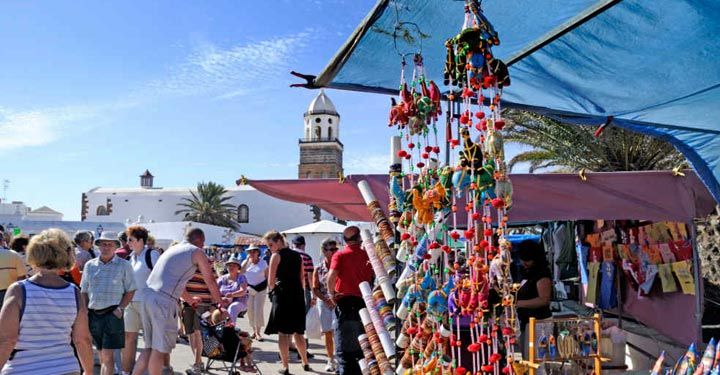 Sunday's market in the old capital of La Villa de Teguise (you can call her Teguise) lures half of the island's residents and visitors – that's certainly how it can feel as you navigate your way around hundreds of stalls and thousands of fellow bargain hunters. From trendy threads and "designer inspired" bags to aloe vera products and homemade goats' cheese, these souvenirs and stalls mask one of the most beautiful towns on the island.
Visit from Monday to Saturday and tour the fountains, statues, churches and public squares that line these ancient cobbled streets. Slip into Cantina (Calle Leon y Castillo; 00 34 928 845536) for a drink and one of the best brownies in Spain.
4. You can taste wine like no other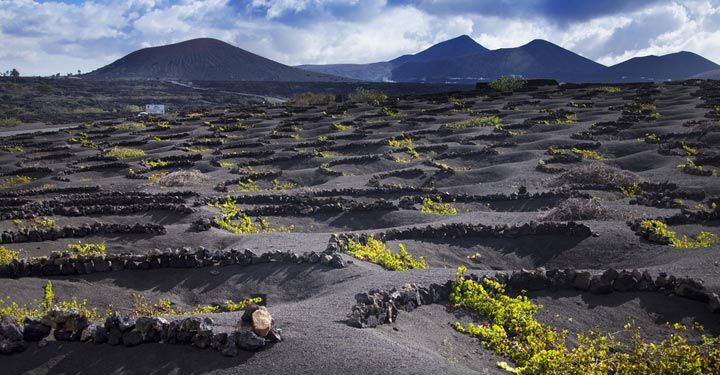 NASA should come to Lanzarote for a lesson in how to propagate produce on the moon. One look at La Geria – desolate, lunar-like, grey – and the idea of growing grapes seems as far-fetched as reaping spuds on Mars. But grow they do.
The pockmarked hills of Lanzarote's biggest wine-producing region provide shelter upon shelter for the tender vines from the stiff breezes that whistle through these peaks.
The result of the volcanic earth, the back-breaking manual labour and the island's intense sun is simply outstanding. You can pick up a bottle anywhere, but a tour of a vineyard or bodega in La Geria will enhance your appreciation of artisanship over adversity.
Compare cheap Lanzarote holidays
5. You can eat the freshest seafood on the island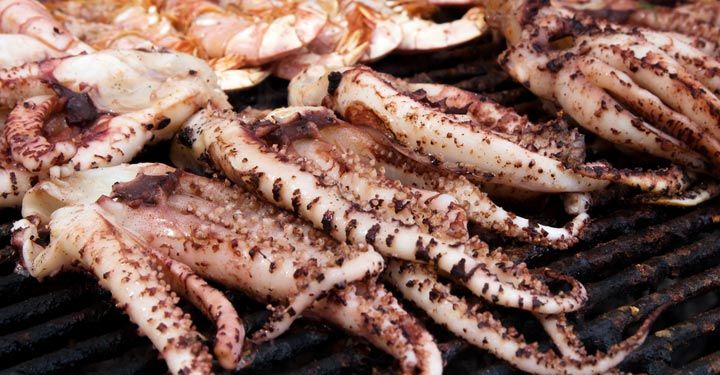 Coach tours stop at El Golfo to allow visitors to filter off across the hill to the algae-riddled, olivine-hued lake known as Lago Verde. Olivine is a green semi-precious stone found here amid the black sands and you can pocket a decent chunk if you leave a euro or two for the collectors.
Make your own way to the village of El Golfo and stay a little longer. The sea gives up her bounty in abundance here and you can often watch chefs gutting fish right on the rocks. The catch of the day doesn't get fresher than that!
All restaurants here are decent, but Costa Azul (Av. Maritima; 00 34 928 173199) claims the best ocean and sunset views.
6. You can appreciate the amazing artwork of island artisans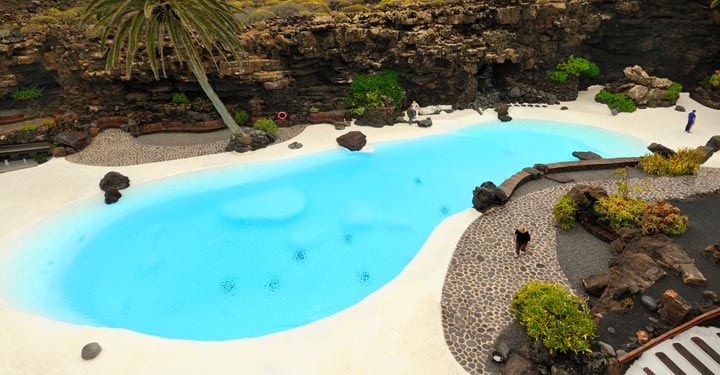 Lanzarote-born artist Cesar Manrique saw his beloved island as an unframed work of art. His enhancements of the masterpiece include the reworked volcanic lakes and caves of Jameos del Agua, his volcanic bubble home and studio, and a scattering of Wind Toys – huge sculptures that tinkle and turn in the breeze. You can see these on traffic roundabouts and various other public spots.
Of course, the master inspired the masses and other pieces of artistic brilliance shine across the island. Local sculptor Paco Curbelo has taken the helm of Manrique's vessel; his work includes the giant camel family on the main road from Arrecife to Playa Blanca and the sailboat sculpture on the road into swanky marina Puerto Calero.
7. You can have a high-altitude coffee in the only skyscraper on the island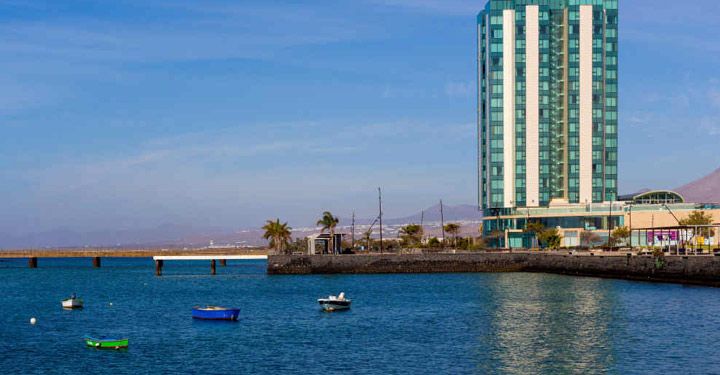 Upon returning from a stint in 1960s New York (where you think he would have become used to high-rise buildings), Manrique recoiled at the new multi-storey hotel in the island capital of Arrecife. His reaction led the way to tougher building regulations that were more sympathetic to the island's beauty.
The Gran Hotel stood and today it is a glass-clad, modern, five-star place to stay with a sumptuous spa. You don't have to stay here to appreciate the views from Lanzarote's only skyscraper. Take the lift to the 17th floor and order a coffee and cake by day or a cocktail by night in the Star City lounge. Across the hallway is the Altamar restaurant – an indulgent treat.
8. You can see Europe's first underwater sculpture museum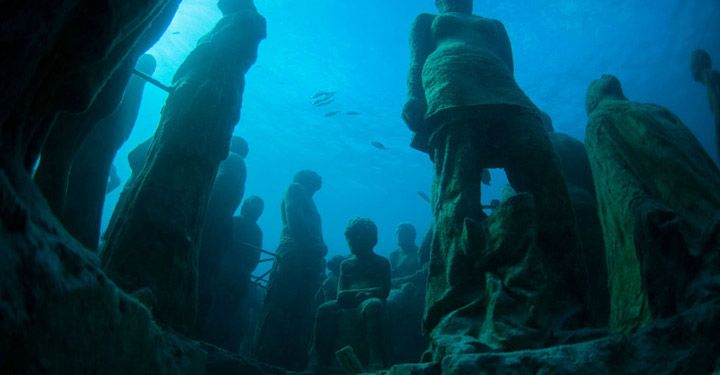 Lanzarote's art has taken a dive recently – right to the seabed off Playa Blanca. New for 2016, the Museo Atlantico is the brainchild of Jason deCaires Taylor, the visionary behind Cancun's underwater museum, MUSA.
The first stages of this thought-provoking ocean installation are complete and open to divers and snorkelers. Between 12 and 15 metres below the waves lies a raft haunted by sculpted refugees, a sunken couple taking a selfie and rows of Lanzarote residents immortalised in the Atlantic.
9. You can avoid the main resorts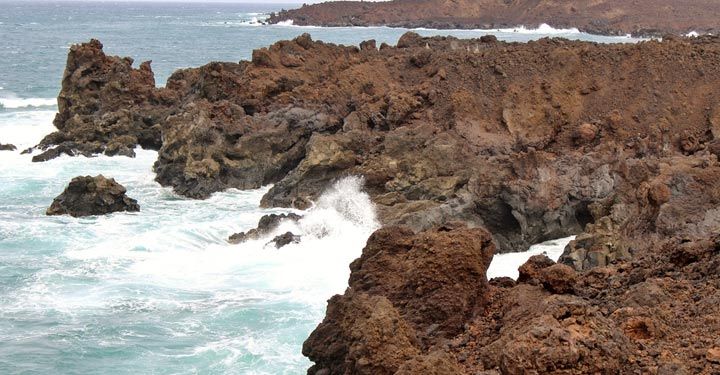 While you're taking an alternative look at Lanzarote, consider changing the view from your bedroom. The three main resorts of Costa Teguise, Puerto del Carmen and Playa Blanca are not without their charms, but there are plenty of other places in which to wake up.
Rural and rustic come hand in hand with countryside fincas, while eco-yurts take you off grid as well as off the beaten track. Take a look at Lanzarote Retreats for inspiration.
Book a hotel in Arrecife for a taste of city life or, for sporty types, take a look at the fantastic Club La Santa on the island's rugged west coast. Top athletes come here to train, while families fill their days with activities ranging from aerobics and badminton to windsurfing and yoga.
Have a comment or question about this article? You can contact us on Twitter or Facebook.
Sign up. Be inspired. Travel.
Subscribe now for hand-picked holiday deals, inspiration and the latest travel tips, straight to your inbox.
We won't pass your details on to anyone else. By clicking the sign up button you agree to our Terms of Use and Privacy Policy.