Updated September 28, 2023
Published May 5, 2022
An island of dreamy escapes and dramatic landscapes, white-sand beaches and twisting volcanic peaks, Lanzarote is a holiday destination with a difference.
Thanks to its UNESCO geopark status and the influence of artist César Manrique, Lanzarote's most famous son, the island is relatively underdeveloped compared to neighbouring Tenerife and Gran Canaria. The result is an island of incredible beauty: equal parts wild and windswept, equal parts classic holiday destination.
With plenty of hotels, resorts, and package holiday deals on offer, Lanzarote is well known as a great budget-friendly holiday destination, too. But your Lanzarote holiday could be even cheaper – here's how.
*All prices quoted correct as of September 28, 2023. Please note prices can fluctuate daily and may appear differently on provider site for this reason. Deals are subject to the partners' T&Cs.


Where to stay in Lanzarote on a budget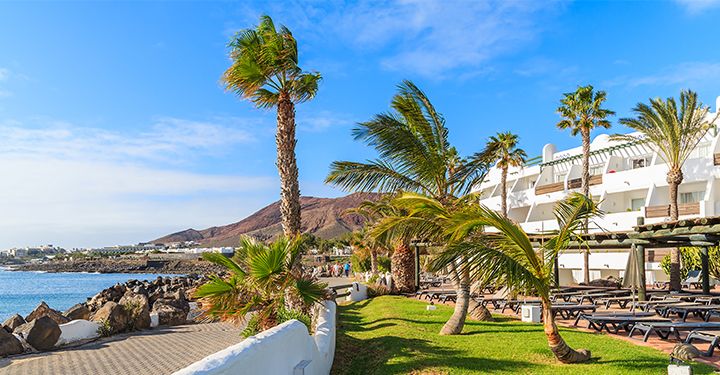 For a classic package holiday for less, the popular resorts of Costa Teguise, Playa Blanca and Puerto del Carmen are your best bet. A week's stay in Puerto del Carmen, including flights and all-inclusive board, costs from around £390pp* in mid October. Meanwhile, all-inclusive holidays in Costa Teguise start from £410pp* in the last week of October.
All-inclusive not your thing? Self-catering holidays in fuss-free apartments can be good value for money. A night at the three-star Apartamentos Santa Rosa in Costa Teguise, for example, starts at £70.
For a more peaceful place to stay, consider Lanzarote's surf capital of Caleta de Famara, or the small fishing village of Arrieta. Expect self-catering apartments or low-key hotels with a traditional Canarian feel – but if you're all about riding the waves or exploring the local area, finding a comfortable base shouldn't be an issue.
In general, travelling in the shoulder seasons of May or September will help you score even cheaper deals to Lanzarote.
Where to eat in Lanzarote on a budget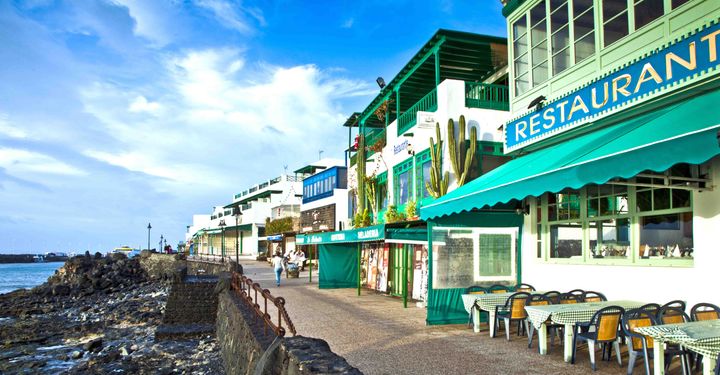 Keep things cheap in Lanzarote with tapas. Hop from restaurant to restaurant, sampling a new dish in every spot; with prices starting from just a few euros, it's easy to fill up for less.
Eating your main meal of the day at lunchtime can help save money too. Look out for restaurants offering great-value three-course meals known as the menu del dia – you can usually find a spot with meals under €15.
If you're staying in one of the beach resorts on Lanzarote's coast, you'll be spoilt for choice with fresh seafood, paella and other Canarian specialities on the menu. The fantastic Cofradia de Pescadores in Playa Blanca, for example, is run by fishermen and serves delicious boat-fresh seafood at cut prices.
Alternatively, save money on food and drink by booking an apartment with a kitchen, stocking up on fresh produce from a local market and cooking for yourself.
What to do in Lanzarote on a budget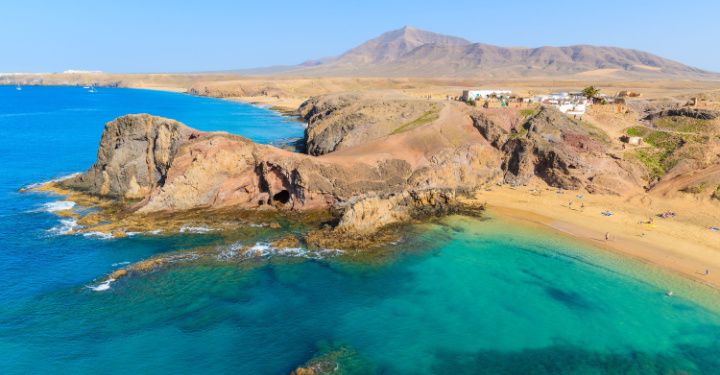 With so many great free things to do on a holiday in Lanzarote, you don't have to spend a penny on activities unless you really want to.
Of course, the island's star attraction is its beaches. From the unspoilt coves of Playa de Papagayo to the family-friendly waters on Playa Flamingo and the surfers' paradise of Playa de Famara, you could easily while away your holiday just hopping between Lanzarote's lovely beaches.
Away from the shore, other free activities include soaking up the buzz at Teguise market, watching the sunset over the Salinas del Janubio salt pans and visiting the majestic Castillo de San Gabriel in Arrecife. Don't miss the Casa-Museo del Campesino museum, where you can admire César Manrique's architecture while learning about Lanzarote's agricultural history.
One must-see sight in Lanzarote is the epic, lunar-like landscapes of Timanfaya National Park. There are various ways to see the park, with options to suit all budgets. However, the €12 guagua (bus) tour is worth the price tag. Remember, too, that the visitor's centre is free to visit and provides interesting insights into the volcanic origins of the park.
How to get around Lanzarote on a budget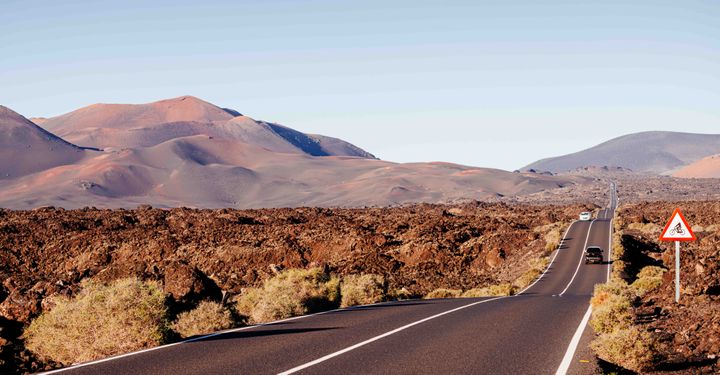 One of the best ways to travel around Lanzarote is to hire a car. The island is small – you can drive from Orzola in the north to Playa Blanca in the south in under an hour and a half – the road system is very straightforward, and you'll be able to easily explore different areas. Car hire itself is pretty affordable too, especially if you book as part of a package or well in advance.
Another good alternative is to use the buses. There is a relatively comprehensive and easy to use bus network connecting the main towns and resorts, but you'll need to check timetables on the website or app to plan your trips. For a few euros, you can make the trip from Arrecife to Costa Teguise, and from Arrecife to Playa Blanca.
There are also regular buses to get you from the airport to your hotel; if you've booked a package holiday, an airport transfer will usually be included in the price.
If all you want to do on holiday is relax and sunbathe, there is really no need to spend anything on transport in Lanzarote. Every beach resort has restaurants, bars, beaches and hotels within easy walking distance of each other, so you can simply stroll from place to place.
Insider tips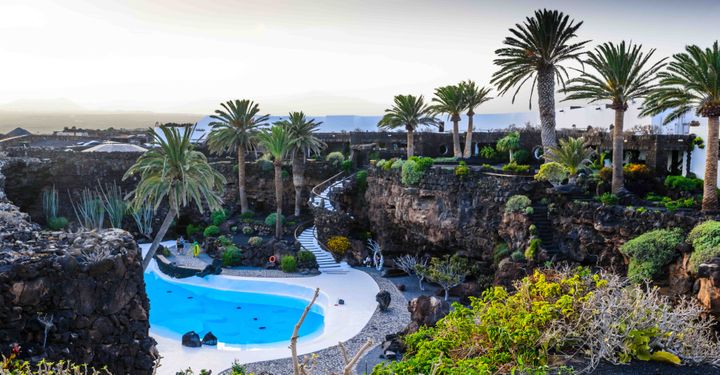 If you plan to use the buses in Lanzarote, get a travel card to save 10% on bus fares, and avoid having to hunt for cash on every journey too.
Look for happy hours in bars across the island. They often coincide with golden hour so you can enjoy a cheap cocktail while watching the sunset.
Travel during the spring or autumn months to avoid the most expensive prices and sweltering heat.
If you plan to visit some of César Manrique's incredible Centres of Art, Culture and Tourism (including Jameos del Agua, Cueva de los Verdes, Mirador del Río and Jardín de Cactus), buy a multi-centre voucher and save up to €12.50.

If you want to do some surfing in Famara, book group lessons rather than private ones as these will be much cheaper. You can even find some great deals with surfing, yoga classes and accommodation all included.

Have a comment or question about this article? You can contact us on Twitter or Facebook.