Updated June 15, 2023
Published February 17, 2022

Follow the sun to Gran Canaria for blissful beaches, rocky mountains and ancient culture. The Canaries' third largest island might not be the biggest but it's one of the most diverse, with its varied terrain earning it the nickname the 'miniature continent'.
But where to stay? On an island with so much to offer, picking the right spot can be tricky. From package holiday favourites to quiet fishing villages, here are the most popular resorts for your Gran Canaria getaway.


1. Taurito
Best for families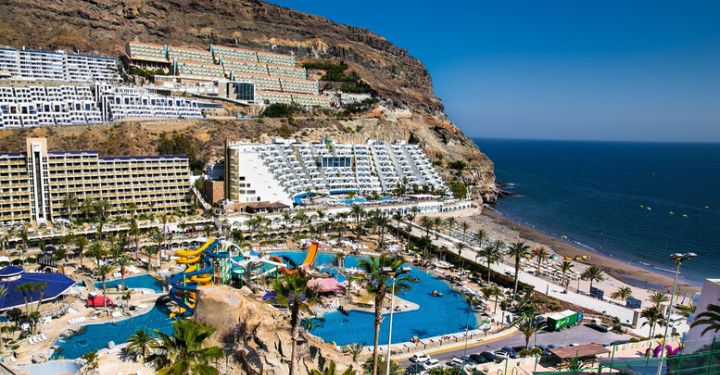 For families seeking sun, sand and plenty to keep the kids occupied, Taurito is a top choice. Despite its small size, the resort packs a mighty punch, with a lovely palm-fringed beach and a good selection of bars and restaurants. But the biggest family-friendly selling point here has to be the Lago Taurito Water Park in the centre of town.
With more watersports on offer at the beach, and calm waters perfect for the kids, you don't even need to leave the resort if you don't want to. That said, if you do fancy a change of scenery, the lively resort of Puerto Rico is just a ten-minute drive down the coast.


2. Puerto de Mogán
Best for couples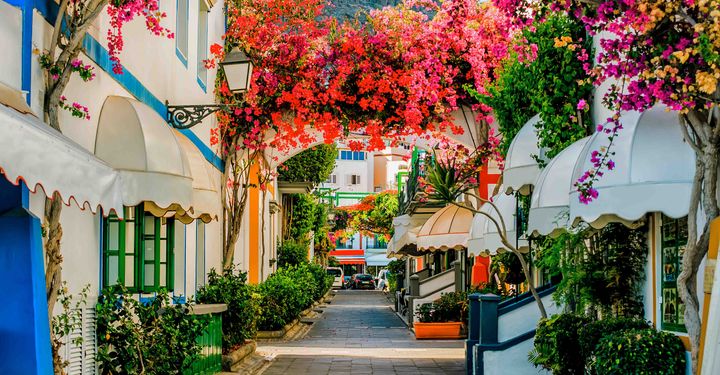 Dubbed Gran Canaria's 'Little Venice', Puerto de Mogán is the most romantic resort on the island. The small canals and bridges that flow into the town's working fishing harbour may have earned the comparison, but it's the resort's all-round beauty that draws couples year after year.
The resort's main beach is small but with golden sand and clear water, and Puerto de Mogán's location on the southwest coast means it is also close to many of the island's best beaches – such as those in Puerto Rico and Maspalomas, both under a half an hour drive away. If you're an active couple, there are several fantastic coastal walking trails that begin near to town, too.


3. Puerto Rico
Best for travellers on a budget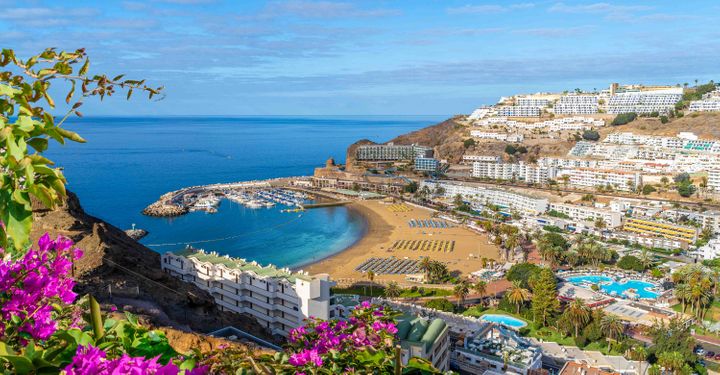 Gran Canaria's biggest and best-known resort, Puerto Rico is a great choice for budget travellers. With everything you may need easily accessible, you won't need to spend a penny on taxis or transport once you arrive. For cheap accommodation, you'll also find that the best package holiday deals on the island are usually here.
The resort's two beaches, Puerto Rico Beach and Playa Amadores, both offer calm waters and pristine golden sand. Scattered with umbrellas and watched over by lifeguards, you'll be spoilt for choice when it comes to sunbathing spots.


4. Playa del Inglés
Best for good nightlife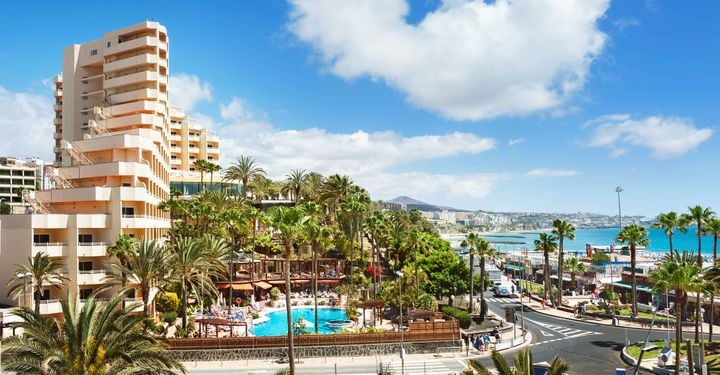 For partygoers, Playa del Inglés is the liveliest and most popular late-night resort in Gran Canaria. Though this isn't a Magaluf or Ayia Napa, there's still plenty of action, especially in and around the Yumbo Centre. The resort is also popular with the LGBTQIA+ community, and during the Maspalomas Pride weeks the nightlife gets particularly jubilant and raucous.
When you're not out drinking and dancing in Playa del Inglés, you'll most likely find yourself on Playa del Inglés beach, recovering from a hangover with some sun and a swim. If you're feeling livelier, get into the party mood by unleashing your inner big kid at the Aqualand Water Park, or trying some of the watersports available at the beach.


5. Tejeda
Best for hikers and walkers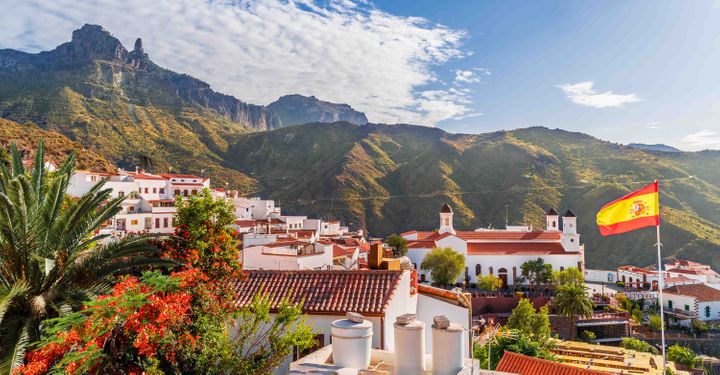 Smack bang at the centre of Gran Canaria's mountainous interior, you'll find the tiny village of Tejeda, a picturesque spot popular with hikers, walkers and rock climbers. Up and away from any beaches, the beauty of Tejeda is in its lush mountains and steep-sided valleys, which you can explore using the many miles of hiking trails that cross Gran Canaria.
Popular hikes include the Roque Nublo, a towering column of basalt rock; the route from Cruz de Tejeda to La Culata; and Barranco de Tejeda (for more detailed information about walking routes in Tejeda, visit the village's tourist office). The best time to go hiking in Gran Canaria is between October and May, when the weather isn't too hot. Just be sure to book your accommodation in Tejeda well in advance – it's a small village and rooms tend to go fast during the peak walking periods.


6. Bahia Feliz
Best for a quieter place to stay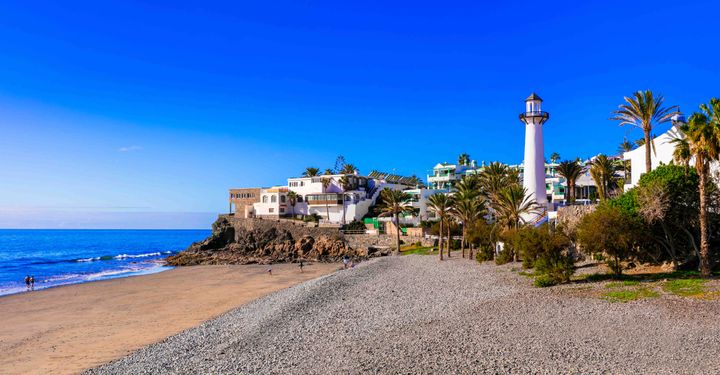 If it's simple R&R in a peaceful setting you want from your Gran Canaria holiday, laidback Bahia Feliz is the place for you. This small resort sits on the southeast coast of the island, away from the busier towns to the west, but still within a 15-minute drive of the rolling sand dunes in Maspalomas.
The accommodation here is spread out and surrounded by greenery so you can really appreciate the sea air and coastal views. Though there isn't a central beach, the resort has a long promenade from where you can drop down into several smaller coves, where you'll get more privacy and less hustle and bustle. In town, there is a good choice of restaurants and if you want the occasional night out, Playa del Inglés is just a ten-minute taxi ride away.


7. Maspalomas
Best all-rounder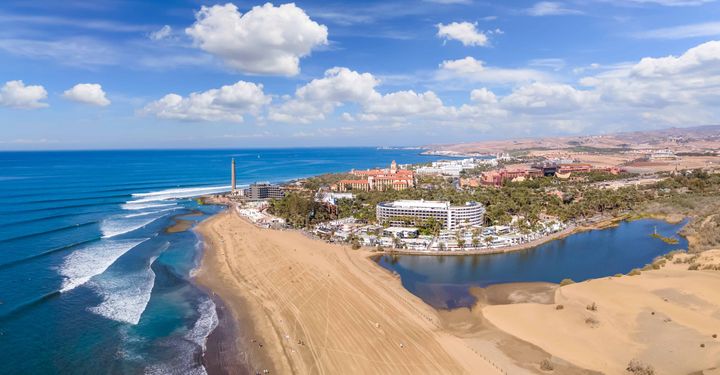 Offering a slightly more upmarket vibe than some of the other big resorts in Gran Canaria, and with probably the island's most famous beach, Maspalomas has it all. First things first, you'll want to hit the rolling desert-like dunes along the coast, which stretch for several kilometres until they meet the equally beautiful Playa del Inglés beach.
For sundowner drinks and epic views, the Faro de Maspalomas lighthouse makes a great spot to start your evening. And you can continue it with dinner along the Meloneras boulevard, where you'll find several upmarket restaurants as well as fancy bars and chic shops.


Have a comment or question about this article? You can contact us on Twitter or Facebook.