January 15, 2020
By Eddi Fiegel
Fancy a beach holiday? The Canary Islands have some of the best stretches of sand in Europe but one in particular is famous for them.
Whether you're after a family-friendly Blue Flag beach, a romantic hideout with virgin stretches of silky white sand, or windswept shores for surfing and windsurfing, Fuerteventura is the place to visit. And these are some of the best beaches to head to on your trip.

Best beaches for families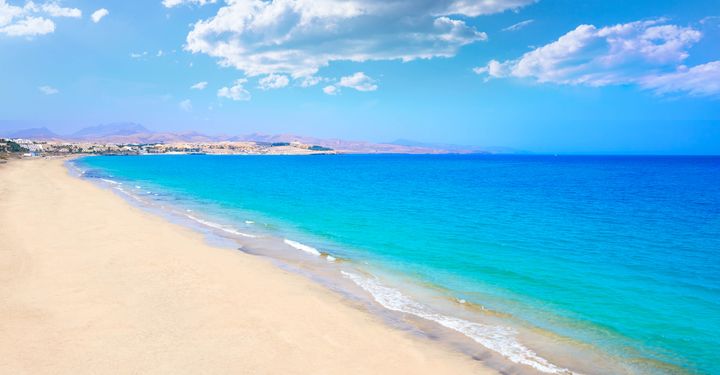 Playa del Matorral
This beach near the Morro Jable Lighthouse is a big favourite with holidaymakers thanks to its shallow, clear water that is perfect for paddling in. The pristine milky white sand is crying out for sandcastles, and you can also try diving and water sports.
Playa la Guirra
On the east coast of the island, La Guirra has gleaming white, soft sand and calm, clean water perfect for splishing and sploshing in. There are also parasols and sun loungers, and it's very close to Caleta de Fuste – one of the island's major resorts, so you won't have to trek too far for shops or restaurants.
Playa de Costa Calma
As the name suggests, the waters on the island's 'calm' southeast coast are wonderfully gentle. Costa Calma is also Fuerteventura's second largest resort, so there's no shortage of shops and restaurants, while the Oasis Park Zoo is just a 15-minute drive away.

Best beaches for surfers, windsurfers and kitesurfers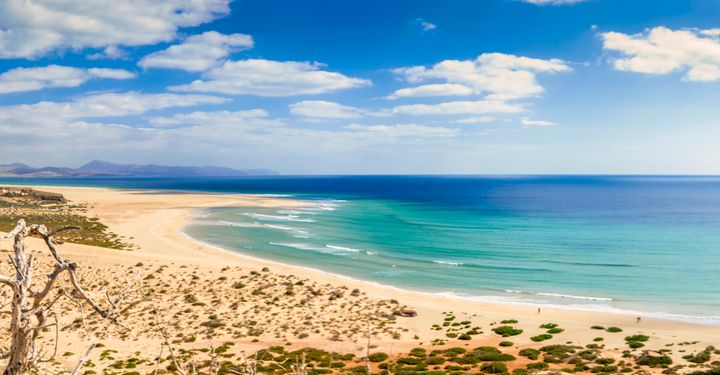 Piedra Playa (aka Surfers' Beach)
With its huge waves and strong winds, surfers, wind surfers and kite surfers can't get enough of this beach, near El Cotillo in the north of the island. You'll find several local surfing and kite surfing schools nearby but be aware that the currents can be dangerous when swimming.
Playa de Sotavento
On the south-east of the island, this is another favourite with surfers and kite surfers, thanks to its strong, steady winds. It's also part of a 17-mile stretch of blissfully clean sand and warm waters.

Best beaches for couples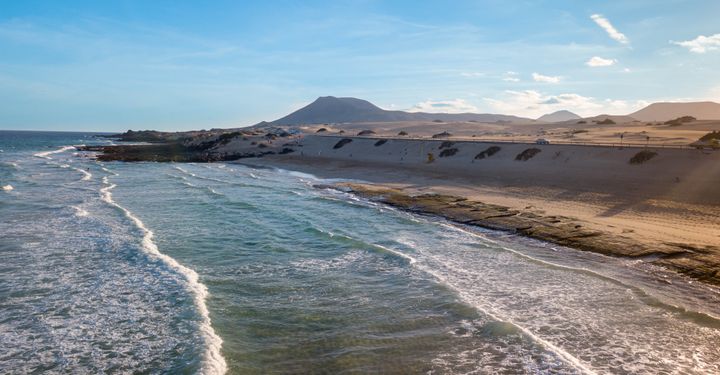 Playa de Barlovento
This wonderfully wild, desert-like beach, near El Cofete in the south of the island may not be the easiest to get to – you have to drive along a bumpy dirt track from Morro Jable or get a bus. But it's worth it once you arrive. With almost four miles (6km) of idyllic golden sand, this is about as romantic as they come. It's popular with naturists too.
Playa del Moro, Dunas de Corralejo
The sand dunes around Corralejo, just south of the main Corralejo resort, are part of a protected National Park area and one of the most beautiful stretches of the island. There are parasols and loungers on the beach as well as an area specially marked for wind and kite surfers. Otherwise, just sink your toes into miles of soft white sand.

Best beaches near major resorts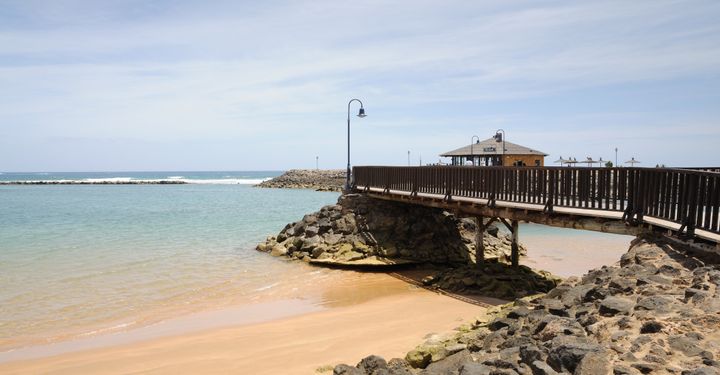 Corralejo Viejo
If you like the idea of lazy days on the beach but want shops, bars and restaurants close at hand, Corralejo Viejo is a great choice. With its fine, golden sand, the beach sits right in front of the promenade, harbour and marina at Corralejo – one of the major tourist resorts on the island.
Caleta de Fuste
A lovely horse-shoe bay with nearly half a mile of pale gold sand, Caleta de Fuste has been nicknamed 'Little Britain' thanks to its popularity with British holidaymakers. Beachfront cafes, shops and bars are a pebble's throw away and there's also volleyball and mini-golf on the beach. It's a popular choice with families and windsurfers.

Best beaches for sunbathing with the locals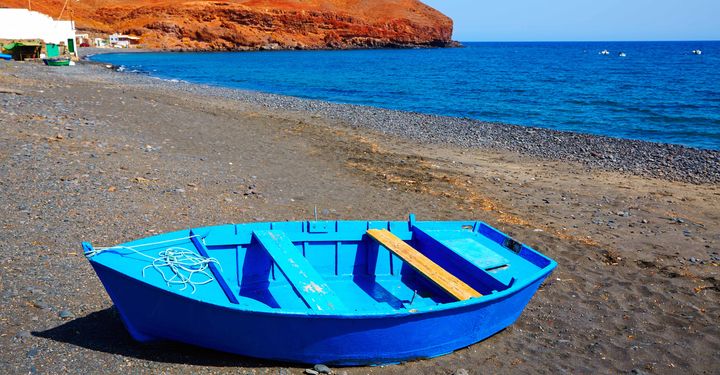 La Lajita
You'll be hard pushed to find a less touristy beach than this lovely small fishing bay laced with palm trees on the southeast of Fuerteventura.
Fishermen still set out in their trawlers from here and it's popular with locals who love the fine dark sand and wonderfully calm waters. Don't expect parasols or sun loungers, however – it's not that kind of beach.
Giniginamar
Partly because the beach is mainly pebbly rather than sandy and partly because it's not that near any of the major resorts, Giniginamar, on the southeast of the island, is another quiet, small bay popular with local islanders.
This is the opposite end of the spectrum from the big beaches but it's not so remote you won't find a bite to eat. A couple of bars in the tiny fishing village serve good, local food.

Best beaches for foodies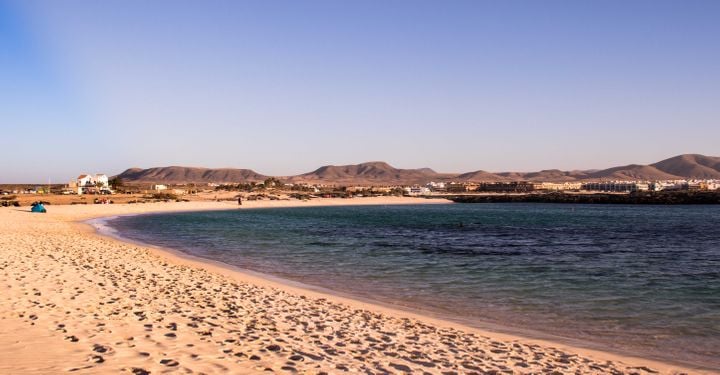 Playa de Cofete
Cofete is one of the island's most unspoilt and spectacular beaches, with nearly 8 miles (12km) of golden sand set against the backdrop of the Jandia mountains.
It's also a foodie find. Restaurant Cofete has one of the most stunning beach views on the island, not to mention top-notch food. The grilled fish and salads are fantastic. But don't try getting here in a regular car. You'll need a 4x4.
Playa de la Concha
Tucked away in the northwest of Fuerteventura, this lovely, family friendly cove is famous for its stretch of silky white sand and wonderfully clear, emerald water.
It's also just a short walk to the harbourfront at El Cotillo where you'll find La Vaca Azul (The Blue Cow) one of the best seafood restaurants on the island. Try the paella, prawns, squid or mussels.

Best beaches for getting away from the crowds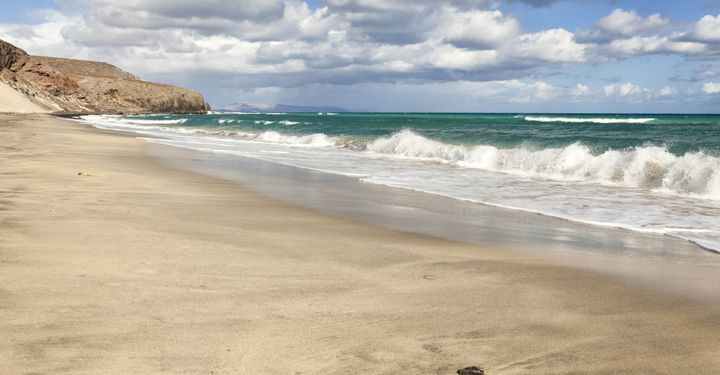 Playa de la Escalera
It may be just half an hour's walk south of the main beach at El Cotillo, but La Escalera (aka El Aljibe de la Cueva) is one of the most wonderfully wild beaches on the island with miles of golden sand.
This is properly wild, however, so do bring your own picnic, drinks and supplies as you won't find any shops or bars nearby. And be prepared to scale steep steps to reach it.
Playa de Esquinzo
If you want to get seriously remote and peaceful, they don't come much more so than Esquinzo. Not to be confused with the more touristy Ezquinzo-Butihondo, this idyllic stretch of golden sand in the north of Fuerteventura is nearly four miles from the nearest town. The scenery is a spectacular mix of black and white as black volcanic rocks behind the beach suddenly switch to gold next to the emerald ocean.
This is another beach where you'll need to bring your own food and drink provisions. Be careful in the water too as the currents are strong.

Have a comment or question about this article? You can contact us on Twitter or Facebook.