10 of the best beaches in Tenerife
Updated February 7, 2023
Published November 5, 2021
There's plenty of coastline to go around the largest Canary Island – over 300km, in fact. And right across the island, you'll find wide, golden bays perfect for families, black-sand shores backed by volcanoes and wild, untouched beaches just waiting to be explored.
For a whistle-stop tour of Tenerife's very best shores, check out our guide.


1. Playa de las Teresitas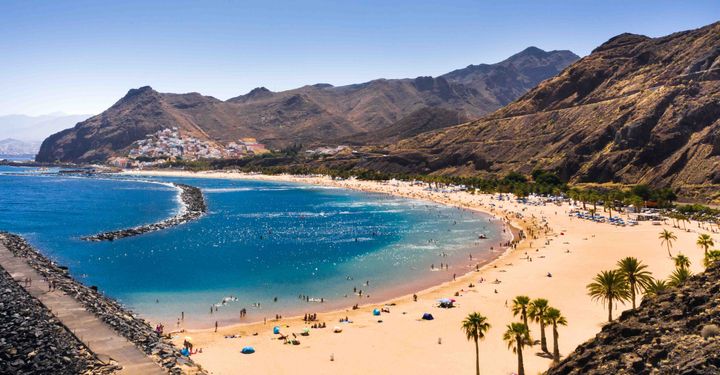 Despite its reputation as a beach destination, many of Tenerife's best stretches of sand are not natural to the island. The 1.5km (0.9 miles) of soft, golden sands at Playa de las Teresitas, for example, were actually imported from Africa in the 1970s.
Found on the northeast coast, close to the island's capital of Santa Cruz de Tenerife, this artificial beach is as popular with Canarians as it is tourists. Join your fellow beachgoers under the palm trees and mix time splashing in the beach's calm and safe waters with snack breaks from its shoreside bars and restaurants.


2. Playa Jardin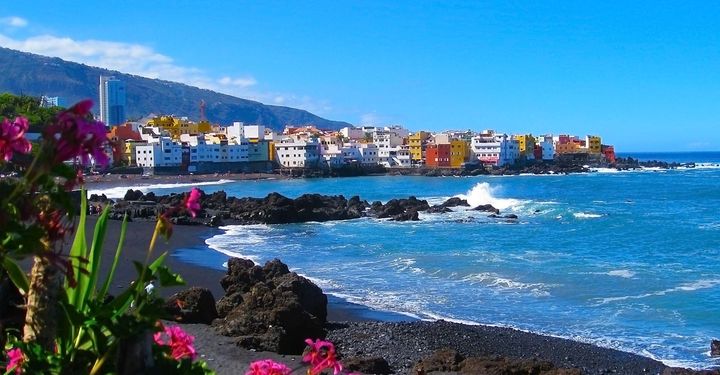 Getting to Playa Jardin, in Puerto de la Cruz on Tenerife's north coast, is as much of an experience as the visiting the beach itself. Before you reach the pristine black sands, you'll need to wander through a César Manrique-designed tropical garden filled with trickling waterfalls, prickly cactuses, and some of Tenerife's most colourful flora.
Among the gardens, you'll find a playground and a handful of cafes, while on the beach, there's three small coves to lay your towel, as well as sun-loungers and parasols for hire. With the gardens above, the snow-capped Mount Teide bearing down behind you and the beautiful Atlantic ahead, this pretty beach is a must-visit wherever you're staying on the island.


3. Playa de la Tejita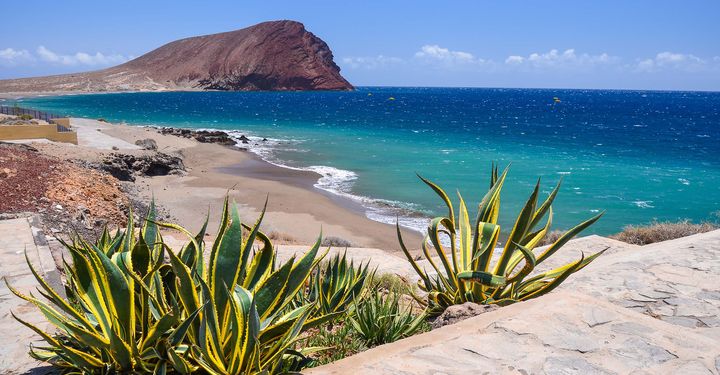 Flanked on one side by the striking rust red Montaña Roja rock, the 1km (0.6 miles) Playa de la Tejita is Tenerife's largest natural beach and a real beauty of a bay. Around a 20-minute drive from Costa Adeje, Playa de la Tejita rarely gets as crowded as Tenerife's other southern beaches – you're more likely to be sharing the sand with surfers and a few nudists than a ton of tourists here.
If you're into watersports, the wind conditions are reliable, and the kite-surfing mecca of El Médano is just along the coast too. There's also a small beach kiosk and sun-loungers for hire, if you're looking for a more relaxed day on the sand.


4. Playa de las Vistas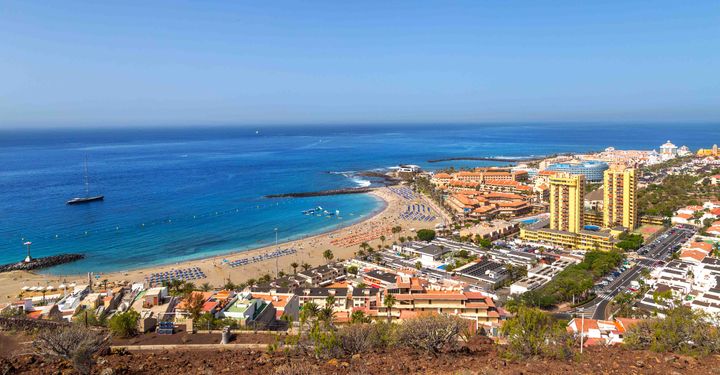 With soft golden sand, calm and clear waters and lifeguards on duty all year round, the Playa de las Vistas is a top pick for families staying on the south coast. This Blue Flag beach is in the popular tourist resort of Los Cristianos, meaning you won't be short of restaurants, bars and shops. Rent a sun-lounger and while away the day or head out onto the water on a banana boat or jet-ski.


5. Playa de los Gigantes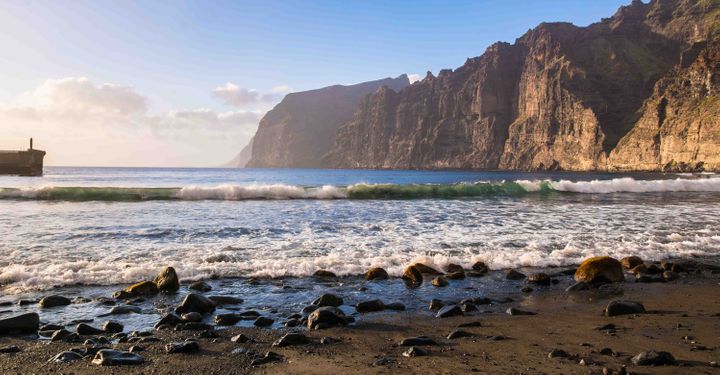 Dramatic scenery is the big-ticket attraction at Playa de los Gigantes, or 'Giants Beach'. On the west coast of the island, this black-sand beach is backed by towering cliffs that reach up to 600m (1,969ft) high. The awe-inspiring cliffs shelter the shore from the elements, and the dark blue water is placid and perfect for swimming.
For the best views in the house, rent a kayak and admire the scenery from the water, or join a whale- and dolphin-watching tour – this is one of the best places in Tenerife to spot them. And if you're into diving, the hidden coves around the cliffs are a hotspot for colourful marine life.


6. Playa de Benijo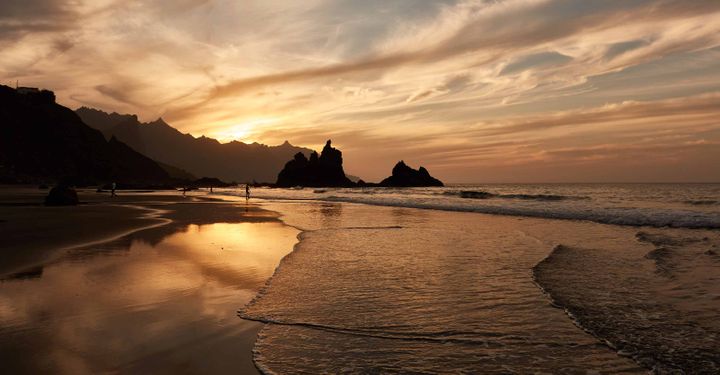 On Tenerife's wilder north coast and on the edge of the protected Anaga Rural Park, Playa de Benijo is one of the most beautiful and unspoiled beaches on the island. The currents here are strong and the waves thunder onto the sand, so it's less of a beach for swimming and more of a place to enjoy the scenery and spectacular sunset views.
There is no car park at Benijo, so you'll have to walk for around 15 minutes from the nearest road, but the epic rock formations along the shore, and the fiery sunsets, are well worth the effort.


7. Playa del Duque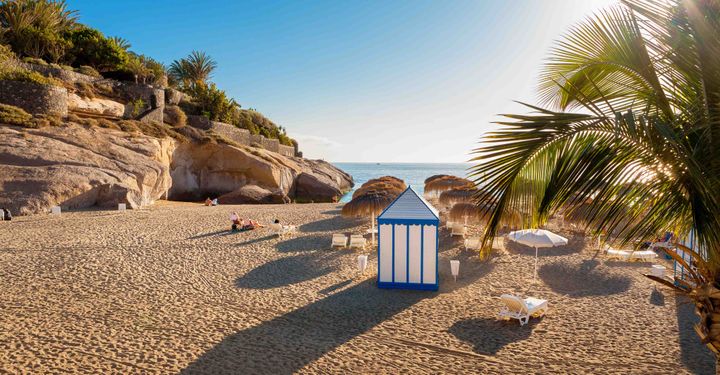 This soft-sand bay is kitted out in style, with pretty, thatched umbrellas and sunbeds for hire, and blue-and-white beach huts at either end – a suitably chic beach setting for this upmarket part of Costa Adeje.
In between sunbathing on the sand and swimming in the turquoise waters, get some shade at one of the lovely restaurants along the promenade (some of Costa Adeje's best eats are here), or stop in at some of the upmarket boutique shops for a browse.


8. Playa Fañabé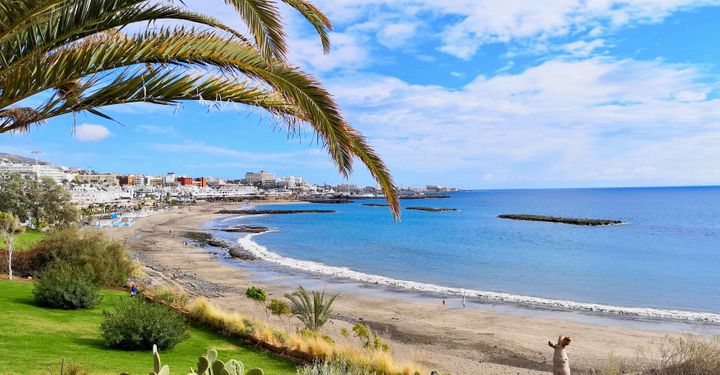 Active types will love Playa Fañabé in Costa Adeje. From jet-skiing and banana boats to windsurfing and paddleboarding, you'll find all kinds of watersports on offer on this lovely beach. If you'd rather stay dry, you can take a glass-bottomed boat excursion, or just stay sand-side and enjoy live music at one of the beach bars.
For a change of scenery, follow the seafront promenade to neighbouring Playa del Duque, just a 15-minute walk away, or head to Playa de la Pinta, which is a 10-minute stroll in the other direction.


9. Playa El Bollullo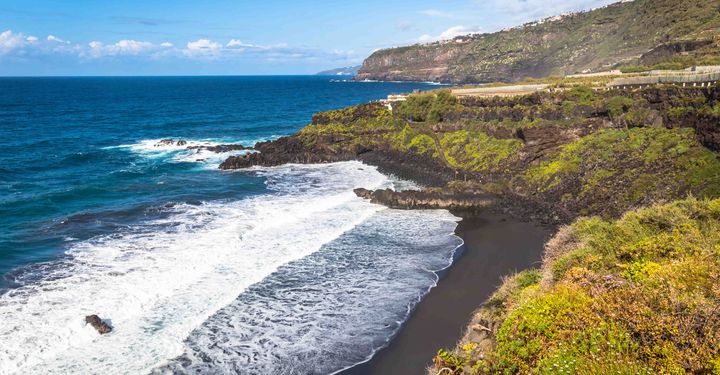 Surrounded by dramatic cliffs and battered by strong, crashing waves, black-sand Playa El Bollullo, near Puerto de la Cruz, is wonderfully untamed. It's a 20-minute walk from the clifftops to get onto the sand, and while swimming isn't always allowed, surfers will enjoy tackling the rough waters here.
You won't find much by way of facilities, but that's part of the charm. There's a small beachfront cafe that overlooks the bay if you're feeling peckish, but the real draw is getting away from it all. The sunsets are pretty beautiful, too.


10. Playa de Antequera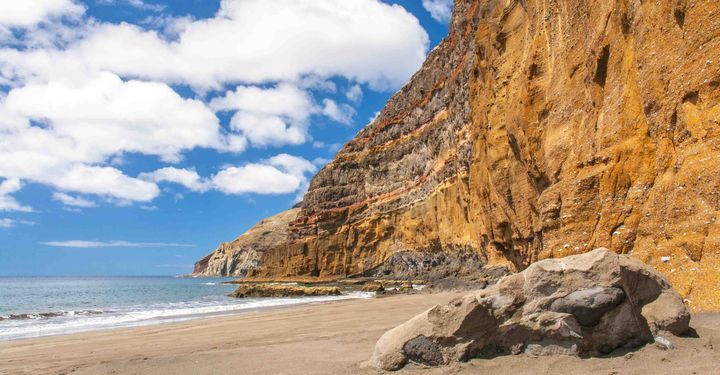 The unspoiled natural beauty found at Playa de Antequera make this one of the most paradisiacal beaches on the island. To experience it as nature intended, combine a relaxing beach afternoon with an active morning of hiking by heading there on foot. There are two routes you can take, both starting in Igueste San Andrés and bypassing canyons and steep cliffs for around three hours.
The tough hike is worth it for the shimmering, sandy shore and views of sloping volcanic cliffs covered in lush green grass. Dive into the calm water to cool off, then catch some rays before making your return journey the leisurely way – by boat (book from Santa Cruz de Tenerife before you go).


Have a comment or question about this article? You can contact us on Twitter or Facebook.