11 Of Spains Best Blue Flag Beaches
11 of Spain's best Blue Flag beaches

August 2, 2019

Spain's title as the country with the most Blue Flag beaches in the world isn't going anywhere - it's topped the list for its 32nd year in 2019.
This year, a huge 566 beaches along the Spanish coast met or surpassed the programme's stringent environmental, educational, safety and accessibility criteria.
It's a whopping number, and narrowing it down was a tricky feat, but here are the ones worthy of your beach towel.

1. Cala Agulla, Majorca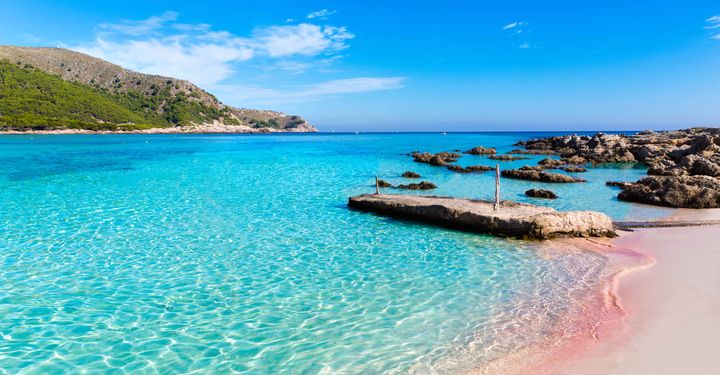 This 500-metre-long beach is one of the prettiest on the north east coast of Majorca. It's one of Spain's most spectacular beaches, with wonderfully clear, shallow waters and a backdrop of verdant pines.
It's also a great option for families looking to venture away from the resorts without going too far – there are lifeguards during the summer months, and facilities include toilets and a kiosk. Budding sandcastle builders will love the soft golden sand and there are pedalos and stand-up paddleboards available to rent.


2. Aguadulce, Andalusia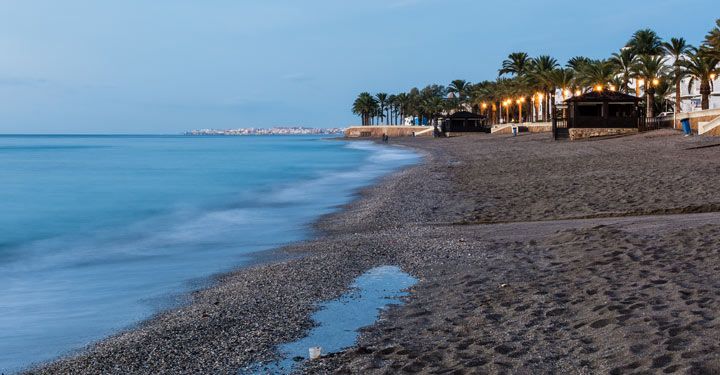 There's plenty of room to lay out your towel on this gorgeous stretch of sand, which is 2,500 metres long and 30 metres wide. It's one of the most beautiful beaches on Spain's Almeria coast – head to the promenade to enjoy stunning views over the Bay of Almeria, then enjoy a sundowner at one of the bars in the bustling marina next door.
It's also a great beach for water sports fans, who can try their hand at scuba diving, sailing, windsurfing and kite surfing.

3. Playa de Muro Beach, Majorca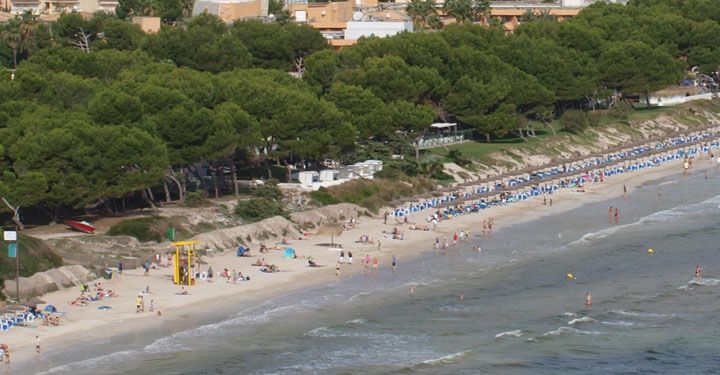 There's something for everyone at this popular Majorcan beach, which is famous for its fine golden sand. Children will love the chance to explore the towering sand dunes and clusters of pine trees, and there are pedal boats for hire, too.
The beach easily accessible, with a wide range of facilities and wheelchair access, but if you feel the need to escape the crowds, follow the paths which lead from the shore to the nearby Albufera nature reserve, the largest wetland area on the island.

4. Platja de Ribes Roges, Vilanova i la Geltru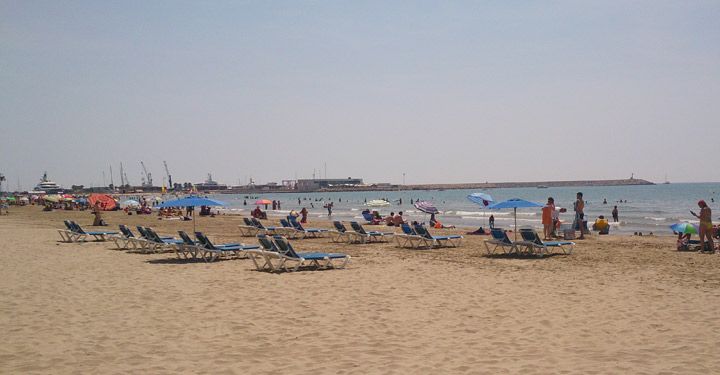 This next beach can be found 50 kilometres south-west of Barcelona. It's a wide, long chunk of Spain's coastline which is packed with family-friendly fun, including a miniature railway, water sports centres, toilets and tourist information points.
The water is shallow and protected by a series of breakwaters, so it's the ideal spot for a paddle. Keep an eye out for the bronze statues of Pasiphaë and the White Bull of Mino, two creatures from Greek mythology.

5. Ereaga beach, Basque Country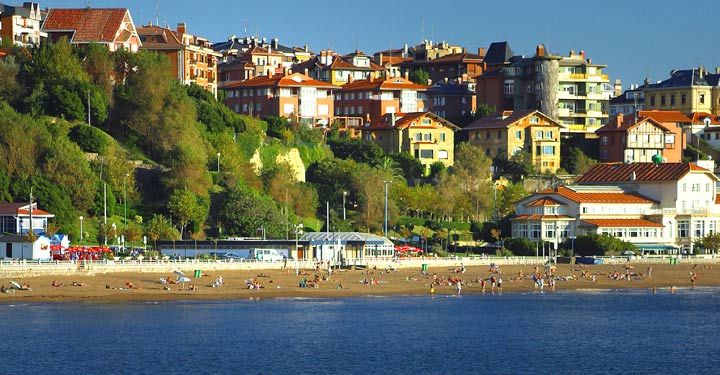 Ereaga is famous for its beach soccer tournaments, although surfing, beach volleyball, canoeing and sailing are equally popular. If you're a keen surfer, the best spot can be found in front of Puerto Viejo de Algorta (the Algorta Old Port). Christened Jeffrey's by locals, the waves here regularly top three metres.
There are plenty of facilities, including lockers, a lifeguard service and showers, and if hanging ten sounds like too much hard work you can always curl up in one of the hammocks!

6. Berría, Santander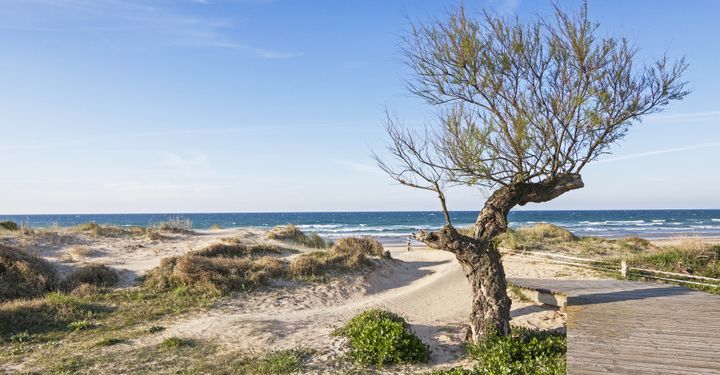 Wonderfully wild Berría is worth the 40-minute drive out of Santander. It's a long curve of clean, golden sands, perched on the edge of a protected national park.
Nearby parking means you're only ever footsteps from the sand and lively waves create endless opportunities for surfers and bodyboarders.


7. Playa de Las Vistas, Tenerife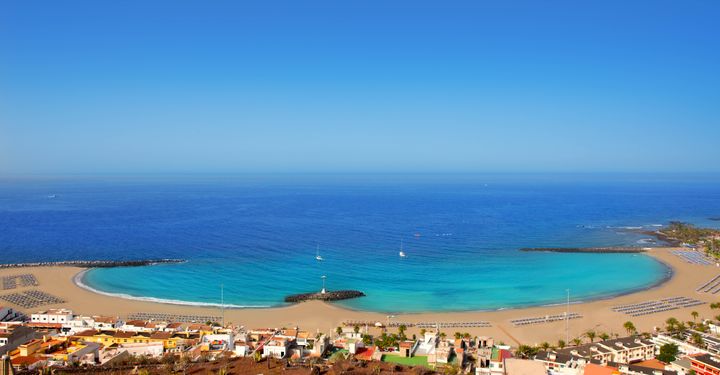 Expect turquoise water and soft golden sand at Playa de Las Vistas on Tenerife – the Canary Island with the most Blue Flag beaches. This is one of the busiest stretches of sand, but there are plenty of sun-loungers to hire for just a few euros per day.
The colourful promenade is a great place to pick up your obligatory "I love Tenerife" fridge magnet, and if you're feeling more adventurous, sign up for one of the whale-spotting excursions which depart from the nearby marina.

8. Playa de la Arena, Tenerife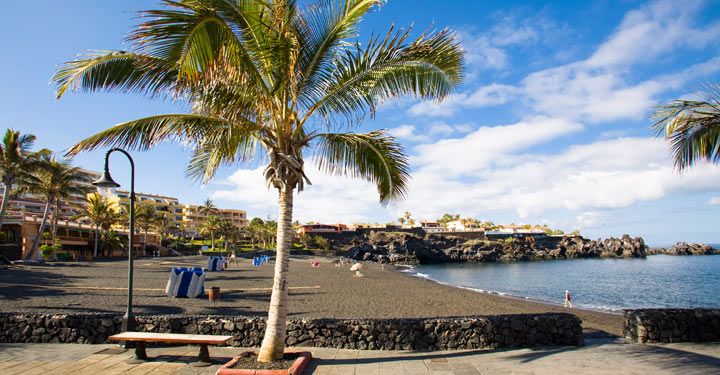 White sand is overrated. Tucked away on Tenerife's west coast, this black sand beach rarely gets crowded. You'll find a cluster of beachfront bars and restaurants, and a lifeguard service during the summer months, but Playa de la Arena attracts a quieter crowd, including those cooling off after a long hike through the famous volcanic landscape further inland.
Popular walking routes easily accessible from the beach include cliff-top hikes along Los Gigantes (Giant Cliffs) and routes through nearby Teide National Park.

9. Playa de San Sebastian, La Gomera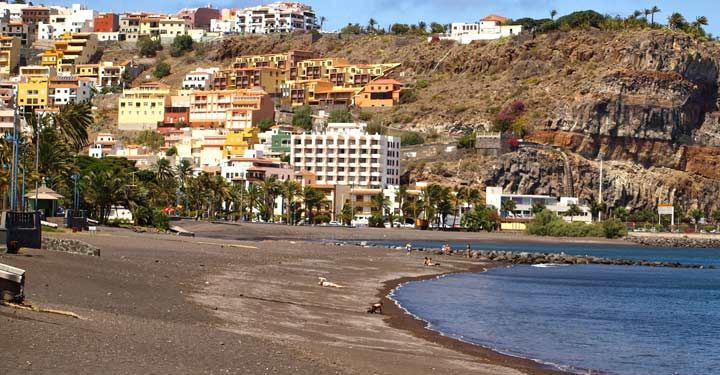 La Gomera may be one of the smallest Canary Islands, but its beaches still pack a punch. Although this one can get crowded, we love it for its calm, deep blue water and central location, just a few metres from San Sebastián de la Gomera (not to be confused with the similarly-named city on Spain's mainland). Rows of palm trees provide plenty of shade, and facilities include showers and a toilet block.
We also recommend checking out nearby Abalo beach, which has a beautiful palm grove and a small chapel dedicated to the Virgin of Guadeloupe – the island's patron.

10. Roche beach, Cádiz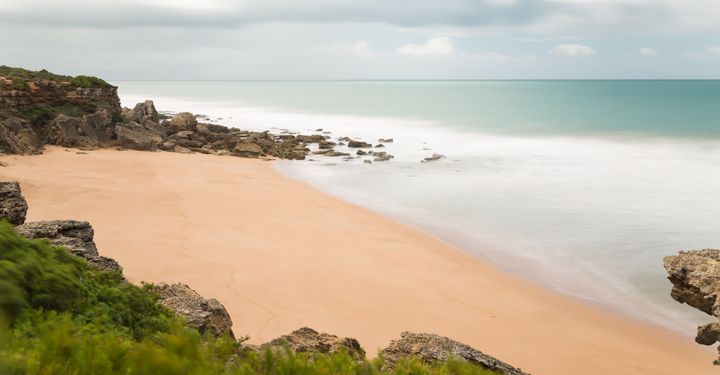 Roche itslef may be teeming with Madrid's high society but its beach is anything but swanky; facilities are few and far between here and that's all part of its charm.
While you won't find restaurants sharing street space with bars and cafes, you will be able to take in some of Spain's finest sunsets and enjoy golden sands under the watchful eyes of the summer season's lifeguards.

11. Cala Llenya, Ibiza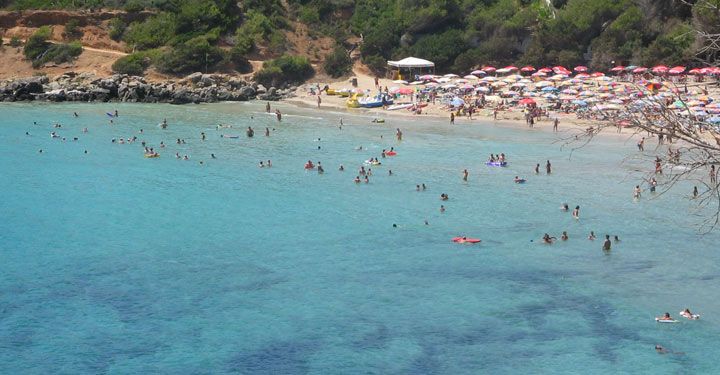 Believe it or not, this isn't Bali or Thailand, but Ibiza. We recommend taking a picnic to feast on under the fragrant pine trees, and also to do a bit of snorkelling in the clear, calm water. It's a popular beach volleyball spot which remains uncrowded even during peak season, making it a hit with families and couples seeking some peace and quiet.
There's a restaurant and bar right on the sand, but we also recommend purchasing a one-day pass for the nearby Cala Llenya Resort, which will give you access to hotel's water park and restaurants all day long.

Have a comment or question about this article? You can contact us on Twitter or Facebook.
Sign up. Be inspired. Travel.
Subscribe now for hand-picked holiday deals, inspiration and the latest travel tips, straight to your inbox.