May 4, 2021

By Esme Fox
Majorca is blessed with so many beautiful swathes of sand that it can be hard to choose which one to visit. From quiet coves to vast swathes of golden sand, those favoured by the locals and those preferred by tourists, here's ten of the best beaches in Majorca.


1. Cala Agulla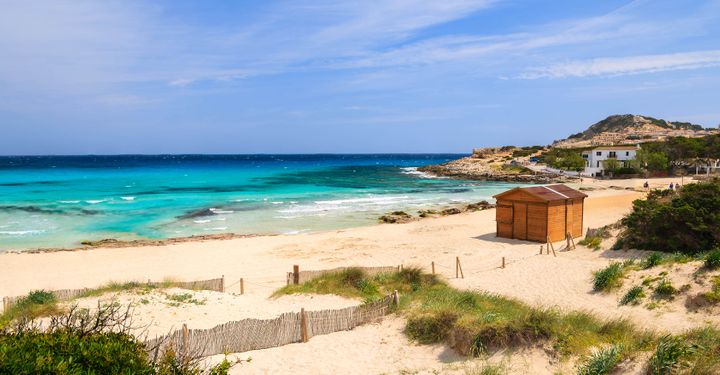 Hugged by rocky mountains and fringed by bottle-green forests, this natural beach lies on the central eastern coast of the island, just 3km (1.8 miles) from the medieval town of Capdepera.
Soft golden sand gives way to rocks at both ends – perfect for those little ones who love rock pooling – and the tree-lined sands offer ample natural shade for sun-seekers. It's low key with very little development, yet still offers watersport options such as paddle boats, SUPs and kayaks.


2. Canyamel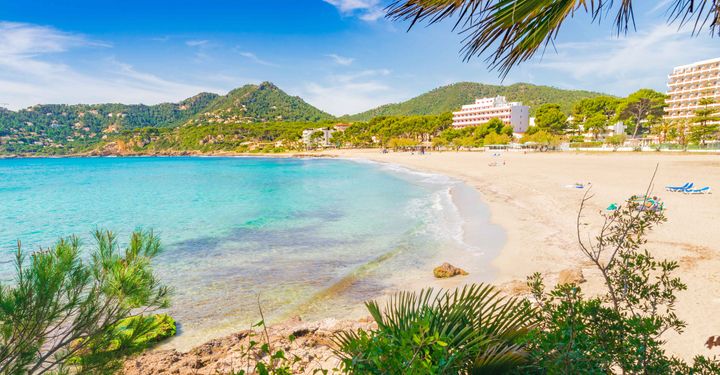 Situated along Majorca's eastern coast, this sheltered bay is framed by mountains and features an impressive cave system, as well as an old medieval tower. Lush and green, the fertile land around Canyamel Beach used to be where the islanders grew sugar cane during the 18th century, hence the name (the Spanish words for sugar cane – caña and honey – miel). Locals and expats affectionately called the beach Caramelo.
The beach is located in the small resort town of the same name, home to a handful of good hotels with a very local and relaxed feel. The resort is ideal for sports enthusiasts with an excellent golf course and many tennis courts nearby.


3. Playa de Alcúdia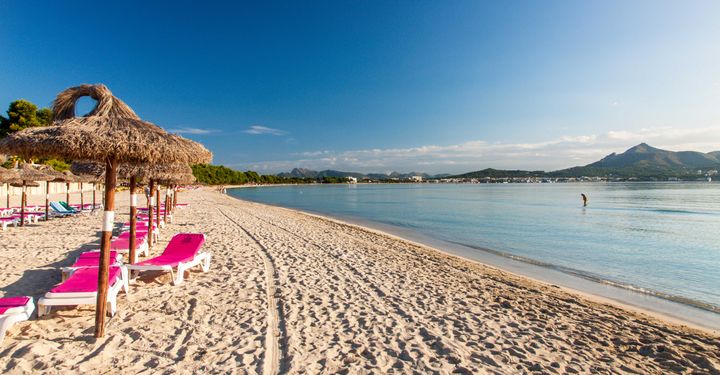 The largest beach in any of the Balearic Islands, Playa de Alcúdia stretches for a whopping 7km (4.3 miles) and is 80m wide. Located on the island's northern shore, it begins at the town of Port d'Alcúdia.
A Blue Flag beach, it's backed by some of the island's most popular hotels and its clear shallow water makes it one of the best beaches in Majorca for families. This beach doesn't lack in facilities – you'll find everything here from watersports rental, showers and toilets to restaurants and even Wi-Fi. If you're looking for somewhere a little quieter, walk up the beach towards Playa de Muro.


4. Formentor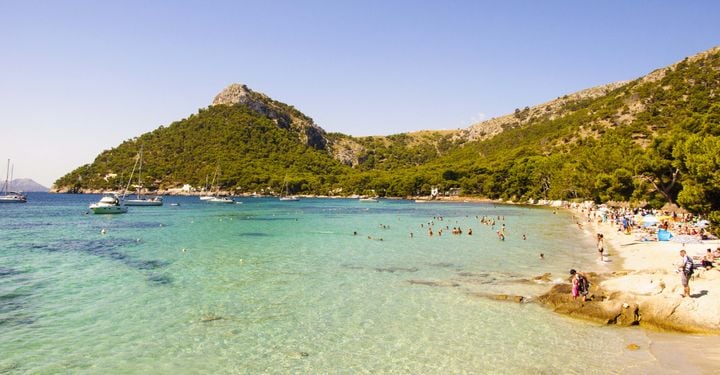 Another of the island's excellent Blue Flag beaches, Formentor sits on the Cap de Formentor peninsula on Majorca's northern tip. A 1km thin crescent of sand, it lies surrounded by thick pine forests on one side and shallow aquamarine waters on the other. From here, you can see the views of the Tramuntana Mountains as you swim.
The beach is ideal for children because of its calm water with very few waves, and while there isn't a huge range of facilities, toilets, showers and sun-loungers are available. You'll also find two restaurants and a couple of rental places for kayaks and SUPs. This one's popular, so get here early to grab a space on the limited amount of sand.


5. Port de Pollença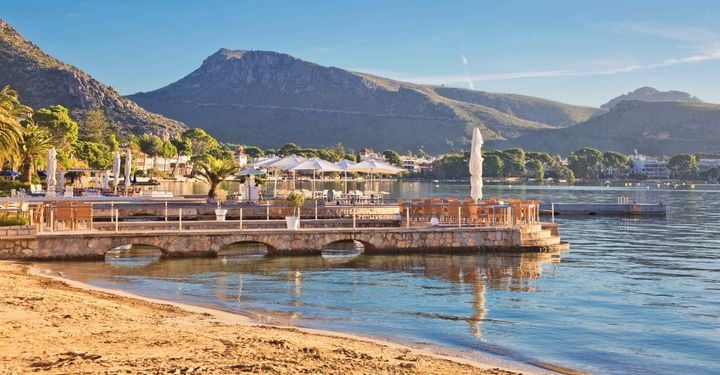 The lovely sandy sweeping curve of Port de Pollença beach stretches for 1.5km (1 mile) around the bay and sits just below the northern tip of the island. Its Blue Flag status means it has excellent water quality and is one of the best sandy beaches in Majorca. Lined with hotels, restaurants and palm trees, it offers plenty of facilities, such as changing rooms, sun-loungers and showers, while retaining that laidback and relaxed feel.
This is also one of the best beaches for watersports in Majorca, thanks to the favourable trade winds in the bay. It's particularly good for windsurfing and sailing and offers spectacular mountainous views to boot.


6. Cala Mesquida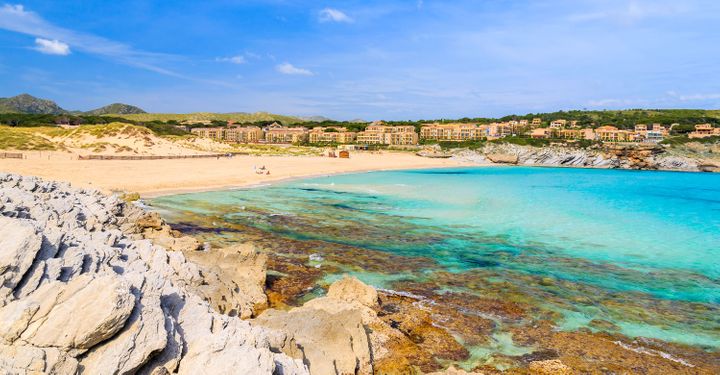 Backed by undulating sand dunes and hemmed in by verdant peaks, this large natural bay offers plenty of sand for all to play and relax on. Designated a Natural Area of Special Interest, it's known for its wild natural beauty where the winds whip the waves up into frothy peaks.
Facilities here are minimal, but there are a few showers, as well as one restaurant and a snack bar. You'll also find paddle boats for rent. Despite its wild nature and location (it's 7km from the nearest tourist town), Cala Mesquida is popular with visitors, particularly in the height of summer.


7. Cala Mondrago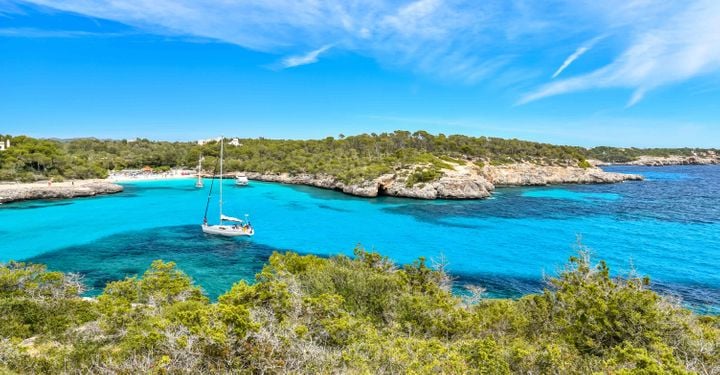 Located on the southeastern corner of the island, Cala Mondrago is located within the Mondrago Natural Park, filled with small inlets, craggy cliffs, lush forests and a myriad of birdlife.
A small bay of dazzling blue waters and fringed by pine forests, this beach has several facilities despite its natural location such as showers, toilets, disabled access, a bar and a restaurant. There are also lifeguards in summer. It's popular with snorkellers and divers.


8. Es Trenc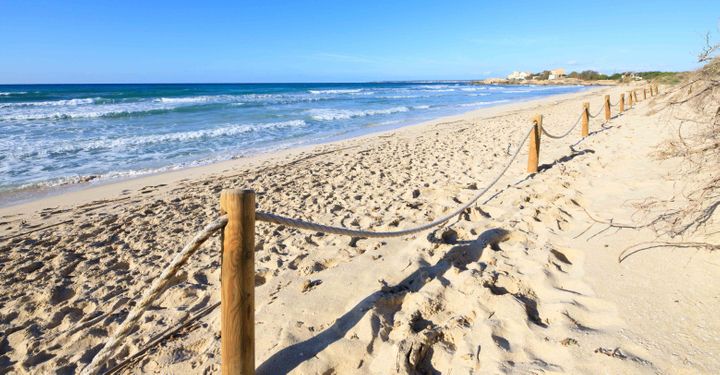 Es Trenc is one of Majorca's best-known and most popular beaches and it's not hard to see why. Celebrated for its fine powder-white sand and turquoise waters, some even compare it to the Caribbean!
Located on the south coast of the island between Colonia Sant Jordi and Ses Covetes, it stretches for 2km (1.2 miles), meaning that if you're prepared to walk a bit, there's plenty of space for everyone.
Backed only by sand dunes and verdant foliage, this one's ideal for nature lovers who don't want high rises or watersports facilities blocking their views. You won't find many facilities here, just one main restaurant and a few small chiringuitos (beach bars).


9. Cala Pi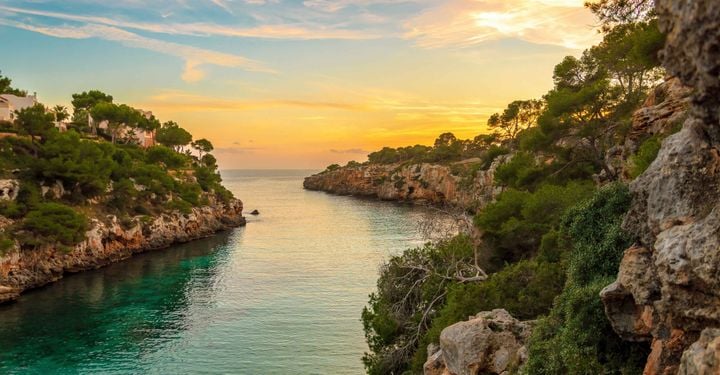 This hidden cove may be small, but it more than makes up for it in reputation. A favourite among both tourists and locals, it lies on the south coast of the island and is certainly out of the way.
A long finger of almost translucent blue-green water winds its way up between tree-covered cliff tops until it meets the small sandy bay. Because the beach is so sheltered, it's ideal for swimming and snorkelling. While there's not much on the beach itself, a short walk away, you'll find a couple of restaurants and a hotel.


10. Cala Varques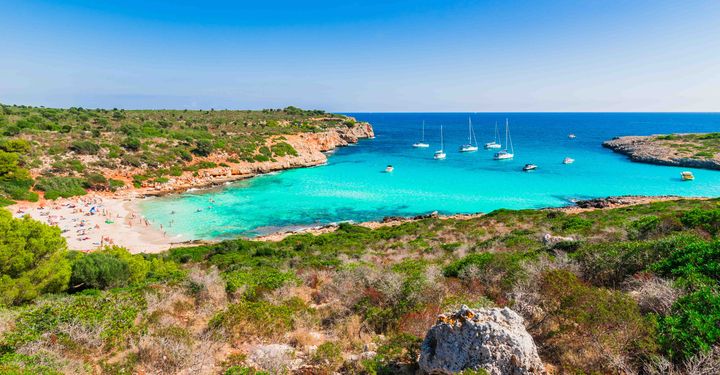 Situated on the eastern coast of the island, below the town of Porto Cristo, Cala Varques offers a remote, hippy-like vibe and is one of the quietest beaches on the island. Accessible via a gravel track off the main road, this oyster-shaped bay of fine sugar-like sand and rocky outcrops is popular with snorkellers and divers, due to its perfectly clear water.
Because of its remote location, you'll find mainly locals here – it's one of the best secluded beaches in Majorca. There are no facilities, so you'll have to make sure to bring enough food and drink for your time here.


Have a comment or question about this article? You can contact us on Twitter or Facebook.