7 of the best resorts in Majorca

December 17, 2021
Majorca isn't one of the most popular summer holiday destinations in Europe for nothing. For a start, it's drop-dead beautiful, with a coastline packed full of dreamy beaches and idyllic resorts. Up and down the coast, you'll find a brilliant mix of places to stay, from lively beach towns to peaceful fishing villages.
Whether you're a group of friends looking to celebrate, a family with tiny tots in tow, or a couple looking for a romantic sea view, here's our guide to the best resorts for a Majorca holiday.


1. Cala Millor
Best for families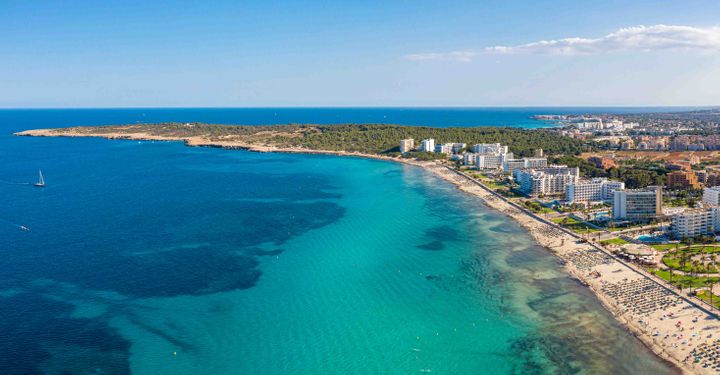 For a sun-soaked family holiday, head to Cala Millor. On the east coast of the island, this popular beach resort is home to 6km (3.7 miles) of stunning sand, and plenty of bars, restaurants and activities. It's not the closest resort to the airport, but it more than makes up for it with its peaceful atmosphere and incredible setting.
Along the resort's palm-lined promenade you'll find bars and restaurants that cater for fussy eaters, as well as traditional places serving tapas. Over on the beach, the water is shallow, clear and perfect for young children, while older kids can try out some of the many watersports on offer.
Keeping the kids occupied away from the beach won't be an issue, either. From playgrounds and amusement arcades to go-karting, there's are plenty stuff to do in the resort. Plus, Majorca's Aqualand waterpark is only an hour's drive away.


2. Alcudia
Best for couples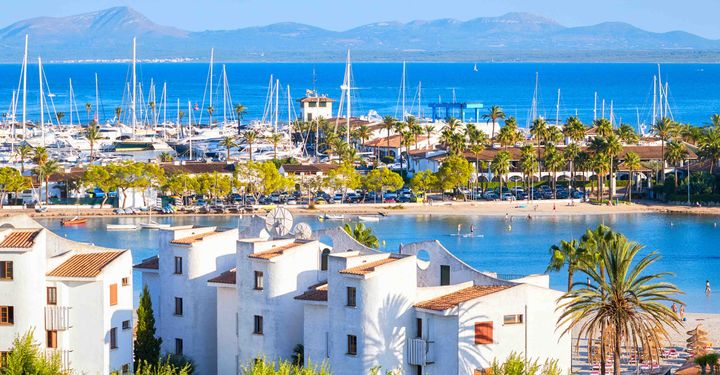 For couples looking to relax and unwind, Alcudia is one of the best areas in Majorca to stay. Between its atmosphere old town and spectacular white sands (this is undoubtedly one of Majorca's best beaches), you'll find everything you need for a romantic break.
The resort is split between the historic old town – with its maze of cobbled streets, boutique shops and gorgeous Gothic architecture – and the more cosmopolitan Puerto Alcudia area, where there are several lovely beaches, a marina, and lots of bars, restaurants, and hotels. Essentially, if you want a good mix of everything that makes for the perfect couples' summer holiday, choose Alcudia.


3. Palma Nova
Best for travellers on a budget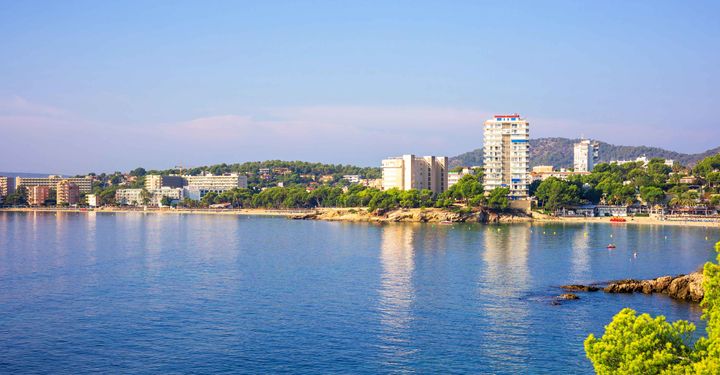 Thanks to its close proximity to Majorca Airport, and its wide ranging and affordable accommodation options, Palma Nova is the ideal place to stay if your purse strings are a little tight. One of the liveliest resorts on the island, there are lots of cheap bars and restaurants to choose from, while a day on any of the resort's three large, sandy beaches costs nothing but a good time.
If you are looking for other budget-friendly ways to stay entertained, you could hire bikes and cycle along the promenade, or head over to nearby Calvia to get a taste of local life at the weekly Monday market.


4. Magaluf
Best for good nightlife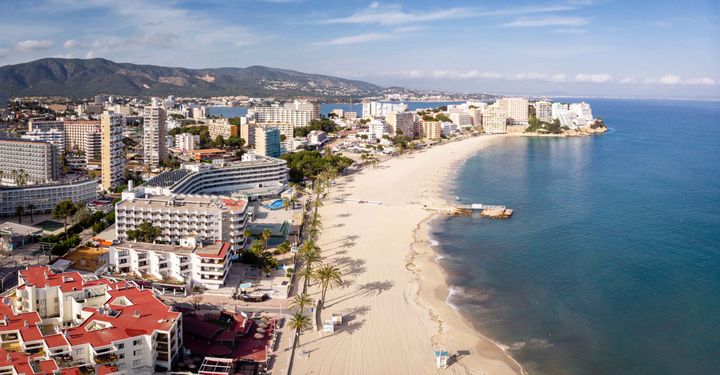 Majorca's most famous resort has to be Magaluf – one of the best party destinations in Europe and the place to head if you're looking to let loose on holiday. Packed with buzzing bars, pumping nightclubs, and some seriously epic all-night beach parties, a relaxing spot in the sun Magaluf is not.
Accommodation ranges from cheap and cheerful hotels, all the way up to luxury five-star stays. There's also a long, sandy beach to lie on – perfect, after a long night of partying – and a couple of theme parks, including Western Water Park and Katmandu Park, to keep you busy in between nights out.


5. Port de Sóller
Best for culture cravers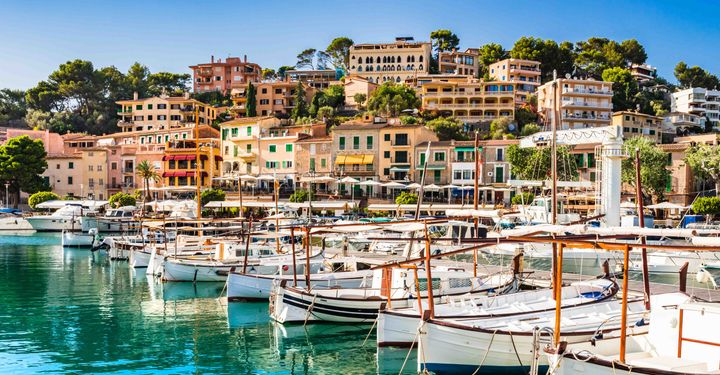 The picturesque resort of Port de Sóller offers the perfect combination of sun, sea and local life. The northwest resort is one of Majorca's quieter seaside spots, but with a long sandy beach, idyllic harbour and a broad range of brilliant hotels, it might not stay that way for long. Set back from the coast, you'll also find Sóller, a small traditional town set in a serene valley. Stay here for a taste of Majorca at its most laidback and local.
Travel between the two areas is easy, so you can experience the best of both during your holiday. Just hop on the bright orange tram – its colour a nod to the lush citrus groves it passes through – and admire the dramatic mountain scenery as you skirt around the foothills of the Serra de Tramuntana mountains.
Be sure to take the vintage wooden train that connects the town with island capital Palma. The journey takes around an hour, but it's worth it for the city's magnificent cathedral alone.


6. Cala Bona
Best for those looking for peace and quiet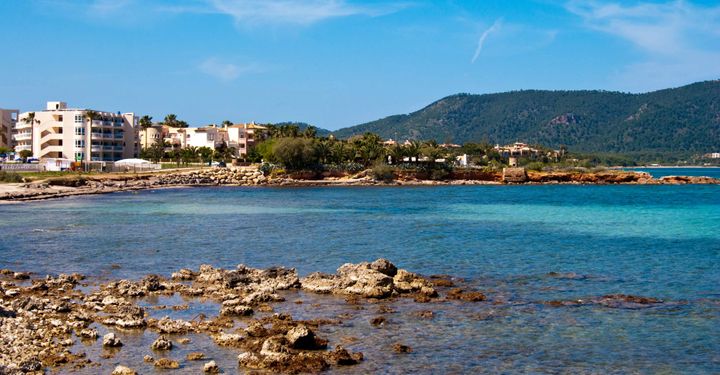 Cala Bona is a charming little resort town that has managed to retain its humble fishing village vibes while others nearby have become full-blown tourist towns. With idyllic beaches and a wide range of accommodation options, it's the ideal spot for a relaxing stay in the sun.
Despite the resort's quieter nature, there is still plenty going on. As evening descends over Majorca, the pretty harbour area, where you'll find restaurants, bars and boats offering day trips, comes alive. When it comes to dinner time, the working fishing harbour means that fantastic fresh seafood is always on the menu. In terms of beaches, Cala Bona has three to choose from. With powder-white sand and clear water, they're among some of Majorca's best.


7. Santa Ponsa
Best all-rounder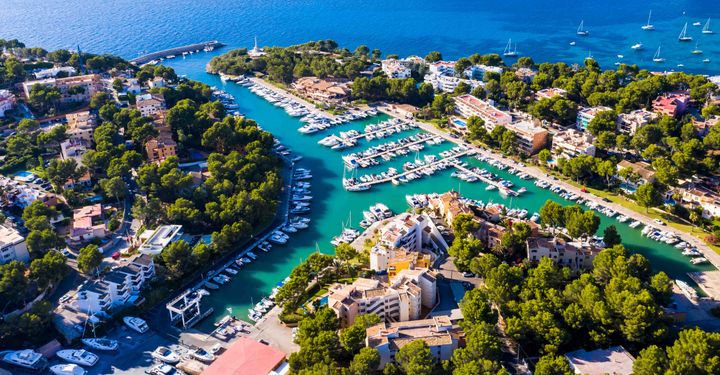 With a sweeping sandy bay, plenty of wonderful restaurants and hotels, and a lovely, laidback atmosphere, Santa Ponsa has it everything you need for a brilliant Majorca holiday.
On the island's scenic western coast, the resort is surrounded by pine-clad hills and leafy palm trees, and the main beach is blessed with calm turquoise water and soft sand that slides gently into the sea. There are also several coastal paths and smaller coves in the area, which makes it a great spot for hikers, too. You'll also find watersports, golf, and boat trips, while the resort is just 30 minutes' drive to Palma.
Of course, if all you want to do is kick back with a few drinks at one of the resort's buzzy bars, you can do that too.


Have a comment or question about this article? You can contact us on Twitter or Facebook.