Beaches, bars and resorts may be most people's idea of Mallorca, or perhaps the luxury inland hotels beloved by A-listers, but what most people don't think of is Palma – at least not as a destination in itself, writes Eddi Fiegel.
For the millions of tourists who head to the island every year, Palma is often little more than a landing point for bookending a holiday. But rather than just being home to an airport, the city is in fact teeming with fabulous food, from mouth-watering tapas to cutting edge cuisine, as well as Medieval castles, Gothic cathedrals, wonderful museums, great shops and a lovely beach.
It's ideal for a city break or for tagging on an extra day or two at the start of your holiday – amble the streets of Palma's Old Town and you'll feel yourself slowing down the pace.
Day 1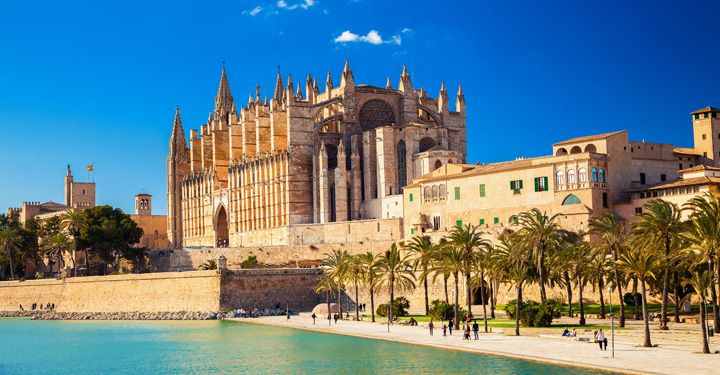 Morning
Just as Barcelona has the Ramblas, Palma has the Passeig d'es Born – a leafy boulevard with a pedestrianised walkway that cuts through the lower part of the city down towards the seafront.
If you've hired a car, you'll find yourself driving along it pretty much anytime you want to go anywhere, but it's also a great place to get the lie of the land. Take a gentle stroll, stop for a coffee in one of the pavement cafes or just do some window shopping – you'll find luxury brands such as Louis Vuitton and Boss, but there are also several more accessible high-street brands.
As you edge towards the sea, you'll notice the striking Gothic roof of Palma cathedral. Known as La Seu, this vast 14th century monolith is Palma's equivalent of Paris's Eiffel Tower or New York's Empire State Building and sits right on the bay with its reflection shimmering in the Mediterranean.
As one of the largest Gothic cathedrals in Europe, the knave feels as long as it's high and features wonderful stained-glass windows. There's also an interior refashioned by maverick Catalan architectural genius Antoni Gaudi – look out for his 'Crown of Thorns' ironwork creation above the altar.
When you've finished at the cathedral, wander through the warren of winding alleys and cobbled streets of the Old Town behind it. Peep inside doorways for glimpses of beautiful Andalusian style patios and courtyards and look out for the amazingly well preserved 12th century Arab Baths or Banys Arabes (C/Can Serra, 7; Admission €2.50).
You won't be able to have a sauna or hammam there these days, but you can see the different bathing areas with their original Moorish arches and domed ceilings. If you're visiting in summer, the peaceful gardens, laden with palm trees and cacti, make a wonderful respite from the heat.
Afternoon
Wind your way ten minutes' walk north towards Palma's Plaça Major square. The cafés around its edges are great for people-watching and a pre-lunch tinto de verano (red wine with lemonade) or beer. As you may already know, most Mallorquinas – and indeed most Spaniards generally – don't eat lunch till around 1.30 or 2pm.
After a tipple, carry on north for another few minutes to Celler Sa Premsa for some great value, home-cooked Palma specialities. Rub shoulders with locals and visitors alike amid vast wooden barrels and bullfighting posters under a lofty wooden beamed ceiling and tuck into dishes like tumbet – the Mallorcans' take on ratatouille or simple grilled fish, lamb or chicken. From Mondays to Saturdays there's a set lunch available with plenty of choice for €12.75, including drinks, bread and olives.
Following lunch, head west to the Castell Bellver for stunning views of the Bay of Mallorca – admission is free on Sundays and for under 14s, while on other days it's €4.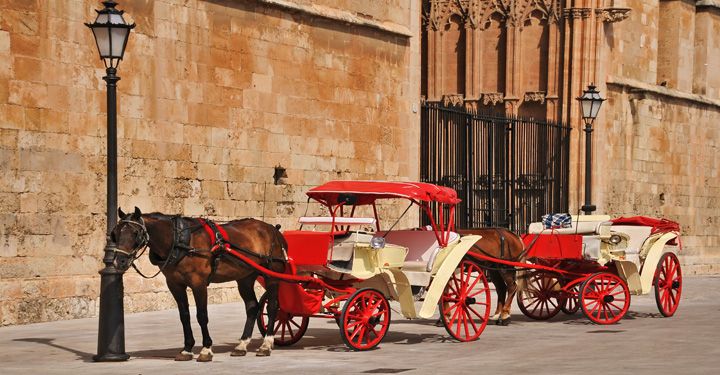 Spain's only circular Gothic castle is built entirely in the round high up on a pine-forested hilltop along the bay – kids will love the brilliantly preserved drawbridge and moat and there's also a museum explaining the castle's history, but the spectacular panoramic views are worth the price of admission alone.
If you're driving, you can park close to the castle itself. Otherwise, a good way to get there is via one of the hop on/hop off, Palma City Sightseeing open bus tours, which also takes in various other key Palma sights.
Alternatively, if you don't fancy the beach, head out west of the city or hop on a bus to the Fundació Pilar i Joan Miró, about 45 minutes out of town. Admission is free on Saturday afternoons and the first Sunday of the month – otherwise it's €7.50.
Catalan surrealist painter and sculptor Miró spent much of his later life in Mallorca and his studio has been kept pretty much as he left it, complete with paint pots and unfinished canvases. There's also a large collection of his paintings as well as pretty gardens and a café.
Evening
Most locals won't head out till at least 8.30pm, so you'll have time for a siesta. Then, as the sun goes down, head back towards the cathedral and the area known as La Lonja – a maze of Old Town streets brimming with bars, tapas joints and restaurants.
For a pre-dinner drink, Wineing on Calle Apuntadores is a brilliantly-innovative bar where you help yourself to your own choice of local and international wines (from around €2 per glass) while an Oyster-type card registers what you've taken – then you just pay at the end. They also do good tapas (around €7 or €8 per dish).
For something more substantial, turn left and head two doors along to La Paloma. Set in a classy old building with rough-hewn stone walls and beamed ceilings, the traditional Mallorcan cooking and grilled meats, fish and tapas are amazingly well priced.
Day 2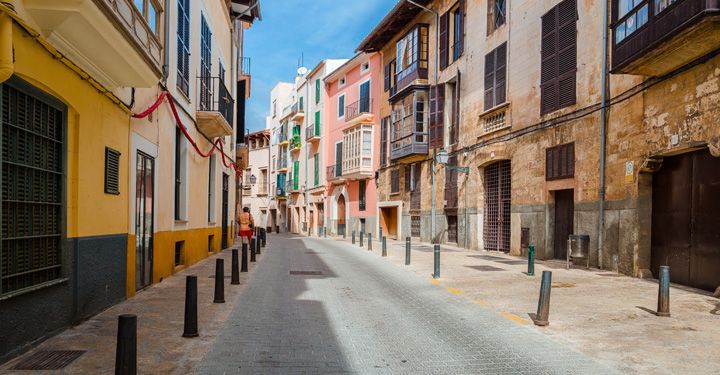 Morning
The cathedral may be Palma's most impressive historic building, but just along the waterfront a newer building has been drawing similar crowds. The Museu d'Art Modern i Contemporani de Palma (known locally as Es Baluard) has an excellent selection of works by Picasso, Miro, Cezanne, Gauguin and Magritte, but even if you're not an art fan the building is at least as impressive as the paintings. Admission is €6.
Part Medieval fortress and part steel and glass box, there are wonderful views over the harbour. Don't miss the roof terrace for the best views, and there's also a good café and smart restaurant.
Afternoon
Take a gentle afternoon stroll through the Parc del Mar which runs along the seafront, with its rose garden, palm trees and lake. Then, carry on along the beach and down to the marina – there are numerous chichi seafood restaurants around here, but you don't have to pay top dollar to eat well.
For excellent paellas, tapas and crispy Andalusian-style fried fish at bargain prices, look no further than Las Palmeras on the edge of the marina (Passeig Bartomeu Barcelo i Mir 1). But do get there early – although locals eat lunch later, there are often queues snaking outside by 1.45pm.
After lunch, either settle in at one of the beachside cafes or head for the beach itself. The small crescent-shaped beach at Portixol is perfect if you just want to feel the sand on your feet or the tide lapping against your ankles. If you want to sunbathe however, you'll need to bring your own towel, as it's very low key and there are no deckchairs or loungers for hire.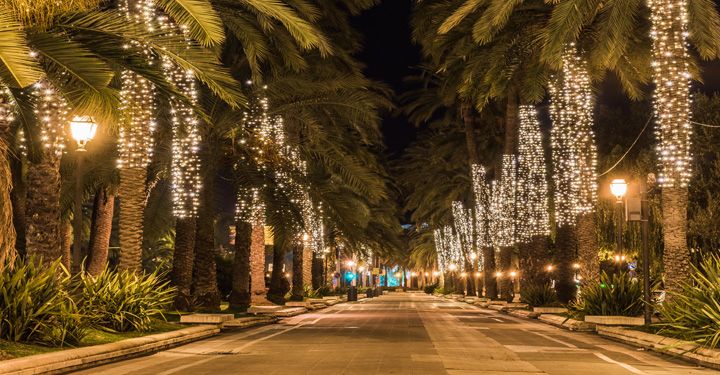 Evening
If you've worked up an appetite with all that sea air, you'll be ready for one of Palma's newest and hippest food experiences. Just north of the city centre, the Mercado Gastronómico San Juan is Palma's 'Gastronomic Food Market', which opened in 2016 and almost instantly became a foodie favourite.
It might seem a bit odd coming to a market in the evening, but this is not your average food market. Housed in a converted Art Nouveau abattoir with lofty beamed ceilings and ornately tiled floor tiles, the building is worth seeing in itself but the food is equally good.
With everything from sushi to Mexican, Thai curry and hamburgers to freshly fried fish, paella and tapas and even a patisserie, there are different stalls and seating areas spread out over several floors. The prices aren't exorbitant either – small sushi platters start from €4 or tasting platters from the croquetas stall at €4 for five with a variety of tantalising fillings.
After dinner, the San Juan Cóctel Club next door does generous G&Ts or Cosmopolitans until they close at 2am. Otherwise, for a final view of the bay, head back down to the seafront terrace at Varadero for beers, cocktails and club tunes into the night.
Have a comment or question about this article? You can contact us on Twitter or Facebook.