Updated August 10, 2023
Published November 23, 2018
By Eddi Fiegel
If you want silky soft stretches of sand, dramatic scenery and fantastic watersports, look no further than Menorca. With nearly a hundred beaches, Menorca has more than Majorca and Ibiza combined, but about half as many tourists.
That doesn't mean that there are no facilities, however. There are family-friendly resorts as well as watersports from scuba diving and snorkelling to windsurfing and kayaking.
If you're after romance and seclusion you won't be disappointed either. Menorca has some of the most blissfully unspoilt beaches in the Med and enough Instagram-worthy landscapes to keep the keenest photographers happy, from the red-gold wild beaches of the north to the silky white sands of the south.


Best beaches for families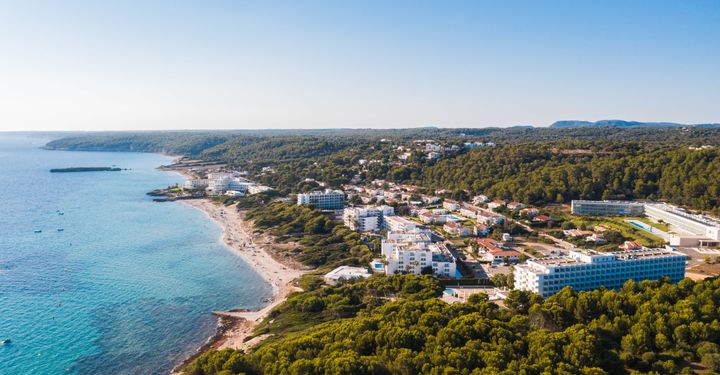 Santo Tomás
Just along the south coast from the busier beach at Son Bou, the crystal-clear teal water and white sand here are straight out of a holiday brochure. Bookended by sand dunes on either side, there's also a children's playground and pedalo hire, as well as lifeguards. If you want to bring your own lunch there's a picnic area and there are bars nearby with children's menus.
Es Grau
Calm, shallow waters make this large sandy bay, just north of Mahon, a favourite with local families. The water is so shallow, you can safely wade out a good hundred feet without even getting your knees wet. The beach itself is shielded from the winds by the pine and tamarisk woods behind and there's also paddleboarding, snorkelling and kayaking. A path through the woods leads to the S'Albufera des Grau nature reserve and there are shops, restaurants and bars in the nearby village.
Son Saura
Made up of twin sandy crescents on the southwest coast – Banyul and Bellavista – these blissfully unspoilt beaches are remote enough to be far from shops and bars but they've still got lifeguards, bathroom facilities and a car park. The shallow, calm waters make them a favourite with local Menorcan families but you will need to bring your own drinks and a picnic as there are no restaurants nearby.


Best beaches for watersports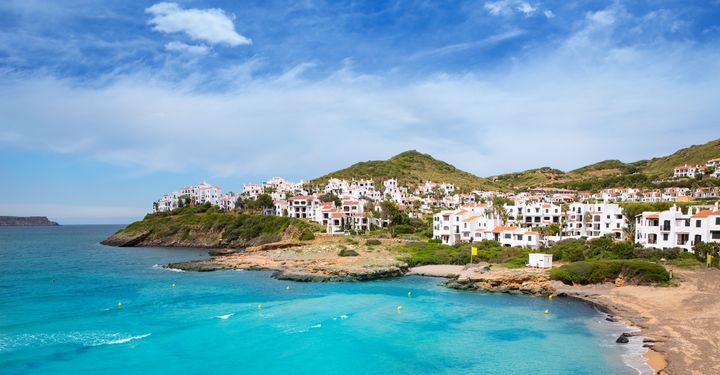 Fornells
The gorgeous fishing village of Fornells is a key centre for watersports on the island. You'll find everything here from surfing, windsurfing, kitesurfing and waterskiing (try Wind Fornells) to scuba diving and snorkelling (Diving Menorca). The harbour is also renowned for its seafood restaurants. Look out for the local speciality of lobster stew.
Binibeca (aka Binibèquer)
There are no hotels in sight at this small sandy cove on the southeast coast but you will find sun-lounger hire and a diving centre, Binibeca Diving, with scuba diving, snorkelling and boat rental. The beach is also great for families and has some of the loveliest beach bars and restaurants on the island.
Son Xoriguer and Cala'n Bosc
These twin sandy beaches on the southwest coast specialise in watersports. At Son Xoriguer, Surf and Sail Menorca offers windsurfing, paddleboarding, motorboats and kayaks, while Cala'n Bosc has jet-powered flyboarding, kayaks, snorkelling and boat trips. If you're travelling with children, there's also a small waterpark nearby, Aquarock.


Best beach for birds and wildlife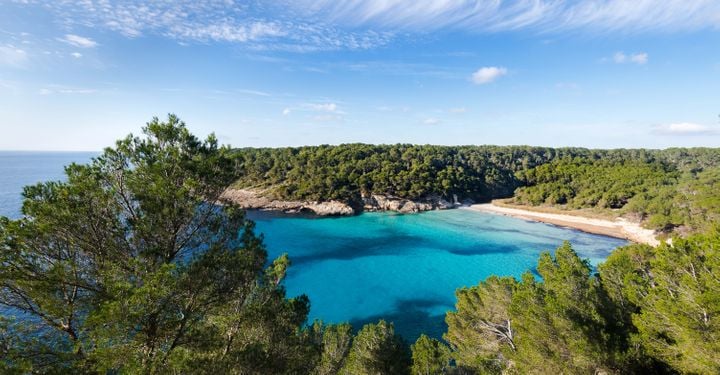 Cala Trebaluger
This pristine cove has got to be one of the quietest beaches on the island. About twenty minutes' walk from Cala Mitjana on the south of the island, this small, gorgeously unspoilt bay has soft white sand with pine clad hills on either side. There's also a freshwater river with kingfishers and terrapins. A nature lover's paradise.


Best beaches for getting away from the crowds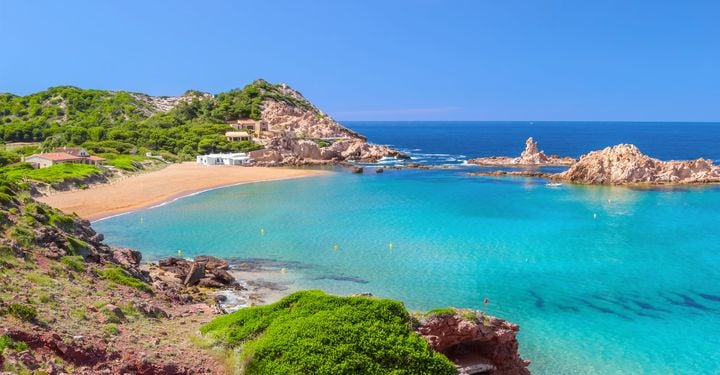 Cala Pregonda
Just west of Fornells on the northeast coast, Cala Pregonda is often described as one of the most beautiful beaches on the island. Why you might ask? The answer is powdery golden sand and sapphire waters so clear and full of marine life, they're made for snorkelling. It rarely gets busy however as the nearest car park is at Binimel-La beach – about twenty minutes' walk away through the countryside. Bring your own food and drink as there are no beach bars.
Cala Pilar
You'll need to walk for about half an hour through woods to get to this amazingly secluded beach but it's worth it when you do. With soft sand a reddish brown that looks more like something out of Utah or outback Australia than the Mediterranean, and clear, teal waters, it's one of the most striking landscapes on the island. With somewhere this remote, however, don't expect to find facilities, so be sure to bring your own water, food and parasols.


Best beaches near a major resort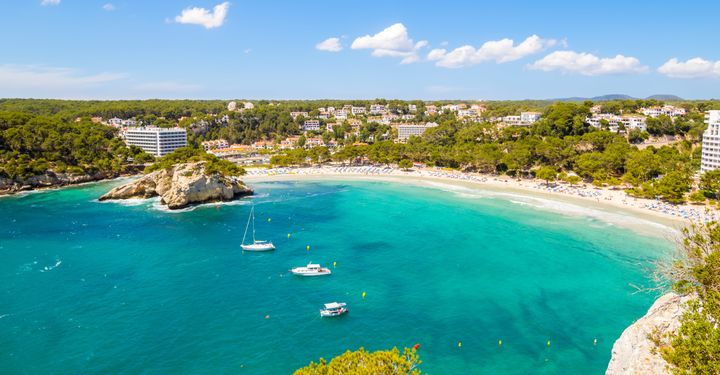 Cala Galdana
Cala Galdana may be one of the major resorts on Menorca but the Blue Flag beach is no less lovely for it. The large, sandy horseshoe bay is flanked by rugged, pine-clad cliffs on either side and the waters are just as clear and clean as elsewhere. There are plenty of hotels in the resort as well as shops, restaurants and bars.
It's also good for watersports, from kayaking to stand-up paddleboarding, and nature lovers will enjoy the nearby marshland full of falcons, frogs, toads, bats and shrews. Buses run regularly between Cala Galdana and Mahon.
Cala'n Porter
Attached to the resort of the same name on the island's south-easterly coast, this is one of Menorca's most popular beaches and it's another family favourite thanks to its clear, shallow waters and soft white sand.
It's pretty enough to feel unspoilt with pine-clad hills on either side of the bay but there are also plenty of facilities from lifeguards and beach volleyball to a kids' playground, not to mention bars, shops and restaurants just behind the beach. It's not a great choice if you have any mobility issues as there's a steep flight of steps between the beach and the road.
Arenal d'en Castell
One of the largest resorts on the northeast coast, this almost circular bay is another favourite with families thanks to its shallow, clear waters and soft golden sand.
There are surfboards, loungers and pedalos to hire and a railed wooden boardwalk leads to the cafes and bars. If you want somewhere a little quieter but don't want to walk too far, head to the wooded sand dunes at the eastern end of the beach.


Have a comment or question about this article? You can contact us on Twitter or Facebook.