Where to stay in Menorca

December 17, 2021
An island of sleepy fishing villages, fewer crowds, and endless miles of calm, unspoiled beaches, relaxing is the name of the game on Menorca. To help you choose the perfect base for your Menorca holiday, we've rounded up some of the best places to stay on the island. Whether you're a family seeking safe and sandy beaches, or a couple looking for romance, there's a spot on Menorca waiting for you.


Cala Galdana
Best for families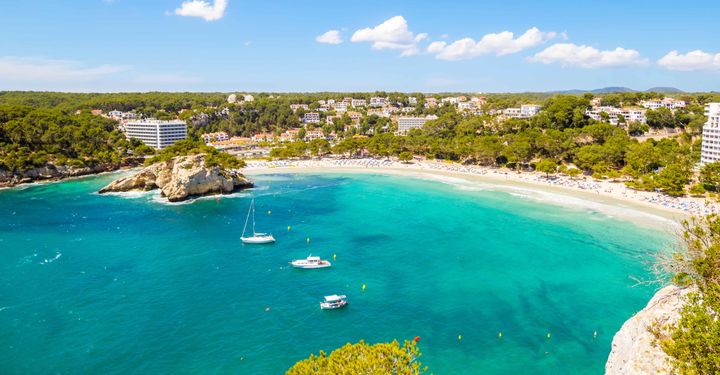 Cala Galdana has everything you need for an idyllic family holiday. Set on a beautiful crescent-shaped bay, the resort's main beach is safe, clean and stunning. The water is crystal clear and very shallow, ideal for younger children, and you'll find all the usual watersports to keep older kids occupied.
Away from the beach, the resort has a good choice of restaurants and bars, as well as a wide range of hotels and apartments. Many hotels here cater for families, with kids' clubs, playgrounds and dedicated kiddies' pools. For older children looking for more adventurous activities, Aquarock waterpark and go karting track is just a 30-minute drive away.


Cala'n Porter
Best for couples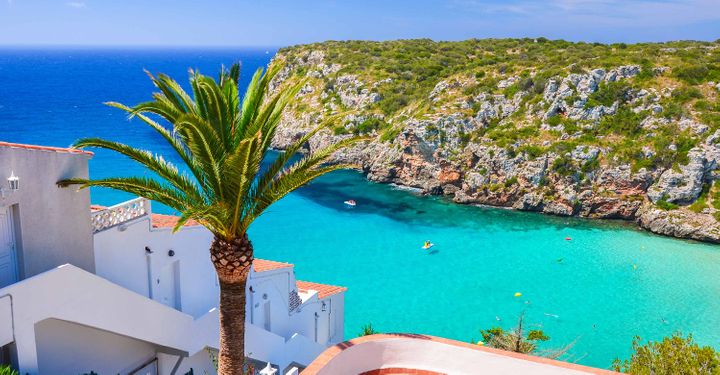 Perched on a cliff overlooking the resort's main beach, Cala'n Porter enjoys spectacular sea views and a laidback atmosphere that's ideal for couples. Its wide sandy beach is one of the most dramatic spots in Menorca, surrounded by towering cliffs that stretch out into the sea.
When it comes to eating and drinking, there's plenty of options here – but you'll want to put Cova d'en Xoroi at the top of your list. This romantic restaurant is built right into the cliffside and is one of the best places to watch the sun go down.
Alternatively, a taxi to Menorca's capital, Mahón, takes less than 20 minutes. Head over in the late afternoon to enjoy a few hours exploring the pretty streets before dinner in the colourful harbour.


Son Bou
Best for travellers on a budget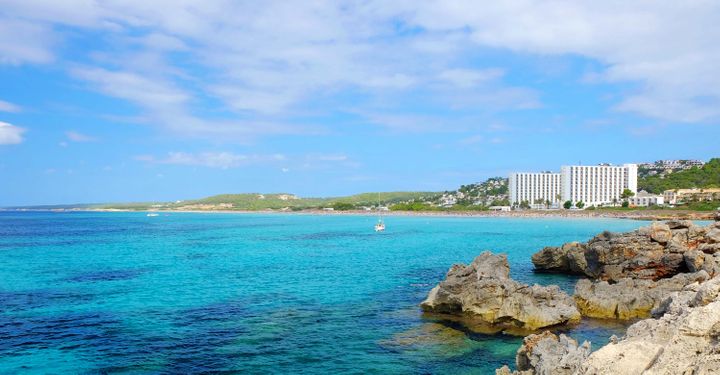 If you're looking to holiday in Menorca on a budget, Son Bou is a great place to stay. Despite its small size, there's a great range of apartments and villas to choose from, and a long stretch of sandy beach to while away your days on.
Nearby Prat de Son Bou nature reserve also makes for a magnificent (and free) day out, with dunes, marshes and birds to spot. For a cheap but fascinating history lesson, visit the prehistoric Talayotic site of Torre d'en Galmés, too.


Mahón
Best for great nightlife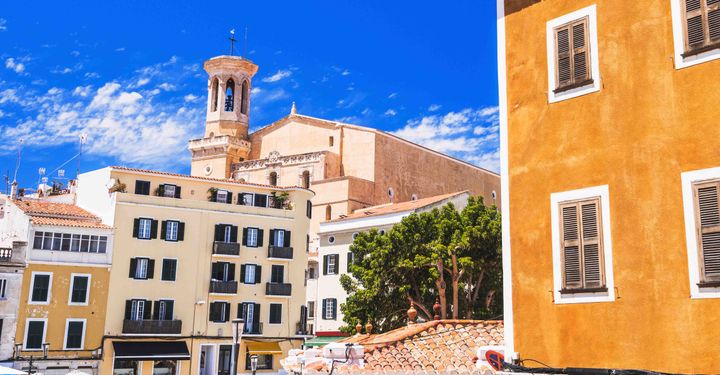 While Menorca isn't famed for its nightlife like some of the other Balearics, there's still plenty of choice for a party. Capital Mahón, the cultural and social hub of the island, has the most going on, with a lively harbour and old town to explore.
You'll find restaurants serving Menorcan specialties, bars with live music, and even the odd late-night club. Alternatively, Ciutadella, on the other side of the island, is known for its busy harbour, where you'll find most of the island's clubs. If nightlife is your thing, you might want to spend a few nights in in both Mahón and Ciutadella.


Es Castell
Best for foodies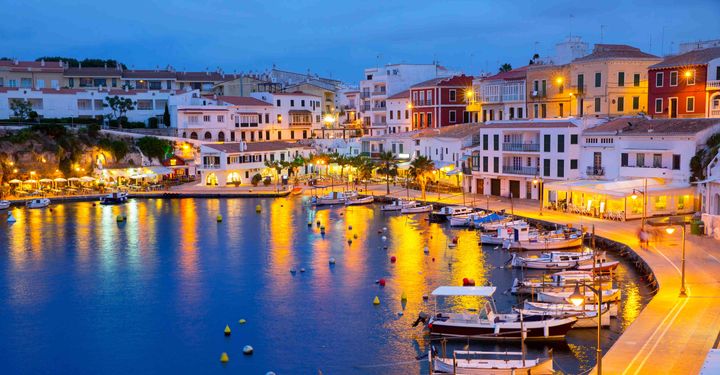 Es Castell is a traditional harbour town known for fresh seafood. All white-washed buildings and colourful wooden boats, the waterfront is every inch the classic Mediterranean setting.
The real highlight, however, is the food. Head down to the harbour in the early morning and watch the town's fishermen returning from sea, the day's catch fresh off the boat. Be sure to try the local specialty, caldereta de langosta, a delicious lobster stew.
Away from the waterfront you'll also find a great selection of authentic tapas bars, and family-run restaurants specialising in local Menorcan cuisine, such as queso de Mahón, a local cheese seasoned with paprika, and oliaigua, a tasty tomato soup served cold.


Ciutadella
Best for culture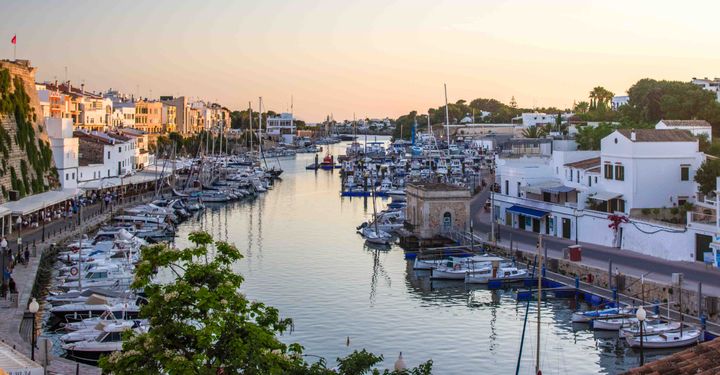 Once the island's capital, this picturesque port town is full of cobbled streets and pretty plazas. It's here you'll find some of Menorca's oldest and finest architecture. One building not to miss is the palm-fronted, gothic-style town hall. Once a royal palace, it now houses the tourist information centre – the perfect starting point for a historic tour of Ciutadella.
Other than admiring the architecture, spend your time shopping at arty boutique shops, wining and dining around the city's Menorcan restaurants, and browsing the open-air market in Plaza del Mercat. There might not be a beach here, but with so much else to do, you won't miss it.


Punta Prima
Best for peace and quiet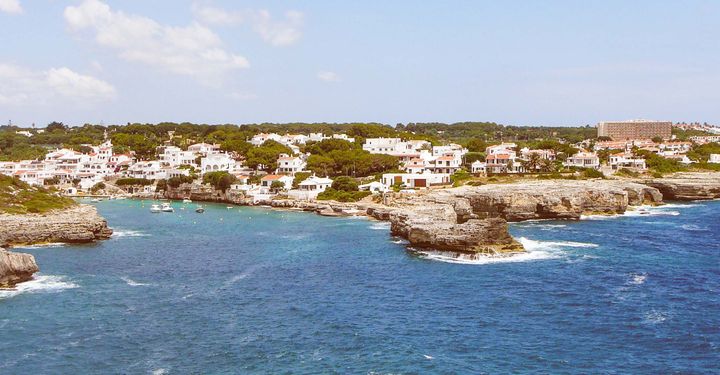 The sandy Blue Flag beach at Punta Prima is the perfect spot for a summer beach holiday without the crowds. This low-key Menorcan resort is all about the beach, a soft sand bay with shallow turquoise water lapping the shoreline. Other than a few low-rise hotels, a handful of little beach restaurants, and the odd bar here and there, you won't find much else in Punta Prima – and that's the point!
If you're looking to stay active and explore the area, the surrounding landscape is nice and flat and has some great walking trails, such as the coastal path to S'Algar. The walk covers 4km (approx. 2.5 miles) and will takes around an hour, though you might want to give yourself longer to enjoy the stunning sea views en route.


Cala'n Bosch
Best all-rounder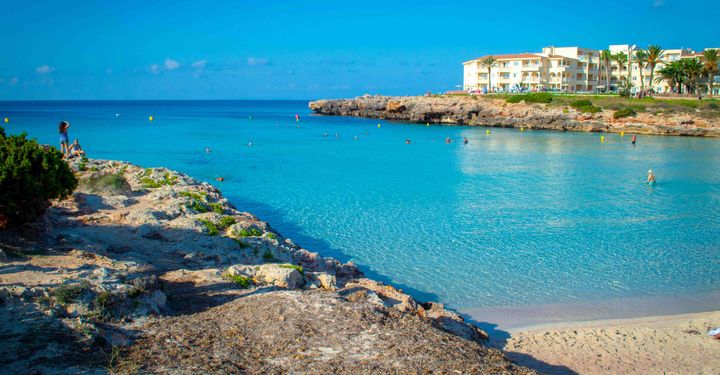 With two beautiful beaches and a glorious palm-lined marina, Cala'n Bosch is the Menorcan resort that ticks the most beach holiday boxes. There's a lovely little beach right at the heart of the resort, or if you want to give some watersports a go, head to the sandy shores of Son Xoriguer.
After a day on the beach, the marina is a brilliant spot for a sundowner by the sea. You'll find a massive ranger of restaurants and bars, serving everything from fresh seafood to pizzas and paella. The vibe is lively yet relaxed, as locals and tourists sit together, sipping on drinks, as the returning boats moor up for the night.


Have a comment or question about this article? You can contact us on Twitter or Facebook.