May 7, 2022
Fuerteventura's year-round good weather and seemingly endless selection of beaches make it a firm favourite with sun-seeking holidaymakers. Long-established on the package holiday scene, Fuerteventura offers brilliant value for money, with a range of accommodation types, affordable activities, and reasonable restaurants.
No matter what kind of holiday you're looking for, there's an affordable way to make it happen. Check out our top tips to save money on your Fuerteventura holiday.
*All prices quoted correct as of May 7, 2022. Please note prices can fluctuate daily and may appear differently on provider site for this reason. Deals are subject to the partners' T&Cs.


Where to stay in Fuerteventura on a budget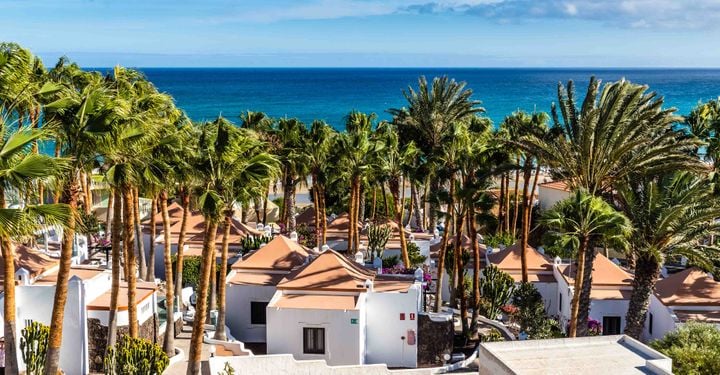 Where you choose to stay then depends on the kind of atmosphere you're looking for. Many of the best budget accommodation options are in the bigger resorts like Caleta de Fuste and Corralejo, where you can bag a cheap package deal. For example, a week in Corralejo in late June starts from just £296 per person* with flights included.
If you're really looking for a deal, consider staying close to the airport in Costa de Antigua, where you'll find a lovely beach, or in a locally owned pad in a smaller town, such as Gran Tarajal or El Cotillo. A night's stay at the boutique El Hotelito del Cotillo, for example, costs £72 per room. Another budget-friendly resort is the popular surf town of Costa Calma, where you can find chic accommodation, such as Bahia Calma Beach, from around £65 a night in September.
Across the island you'll find some great self-catering apartments and villas, which will help you cut costs on eating out. By choosing an apartment, without all the facilities of a hotel, you are also more likely to find cheap options in the smaller or more remote resorts.


Where to eat in Fuerteventura on a budget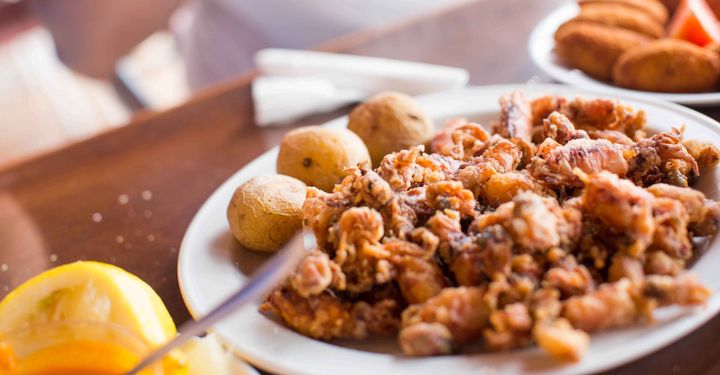 One of the best ways to dine out on the cheap in Fuerteventura is to stick to the local restaurants. Menus vary depending on where you are on the island, but staples include plenty of paella, albóndigas con manzana (meatballs stuffed with apple), and sea bass sancocho (stew). If you head out of the major resorts and into the more rural areas, you'll usually find a range of authentic and affordable restaurants.
In the bigger resorts, a range of local and international restaurants, plus a few fast-food joints, means you're spoilt for choice of affordable spots. Pizzaloha in Caleta de Fuste serves up mouth-watering pizzas, while in Corralejo, Gilda casa de pinchos y tapas is an affordable family-run tapas bar with rave reviews. Dishes start at €3.50 (£2.99).
If you're a seafood fan, you'll know that fish dinners are usually the most expensive thing on the menu. Luckily, that's not always the case in Fuerteventura. Make the most of catch of the day specials and lunchtime menú del día (menu of the day) and you can still enjoy fresh seafood on a budget.


What to do in Fuerteventura on a budget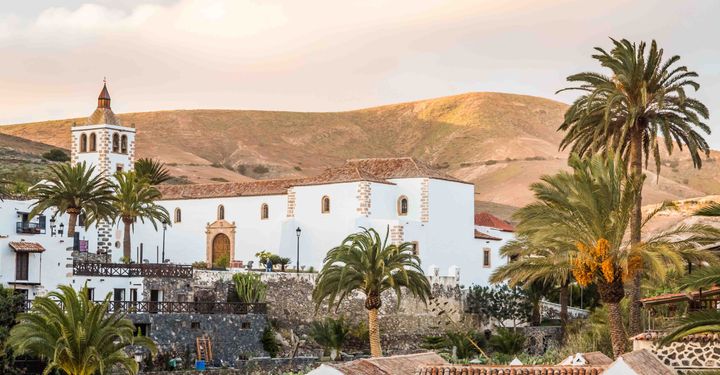 If you're considering a Fuerteventura holiday, then chances are you're after sun, sand and sea. Well, you've come to the right place.
From the epic golden dunes in Corralejo Dunes Natural Park to the crashing surf in Costa Calma and the family-friendly Playa El Castillo, the beaches are one of the best and most popular attractions on the island – and they don't cost a penny to visit. Pack your snorkel if you're a keen swimmer too, as crystal clear waters mean there are plenty of places to spot to see colourful marine life in Fuerteventura; put the rocky El Cotillo at the top of your must-visit list.
For a totally different but no less exciting activity, head to the capital, Puerto del Rosario. Take a stroll around the city, looking for vibrant street art and the 50-plus art installations that are spread across the city to create a giant open-air sculpture park.
If you're happy to head off the beaten track and stay active on holiday, there are all manner of lesser-known attractions on the island. You could climb to the summit of Pico de la Zarza, Fuerteventura's highest peak, swim in Playa Concha and the Cotillo lagoons near El Cotillo, or wander around the pretty and historic town of Betancuria.


How to get around Fuerteventura on a budget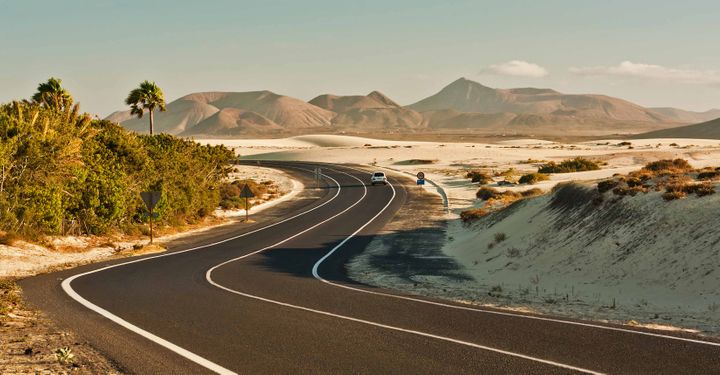 While buses are undoubtedly the cheapest way to get around Fuerteventura, they can be a little infrequent and unreliable, so you might want to consider hiring a car if you want to do some proper exploring. By booking your hire car as part of a package with your flights and accommodation, you can usually bag a pretty good deal.
For a cheaper alternative to a car, you could also consider renting a small scooter or moped – as long as you feel confident driving it. If you only intend to do one or two day trips you could simply rent the moped for a few hours each day, and still see lots of the island's more remote shores and villages.
If you do want to make use of buses, the best place to stay would be the capital, Puerto del Rosario, where there is a central bus station with good connections across the island. For example, you can travel from here to Corralejo for less than €5. From the airport, you can catch regular buses to the capital, and there is also a bus that goes direct to the popular beach resort of Caleta de Fuste.
For those that are happy to simply relax and enjoy the sun in Fuerteventura, the best way to save money on transport is simply not to use it. Stay in a bigger resort like Caleta de Fuste or Corralejo and everything you could need will be within walking distance, so all you'll have to do is organise a return trip from the airport.


Insider tips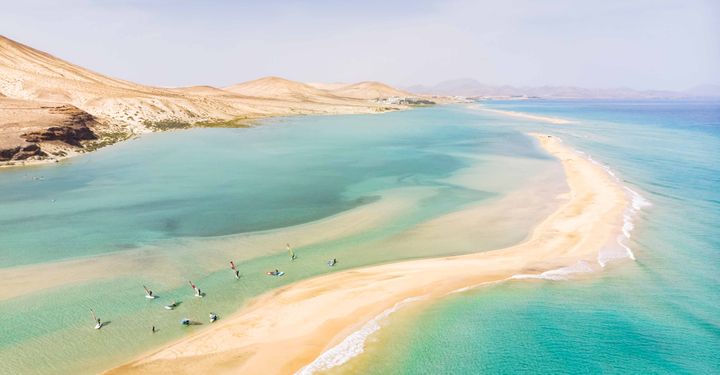 If you're planning to visit Oasis Wildlife park, make use of their free shuttle bus services to save money on taxis or parking.
Despite its year-round sunshine, Fuerteventura is still most expensive during the summer months. Avoid peak season and you'll still enjoy lovely weather, but for much cheaper prices.
At Acua Waterpark, kids aged three and under go free.
If you're looking to book some surfing or windsurfing lessons, opt for group sessions rather than private ones. It's much more fun in a group and you'll save money too.
As the flattest Canary Island, Fuerteventura is the best place in the region to go cycling. Hire a bike and go exploring via pedal power, a much cheaper alternative to hiring a car.


Have a comment or question about this article? You can contact us on Twitter or Facebook.