Updated January 26, 2023
Published February 11, 2021
By Esme Fox
Endlessly sunny with excellent beaches, exuberant nightlife and extraordinary landscapes, the Canary Islands hardly struggle to keep people coming back for more.
The archipelago, which belongs to Spain but in fact lays closer to southern Morocco than the Iberian Peninsula, is one of our top picks for a great value break. And although the Canaries are incredibly accessible to travellers of all budgets, there are ways to slash the cost of your break even further.
Here, we reveal our insider tips for a budget holiday in the Canary Islands.

Where to stay in the Canary Islands on a budget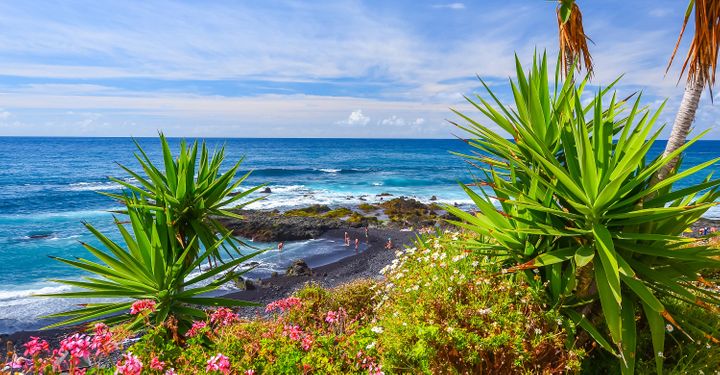 The most budget-friendly islands in the Canaries are actually the biggest and most popular islands. Tenerife, Gran Canaria, Lanzarote and Fuerteventura all offer plenty of package holiday deals and have a wider range of accommodation options than their smaller neighbours. They're also all easy to get to, with plenty of flights leaving from the UK with low-cost carriers such as easyJet, Vueling and Ryanair.
Although more tranquil and less popular than the bigger islands, you won't find as many package deals to the equally beautiful islands of La Gomera, El Hierro, La Palma and La Graciosa. Barring La Palma, you also won't be able to fly to them directly from the UK, so you'll have to factor in costs for extra flights or ferries. That said, you should still be able to find great budget accommodation options if you're willing to look around.
Travelling to Tenerife? You'll want to steer clear of the upmarket resorts on the Costa Adeje and Los Cristianos if you're travelling on a budget. Instead opt for the more relaxed resorts of Los Gigantes, Puerto de Santiago and Puerto de la Cruz. If you want nightlife and plenty of action, then head to Playa de las Americas or the capital of Santa Cruz de Tenerife, both of which offer a wide range of accommodation for all budgets.
For families, Gran Canaria is a great pick, and you'll find plenty of excellent budget accommodation options to suit your brood. If you're after buzzing nightlife, lots of activities and a wide range of hotels to suit all budgets, then look no further than Playa del Ingles with its many resorts, and Maspalomas with its giant sand dunes. Looking for low-key? Laidback Arguineguín or family-friendly Taurito, both of which are still kind to your pocket, are your best bets.
Where to eat in the Canary Islands on a budget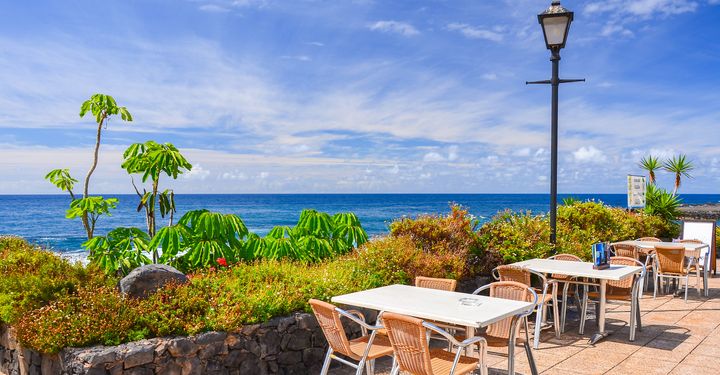 If you've forgone all-inclusive board, do as the locals do and opt for a menú del día at lunchtime. This is a set three-course meal with several options for each course and typically cost around €10-€15 per person. There's often a salad or soup for starters and a fish or meat course for the main, followed by coffee or a dessert such as ice cream or flan (similar to crème caramel). Expect them to be filling and plan for a light dinner of tapas to share (salty papas arrugadas potatoes with spicy mojo picón sauce is a must here).
The capitals of the islands – Las Palmas de Gran Canaria, Santa Cruz de Tenerife and Arrecife in Lanzarote offer the widest range of restaurants and cafes, meaning you'll find some great budget options at local prices. Restaurants with seafront views are always going to charge more than the ones a little further inland; look where the locals go and follow suit.
What to do in the Canary Islands on a budget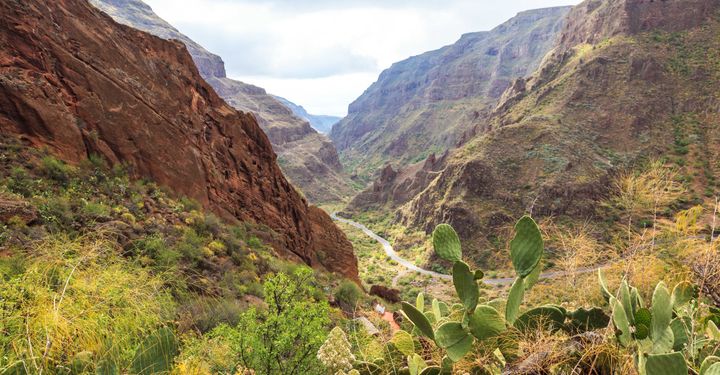 The best and cheapest activity to do on every Canary Islands is, of course, a visit to the beach. You'll find swathes of both golden and black volcanic sands to sunbathe on and swim at – all for free. Away from the beach, each island has a range of unique, budget activities that will appeal to all types of traveller.
Gran Canaria
Gran Canaria is often dubbed a 'continent in miniature' because it offers so many different landscapes, from the rolling sand dunes in Maspalomas to the dramatic Guayadeque Ravine and the Caldera de Bandama, a large, ancient volcanic crater.
In the capital of Las Palmas, free activities include exploring the old town area of Vegueta and visiting the Botanic Garden. Other picturesque towns to visit on the island include romantic Puerto de Mogán and quaint Teror.
Tenerife
You'll find plenty to occupy yourself on Tenerife without breaking the bank. In the capital of Santa Cruz de Tenerife, you'll find an open-air art gallery, the botanical gardens of Parque García Sanabria and an African market, where you can pick up some great souvenirs.
Tenerife is also home to the highest point in Spain, Mount Teide. Although the cable car to the top is pricey, there are plenty of beautiful hikes around the lower slopes.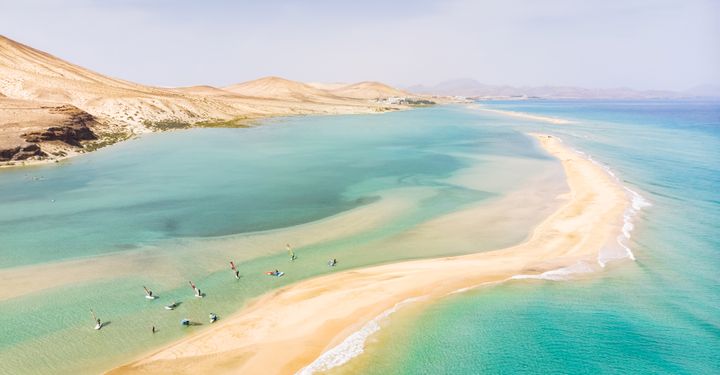 Fuerteventura
Fuerteventura is the Canaries watersport island, offering everything from surfing to sailing and windsurfing. Some are certainly pricier than others but the best one you can try on a budget is snorkelling.. All you need is a mask and snorkel and you can go right from the shore.
Another free highlight is the Corralejo Natural Reserve, featuring vast sand dunes and an array of excellent hikes, as well as the open-air sculpture park in Puerto del Rosario.
Lanzarote
Lanzarote's volcanic otherworldly-landscape is one of the best things to discover, and other than transport, it won't cost you a thing. You can even climb inside the crater of Volcan El Cuervo. At Los Hervideros, you can enjoy the natural wonders of the island, where the sea plunges off the volcanic cliffs into underground caves created by ancient lava flow.
Had your fill of natural wonders? See how salt is made at Salinas del Janubio or visit the Castillo San Gabriel, a castle in the capital of Arrecife, where entry is under €5.
How to get around the Canary Islands on a budget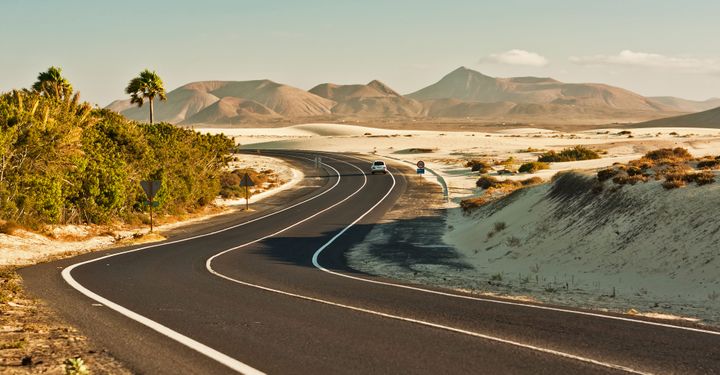 Public transport is generally the cheapest way to get around the Canaries if you're on a budget. But, as some islands are better connected than others, you may be better off hiring a car for your Canary Islands trip.
If your holiday is in Tenerife, there are extensive bus routes around the island, as well as a tram network that runs across the island from San Cristobal de La Laguna to Santa Cruz, and south to north from Tincer to La Cuesta. These are inexpensive and easy to use.
On Gran Canaria, two different bus companies operate around the island. The first operates in and around Las Palmas and the second covers the rest of the island – but the schedule is quite infrequent. However, you can benefit from discounts for families as well as those over 70.
There are bus routes that run around Lanzarote's capital of Arrecife, as well as the main tourist areas, but the timetables are often geared towards locals. It's worth hiring a car in Lanzarote if you want to explore further.
On the other islands (Fuerteventura, La Palma, La Gomera, La Graciosa and El Hierro), bus services are limited and infrequent, so a rental car is pretty much essential.
Insider tips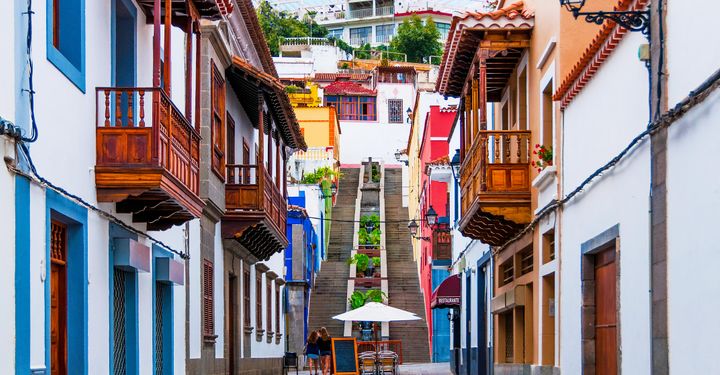 The most popular seasons to visit are summer and winter, so choose the shoulder seasons of spring or autumn to find fewer crowds and better deals.
On Gran Canaria, museums are often free on the first weekend of the month.
On Tenerife, several of the island's museums are free on Fridays and Saturdays after 4pm.
On Lanzarote look out for free guided walks organised by the town councils. You'll find a good one in Teguise.
Ferry tickets from Lanzarote to La Graciosa only cost around €14 one way. The journey takes 25 minutes, so it could make for a great budget day trip.
Save money on Fuerteventura's famous goat's cheese – Majorero – by buying it from small roadside farmsteads instead of at the resorts.


Have a comment or question about this article? You can contact us on Twitter or Facebook.