November 17, 2020
There's a lot to love about the Canary Islands. Across the archipelago's four main islands, you'll find excellent value holidays, coastlines fringed with dramatic black-sand beaches, star-spangled skies and lush forests.
To find it all without the crowds can be tricky, especially if you're following the sun-seekers to the Canaries over winter. So avoid the masses – or just take a few days away from your Tenerife resort – in quiet La Palma. Here's why you should consider it.


It's one of the best hiking destinations in Spain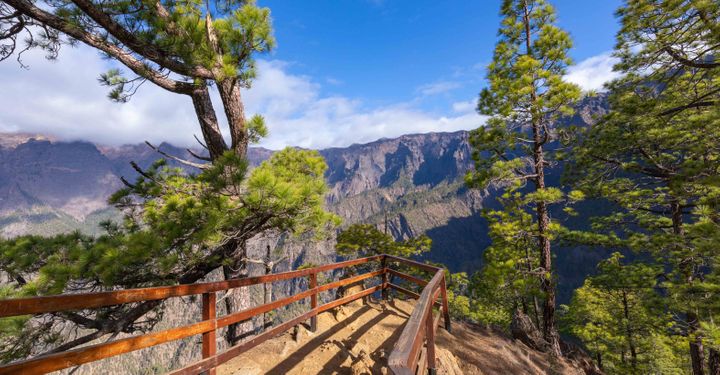 La Palma has some of the best hiking routes in the Canary Islands. Test your stamina on the 17.5km (10.8 miles) Ruta de los Volcanes. Translating to Route of the Volcanoes in English, the path takes walks through some of La Palma's most dramatic landscapes.
Alternatively, trek through the island's national parks. Caldera de Taburiente is famous for its rock formations and narrow ravines, the most beautiful of which is Las Angustias, where you can swim at the base of a thundering waterfall.
When hiking in La Palma, familiarise yourself with the trail signs, classified in accordance with the European Rambler's Association. There are three types of trail: sendero local (short, easy walks), sendero de pequeño recorrido (slightly longer walks suitable for hikers of all abilities) and sendero de gran recorrido (hikes that will take one day or more to complete).


You can sunbathe on a black-sand beach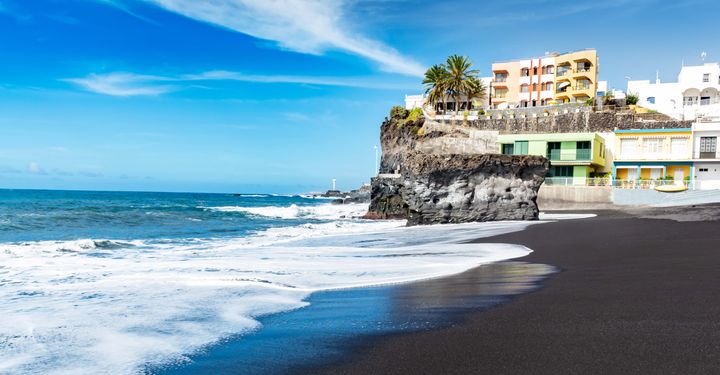 Yes, there are other Canary Islands with black sand beaches. But the difference here on La Palma is that there's more space to lay out your towel, and less chance of your sunbathing session being disturbed by a gaggle of cruise ship passengers, or a selfie stick-wielding tourist.
One of the best beaches on La Palma is Puerto Naos on the island's west coast. It's famous for its jet black sand and shallow waters, and is also a Blue Flag beach, making it ideal for families. Head to nearby Puerto Tazacorte – another black-sand favourite – for clear water and a dramatic backdrop of sheer cliffs.
For something a little more remote, head for Nogales Beach, in the north. A winding footpath leads to this long, wide stretch of sand that's popular with photographers. The sand has shades of blue and grey, and the cliffs that line the beach are blanketed with eye-wateringly bright, neon green vegetation.


It's got one of Spain's most colourful towns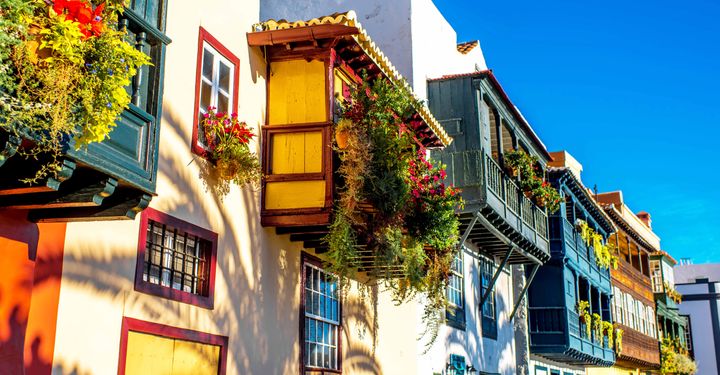 Santa Cruz de la Palma is the island's capital, and it's absolutely stunning – a tangle of narrow streets lined with multi-coloured, flower box-adorned houses. Some of the prettiest houses can be found on its kilometre-long promenade, although Plaza España, in the centre, is equally lovely. Stop by this historic plaza for a coffee or a glass of local wine, before exploring the zig-zagging roads which fan out from the palm tree-filled square.
With its colourful buildings and fruit markets, Santa Cruz's centre could easily be mistaken for a Caribbean town – head here on market day and you'll find stalls piled high with locally grown produce, such as sugarcane and mangoes.


It's a UNESCO-listed World Biosphere Reserve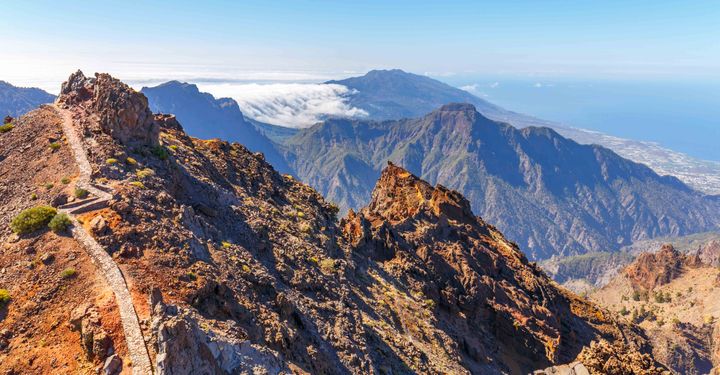 It's not just a tiny chunk of La Palma that gets the listing, but the entire island. The UNESCO reserve initially encompassed a much smaller area, but it was expanded in 2002 and now encompasses the whole island. It was given its UNESCO designation due to the wide range of landscapes, many of which were formed following volcanic eruptions.
UNESCO describes La Palma's highest peak, Roque de los Muchachos, as a miniature continent filled with different ecosystems, whether it's the high-altitude pine forests or the rocky, fern-covered slopes. This fertile, varied landscape is the reason the island doubles as a wonderful haven for flora and fauna, including rare plants and insects.
It's also one of the best birdwatching spots in the Canary Islands – look out for a Bolle's laurel pigeon, a purple-feathered beauty which is endemic to La Palma.


It's one of Europe's top stargazing spots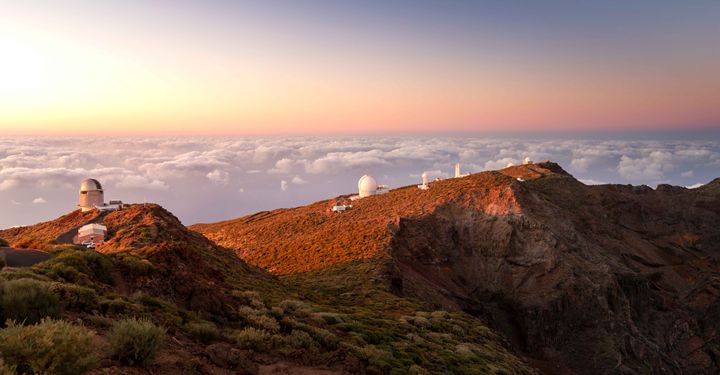 La Palma is the world's first UNESCO Starlight Reserve, a status awarded for its clean, clear skies. There are three observatories on the island, and the Roque de los Muchachos Observatory, which is operated by the Canary Astrophysical Institute, is an essential stop off for amateur stargazers. You'll find it in the north of the island, perched atop La Palma's highest point.
Members of the public can sign up for guided tours, and the observatory is surrounded by a maze of hiking paths perfect for late-night stargazing treks. One of the best is the Full Moon trail, which forms part of the clearly marked GR 131 route and passes through several lava fields. And you'll spot more than stars – owls and tailed bats (known for their loud clicking noise) are frequently seen here, too.


It's home to one of Europe's most important forests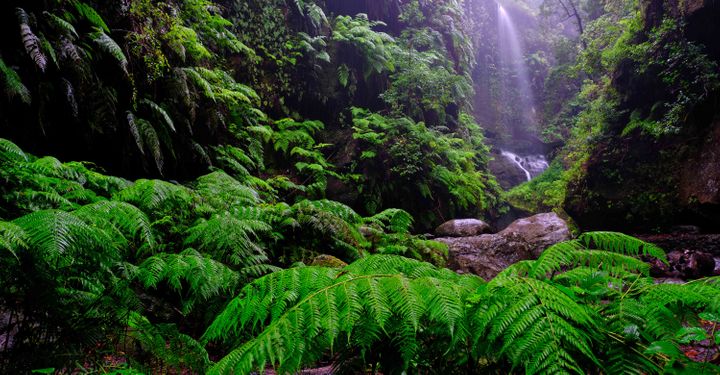 You don't have to be a tree hugger to appreciate this particular wooded wonderland. Los Tilos Forest is regarded as one of the finest, most important examples of a laurel forest. These fragrant, broad-leaved trees covered the planet millions of years ago, and they thrive especially well here, thanks to La Palma's warm, sunny climate. On certain days, Los Tilos can feel like a tropical rainforest, with giant, dew-covered ferns towering over the twisting walking trails, and thick clouds clinging to the tops of the laurel trees.
A visit to the Los Tilos Interpretation Centre is a brilliant way to learn more about this fascinating wilderness, and there's a huge network of hiking trails. One of the most popular routes starts near the small town of San Andrés y Sauces and finishes at the Cascada De Los Tilos – a huge waterfall in the centre of the forest.


Have a comment or question about this article? You can contact us on Twitter or Facebook.