9 of the best beaches in La Palma

December 17, 2021
La Palma isn't usually known for its beaches, but if you're looking to break up your active holiday activities with a few lazy days by the sea, you won't be disappointed. As well as the endless hiking trails and lush, fertile landscapes La Palma is famous for, the island is also surrounded by several striking black-sand beaches. Here are nine of the best.


1. Puerto Naos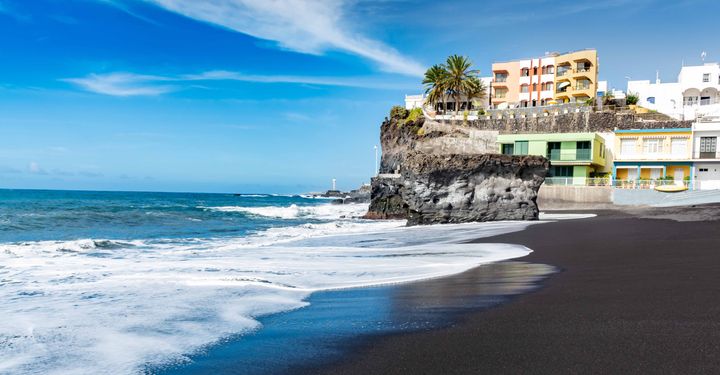 Fine black and sparkling green sand (due to traces of olivine crystals) lays strewn across Blue Flag Puerto Naos, the largest beach on La Palma. There are plenty of facilities here, including bars and restaurants as well as umbrellas and sun-loungers for hire.
If simple beach-basking is your idea of boring, there is a scenic hiking trail that bypasses the beach as it winds along the coast. Or, if you're feeling really adventurous, why not try a night-time scuba dive, and see the seabed surrounding the famous "la Roca del Mar" (the Rock of the Sea) come to life after dark.


2. Charco Verde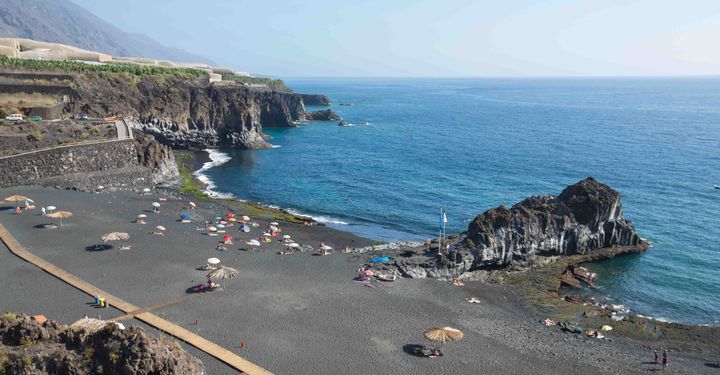 The relatively small bay of Charco Verde makes up for its size in easy access, just outside of Puerto Naos. The beach is set in a cove, surrounded by lush banana plantations and sheltered by tall cliffs, which stretch out to sea at either end of the black-sand shore.
A volcanic rock splits the 150m-long (492ft) beach into two mini coves and acts as a natural wave-break, meaning the water is calm and perfect for swimming. A wooden walkway across the sand makes this a great choice for anyone with limited mobility too.


3. Charco Azul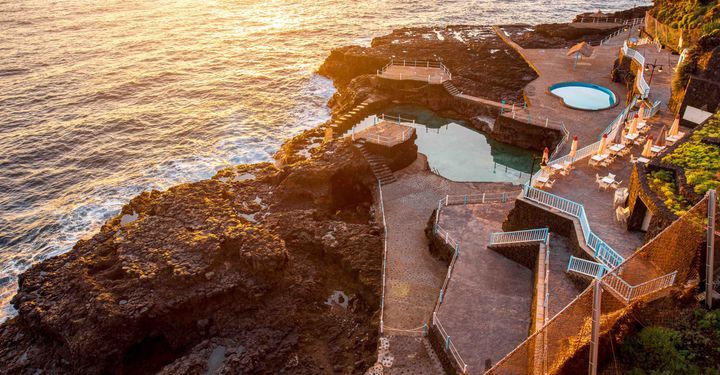 While it's not really a beach, it would be remiss not to include Charco Azul on a list of La Palma's best seaside spots. In the north of the island, near to San Andrés y Sauces, this beautiful coastal spot centres on a huge natural rock pool. Take a dip and float in the placid water before admiring the surrounding views as you sunbathe. If you have kiddies, the children's pool means it's a family-friendly spot too.
Surrounding the pools, you'll find stone steps to help you access the cool sea water with ease, as well as toilets, changing rooms and spots to lay your towel for the day.


4. Puerto de Tazacorte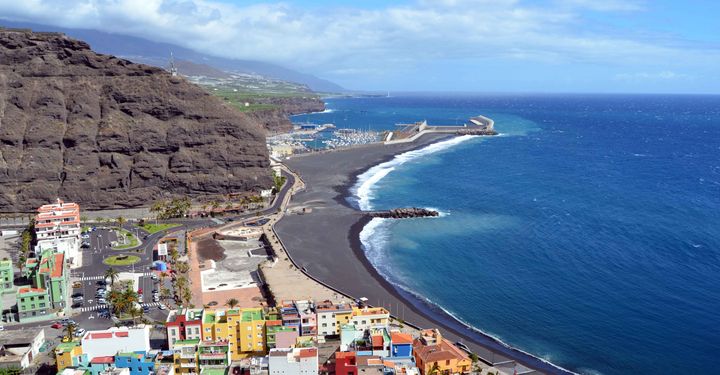 Sweeping across the opening of the Las Angustias ravine, in the west of the island, Puerto de Tazacorte is one of La Palma's largest beaches. Brilliant blue water laps at a wide stretch of soft black sand on this Blue Flag shore. Behind the sand, you'll find a lovely promenade, where pretty, multicoloured restaurants and bars offer plenty of choice for lunch and sundowner drinks. Venture further inland and you'll discover the town is a hub of artistic heritage, with several 17th-century stately homes and, perhaps best of all, Europe's only banana museum.


5. Playa de Echentive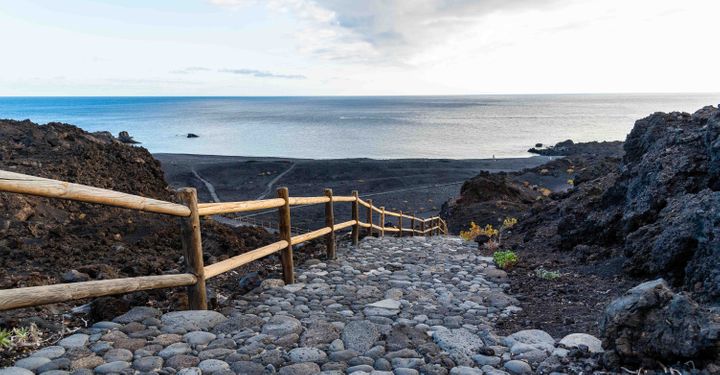 Created in 1971 when the Teneguía volcano famously erupted in spectacular fashion, the wild, unspoiled shore of Playa de Echentive is one of La Palma's newest beaches. Expect the island's signature black volcanic sand, as well as sparkling waters, natural pools and hot springs to dip in.
There are no restaurants, shops or facilities here, but the beach is surprisingly easy to access from the nearby road. Bring a picnic and your camera and settle in for a day admiring the scenery while swimming and sunbathing.


6. La Zamora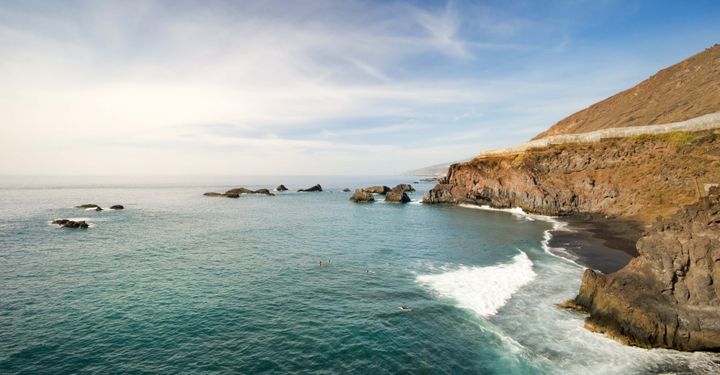 In the southwest of La Palma, tiny La Zamora beach is the reward after a steep hike down a rocky cliff path. The black-sand beach is sheltered from the elements by the sloping cliffs that surround it, making it a great little suntrap with calm, welcoming waters.
If you stay late enough, the sunsets from this part of the island are simply stunning. Enjoy the views from the small terrace bar that's perched high above on the cliffs.


7. Playa Nogales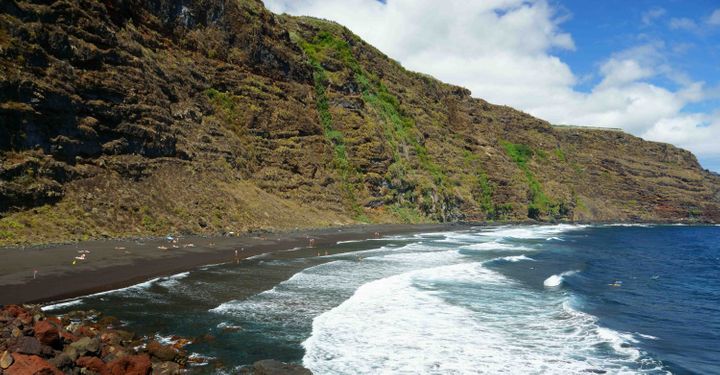 Near La Palma's northern town of Puntallana, the picturesque Playa Nogales is like a little oasis surrounded by contrasting colours. The moody black-sand bay is reached by walking down a well-manicured path through lush, leafy banana plantations and tree-covered cliffs – which eventually open out onto a wide expanse of sand and still, deep blue water. The lack of facilities on Playa Nogales is part of the charm, so simply spend your day enjoying the epic scenery and near-total seclusion.


8. Playa Los Cancajos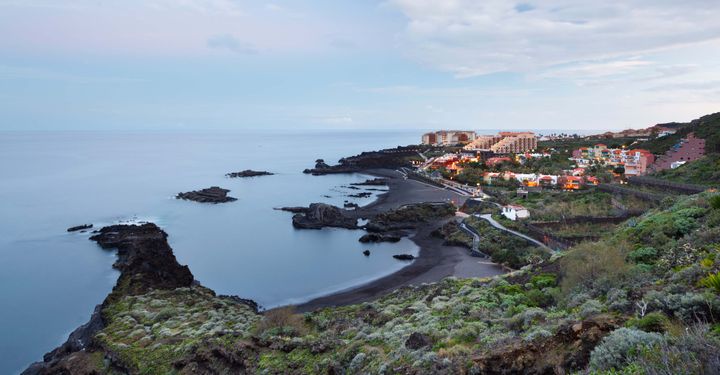 One of the most popular beaches in La Palma is the lovely Los Cancajos. The black sand here is bordered by low volcanic rocks that reach into the sea, and a further rocky breakwater has been created in the middle to help keep the water calm for swimming.
If you're into diving or snorkelling, this is also one of the best places to explore La Palma's underwater world, with the volcanic rocks around the beach acting as a hotbed of marine life. There's a dedicated dive centre in town, so both beginners and pros are well catered for.


9. Playa de Santa Cruz de La Palma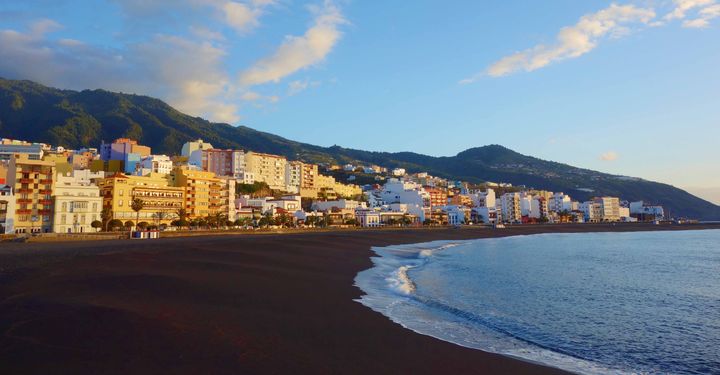 Capital Santa Cruz de Palma, on the east of the island, is the best place in La Palma to enjoy a tranquil sunrise. If you're an early riser, head straight down to its beach to watch the sun come up, then grab a coffee from one of the cafes along the shore and spend a few hours in the sunshine before the crowds arrive.
Nearby Playa de Bajamar is also worth a visit. This black-sand beach is 700m (2,297ft) long and stretches right along the coast, from the marina to the majestic Risco de la Concepción rock formation. A scenic spot, Bajamar is particularly with Santa Cruz locals.


Have a comment or question about this article? You can contact us on Twitter or Facebook.