10 of the best things to do in La Gomera
November 18, 2021
The tiny island of La Gomera is a popular day trip from Tenerife, but often overlooked as a standalone holiday destination - though it really shouldn't be. Blanketed by lush forests and jagged mountains, ringed with dramatic black sand beaches and clear azure waters, La Gomera is the Canaries at their most epic.
From hiking through the Garajonay National Park and whale and dolphin watching, to learning to whistle the local language, there's plenty to keep you busy on a La Gomera holiday.


1. Discover Garajonay National Park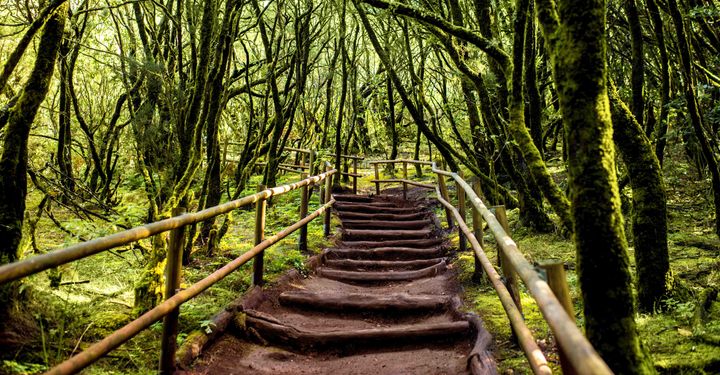 Garajonay National Park is one of the last remaining prehistoric European rainforests (with others in its neighbouring Canaries, Madeira, and the Azores) and an absolute must-visit when in La Gomera. In fact, this beautiful national park, which covers over 10% of La Gomera, is so beloved that it's likely to be the first place that locals will recommend you visit.
Across the UNESCO-protected national park, you'll find hiking trails with varying levels of difficulty, so you can explore at a pace that suits you. As well as admiring the forest, look out for springs, streams and some of the 2,000 species of flora and fauna. Half of the wildlife and a quarter of the plant species found here are endemic to La Gomera.


2. Admire the view from Mirador de Abrante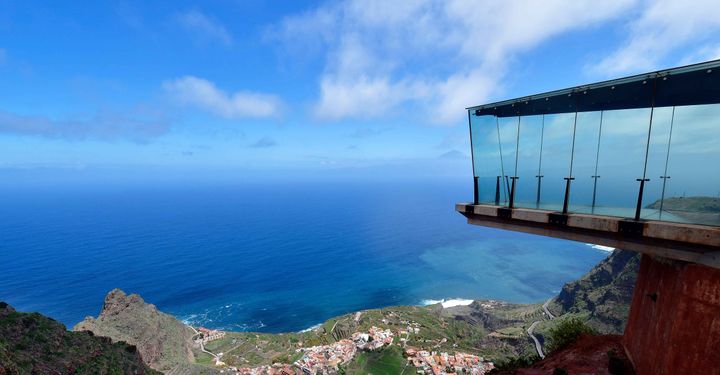 Looking like something straight out of a James Bond movie, the 7m-long (23ft) glass-encased viewing platform of Mirador de Abrante is pretty spectacular. Head to the north of the island, near Agulo, and step on if you dare.
This is not an activity for the faint hearted: the glass platform hangs unsupported from the cliffside at 620m (2,034ft) above sea level. Overcome the adrenaline rush and you'll be rewarded with some pretty incredible views. On clear days, you can look out across the Agulo Valley and the Atlantic Ocean, and can even spot Tenerife in the distance.


3. Head out to sea and go whale watching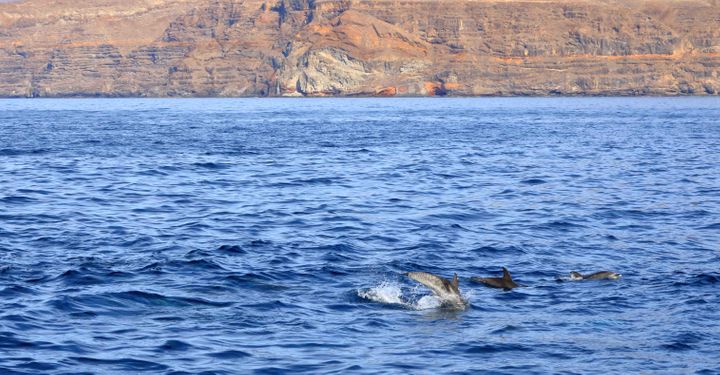 Whale watching is one of the most popular activities in La Gomera, and tourists often visit for that alone. There are many different companies offering boat tours all year round, especially in the south of the island, so take your pick and head out to sea for an unforgettable few hours.
The waters around La Gomera are rich with marine life, and you might spot pilot whales, sperm whales or Bryde's whales during your trip. If that's not enough, dolphins and sea turtles are a regular feature of many tours. For a really special day at sea, opt for a tour that includes lunch or a sunset drink too.


4. Hike to Alto de Garajonay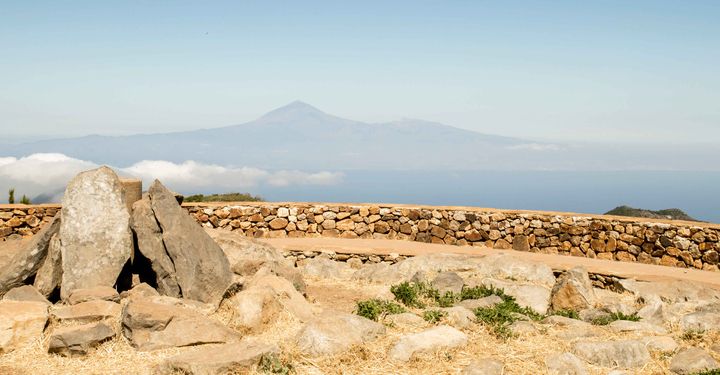 Hikers love La Gomera, thanks to the 600km (373 miles) of epic hiking trails that trace its stunning landscapes. While there are routes to suit all abilities, for the ultimate holiday hiking experience, lace up your boots and make the ascent to Alto de Garajonay, La Gomera's highest peak.
At a mighty 1,487m (4,879ft) above sea level, this mountaintop viewpoint provides uninterrupted views across the entire island, as far as Tenerife and even out to Gran Canaria. If you're looking for a route to take you to the summit, check out the undulating 10.5km (7 mile) hike from Pajarito junction to Hermigua, which bypasses Alto de Garajonay and takes around four to five hours to complete.


5. Explore the centre of San Sebastian de la Gomera
Visitors to La Gomera often only get a glimpse of San Sebastian de la Gomera from the ferry dock in the city's harbour. But La Gomera's colourful capital deserves more than a cursory look: with restaurants, bars, shops, markets and lots of lovely little squares to stop in, the city deserves at least half a day of dedicated exploring.
One sight you absolutely can't miss is the Casa Colon customs-house-cum-museum. It's here that Christopher Columbus famously stayed during his visit to La Gomera, just before his epic voyage to the Americas. You'll find that the locals are incredibly proud of their island's little part in this historic mission, so much so that the island is nicknamed La Isla Columbiana.


6. Be amazed by the Los Organos Natural Monument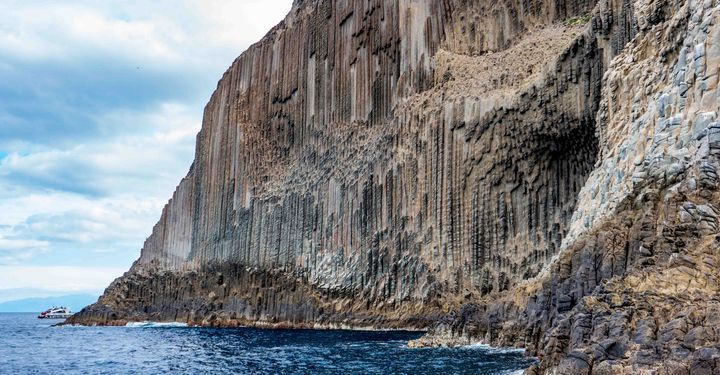 Prepare to be thoroughly awestruck by the Los Organos Natural Monument. This cliffside rock formation is found on the island's north coast and gets its name from its appearance, which looks just like the pipes on a grand organ. The site's creation is shrouded in folklore, but in reality, it was formed by a combination of volcanic eruptions.
Most of the monument's 800m (2,625ft) height is submerged underwater, but the visible section is still a staggering 80m (262ft) tall and 175m (574ft) wide. As Los Organos can only be seen from the sea, you'll need to take a boat out to visit it. The journey is well worth it, and you can even combine the trip with a tour of some of La Gomera's other coastal highlights and remote beaches.


7. Tantalise the taste buds with a wine tasting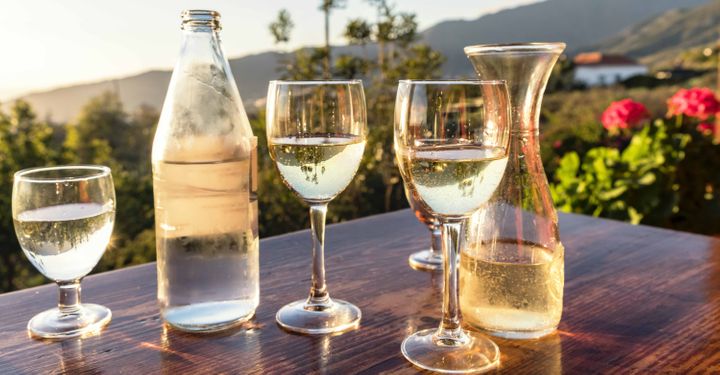 La Gomera's volcanic soil and warm sunny weather provide the ideal conditions for grape growing, which means the island has been producing excellent wine for over 500 years. The vines, usually planted in terraces, cascade down La Gomera's steep and rocky terrain, and are still harvested by hand – modern machinery tends to struggle with the harsh landscape.
Head to almost any bar or restaurant on the island to sample the local produce, or better still, visit the Juego de Bolas Visitor Centre on Fridays, where you can sample wine from 19 different wineries. Most of the wine produced in La Gomera is white, with over 80% of grapes coming from the Forastera grape, known for its light and fresh characteristics.


8. Soak up some sun on a black sand beach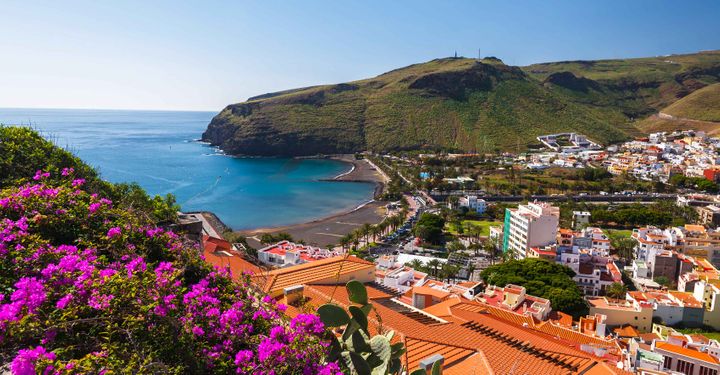 If you're looking for powder-white beaches, La Gomera isn't for you. Instead, the island is surrounded by striking black-sand beaches that are as dramatic as they are beautiful. Take your pick from the likes of Playa de Santiago, with its colourful fishing houses and charming seafood restaurants, or Playa de Alojera where the clear blue water is backed by towering cliffs.
For families, the 1km-long (0.6 miles) Playa de la Calera is a great choice, thanks to its calm waters and easily accessible location. There are also showers and restaurants here, and it gets fantastic sunset views, so settle in for a full day on the sand and a sundowner cocktail at the end of it.


9. Learn the whistled local language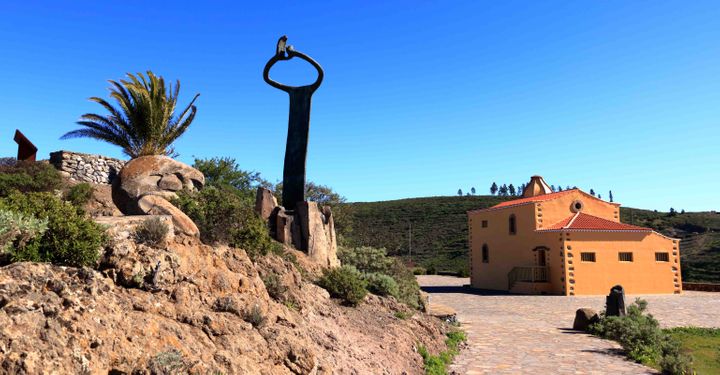 Known as Silbo Gomero, La Gomera's unique whistled form of Castilian Spanish was developed to help locals living in remote areas communicate with each other. In fact, whistles can be used to communicate as far as 5km (3 miles) away!
After falling out of use for many years, Silbo Gomero is having a resurgence. It is now taught in schools and is recognised with a large exhibit at the Ethnographic Park of La Gomera in Hermigua. Pay the museum a visit to hear examples and learn more about the history of the language.


10. Visit the epic Roque de Agando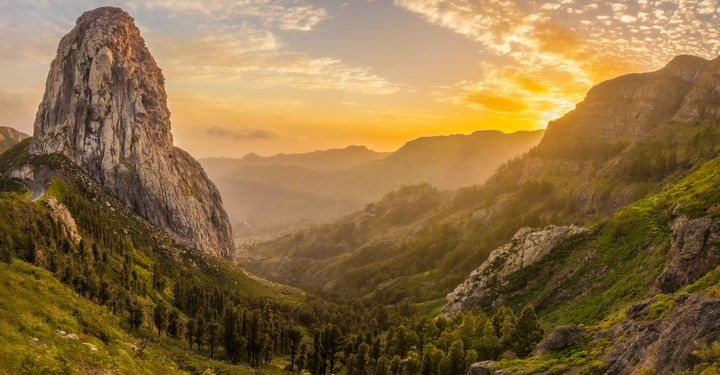 Another site widely considered symbolic with La Gomera is the striking Roque de Agando. The volcanic rock protrudes out of the lush hillside in Garajonay National Park but is a must-see all on its own. Hikers can take several routes through the national park to make their way to the base of the rock, which stands at an impressive 1,250m (4,101ft) tall on the hillside.
Keen photographers will also love Roque de Agando as a dramatic focal point for shots of the Garajonay National Park. Word of warning: you won't be able to climb up the rock as it forms part of a protected area, so stick to the marked trails. If you have a drone, bring it along for shots that are otherwise out of reach.


Have a comment or question about this article? You can contact us on Twitter or Facebook.