9 of the best beaches in La Gomera
May 23, 2022
Many visitors to lush La Gomera stay only for a few hours, ferrying across from Tenerife on a day trip. Linger a little longer and you'll be rewarded. After exploring the little island's ancient forests, discover its best beaches, many of which are totally unspoilt and offer the kind of rugged natural beauty that is hard to find elsewhere.
Here's nine of the best beaches to break up your hiking with a little bit of seaside R&R.


1. Playa de Santiago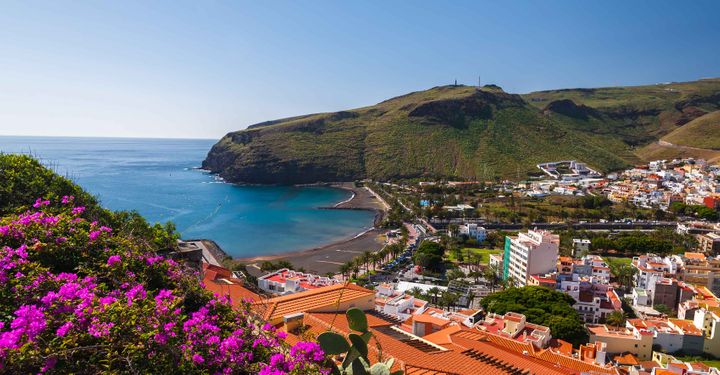 Next to the charming fishing harbour and marina in Playa Santiago, you'll find the pebble shores of Playa de Santiago. Backed by pretty, colourful houses and a palm-lined promenade, with towering rocky hillsides in the background, this is one of the island's most picturesque beaches.
The water is also incredibly clear and home to an enormous array of marine life, making this the best place in La Gomera to go diving or snorkelling. Check out the dive centre at the eastern end of the beach to hire some kit, or if you prefer to stay above water, rent a SUP or kayak. After a day of adventure and fresh sea air, refuel at one of the lovely beachside restaurants and local bars.


2. Playa del Inglés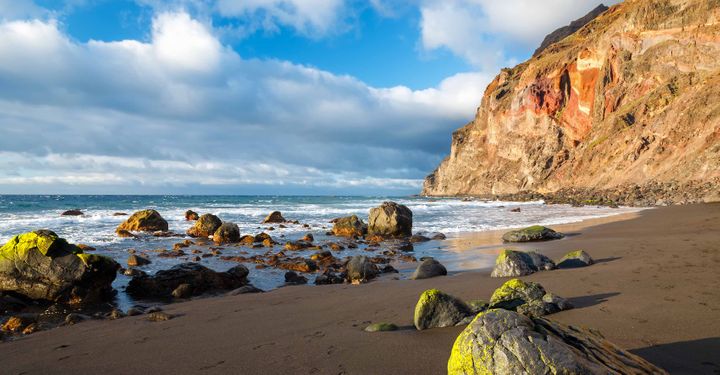 Playa del Inglés is the ultimate all-rounder of a beach, with a beautiful setting, lots of nearby facilities and epic sunsets. At 300m (984ft) long, it's not one of La Gomera's biggest beaches, but what it lacks in size it makes up for with a wide stretch of soft sand and calm waters. At just a ten-minute stroll from Playa de la Calera, it's a great alternative for those looking for an even quieter spot.
The beach is scattered with boulders and surrounded by warm stone-coloured cliffs that slope into the water and give the place a really unspoilt feel. That said, there are restaurants, sports facilities and bars on the way back to Playa de la Calera, so you won't want for anything.


3. Playa San Sebastian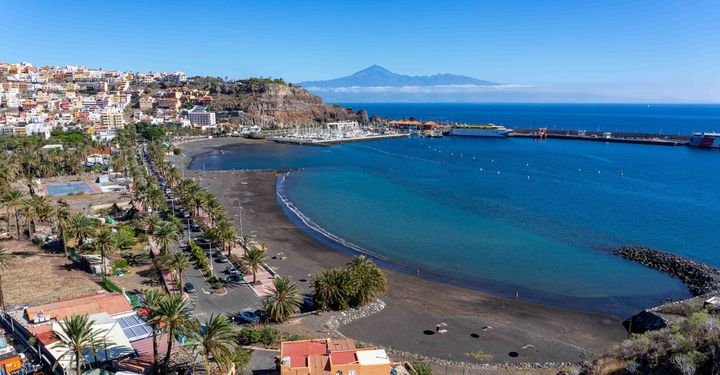 The capital's beach, Playa San Sebastian, is the first shore you'll spot if you're arriving by ferry from Tenerife as it sits directly across from the main jetty. Thanks to its easily accessible location, the gently sloping beach is a charming little spot to while away a few hours.
If you're on a daytrip to La Gomera and want to pair your city exploration with some R&R, stop here and dip your toes in the sea while watching the boats come in and out. If you're staying in San Sebastian for longer, join the locals and start your day with a morning stroll along the black sand, grabbing a coffee at one of the neighbouring cafes afterwards.


4. Playa de Santa Catalina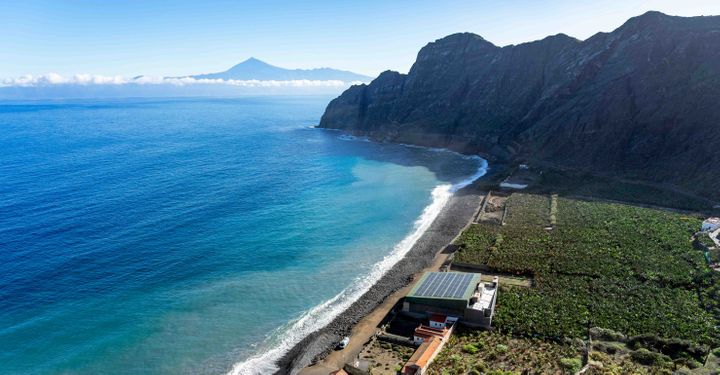 A mix of black sand and pebbles line the shore of Playa de Santa Catalina, one of the loveliest beaches in the northeast of La Gomera. The beach is backed by a lush banana plantation, a striking contrast to the dark sand, and rugged rocky cliffs on either side of the bay.
You won't find much in the way of sun-loungers or beach bars here – this is the kind of beach you visit for that edge-of-the-world feeling and stellar views. The waters in these parts can get rough so leave your swimmers at home and bring your camera instead.


5. Playa de la Calera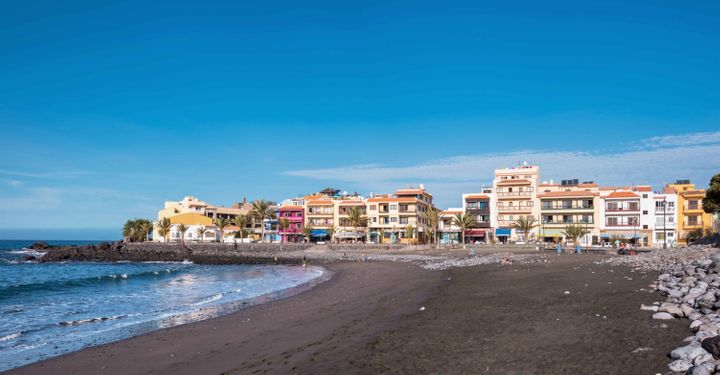 The largest beach in the popular tourist area of Valle Gran Rey, La Calera is a great choice for families. With a kilometre (0.6 miles) of smoky grey-black sand that slopes gently into the calm blue sea, kiddies can safely build sandcastles and splash around on the shore. The surrounding cliffs and palm-fronted mountains provide epic sunbathing views for parents, and there are plenty of facilities to ensure the whole family stays happy all day long. From lunch at one of the many beachside restaurants to washing sandy toes in the beach showers, everything you need is right here.


6. Playa de Vallehermoso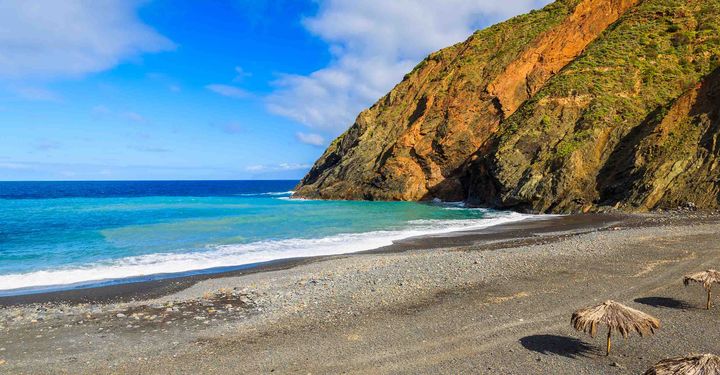 Hikers love Vallehermoso, perched high in the hills of La Gomera's north, but few take the time to head to its beach 3km away. Off-the-tourist-trail Playa de Vallehermoso is a secluded bay, sheltered on either side by towering cliffs that give way to a rocky shoreline just past the sand.
Enjoy the sunshine from the black sand or pitch up on a sun-lounger by the seawater swimming pool that overlooks the beach's rough waters. There are changing rooms, showers and often a little kiosk here. Make a day of it and make use of the barbecues in the picnic area for lunch.


7. Vueltas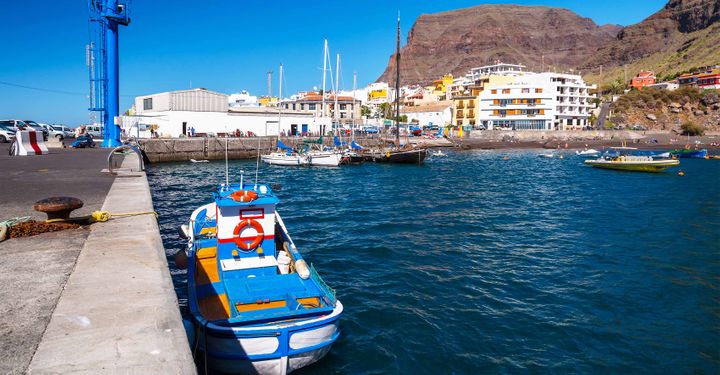 On the southwest of La Gomera, in the famous Valle Gran Rey area, you'll find the lovely, sheltered bay of Vueltas. As the beach is next to the port, expect small, colourful fishing boats bobbing offshore. Wander along the sand or the promenade and watch the boats come in and out, or stop to browse in the shops before enjoying a leisurely lunch.
As the bay is sheltered by the tall rocky curve of the coastline, the water here is calm and shallow, which makes swimming safe for kids and adults alike.


8. Playa de la Alojera
A handful of whitewashed buildings overlook this romantic black-sand cove on La Gomera's northwest coast. You're likely to find you have the beach all to yourself here, so spend an hour or so swimming and sunbathing while enjoying the total seclusion.
As this corner of the island gains new fans, restaurants and bars are popping up in the area. Feast on fresh seafood and be sure to stay for sunset – this is one of the best places in the island to enjoy it!


9. La Negra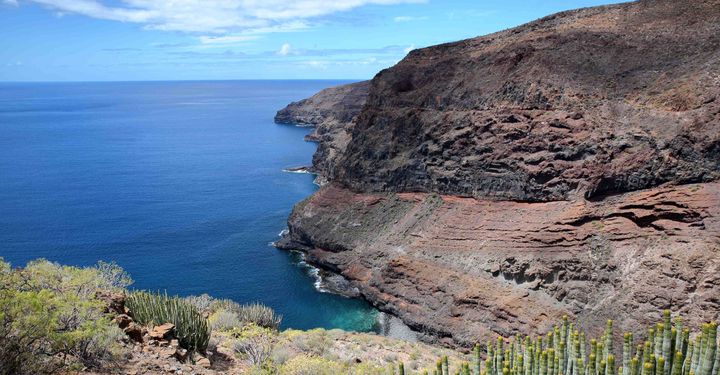 To get to the remote shores of La Negra, you'll need to hike along a trail from the neighbouring beach of La Rajita, or the tiny village of Arguayoda. When you arrive, hot and sweaty from an adventurous walk, dive straight into the clear blue water which crashes onto the black sand. Despite being a spacious 250m (820ft) long and 10 (33ft) metres wide the beach is so off-the-beaten-track that there's a good chance you'll have the place to yourself. There are no facilities here, so make sure you pack plenty of water, sun cream and snacks!


Have a comment or question about this article? You can contact us on Twitter or Facebook.