Alternative Spanish Cities To Visit After Barcelona
Alternative Spanish city breaks: 10 cities to tick off after Barcelona
Updated September 30, 2022
Published December 23, 2019
By Esme Fox
Visit Madrid or Barcelona and you'll be left with little doubt as to why Spain's first and second cities are up there with the world's best. But why stop there? Captivating and alluring cities, packed with history, grand sights and bags of charm, can be found in more than one place across the country. From Bilbao to Malaga, here's ten of the best alternative short breaks in Spain to add to your must-see list.


1. Seville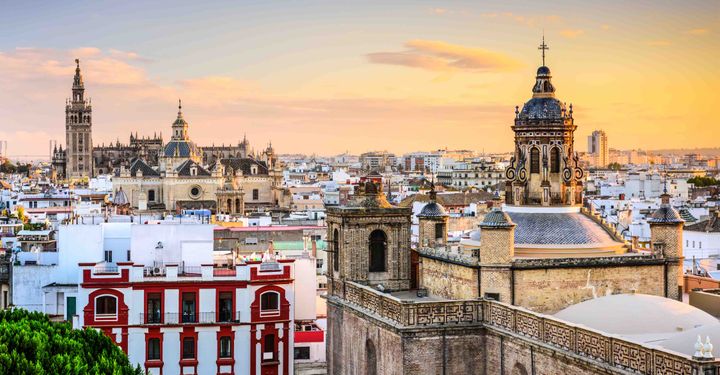 Seville is one of the best cities to visit in Spain, and possibly the most romantic, too. Maze-like alleyways are lined with elegant yellow and white buildings and it's not uncommon to see horse-drawn carts trundling through the streets. Then there's the flamenco, the sun-drenched, orange tree-filled plazas and the bullring – it's the Spain visitors imagine before touching down on its soil.
One of the most recognisable sights is the Plaza de España, an elegant curve of tiled pavilions, fountains and boat-filled canals, built for the Ibero-American Exposition of 1929. Its two other standouts are thanks to the Moors – the enchanting Real Alcázar palace, and the graceful cathedral with its Moorish minaret, La Giralda.


2. Valencia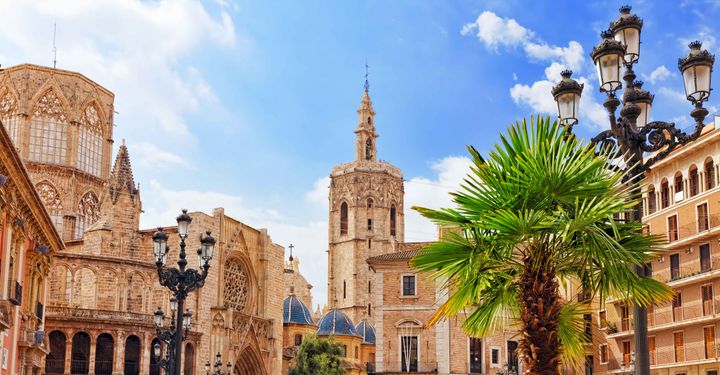 It may proudly claim the paella but Valencia shouldn't be pigeonholed as a foodie destination alone; the city offers something for everyone, from culture lovers and sun seekers to history buffs. Get lost in the atmospheric old town of the Barrio del Carmen with its striking cathedral and impressive central market, then grab a paella by Malvarrosa Beach or tour the futuristic City of Arts and Sciences.
A visit in March will reveal the city at its craziest. The Las Fallas Festival, a three-week affair, sees huge papier-mâché sculptures paraded through the streets, then burnt in a final blaze, amid fireworks, firecrackers and bonfire smoke.


3. Granada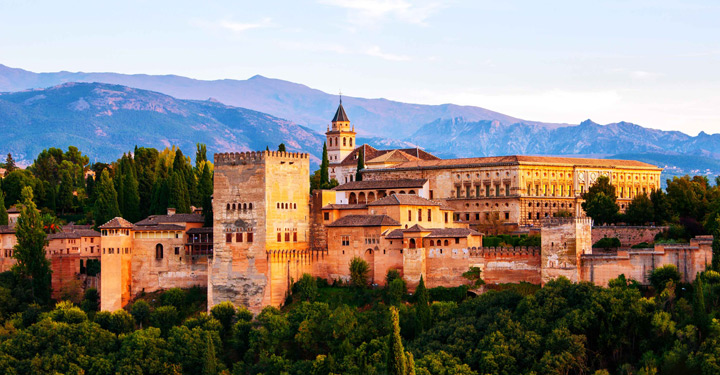 Magical Granada seduces visitors with its exotic vibe – steep cobbled streets are lined with stores selling glittering glass lamps and ornate leather bags, and cosy tea houses serve fragrant brews and spiced tajines. At the same time, Granada is so typically Spanish – think a grand cathedral, vibrant squares, free tapas, and live flamenco performances.
Despite its small size, Granada really packs a punch with its attractions. The star of the show is the magnificent Alhambra – the famous complex of palaces, castle-like fortresses and the flower-filled gardens of the Generalife. Expect trickling fountains, elegant courtyards, delicately carved Islamic symbols, and opulent throne rooms here.


4. Cordoba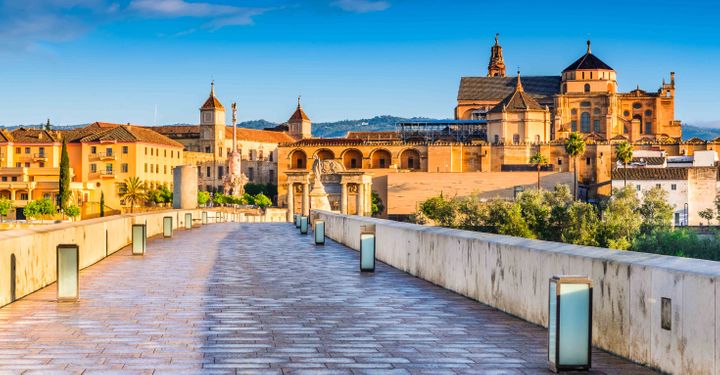 If Moorish Granada grabs your attention, then Cordoba, a place where Spanish and Islamic culture still sit side by side, is sure to as well.
With pride of place in city centre is La Mezquita, a cathedral and mosque in one. It's a mesmerizing building, shimmering in gold and covered with huge intricately patterned doorways. Inside, there's the lavish religious iconography synonymous with cathedrals, juxtaposed against Islamic arches and elaborate carvings. Another Moorish sight is the gorgeous Alcazar de Reyes Cristianos, an impressive fortress and castle with charming gardens.
The best time to visit Cordoba is May. The city is full of clandestine courtyards filled with fountains and flowers, which for most the most part remain closed and hidden away. However, for a few days in May, during the Patios Festival, they all open up for the public to enjoy.


5. Bilbao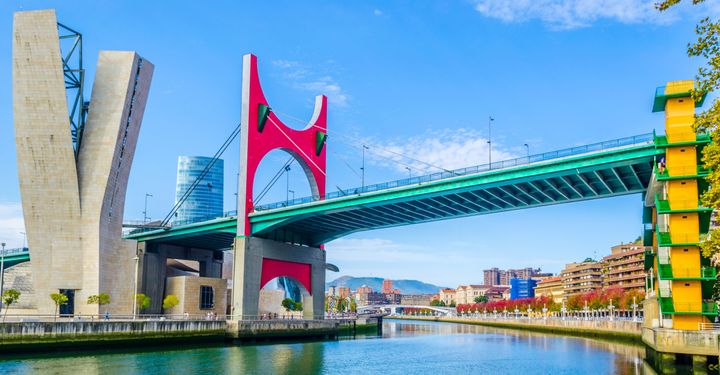 Bilbao feels a world away from southern Spain, and it has to do with more than just its northern locale. Situated in Basque Country, Bilbao does things its own way, boasting unique architecture, a distinctive cuisine, and even its own language.
Of course, most people are drawn to the city to see Frank Gehry's celebrated Guggenheim Museum – a huge titanium ship-like structure housing some of the world's best contemporary art. Since the arrival of the museum, Bilbao has re-invented itself as hub for art and design, making it one of the best Spanish city breaks for art lovers.
After you've had your fill of the cutting edge, head into the Casco Viejo (the old town) to sample some traditional Basque cuisine such as marmitako (fish stew) and bacalao al pil-pil (fried cod).


6. San Sebastián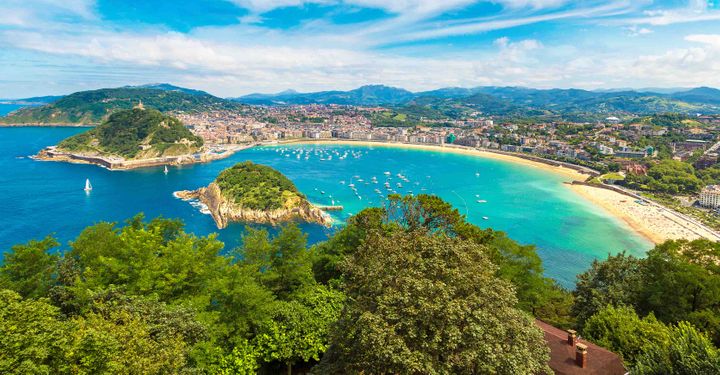 A little further along the coast, still deep within Basque Country, is San Sebastián – and if you're a foodie, this is the only Spanish city break you'll want to know about.
It's up there as one of the top cities for fine dining, with more Michelin-starred restaurants per square kilometre than almost anywhere else in the world. Part of what makes its cuisine so popular are its pintxos, a local twist on tapas, where small pieces of bread are topped with everything from crispy croquettes and sweet peppers to fried lemony squid held together with a cocktail stick.
Its atmospheric old town is a pretty sight, too, but San Sebastián's real drawcard is its picturesque setting along the stunning sweep of La Concha Beach.


7. Santiago de Compostela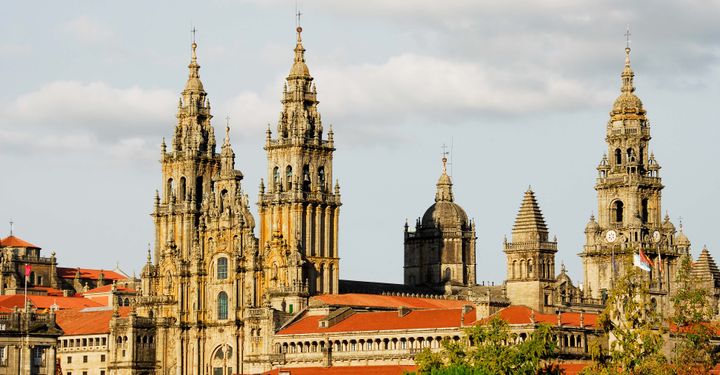 You don't have to traverse miles of pilgrim paths to visit the Galician city of Santiago de Compostela – it's just as rewarding if you fly there. Santiago is, of course, the famous end to the Camino de Santiago pilgrimage routes – a network of roads that wind their way across the top of Spain and up through Portugal.
Whichever way you arrive in Santiago (props to those who walk!), take your time to marvel at the grand cathedral – it's said to be the burial place of the apostle St. James. Then, get acquainted with Galicia's delicious cuisine, which ranges from the exotic (paprika-spiced octopus) to classics (empanadas filled with tuna and fried Padrón peppers).


8. Malaga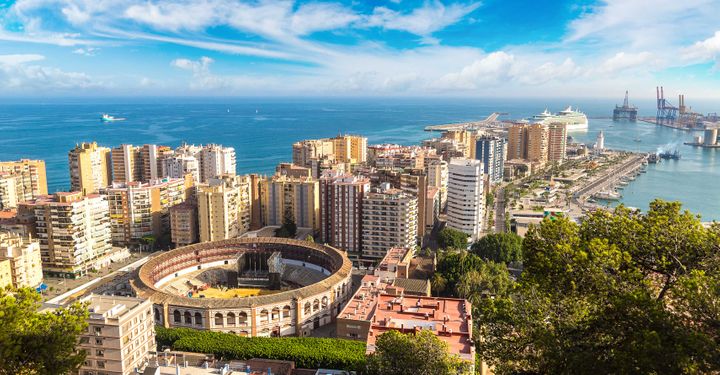 Many visitors simply pass through Malaga on their way to the bustling resorts of the Costa del Sol, but those who stop to take in the sights will be pleasantly rewarded with one of the best cities in Spain.
More than just a transport hub, Malaga is a vibrant city with plenty of culture and attractions to keep anyone happy. Its standout sight is the Alcazaba, an ancient Arab citadel peppered with gardens, fountains and shrubbery, which looms over the historic centre.
Art lovers, meanwhile, should visit the house where Picasso was born, as well as Centre Pompidou Malaga, the brightly coloured offshoot of the famed Parisian gallery. Add this to a vivacious old quarter packed with tapas bars and the gorgeous sweep of Malagueta Beach, and you've got all the ingredients for a perfect city break.


9. Salamanca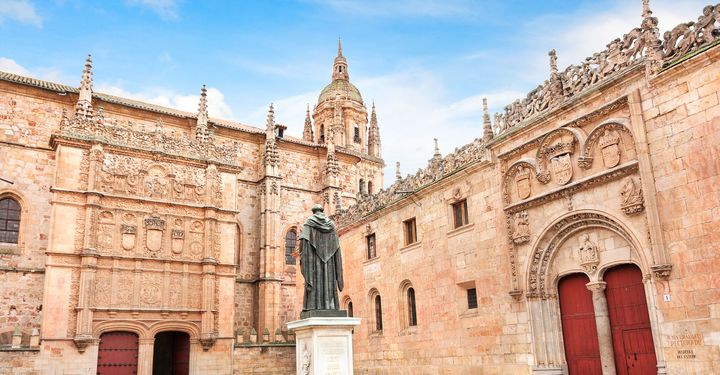 When its honeyed grand architecture catches the light, stunning Salamanca bathes in a soft golden glow. No wonder, then, people often refer to Salamanca as one of the most beautiful cities in Spain.
Wherever you walk in Salamanca, you're sure to fall in love; two of the biggest head-turners are the magnificent Plaza Mayor and the striking university buildings. The former is one of the largest in Spain and the most impressive by far, enclosed by elegant buildings and arched porticos. The Salamanca University, meanwhile, is the oldest in Spain and quite a sight to behold. Its intricately-carved facades, doorways and towers hide all sorts of wonders. Legend has it that if you can spot the frog among the detailed carvings, it will bring you good luck.


10. Mérida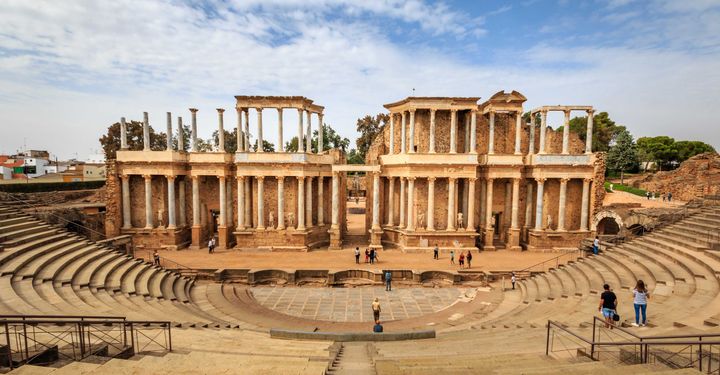 Mérida is the capital of Extremadura, one of Spain's least known and least visited regions, though it's not for a lack of things to do. Ancient Roman monuments, from aqueducts and the chariot-racing track to the graceful Temple of Diana, are found in surprising abundance here. And with such strong acknowledgement of its Roman roots (there's the National Museum of Roman Art and a still-used ancient theatre), you'd be forgiven for thinking you're in Italy.
In actual fact, Mérida sits far to the west, closer to Portugal than Madrid and is surrounded by majestic mountains, dense forests and cooling lakes. Despite its beauty and bounty of historical sites, Merida is yet to make it onto travellers' wish lists. Go now for a cheap city break in Spain.


Have a comment or question about this article? You can contact us on Twitter or Facebook.