Updated November 23, 2022
Published June 22, 2018
By Anthea Gerrie
Awash with tropical-themed party palaces and stunning beaches, and an easy non-stop flight from the UK, Cancun – the colourful east coast resort that put Mexico on the holiday map – is an easy pick for a sunny Caribbean getaway.
But go a little further afield and you'll discover plenty of lesser-known resorts with fewer skyscrapers and more charm. Whether you're sticking to Mexico's Caribbean coast or flying west to the more mature Pacific resorts, here's where to head if you're after a more authentic Mexican beach break.


1. Playa del Carmen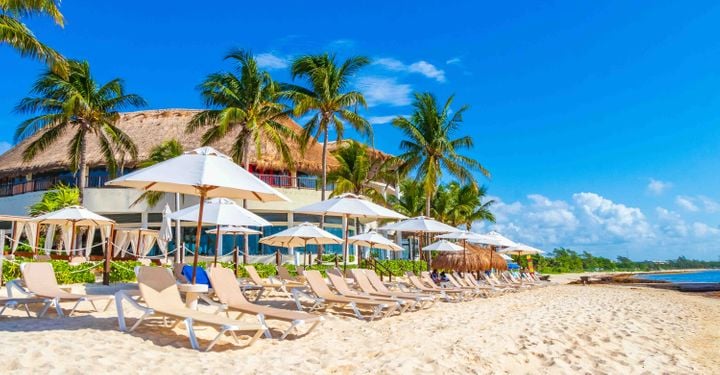 The ideal resort, Playa del Carmen is walkable, buzzy and cosmopolitan in feel. As with St. Tropez, the beach – just OK compared with the neighbouring sands of the Riviera Maya – is not the thing so much as posing and perusing the chic shops of the main drag, Quinta Avenida.
Day trippers can cause overcrowding when the cruise ships are in, but the town just keeps growing to accommodate extra visitors, making Playa del Carmen an upmarket rival to Cancun as an entertainment centre for singles and couples.


2. Cozumel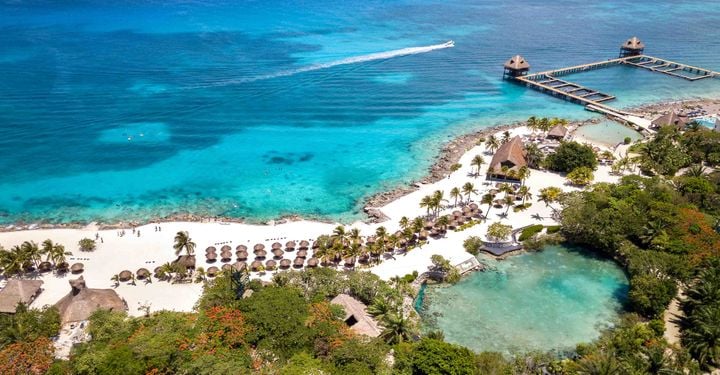 This island off the coast of Playa del Carmen is a long-established holiday playground and a renowned diving and snorkelling centre. But above the waves it can get busy when the tourist life around San Miguel, the main centre, buzzes a little too loudly.
Luckily, there are many forms of escape from jungle trails to secluded lagoons, tropical botanical gardens to their underwater equivalent, reachable by submarine as well as snorkel. Only a third of Cozumel has been developed, and there's plenty for families to enjoy.


3. Isla Mujeres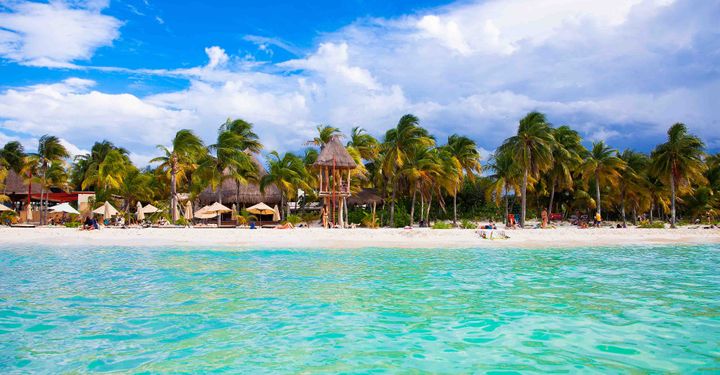 The original laidback alternative to Cozumel, Isla Mujeres remains surprisingly rustic and unspoiled, with spectacular beaches turned pink by crushed coral making an idyllic picture postcard against the calm, almost unbelievably turquoise ocean.
Avoid the pier area that attracts day-trippers, many clutching snorkels to take advantage of the crystal-clear waters, and stay over a night or three to enjoy the relaxed dining and nightlife scene at better prices than the mainland. This is principally a couples' resort with its romantic vibe.


4. Tulum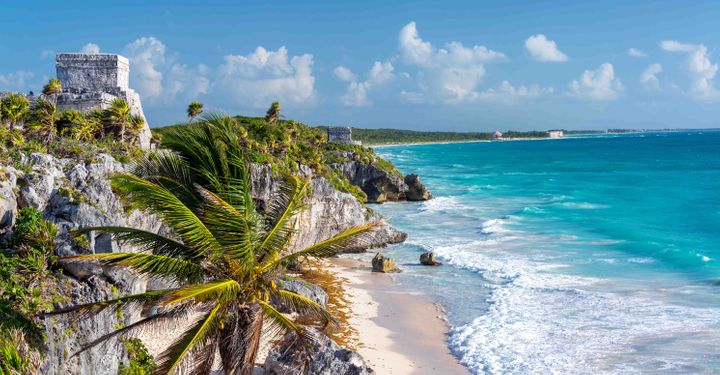 Once a spectacular Mayan city, this coastal archaeological site has been beautifully integrated with its surroundings, the ruins connected to the beach and sea gardens via a broad walkway. No wonder Tulum has evolved into a resort, spawning hip lodgings like the sought-after Be Tulum and Papaya Playa (the latter is basically a high-design budget village of posh tents), but the nearby natural attractions are not to be missed.
The Sian Ka'an biosphere is reached by boat or seaplane and offers everything from snorkelling to kayaking, viewing wildlife (including nesting sea turtles) to swimming in crystal waters. The area's cenotes – natural subterranean pools within caves – are not to be missed for a thrillingly primordial alternative to the hotel swimming-pool. It's a fitting feature of this natural family-friendly retreat of a resort, infused with Mayan culture of past and present.


5. Holbox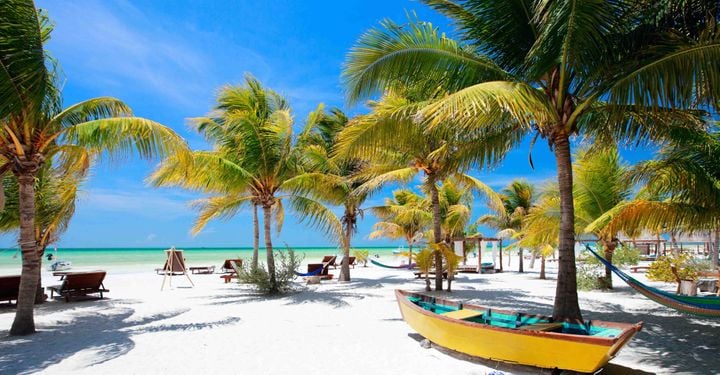 It sounds strangely British, but nothing could be more exotic than this laidback island antidote to crowded Cancun. A complete ban on cars and just a few thatched-roof hotels ensure an unspoiled, edge-of-the-world island vibe families and couples alike will appreciate.
Activities on Holbox include swimming with the harmless whale sharks who migrate here from May to September, snorkelling the reefs of Cabo Catoche or simply revelling in the sight of thousands of flamingos and pelicans populating the lagoon that separates the island from mainland Quintana Roo.


6. Acapulco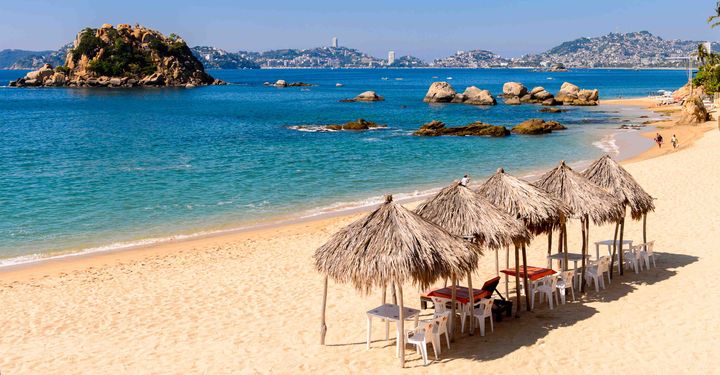 Frank Sinatra invited fans to come fly with him to the world's most beautiful bay in the late-50s and since then, Acapulco has not lost its glamour, although it now offers hotels and restaurants at every price point.
Highlights include nightly performances by the terrifyingly bold amateur cliff divers at La Quebrada and sunset watching in hammocks, clutching a booze-infused coconut at Playa La Condesa. Choose between three beaches, each with their own charms – Hornos is the most central.


7. Zihuatanejo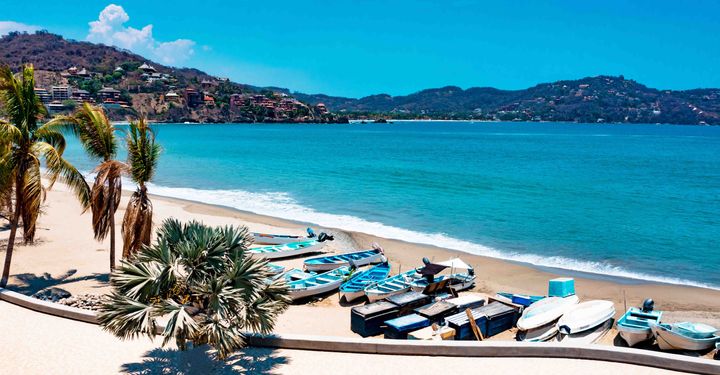 Zihua, as aficionados call this remote resort, is still, to an extent, a rare piece of unspoiled paradise on the Pacific coast. Perhaps its location has saved it – the six-hour bus drive from Acapulco through endless coastal palm groves is spectacular, but you can also fly in.
Zihuatanejo has suffered a little from the development of neighbouring Ixtapa, a rather frenetic built-up resort, and the infiltration of cruise ships, but it retains its original essence as a fishing village of cobbled lanes where fresh catch is still sold on the beach every day. One for singles and couples.


8. Puerto Vallarta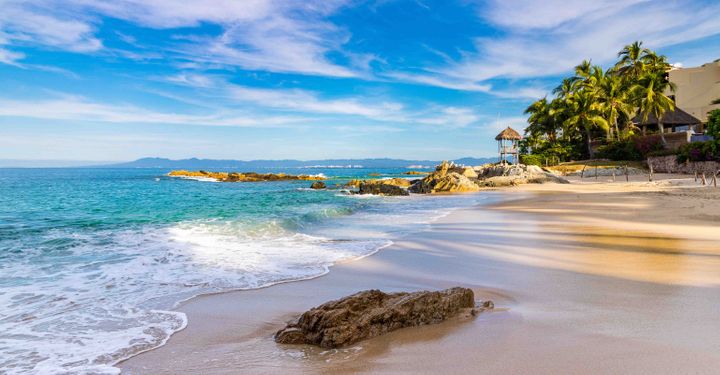 Elizabeth Taylor and Richard Burton put this best-known Pacific resort on the map when filming Night of the Iguana in the sixties, and today's celebs, from Eva Longoria to Kim Kardashian, are still visiting. Direct flights make the trip to Puerto Vallarta and adjacent Riviera Nayarit, easy to reach for Brits, but can also cause a crush.
Getaway spots include the rustic beach town of Yelapa, famous for its 30m-high (98ft) waterfalls. Accessible by boat (or a gruelling mountain hike), it has just one road, strictly for pedestrians. However, a couple of boutique hotels and a yoga retreat permit an overnight stay to drink in the welcome sound of silence.


9. Mazatlan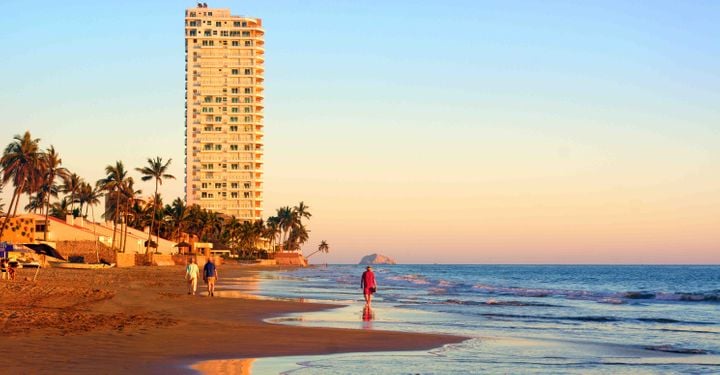 This thoroughly laidback, mature family resort is the Mexican equivalent of a British seaside town. Far from chic, this west coast playground that came up in the fifties remains an affordable family favourite for domestic tourists.
Join them at the Mazatlan Aquarium, where it's possible to swim with at least some of the fishes, and make a point of visiting the old town, which has been beautifully tarted up a la Miami South Beach, recalling its mid-century glory days. The malecon, or promenade, remains at the shabby end of shabby-chic, but is one of the most glorious spots from which to watch the sunset – and families will enjoy miles of sandy beach and keen prices.
Have a comment or question about this article? You can contact us on Twitter or Facebook.