7 Eastern European breaks that are still cheap
Updated May 3, 2023
Published December 20, 2019

By Anita Isalska
As crowds flock to Prague and prices in Budapest creep upwards, British travellers might wonder: is Eastern Europe still a byword for cheap holidays? The answer is yes, da, and oczywiście (of course), but the savings all depend on where you go.

Compared with western Europe – particularly tourism darlings like Paris or Barcelona – going east cuts costs on hotels, meals, nightlife and transport. Travellers will see savings in Poland, Czechia and Slovakia (technically Central Europe), and prices get even lower in the Baltic countries (northeast) and some of the Balkans (southeast).
Even by the standards of this reasonably priced region, the following seven cities are exceptional value. Each one is linked to the UK by budget flights and they're all brimming with free and cheap attractions, good-value hotels, and hearty food for light-as-a-feather prices.


1. Wrocław, Poland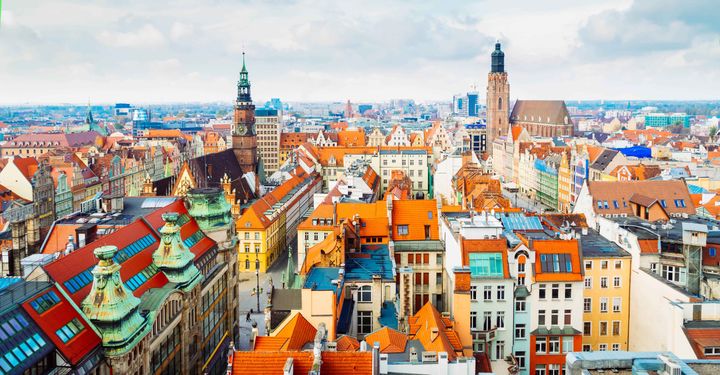 Price of a meal in an inexpensive restaurant: £7.71
Price of a domestic beer (0.5 litre draught): £2.29
British travellers are wise to Kraków and Warsaw, but Poland is a jewellery box of mini-break possibilities. Wrocław stands out for its winning combination of beer taverns, well-preserved history and eclectic sights.
This western Polish city has hundreds of gnome statues dotted around the old town. These elfin figures began as an anti-communist prank but nowadays they're emblems of the city's rebellious spirit (and they fuel countless photo ops). Equally photogenic is Neon Side Gallery, an array of retro signs that cast their glow across a courtyard. The city's spiritual heart, atmospheric Cathedral Island, also deserves exploration.
Wrocław has no shortage of dumplings, pork knuckles and other traditional staples, but the city also has a seam of excellent vegan restaurants, such as Vega. For cheap food and drink, cafes in the historic Jewish quarter are a good choice.
Top tip: the city's name (vrots-wav) is easier to pronounce after a couple of pilsners.


2. Plovdiv, Bulgaria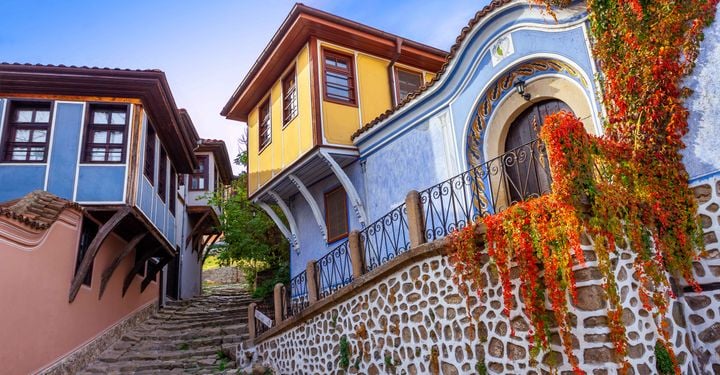 Price of a meal: £6.77
Price of a beer: £1.58
Spruced up for its tenure as European Capital of Culture for 2019, Bulgaria's second-largest city has a kaleidoscope of cultural attractions. Plovdiv is one of Europe's oldest continually inhabited cities and it's studded with Roman ruins and frozen-in-time manor houses dating to Bulgaria's Revival period (the equivalent of a couple of euros, or free, to see).
Ramble the old town's cobbled lanes, spot street art in the artfully revived Kapana neighbourhood, and stay the night in an antique-laden 19th-century building – we especially like Hostel Old Plovdiv.
There are more bargains in Plovdiv's numerous handicraft and design shops, and you'll have cash to spare even after a few fruit brandies, cheese-crammed pastries and refreshing shopska salads (tomato, cucumber and salty sheep's cheese).


3. Vilnius, Lithuania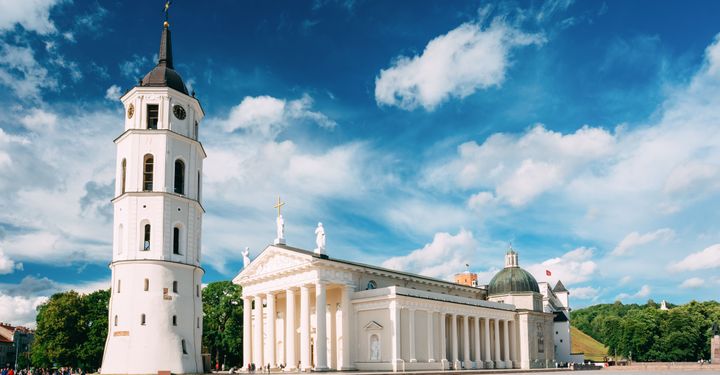 Price of a meal: £8.83
Price of a beer: £3.71
Lithu-where? You're not alone in reaching for a map. Vilnius' relative obscurity is such a common joke that their tourism board billed the city as 'the G-spot of Europe': hard to find but amazing when you get there.
For budget travellers, Lithuania's capital city certainly seduces. Halės Market is a smorgasbord of bagels, coffees and local produce, while gigantic dishes such as cepelinai (zeppelin-shaped dumplings) in pubs cost around €5.
The old town's labyrinthine lanes, castle-topped Gediminas Hill and self-declared micronation Užupis are photogenic places to wander. Places to stay are equally atmospheric, with converted monasteries and 18th-century buildings hosting guests (double rooms can be bagged for as little as €25).


4. Bratislava, Slovakia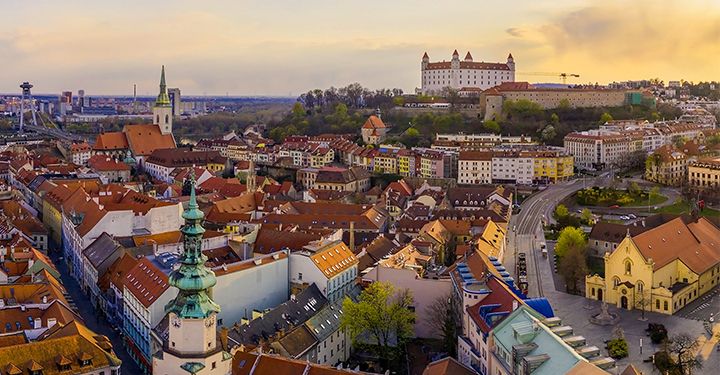 Price of a meal: £7.94
Price of a beer: £1.94
Beer and Bratislava are best of friends, but Slovakia's capital isn't just for boozy weekends. This compact city is a true crowd-pleaser: the old town's statue-studded streets and numerous ice-cream parlours are winners for families, while backpackers thrive on the warehousey nightspots and friendly hostels (try Hostel Blues).
Romantics have cobbled streets for day-time strolls and well-priced wine bars for cosy evenings. It's free to visit the imposing Slavín Monument, stroll the flower gardens and ramparts of Bratislava Castle, and join daily walking tours of the city. For a few euros there are museums in old palaces and craggy Devín Castle, straddling the Danube northwest of town.
Bratislava is also very well-connected, with budget flight links from around the UK (and many more flights to nearby Vienna). Easy to arrive, very hard to leave.


5. Belgrade, Serbia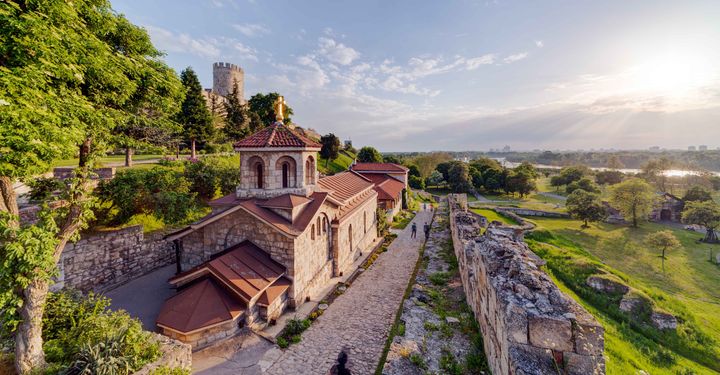 Price of a meal: £7.53
Price of a beer: £1.88
More edgy than elegant, Serbia's capital is a hotch-potch of Habsburg style, socialist-era monuments and charmingly rough-edged cafes. There are plenty of free and cheap attractions to occupy the daylight hours – a battle-scarred fortress, the Museum of Yugoslavia, a panoramic lookout tower – but Belgrade really sparkles after dark. Between summer raves on river barges, concrete-walled warehouses hosting electronic dance music nights, and friendly live-music bars, revellers aren't short of choice. And with cocktails that cost the equivalent of a couple of euros, no one goes thirsty.
Belgrade's nocturnal energy goes hand in hand with its coffee tradition, which dates back to Ottoman times. Strong brews in the kafanas (traditional coffeehouses) along Skadarska will rev you up for the night ahead...


6. Cluj-Napoca, Romania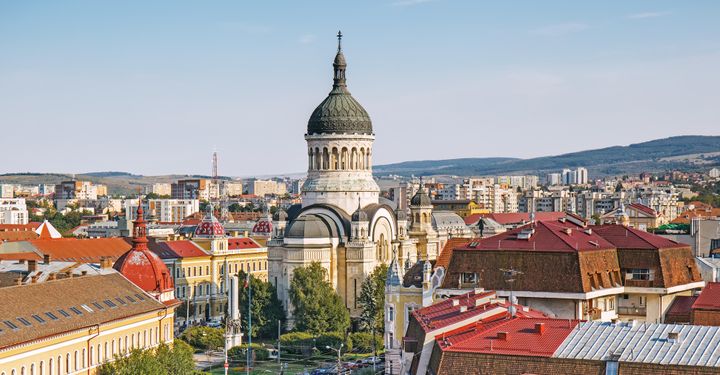 Price of a meal: £6.26
Price of a beer: £1.79
Toothy bloodsuckers aside, Transylvania has a reputation for mist-shrouded castles and tumbledown villages. But this storied region of Romania also has cities with just the right combination of bars, boutiques and green spaces, such as Cluj-Napoca.
Its architectural mash-up leads visitors from medieval squares to domed churches and ornate Hungarian-style townhouses in a matter of moments – plus the city is much friendlier and more navigable than sprawling Romanian capital Bucharest.
Step inside Gothic St Michael's Church or roam the stately Hungarian Cemetery (both free). For a longer holiday, press east to learn vampire lore in Sighișoara and Brașov.


7. Skopje, North Macedonia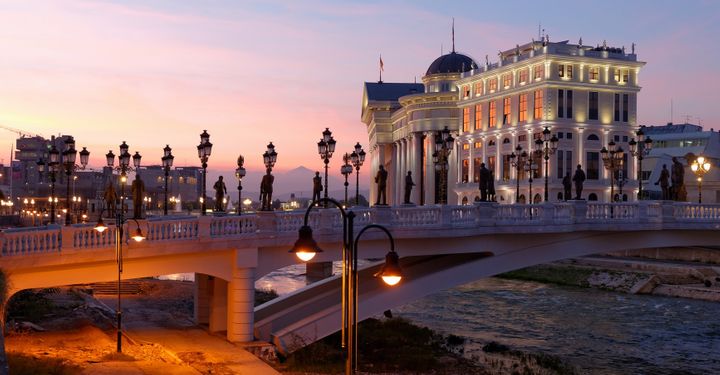 Price of a meal: £5.73
Price of a beer: £1.72
With its fortress, statue-lined bridges and intriguing architecture, Skopje has plenty of tourist appeal. But visitor numbers are low, as are the prices, meaning travellers can enjoy its off-beat appeal free of tourist traps or overcrowding.
It costs nothing to experience the major icons of North Macedonia's capital: ramble the grounds of Skopje Fortress; admire the restored Ottoman-era Mustafa Pasha Mosque in the Old Bazaar nearby; then stroll south to the 15th-century Stone Bridge, an emblem of the city with 12 arches.
Your reward for exploring? Local specialities such as beef kebabs, sarma (stuffed cabbage) and baked cheese, paired with excellent local merlot and cabernet sauvignon. The charmingly chilled-out Debar Maalo area has open-air bars, dessert shops and elegant restaurants in which to while away the evenings... and ponder which easterly city to explore next.


*Please note: All prices were sourced from Numbeo and were correct at the time of writing.
Have a comment or question about this article? You can contact us on Twitter or Facebook.