Hand luggage guide: Baggage sizes and weight allowances by airline

Updated February 3, 2022
(Published February 22, 2020)
Short-haul holiday? Chances are you'll leave the checked baggage at home and travel with hand luggage only. But before you fly, it's important to make sure you know the hand luggage sizes and weight restrictions for your airline as they can vary – and going over them, even slightly, can result in a hefty fine.
Even if you've travelled recently, double check the hand luggage allowances as they're known to change. For example, easyJet's hand luggage size has recently changed – you can now take one personal bag no larger than 45 x 36 x20cm on a basic fare.
Still unsure about hand luggage? From airline-specific restrictions to top tips on packing, our comprehensive guide to hand luggage tells you everything you need to know.


How much hand luggage can you take for free? Baggage sizes and weight allowances for popular airlines
Airline

Free hand luggage weight allowance

Hand luggage size

Jet2

Up to 10kg in one bag, plus a small personal item, which must be able to fit under the seat in front of you.

56 x 45 x 25cm, including any wheels and handles.

Ryanair

One personal bag, such as a handbag, laptop bag or small backpack, which must be able to fit under the seat in front of you.

40 x 20 x 25cm

easyJet

One bag, which must be able to fit under the seat in front of you.

45 x 36 x 20cm, including any wheels and handles.

Wizz Air

Up to 10kg in one bag, which must be able to fit under the seat in front of you.

40 x 30 x 20cm

British Airways

Up to 23kg in one bag, plus one personal bag or laptop bag up to 23kg.

Cabin bag: 56 x 45 x 25cm

Personal item: 40 x 30 x 15cm

Virgin Atlantic

Up to 10kg in one bag, plus a personal item, such as a handbag or small backpack.

56 x 36 x 23cm

Norwegian Air

LowFare: Up to 10kg in one bag, which must be able to fit under the seat in front of you.

LowFare+: Up to 10kg combined weight in one small bag, which must be able to fit under the seat in front of you, and one cabin bag.

Small bag: 30 x 20 x 38cm

Cabin bag: 55 x 40 x 23cm

Aer Lingus (smaller limits apply on Aer Lingus Regional Flights)

Up to 10kg in one bag, plus a personal item, such as small handbag, laptop bag, baby changing bag. Note that your cabin bag will be checked, for free, on European routes.

Cabin bag: 55 x 40 x 24cm

Personal item: 25 x 33 x 20cm

TUI – Flight only

Up to 10kg in one bag.

55 x 40 x 20cm

KLM

Up to 12kg combined weight in one cabin bag and one personal bag.

Cabin bag: 55 x 35 x25cm, including any wheels and handles

Personal item: 40 x 30 x 15cm

* The allowances above are generally for passengers travelling on the lowest fare types – higher fare types and frequent flyers may be granted higher allowances. Please consult your airline for further details.


Can you take a handbag as well as hand luggage?
Some airlines allow you to take a handbag or 'personal item' as well as your hand luggage on board. Jet2, British Airways and Virgin Atlantic welcome you to take both on their economy fares, as do certain Norwegian Air and Aer Lingus routes and fares.


What happens if you exceed the hand luggage limit?
If you have hand luggage that is over the limit, be prepared to place it in the hold and have an excess baggage fee charged. To avoid this, always pre-book an extra bag online rather than risk being charged at the gate, which will cost you more.
Also, make sure you know the hand luggage restrictions for the airline or airlines you're travelling with, especially if you are connecting from one to another or if you are returning on a different carrier. These can vary and will affect bag size, number of bags allowed and whether there is any weight limit.
In general, choose a soft bag for carry-on luggage, if you can – it will be easier to cram into overhead bins and is likely to be lighter, giving you more weight for your items.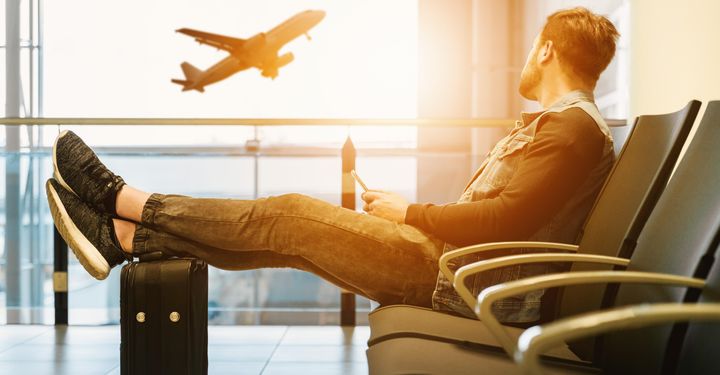 Can you combine your hand luggage allowance?

Most airlines will not allow you to pool your hand luggage allowance across a party of people, so ensure that each bag is not over the limits where a weight limit applies.


What should you pack in your hand luggage?
When it comes to deciding what to pack in your luggage, you'll need to be ruthless. The aim is to carry as little as possible and buy items you can find locally when you can. And while clothing and toiletries are obviously necessary, there are a few ways to streamline your packing list.
First, stick to the concept of the capsule wardrobe – essentially, a small number of pieces that co-ordinate to produce multiple outfits by all working together. Second, keep your bag light by wearing any heavy items you need such as coats, jeans, hoodies, boots, shoes and belts. Aside from your heaviest items, all other clothes should be lightweight, easy-care and wrinkle-resistant.
You can also use the pockets of your clothes to take heavier items on board, then transfer to your bag (for example, your phone charger, camera and book) later. As notebooks and laptops add a lot of weight, especially if you have multiple items and multiple chargers, be smart about what you take. Could you download all your guidebooks, reading material and other entertainment on to one device? If you are travelling for only a few days, you may not even need the larger items.
Pockets are also handy for storing travel documents such as your passport, tickets, travel insurance, driving licence and money, and keeps them safely on you.
Of course, the longer the trip, the more creative you need to be, but make sure you are going to need everything you pack – if not, don't pack it in the first place. In most places, you can buy something easily and quickly if you really need something you left behind.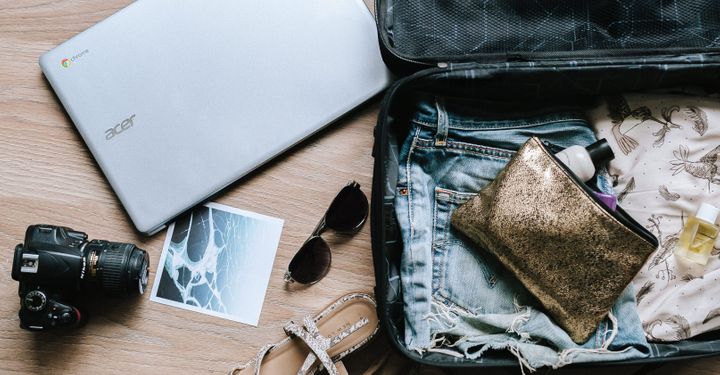 What toiletries can you take in your hand luggage?
You can take many toiletries in your hand luggage, as long as they are no larger than 100ml and can all fit within the airport security plastic zip bag. Toothpastes, shampoos and conditioners, moisturisers and balms, and soaps are all allowed, as are deodorants, make-up, suncream and perfume.
To save some cash, you can decant your at-home products into smaller containers, but you'll also find that most toiletries now come in travel-size bottles. If you want to do away with the hassle of decanting or need more than the 100ml limit, you can always buy items airside or on arrival. Alternatively, you can find sustainable items to pack, such as shampoo and soap bars.
And remember, most hotels will give you soap and 2-in-1 shampoo and conditioner.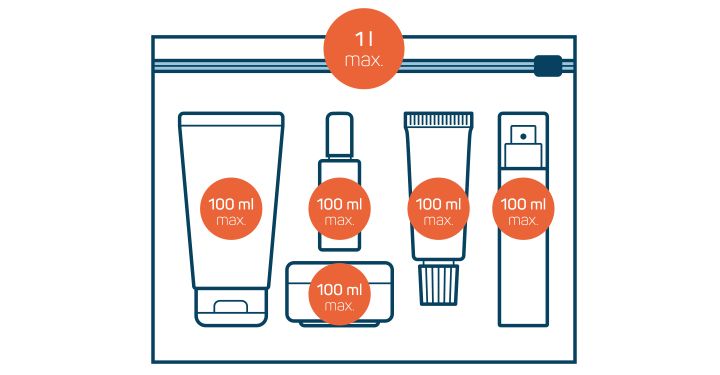 What are the benefits of travelling with hand baggage only?
There are myriad benefits of travelling with hand luggage only, from skipping bag-drop queues to saving money on checked baggage fees. Not sold? Think about the following.
It's quicker
Travelling with hand luggage only can save you plenty of time: there's no need to join a check-in or bag-drop queue on departure and no need to wait for bags at the luggage carousel on arrival. Plus, you get to the taxi queue or car hire rental desks before the rest of the passengers you have travelled with.
It's safer
Ditching the checked bag means you get to keep your belongings with you at all times, so there's no need to worry about your luggage turning up in Tenerife while you're in Lanzarote. You can also forget about your bag being damaged in the cargo hold – you know your bag is safely stowed in the cabin above your head or under the seat in front of you.
Remember that some airlines now have a cut-off on hand luggage items into the cabin. EasyJet, for example, gives overhead locker space on a first-come-first-served basis. All other bags at the correct size could end up in the hold, free of charge. And Ryanair will now only allow passengers who have paid for priority boarding to take a larger bag into the cabin.
It's cheaper
Taking hand luggage instead of checked baggage on holiday generally allows you to avoid checked-in baggage charges. However, you must always check the weights and costs of individual airlines before you fly. For example, if you don't pre-book your hold baggage with Ryanair, you're looking at up to £40 for a 20kg case one way (depending on your journey length) or up to £50 if you arrange this at the airport.


Have a comment or question about this article? You can contact us on Twitter or Facebook.
Sign up. Be inspired. Travel.
Subscribe now for hand-picked holiday deals, inspiration and the latest travel tips, straight to your inbox.