March 4, 2022
Forget budget chain hotels. Good old Blighty is buzzing with great-value, unique stays, if you know where to look (luckily, we do). Here's our pick of the crop.


1. A shepherd's hut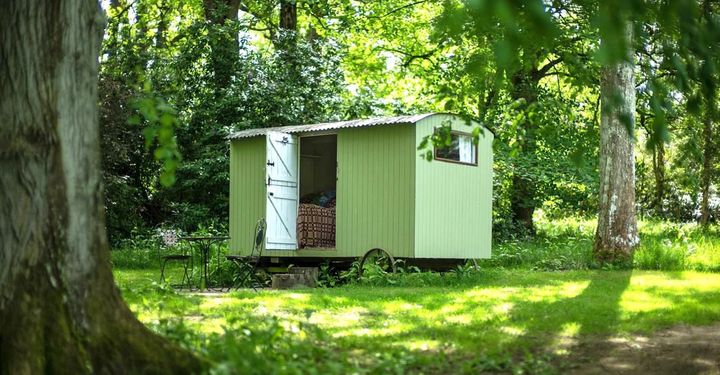 Dig out your crook and get baaa...ck to nature in a cosy shepherd's hut hidden among centuries-old trees in the grounds of Walcot Hall. You won't be roughing it either: your bijou, pet-friendly accommodation has a double bed, cooking facilities and outdoor dining area.
The property is in lush Shropshire countryside, just over the border from Wales and while you're here, you can't miss a historic tour of the 17th-century Walcot Hall.
Want to explore the area? Tackle part of the long-distance Heart of Wales Line Walking Trail, a fabulous hiking trail that weaves between the region's railway tracks. Be sure to pack rosewater- and cinnamon-flavoured Shrewsbury biscuits for the journey.
Price: A warm and woolly week in one of these bite-sized folds will set you back around £155 per person.


2. A Bollywood-themed VW camper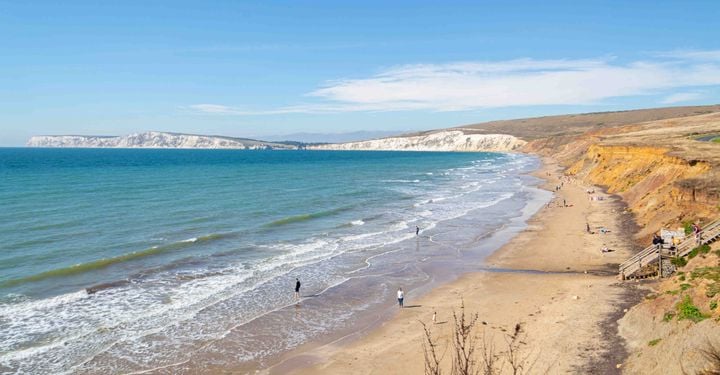 Road trippers will have a (disco) ball in this Bollywood-themed 1970's Split Screen VW Campervan with cushy double bed, kitchenette and gas fridge on a site where facilities include a steam shower with disco lights.
It's located on the Isle of Wight, the English atoll that inspired Lewis Carroll to write Alice in Wonderland. Get in touch with your own creative side with a ride on the Isle of Wight steam railway, at the photogenic Needles chalk stack or at medieval marvel Carisbrooke Castle. When it's time to dine, beef and ale pie and sumptuous crab pasties are musts.
Price: At around £24 per person per night, a campervan stay on this magical glamping site is a real bargain.


3. A Lynx helicopter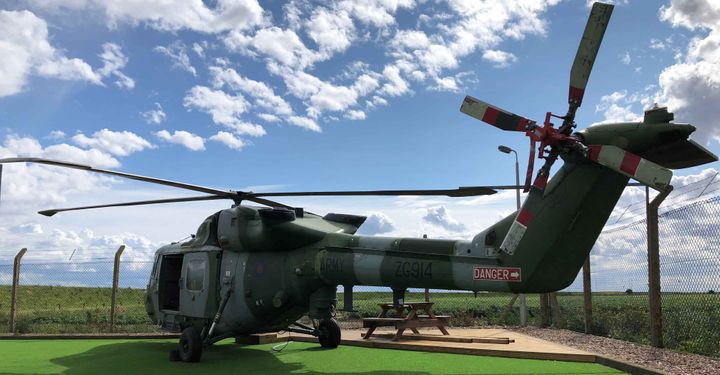 High-flyers will love this glam-packed pad in a renovated Lynx Helicopter standing in the grounds of RAF Wainfleet, a former 19th-century weapons range which dates back to 1890. With double sofa bed, television and mini bar, comfort is guaranteed.
The digs are just around the corner from the seaside town of Skegness in Lincolnshire, known as Bomber Country for its pivotal role during WWII. Immerse yourself in its history at the Battle of Britain Memorial flight visitor centre at RAF Coningsby, or try the fauna-packed Lincolnshire Wildlife Park to mix it up. End the day with the special brews on offer at the Woolpack Pub and Kitchen in Skegness.
Price: From £60 per night for two, it's a snip to stay in the Helipod. They also have a renovated WWII watchtower and several WWII planes if you want to splash a bit more cash.


4. An off-grid cottage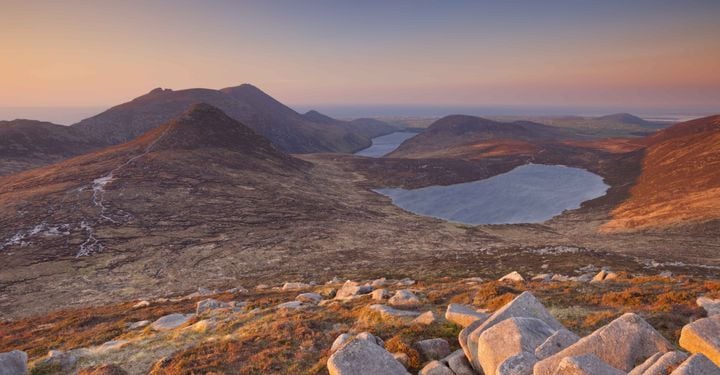 Go off-grid in one of Northern Ireland's loveliest regions for a stay in this beautiful eco cottage in the grounds of a working farm. This fully solar- and wind-powered stay comes complete with underfloor heating, a fully equipped kitchen, a wood burning stove and lovely woodland views.
Hosted in Lackan Cottage Farm near the glorious Mourne Mountains in County Down, you'll be right by the Brontë's ancestral home and the striking watery trails of Silent Valley Reservoir. Foodies can't leave here without sampling delicious Lough Neagh eel and ripe blue cheese from Rathgore.
Price: From £75 per night, there's no need to hold your horses on this one.


5. A docked yacht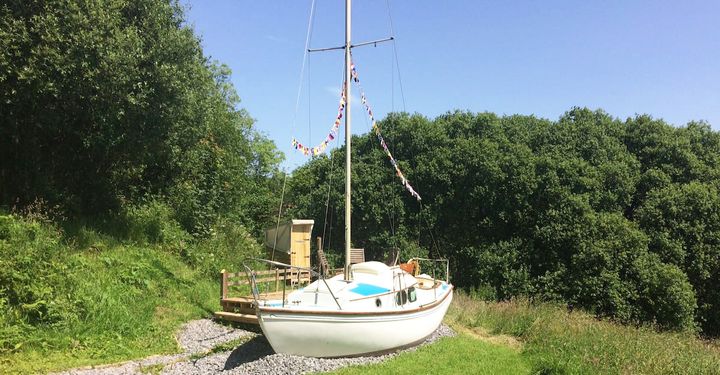 If hiring your own yacht for the price of a decent meal sounds too good to be true, it's time to sling anchor at Mr Imp, a renovated yacht docked on a private 22-acre nature reserve near Llandeilo. You won't be a galley hand either: facilities include a comfy double bed, kitchenette and a wood burning stove. Quirky stays are the estate's forte – you'll also find a converted double-decker bus.
The area is prime for exploring, so do check out the lakes and wooded spaces of your vast private nature reserve. You are smack in the middle of Carmarthenshire though, and as the so-called 'Garden of Wales', it's a region worth getting to know. Stay up past bedtime to enjoy clear, star-filled skies in one of the UK's darkest night sky areas and don't miss the crumbling 12th-century Dinefwr Castle. For foodies, the three-course lunch at Wright's Food Emporium in Llanarthne is must.
Price: You can set off for a bargain, with prices starting at £55 per night for two.


6. A cosy camping pod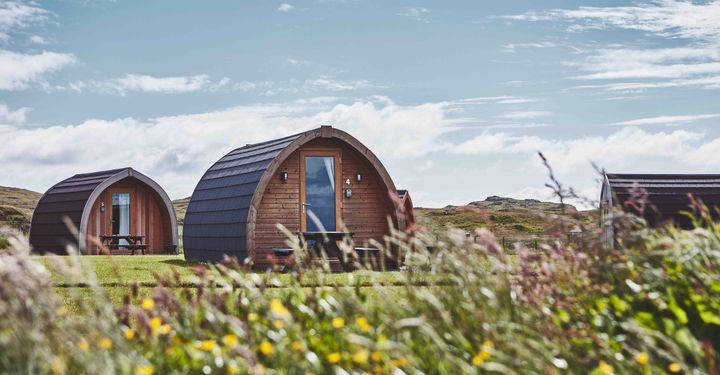 For an ideal way to escape the world and go off grid, you can't do better than one of these cosy cut-price pods close to the beach on the diminutive, car-free Isle of Iona. With room for four and a fully equipped kitchen (including microwave oven), why not bring the whole family?
This three mile-long Hebridean island on Scotland's western coast is a ferry-hop away from the neighbouring Isle of Mull. Make the most of the journey and tick off the highlight: Iona's ancient abbey and museum, the spectacularly picturesque St Columba's Bay and of course, the brine-fresh local seafood.
Price: From £35 per person, per night, this glamping island paradise offers excellent value.


7. A royal water tower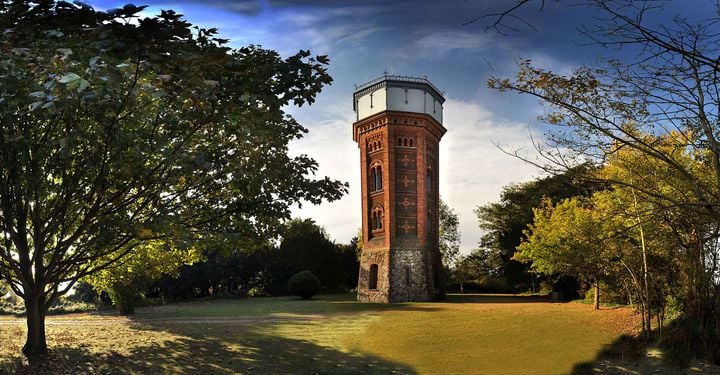 Built to provide bath water for Queen Victoria back in 1877, the spectacular 60ft octagonal Appleton Water Tower surmounted by a massive 32,000-gallon water tank has surprisingly spacious bedrooms, walls covered with sepia photos of the royal family, its own garden and a lofty terrace with endless views over Sandringham Estate to the lush and lovely Norfolk countryside beyond.
If you can drag yourself away from those regal vistas, you can explore the stately house and grounds of Sandringham or discover the historic medieval port of Kings Lynn which is just 20 minutes' drive away.
Price: Expect to pay around £37 per person per night to stay 4 nights in Victoria's tower.


8. Britain's remotest B&B near Shetland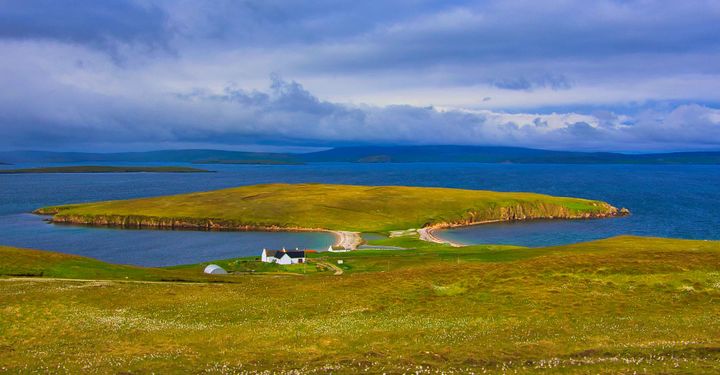 'Getting away from it all' takes on a whole new meaning when you book a stay at Auld Haa, a historic 19th-century National Trust-owned seaside cottage on the remote south coast of Yell Island, a windswept Scottish atoll where sheep outnumber inhabitants ten-to-one.
To reach this (very) rural retreat which sits at the end of a dirt track just over a mile from the far-flung Ulsta ferry terminal, you'll need to fly to Sumburgh airport from Glasgow, Edinburgh or Aberdeen, then hop on a flight to Shetland and then hire a car and take a ferry from Toft to Ulsta.
Once you're there be sure to hike one of the island's spectacular coastal hiking trails where puffins come to nest or explore da Wilds o' Yell, an 83 square-mile natural paradise of uninhabited moorland where otters love to frolic.
Price: At only £550 for seven nights over summer (or £450 during winter), it doesn't cost so much to stay here, but you'll pay a small fortune for transport.


9. A nomad's caravan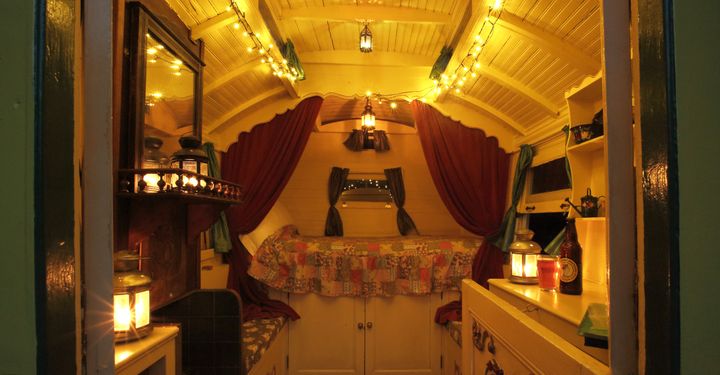 Nomads will adore this quirky campsite just a two-hour drive from London, where you'll stay in a gaily decorated caravan with double bed, wood burning stove, and your own barbecue area. You can even garnish your home-cooked meal with food foraged from the hedgerows.
Alde Garden is in beautiful, lush Suffolk countryside, near the pretty village of Sweffling, and makes great base for exploring the region's countless historic houses and gardens. A trip to the beautiful town and cathedral of Bury St Edmunds is highly recommended, as is the owner's real ale served in his own pub, The White Horse in Sweffling.
Price: You can kick free and live the nomad life here for around £57 per night for a week's stay.


10. A beach hut in Devon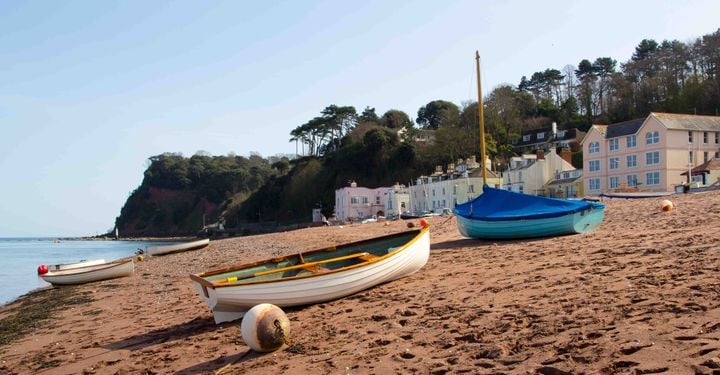 Bring your deckchairs and a knotted handkerchief and enjoy sand between your toes (or in the sandwiches) as you stay at one of the beach huts for which beautiful Ness Cove Beach in Shaldon, Devon is famed. Amazingly, your Wendy House has a king-sized bed, kitchenette, and (small) shower.
During your stay, don't miss a trip to Teignmouth on the UK's oldest ferry, and stretch your legs on the South West Coast path leading to lovely Labrador Bay. Then, treat yourself to a luscious traditional cream tea at Shaldon's Strand Café.
Price: Getting your feet in the sand here is a snip at around £69 per person, per night.


11. A London lock-up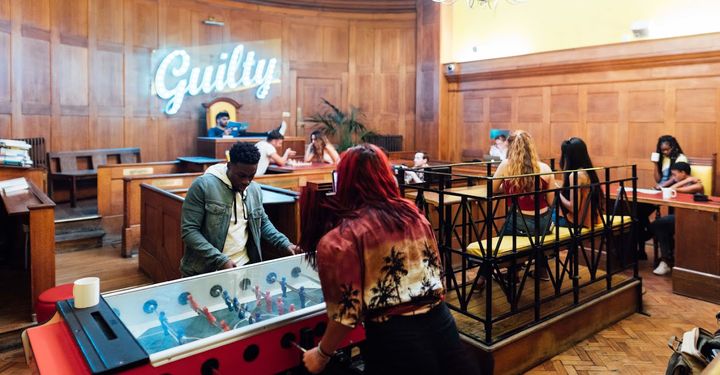 You won't need to burgle a bank if you want to stay in one of the refurbished police cells at Clink78 Hostel, a centuries-old London courthouse where iconic punk band The Clash once stood trial. As you'd expect, cells are a bit spartan, but beds are plump and comfortable, and there are bathrooms on every floor.
While you're there explore The Regent´s Canal by boat; take the train to Hogwarts from platform 9 and 3/4 at Kings Cross St or just chill with a glass of fizz at Searcy's, Europe's longest champagne bar.
Price: You can stay behind bars in a private jail cell room from £28 per person per night.


12. A treehouse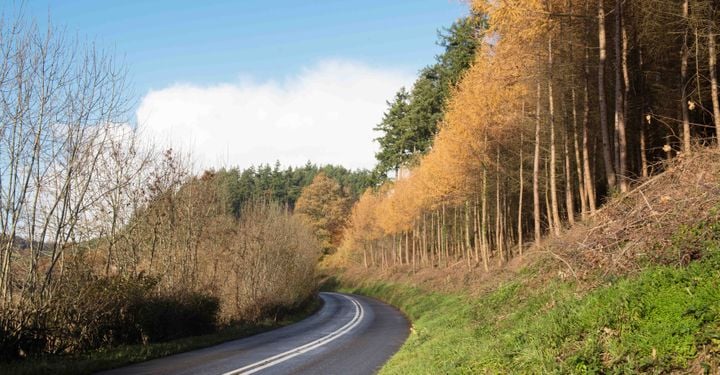 Have a head for heights? Clamber up to this luxury treehouse in the grounds of the Fox and Hound hotel, where owls, deer and even otters are known to roam. Kitted out with a fully equipped kitchen, log burner and a free-standing copper bath, the spacious two-bedroom stay overlooks the hotel's trout pond – where you can fish from your private jetty.
Smack bang in the middle of Devon, you'll be within easy reach of many of the county's top activities. RHS Garden Rosemoor is around a 30-minute drive away, while National Trust properties Knightshayes Court and Arlington Court can be reached in under an hour. For walkers, trails start right from the hotel grounds, so you can also enjoy the views from ground level.
Price: With prices starting at £290 per night, it's not the cheapest unique stay but your holiday memories here? They will be priceless.

Have a comment or question about this article? You can contact us on Twitter or Facebook.