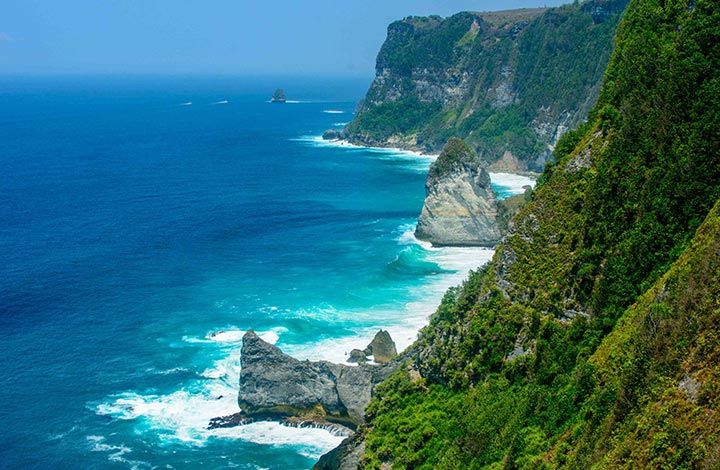 Thanks to its idyllic setting, rich culture and ancient traditions, Bali has quickly become a long-haul favorite for Brits seeking something a little more exotic from their holidays.
The island is famed for its beautiful beaches, most of which are set in stunning locations. While the popular beachside areas of Kuta, Legian, Seminyak, Jimbaran and Canggu are well-trodden, you only have to go a little further to escape to a world very different from the typical tourist beat.
Here, Indonesia-based writer Stephanie Brookes reveals some of Bali's best secret beaches.
East and West Bali beaches
Bias Tugal Beach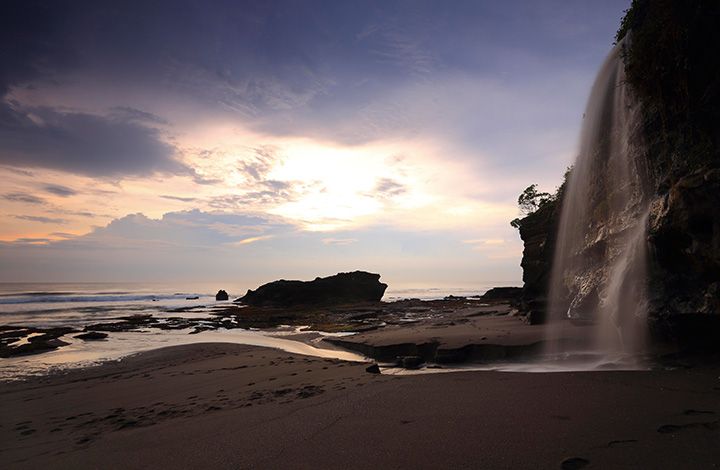 This often deserted beach is located close to Padang Bai harbour on the east coast of Bali. Locally known as Pantai Kecil (little beach), it has a super-chilled atmosphere and a handful of seafood warungs. Their simple little grills go all day, so you can pick a fish still swimming around in a bucket and have a delicious, fresh meal – most warungs have cold Bintang beer on hand, too.
The clear waters by the beach are varying shades of turquoise. Even good swimmers should take care as the currents can be quite strong, but you can opt to play about in the shallows and still enjoy the water in this tucked away piece of Bali beachfront.
Getting there: Bias Tugal is the next bay along from Padang Bai harbour in East Bali. When you arrive at Padang Bai turn right at the main street, then follow it around the coast for 1 km only – you should then see a sign for the beach.
Pasir Putih Beach (aka Virgin Beach or White Sand Beach)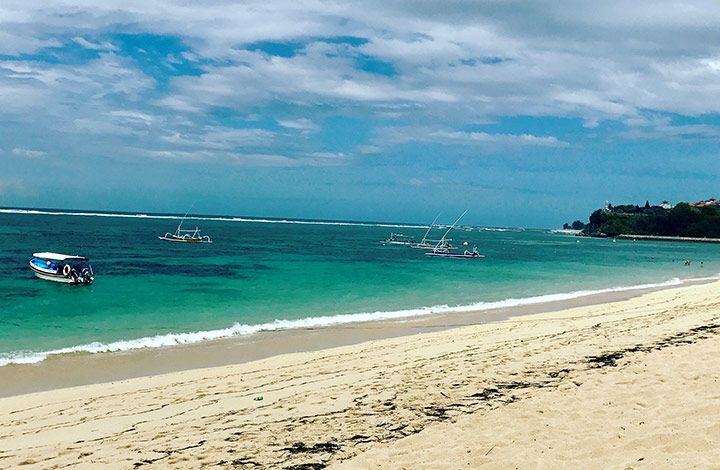 While far from crowded, Pasir Putih is one of the most popular beach hangouts among expats. On arrival here, you'll find a string of colourful umbrellas stretching all along the beach and a good selection of local warungs.
Some of the perks here include cocktails, massages on the beach for only £7, and sun-loungers. Pasir Putih Beach also offers brilliant snorkelling, with the possibility of spotting dolphins.
Getting there: The beach is located on the east coast. Look out for a small white sign that says 'Pasir Putih Virgin Beach', on the right-hand side about 4.5 kilometres' drive from Candidasa.
Amed beaches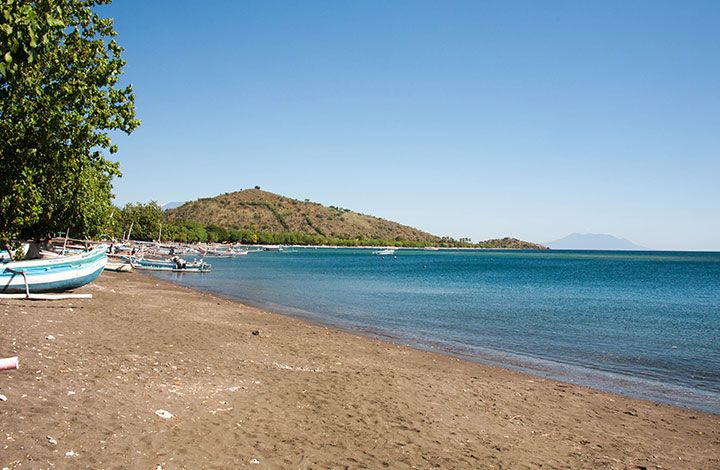 Amed is a sleepy seaside area on the east coast comprised of several small fishing villages. Volcanic deposits have created long stretches of black sand beach, and what lies beneath the water is truly magical: you can dive and snorkel off the beach or take a boat around to the site of a sunken temple.
The views of Mount Agung and the surrounding green carpeted hills are postcard material, especially come the end of the day – sunset is a must!
Getting there: To access Amed, drive along the road between Karangasem and Singaraja and turn east at the village of Culik.
Balian Beach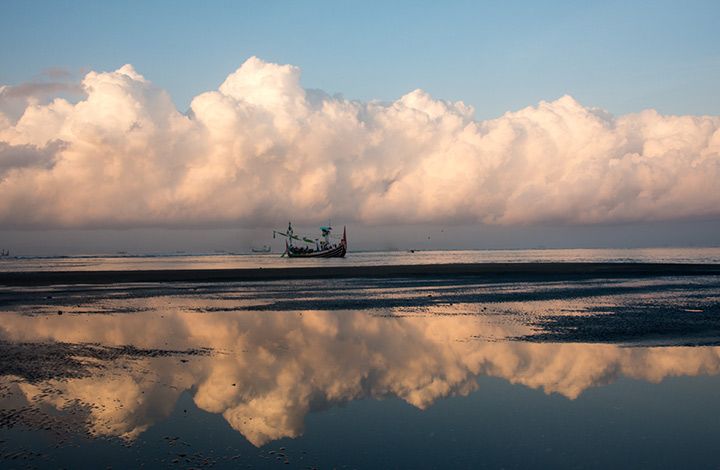 A black sand beach that seems to stretch on forever, Balian offers solitude and the opportunity for long walks. It's situated at the mouth of a wide river on the island's west coast, and surfers gather here to ride its usually excellent waves.
A handful of chilled-out warungs and low-key accommodation options, a few offering yoga, complete the relaxed vibe.
Getting there: Head west towards Selemadeg district in Tabanan and look for the sign to Balian Beach.
Crystal Bay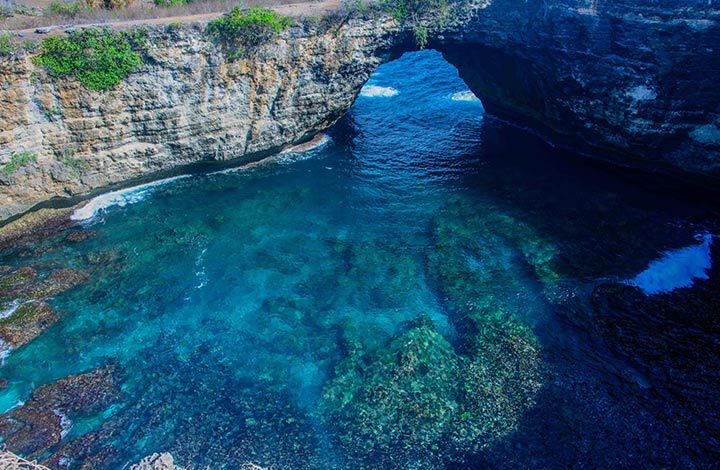 Crystal Bay is on Nusa Penida Island, just 30 minutes by ferry from Sanur in South Bali. It has a beautiful white-sand beach and is becoming well known for snorkelling; if the tides are right, you may see the giant Ocean Sunfish, the heaviest known bony fish in the world.
Most people rent a local boat from the shore for around £15, hire local snorkelling gear, then head out to its three famous snorkelling spots. The people of Nusa Penida are very friendly, and you will feel a million miles from anywhere at this idyllic spot – spend at least one or two nights on Nusa Penida if possible.
Getting there: Take the ferry from Sanur, South Bali.
South Bali beaches
Geger Beach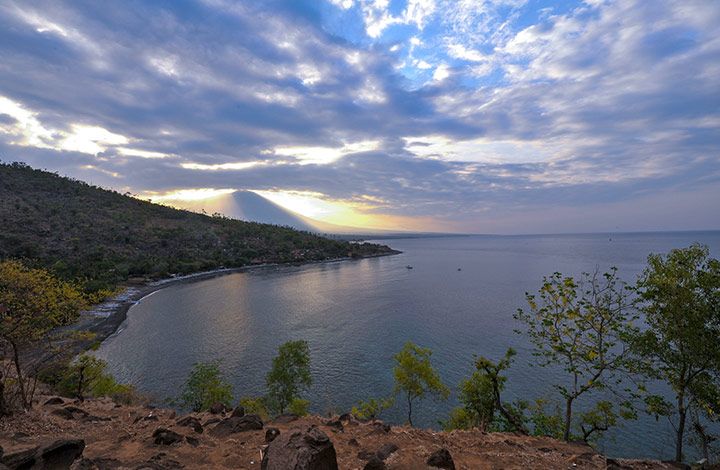 If you want to swim in clear and calm shallow waters, this beach is for you. Hidden away in the Nusa Dua Resort area, this spot is very low-key – you won't find much more than five or six warungs and some sun-loungers (two for £2).
This idyllic stretch of white sand is one of the few public beaches in Nusa Dua, so it's a great little find. At high tide, it's perfect for swimming, while at low tide, lovely rock pools are exposed, making romantic strolls along the shore a must. Meanwhile, the views from the beach are spectacular and include a temple, which sits high above the beach on the rocky cliffs.
Getting there: Geger is next to Mulia Hotel, Nusa Dua – follow the signs from the main road to the beach.
Sawangan Beach (also known as Nikko Beach)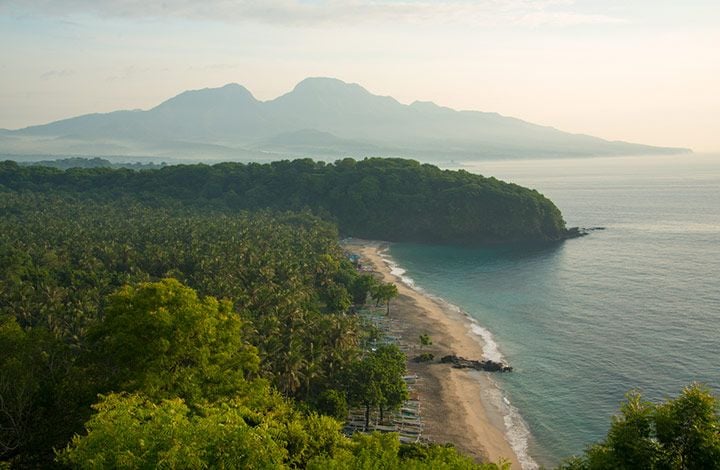 This beach has a relaxed atmosphere and offers shallow water swimming and snorkelling, so rent a mask and explore the colourful reef life just offshore.
Some of the nearby luxury hotels use part of this beach, but there are still plenty of peaceful spots where you can nestle down and gaze at the crystal clear waters. There are also plenty of low-key restaurants on the beach.
Getting there: Sawangan is located between Grand Nikko Hotel and Mulia Hotel in Nusa Dua.
Nyang Nyang Beach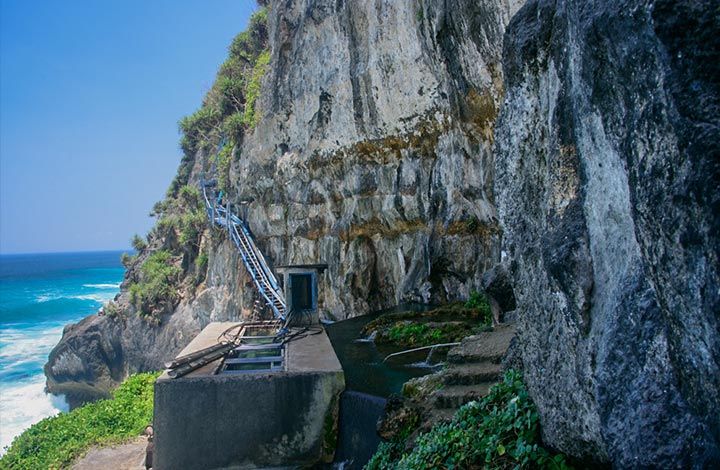 Nyang Nyang on the Bukit Peninsula is a well-kept local secret, so keep it quiet! There are 550 steps leading down through the jungle to the beach, so you'll need to be up for a little exercise, but it's definitely worth the effort.
Expect a long stretch of pristine white sand, very clear waters and a good break for intermediate to advanced surfers.
Getting there: Nyang Nyang is located by the very famous temple, Pura Luhur Uluwatu. There is a sign pointing to the beach – if you look hard enough, you'll find it!
Green Bowl Beach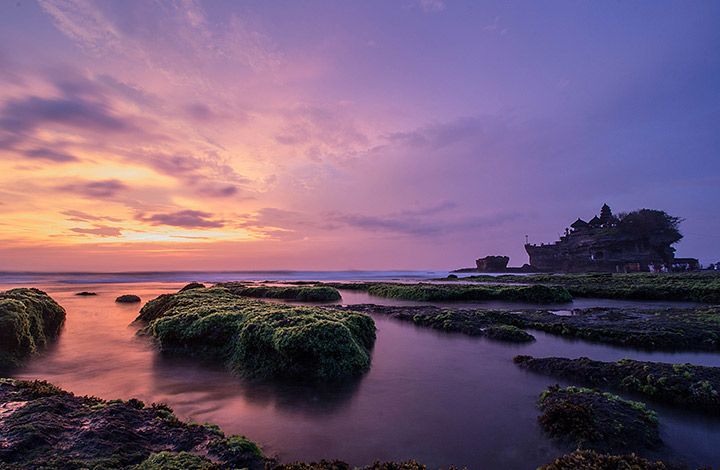 Named after the distinctive green algae-covered rocks which are left exposed at low tide, locals refer to this beach as a hidden paradise. When you see it, you'll know why!
After 5.30pm the sunset reveals brilliant hues of purple, gold and red, and bats that have taken up residence in the beachside caves can be seen wheeling across the sky. This is definitely one of Bali's natural beauties.
Getting there: Located in Ungasan, Green Bowl is a little difficult to find, so look out for some hand-written signs on Jalan Bali Cliff.
Gunung Payung Beach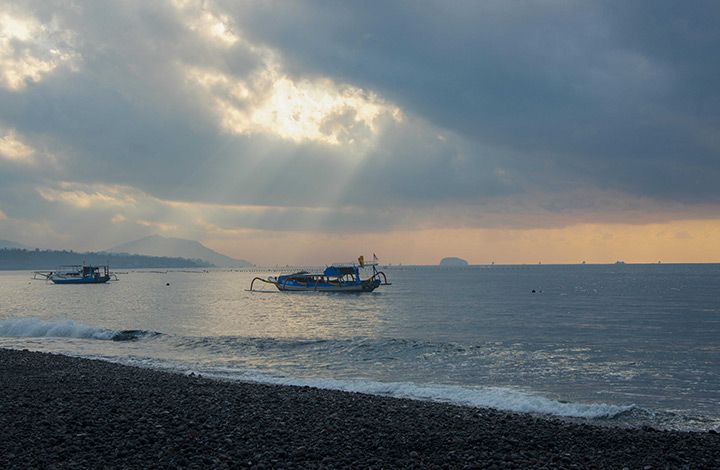 Small and secluded, with no warungs or services, this is a beach for people who like peace! Epic, sweeping vistas accompany the 266-step trek down to the beach, where you'll will find crystal clear waters and safe swimming. A reef break way out in the distance takes the brunt of the bigger waves, leaving some shallow pools exposed at low tide which are well worth exploring.
Even on the weekend, there are very few people around, and it remains a natural and wild place – just be sure to take some snacks, lunch and drinks beforehand, and plan to spend the day there.
Getting there: From Nirmala Supermarket in Jimbaran take a left turn. From the intersection continue on Jalan Dharmawangsa until you see a sign for Pura Gunung Payung – it's easy to miss, but Google Maps will get you there. You'll pass a recently-built golf course, which looks surreal juxtaposed against the dry, brown barren hills. Park the car at the Pura Gunung Temple and walk through the large unfinished amphitheatre with concrete seating, then follow the set of steps down to the beach.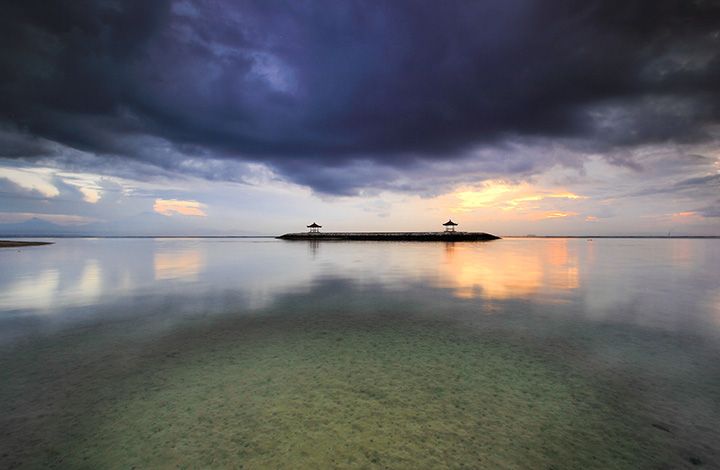 Expert tips
The best time to travel: Bali is a tropical island with two seasons – wet and dry. It's best to travel in dry season, which is from March to December.
The best time of day: Many of these beaches are magical at sunset, so time your visits to be able to take it all in. Beaches like Green Bowl Beach, Pasir Putih Beach, and Crystal Bay offer some of the best views.
Challenges: There is still dengue fever in Bali, so bring insect repellent. Also, beach conditions are not monitored, and so you have to make your own judgement about safe swimming. Consult locals when you can, and keep an eye out for changing conditions.
Along the road: Some of the most beautiful parts of Bali are the places "in between" tourist attractions – little villages where traditional life thrives, tiny warungs where friendly locals gather to eat, and hidden temples. Make sure to leave plenty of time to explore along the route.
Have a comment or question about this article? You can contact us on Twitter or Facebook.