August 19, 2020
Think the finest stretches of sand are in Bali, Spain or California? Reel those thoughts right back in closer to home; some of the world's best beaches are actually just a hop away in Jersey.
Here, we've sought out the island's most spectacular places to soak up the sun, whether you're after a dog-friendly bay for a sunset walk along the sand, or a rockpool-filled beach to explore with a bucket and spade.


1. Plemont Bay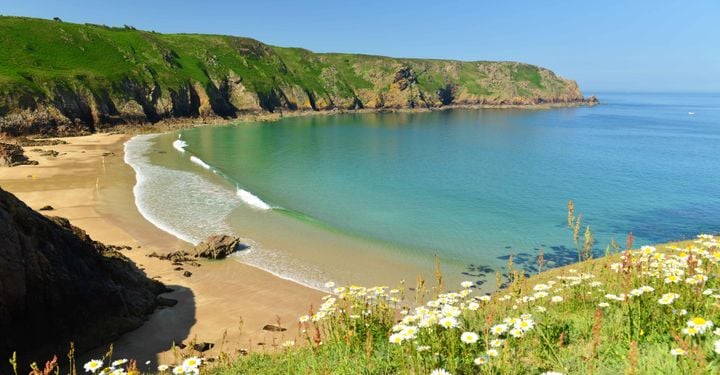 A wonderfully wild stretch of coastline, Plemont Bay is one of the best beaches on Jersey's north-west coast, but you'll need to keep an eye on the time – it's only exposed at low tide. Locals have been flocking here since Victorian times, when ladies would be carried down to the sand on the shoulders of gentlemen.
It's a great option for budding geologists; in addition to dozens of rockpools, there's a network of caves to explore. The backdrop of towering cliffs also makes it a popular spot for photographers.
For a post-dip energy boost, treat yourself to a slice of homemade cake at the Plemont Bay Café, which you'll find at the top of the steps leading to the sand.


2. St Brelade's Bay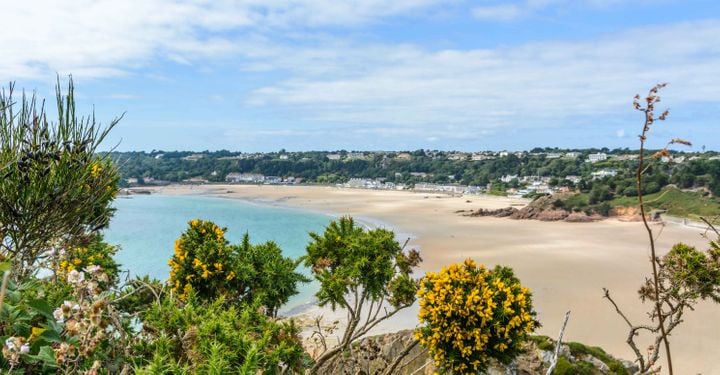 Regarded as one of the best beaches in the Channel Islands, this dog-friendly curve of golden sand has fantastic facilities – there's a wide range of water sports equipment to hire as well as a lifeguard station.
It's also one of Jersey's most family-friendly beaches; at low tide there are dozens of wildlife-filled rockpools to check out, and there are several car parks nearby (but be warned, they quickly reach capacity during peak season).
When hunger strikes, head to one of the many restaurants and cafés lining the beach. One our favourite spots for a sumptuous afternoon tea is St Brelade's Bay Hotel's Sun Lounge.


3. St Ouen's Bay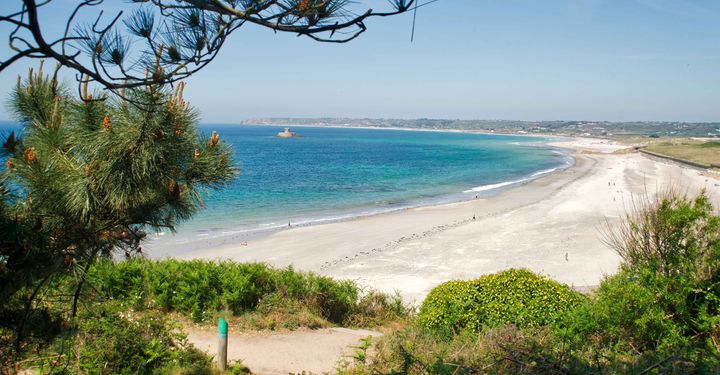 One of the Channel Islands' top surfing spots (various British and European Championships have taken place here over the years), St Ouen's Bay is one of Jersey's longest beaches at 8km.
The beach, on the island's western side, is patrolled by Royal National Lifeboat Institution (RNLI) lifeguards in the summer but it's still worth taking the time to familiarise yourself with the beach's layout – there are some seriously strong currents outside the swimming zones, which are clearly marked with coloured flags.


4. Beauport Beach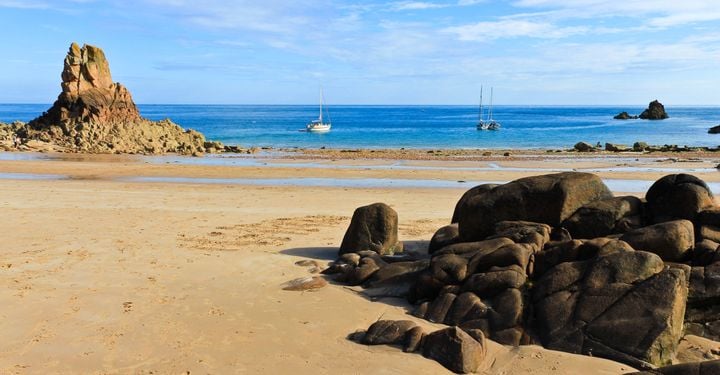 If turquoise, glass-clear clear water is your priority, make a beeline for Beauport Beach, a short-but-sweet suntrap sandwiched between two cliffs. The shelter provided by these cliffs means the water rarely gets rough, so it's perfect for nervous swimmers (although be warned that there are no lifeguards here).
Beauport Beach is also one of the most popular dog-friendly beaches in Jersey, and kids will love exploring the pretty nature reserve set back from the sand.


5. St Aubin's Bay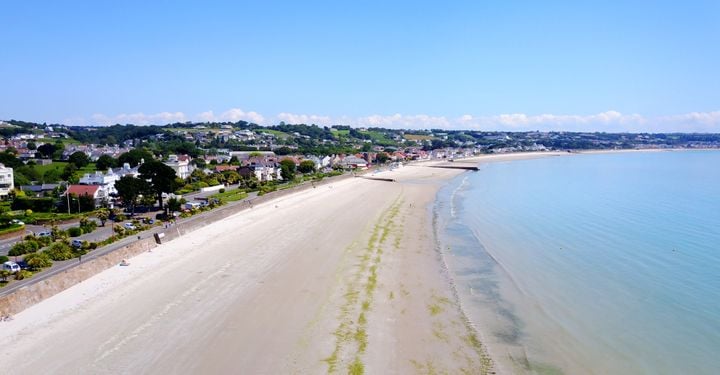 This gorgeous bay stretches from lively St Helier to St Aubin. There's plenty of parking, which makes it one of the best beaches close to St Helier for families, and adrenaline junkies can rent paddle boards, jet-skis and stand-up paddleboards.
Our advice? Combine a day at the beach with a visit to Jersey's pretty capital. St Helier's top attractions include Liberation Square, with its statue of children celebrating the island's liberation from German forces, and the Maritime Museum. Kids will love the museum's Globe Room, where they can climb aboard a rocking ship.


6. Grouville Beach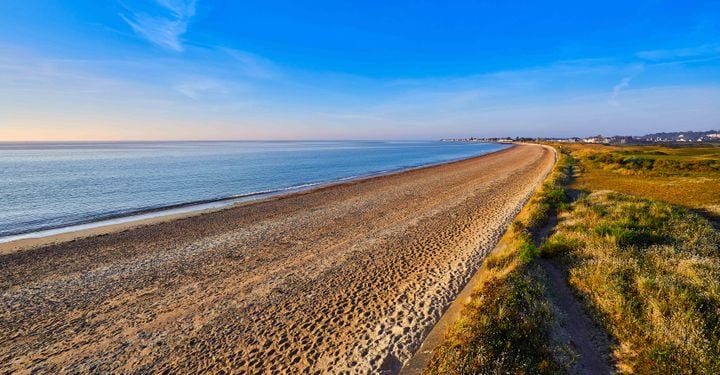 There's plenty of room for everyone on this long, wide beach, which you'll find on Jersey's east coast. In fact, Queen Victoria loved it so much she dubbed it the Royal Bay of Grouville.
Its calm, shallow water makes it popular with families – toddlers can paddle to their hearts' content while thrill-seekers can hire a wide range of water sports equipment. There's plenty of parking at the beach, which backs onto the village of Gorey.
Don't write it off outside of the summer months, either. During winter, it's a popular stop-off for migratory birds, and twitchers flock here to see species such as turnstones and sanderlings.


7. Havre des Pas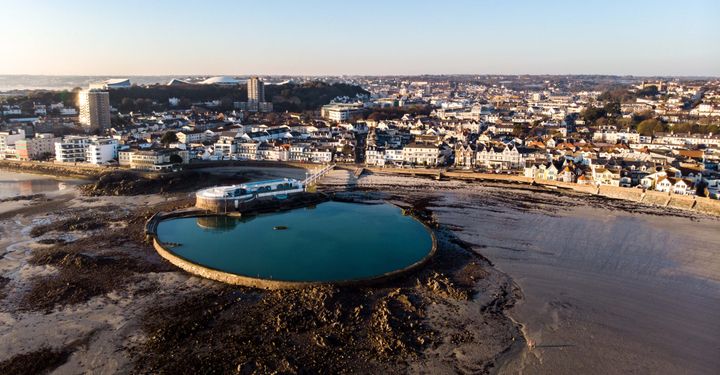 Not only is Havre des Pas one of Jersey's most family-friendly beaches, it also has a Victorian bathing pool, which means you can enjoy a calm dip in the ocean without getting washed out to sea (a semi-submerged barrier separates the pool from the ocean).
You'll find this beach on the outskirts of St Helier, and although it can get crowded on warmer days, it's well worth a visit. With its fantastic combination of Victorian architecture and brilliant facilities, it's easy to see why Havre des Pas is a perennial hit with both locals and holidaymakers.


8. Rozel Beach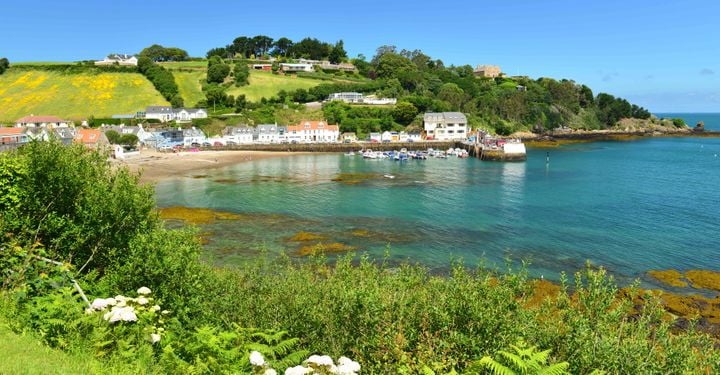 Proof that good things come in small packages can be found at this pocket-sized curve of soft white sand on Jersey's north east coast.
You'll need to time your visit carefully; at high tide, Rozel Beach is almost entirely covered, and during the summer months it can quickly become crowded. On the plus side, it's never going to be a wasted journey – there are numerous restaurants and cafés within walking distance. Make a beeline for the Rozel Bay Tea Room for its delicious lemon drizzle cake.


9. Grève de Lecq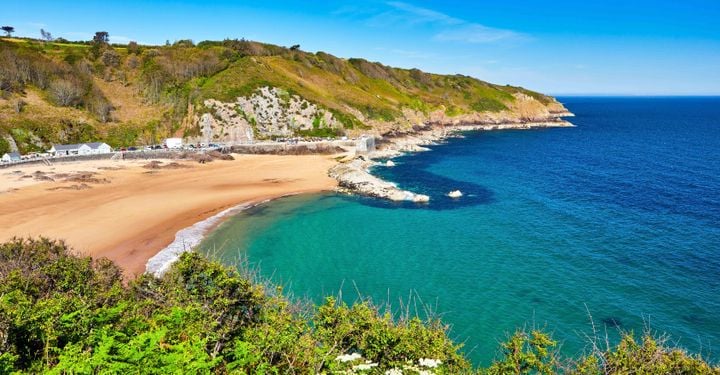 Wedged between the parishes of St Mary and St Ouen, Grève de Lecq is a wide crescent of golden sand. Cliffs at either end provide plenty of shelter, although they're also the reason it's best to visit in the morning or early afternoon, when this particular spot gets the best sun.
There are plenty of activities for land-lubbers, too – children can search for creepy crawlies in the large cave at the eastern end, or explore the thick forests set back from the beach.


10. Bonne Nuit Bay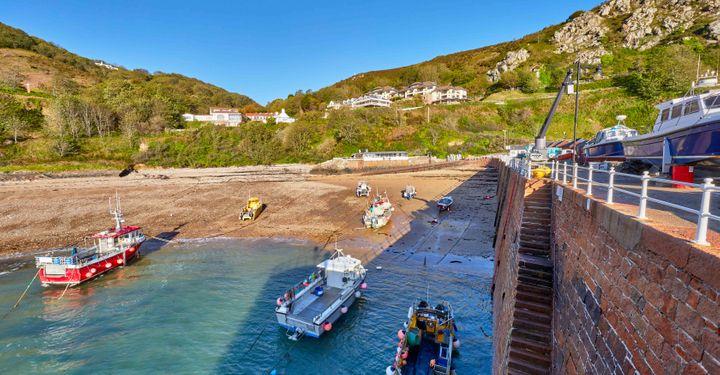 This small-but-perfectly-formed beach doubles as a fishing harbour. Although the cluster of rainbow-hued fishing boats bobbing in the water means it's not the island's best spot for swimming, it's a fantastic picnicking and sunbathing spot sheltered from strong winds.
Makes sure you take the time to explore the footpaths that snake across the clifftops, high above the beach. You might even find your next holiday home – overlooking the bay is a small fort built in 1834; La Crête Fort, which sleeps up to five people, is now one of the most popular holiday rentals in Jersey.


Have a comment or question about this article? You can contact us on Twitter or Facebook.