Updated September 9, 2023
Published October 11, 2019
By Elly Earls
Think of Indonesia and Bali probably springs to mind. But Indonesia is an archipelago, which means among its 17,000-plus islands there's bound to be a few more worth shouting about.
So, whether you're a diver, a hiker, a nature buff or a beach bum, we've narrowed it down to a handful of the best Indonesian islands – because this stunning country truly has something for everyone.


Lombok and the Gili Islands

Best for hikers and beach lovers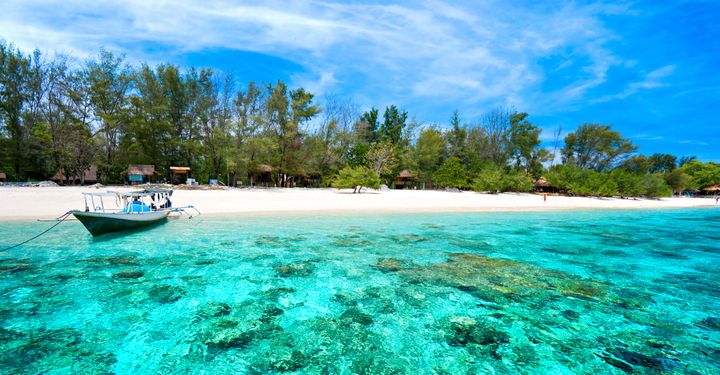 Bali's less developed neighbour, Lombok, often acts as a springboard to the trio of paradise islands, the Gilis. However, you'd be missing out to skip it completely – just expect something a little different.
While surfers battle for Bali's world-class breaks, on Lombok, it's Mount Rinjani that draws in the crowds. As one of Indonesia's highest peaks – and an active volcano to boot – it's a challenging hike but worth it for the spectacular views of its crater lake. Inexperienced hikers beware: it's a tough two-day trek. Once you've conquered the crater, stagger down to the nearest town, Senaru, to soothe your aching muscles in one of its cooling waterfall pools.
Or, for some well-earned relaxation time, catch the local ferry to one of the Gili Islands. All three boast beautiful beaches, incredible sunsets and a peaceful lack of motorised transport, but party animals will prefer Gili Trawangan for its buzzing nightlife. Gili Meno, meanwhile, is the place to head for peace and tranquillity and Gili Air dishes up a perfect balance of the two.
The Gili Islands are also among the best Indonesian islands for snorkelling – turtle sightings almost guaranteed – and its calm seas provide ideal conditions for paddleboarding.


Flores and the Komodo Islands
Best for adventurers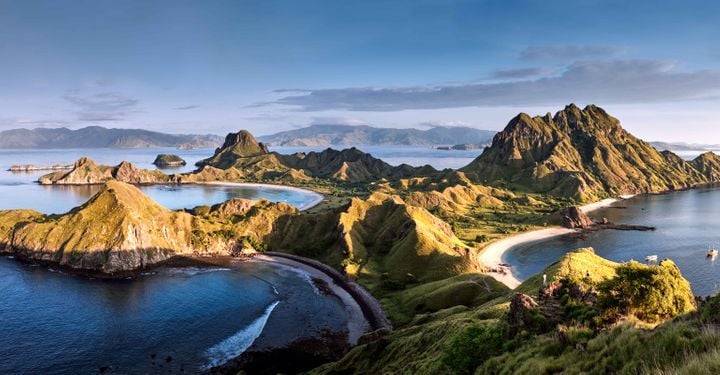 There are only a handful of islands in the world where Komodo dragons are free to roam in their natural habitat. Just two, Komodo Island and Rinca, let you get up close and personal (ish – a healthy distance is recommended) to the mighty reptiles.
A day trip to Komodo Island or Rinca begins in Flores, where tours – and you must book a guided tour – depart early in the morning from Labuan Bajo and return mid-afternoon. Expect a short hike with almost guaranteed dragon sightings, lunch and snorkelling opportunities on the return journey to Flores.
Though reaching Flores requires a flight from Denpasar, the island itself has plenty more than dragons to make the journey worth it. Spend a day at Pink Beach, which gets its distinctive colour from red coral fragments mixed in with the white sand, or take a sunrise hike to the summit of Mount Kelimutu to see its three colour-changing crater lakes. Local legend insists the famous phenomenon reflects the moods of neglected ancestral spirits; more likely though, it's a result of chemical reactions between minerals in the lakes.
The easiest way to get to Kelimutu is by flying to Ende, then hiring a driver to take you to the nearest town to the mountain, Moni.


Raja Ampat
Best for divers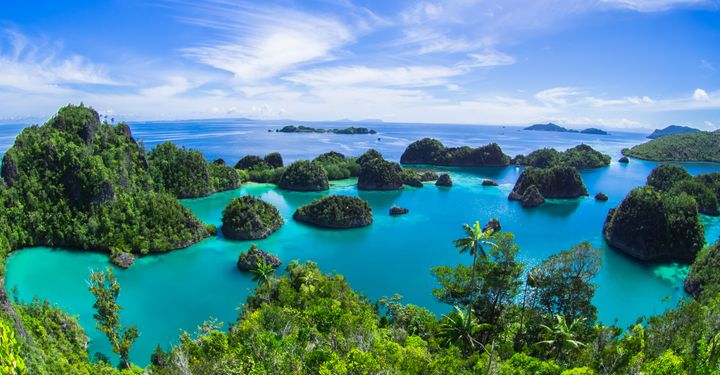 Smack bang in the middle of the Coral Triangle, the 1,500-strong Raja Ampat islands are home to some of the world's best dive sites. Eye-catching corals – over 600 types – create a stunning backdrop for an array of aquatic life, from schools of brightly coloured fish and peaceful manta rays to miniscule pygmy seahorses.
The above-water experience isn't bad either: think lush jungles, fine white-sand beaches, hidden lagoons and stunning karst formations (tiny islands jutting out from below the sea).
Find a bit of it all on Waigeo, the biggest and most easily accessible island in Raja Ampat. Divers can discover a busy underwater world, where highlights include blacktip reef sharks, luminous nudibranchs and green sea turtles. On land, trekkers into the island's jungle interior might just stumble upon the rare crimson bird-of-paradise or one of the many ambling tortoises. The island is a two-to-three hour ferry journey from Sorong, where the region's main airport is located.
In the same part of the archipelago are Rufus and Piaynemo. Off-the-beaten-track Rufus hides a spectacular crystal-clear lagoon, while Piaynemo is worthwhile for the view – the best and most recognisable in Raja Ampat – alone.


Sumatra's surrounding islands
The best of the rest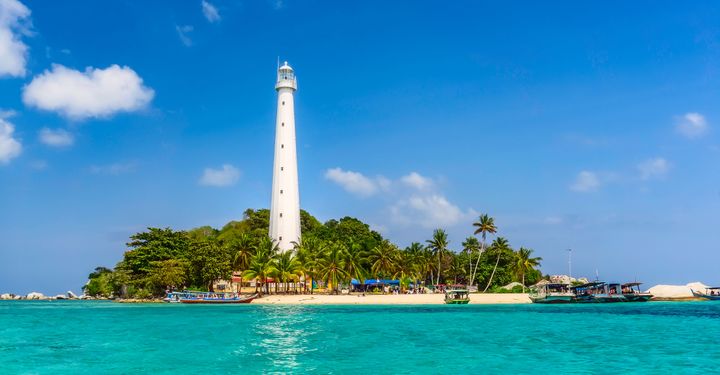 Sumatra is one of the few places on earth where tigers, rhinos, orangutans and elephants live side by side, but its creature cred is just the beginning. Take the Mentawai Island archipelago, for example. Off the coast of West Sumatra, the islands are a hotspot for adventurous surfers, snorkellers and divers (dolphins and sea turtles are common sights here). On Siberut, the largest of the Mentawais and the easiest to access, consider a guided trek through the rainforest to meet the villagers and experience local culture.
Elsewhere, Belitung, which can be reached by a one-hour flight from Jakarta, is best known for its granite boulder beaches but is also a wonderful destination for culture buffs. Once a booming economy, its streets are lined with Dutch colonial buildings and it's home to Indonesia's first literary museum.
Finally, if you really want to get off the beaten track, journey to Banda Aceh and hop on a ferry to Weh Island. Its remoteness has protected it from too many tourists but you'll still find plenty of cute cottages and beachside restaurants. With its white-sand beaches, lush jungles, clear waters and rich variety of marine life, it may just be the perfect place to round up an action-packed trip around the most beautiful Indonesian islands.


Have a comment or question about this article? You can contact us on Twitter or Facebook.