January 22, 2020

By Elly Earls
Indonesia's most famous paradise island has its fair share of Four Seasons, Ritz Carltons, luxury villas and ludicrously expensive beach clubs.
But if you can do without the jungle view infinity pools, personal chefs and £15-a-pop Mojitos, living the Bali dream – and getting plenty of Instagram-worthy photos to boot – won't set you back any more than your usual living costs.
So whether you're yearning for the chilled-out surfer vibes of hipster hotspot Canggu, set on following Elizabeth Gilbert's Eat, Pray, Love trail to Bali's spiritual centre, Ubud, or just want to plonk yourself on a sunbed on a serene, white sand beach on the Bukit peninsula, read on for our handy guide on how to do a cheap Bali holiday – and do it well – on a bargain basement budget.

Where to stay in Bali on a budget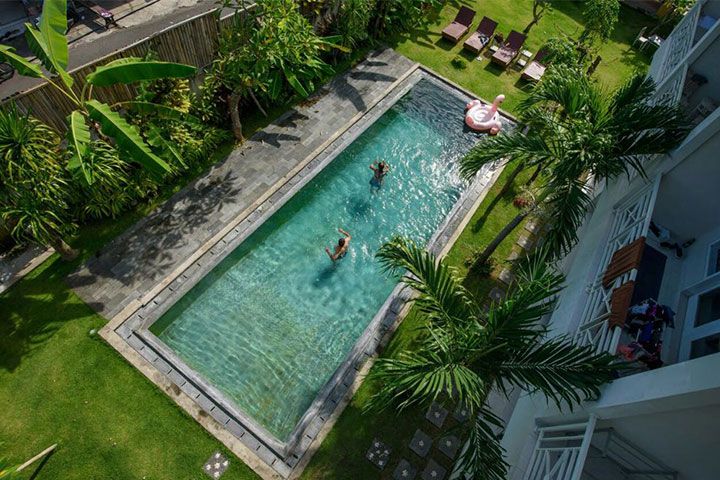 There's really no need to spend a small fortune on lavish accommodation in Bali thanks to the huge selection of guesthouses and homestays that go for around £20 per night; most come with many of the trappings you'd expect from a much higher price tag.
At Asung Guesthouse just outside Canggu, for example, the rooms are large, bright and beautifully furnished. All of them face the well-kept, palm tree-lined garden, complete with pool, sun beds, colourful bean bags and inflatable flamingo. Breakfast and daily cleaning is included and the friendly staff will make you feel at home from day one.

Equivalent properties elsewhere include The Aswana in Seminyak and Savira Bungalow and Bucu Guesthouse in Ubud. Family-run Bucu might not boast the jungle view infinity pool of the nearby Four Seasons Sayan, but its garden-facing, two-level pool is the next best thing for travellers on a less-than-luxury budget.
Where to eat in Bali on a budget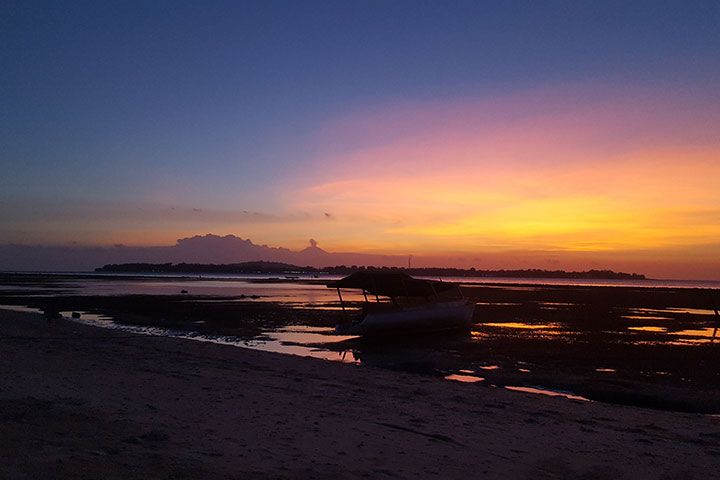 There are so many excellent, affordable restaurants and cafes in Bali that the only tough decision you'll have to make is which one to sacrifice going to for a second time, so you can try one more.
At many of the local 'nasi campur' joints – Indonesian buffets that serve a mix of veggies, tofu, tempeh, meat and fish accompanied by rice and spicy 'sambal' – you can fill your plate (and your belly) for under £2. In Seminyak, try Warung Sulawesi, in Canggu, two of the best are Warung Varuna and Warung Bu Mi, or head off the beaten path in Ubud to find Nasi Ayam Kedewatan, where this local specialty is all they serve.
If you're looking for something a bit more familiar, you only have to double your budget and take your pick from one of Bali's ubiquitous health food cafes. At rice field facing Cinta Café in Canggu, a delicious breakfast with a coffee and a juice will set you back less than £4. The same budget at Ubud's Clear Café will cover a superfood-packed salad and a restorative 'elixir'.
Other must-visits for health- and budget-conscious travellers include vegan restaurants Shady Shack and Peloton Supershop in Canggu, Seminyak's Café Organic and Suka Espresso in the Bukit.
And the island's legendary sunsets don't have to be experienced from the comfort of an expensive beach club sunbed – the views from the cheap beanbag bars that line Bali's beachfronts are just the same.
What to do in Bali on a budget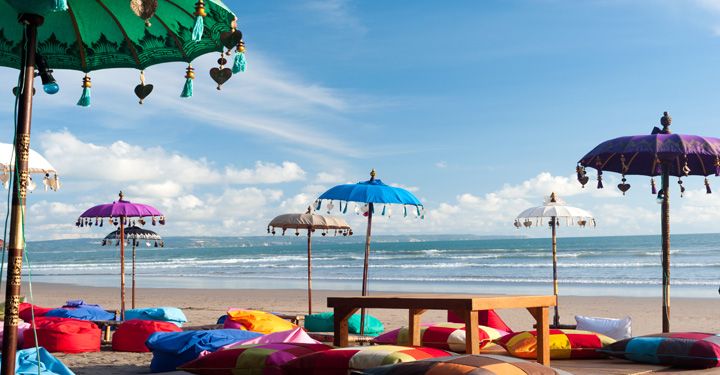 Obviously, no trip to Bali is complete without a beach day or two. But try to avoid the most famous stretches of sand in Seminyak and Kuta. The sand is whiter, the sea clearer and the crowds thinner further south at the likes of Bingin, Balangan and Pandawa beaches.
Do make an exception and brave a couple of hours on Kuta Beach for a surfing lesson though. The conditions are perfect for beginners and prices range from £10 to £20.
If diving is your water sport of choice, head East to tiny fishing village Amed with its turtles, reef sharks and Japanese shipwreck. In low season (October to June), the prices for both accommodation and diving courses are reduced.
It's also well worth setting aside at least a day to learn about Bali's fascinating history and religion – a unique mix of Hinduism, Buddhism and respecting your ancestors – and how it's connected to the island's 'subak' rice farming system, which still functions the same way it did 1,000 years ago.
The local guides at Bali Urban Adventures are incredibly knowledgeable and itineraries, which start from around £30, include trekking through rarely-visited rice terraces, visiting seven World Heritage listed temples and trying the best local delicacies on a tour of 'Eat Street'.
After a tough day of exploring (there are several hundred steps to climb to reach some of Bali's most sacred sites), a relaxing Balinese massage is probably in order. In fact, with prices ranging from £5 to £10, you could easily indulge every day.
Yoga classes are similarly affordable, many of them held in beautiful, open-air bamboo pavilions. The Practice, Samadi or Serenity in Canggu are excellent as is Ubud institution, the Yoga Barn.
How to get around Bali on a budget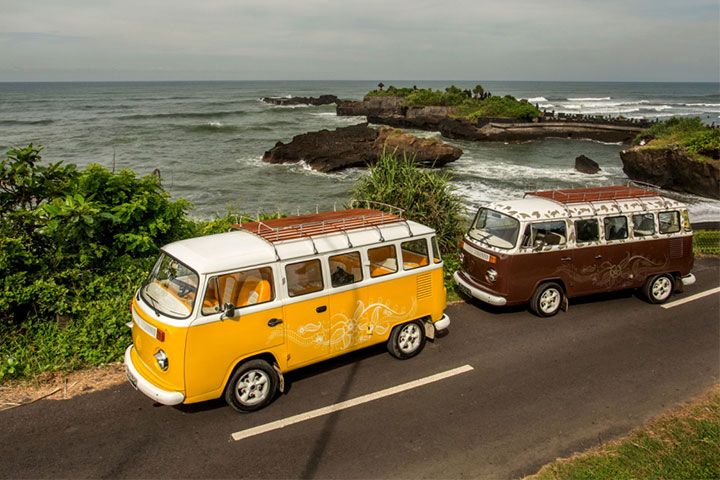 With traffic worsening every year, renting a scooter is without question the most efficient way to get around Bali. At around £3 a day from most guesthouses, it's also the most budget-friendly.
But if braving the hectic Bali roads alone feels too overwhelming, ride-hailing apps Grab and Gojek have both motorbike and car options, which are significantly less expensive than traditional taxis. Drivers will probably up the price quoted by the app for long journeys, but it's still likely to be cheaper than hiring a car or minibus from your guesthouse.
The local Perama bus service is another option for travellers on a shoestring and stops at all the major tourist hotspots including Padang Bai port, where the fast ferries cast off several times a day for Bali's smaller neighbouring islands.
A long weekend at Nusa Penida – with its spectacular rock formations – or Gili Air – with its impossibly turquoise seas – will drive friends and family back home wild with jealousy.
Insider tips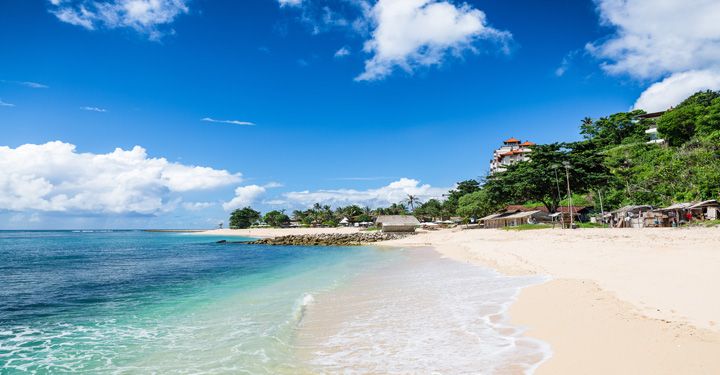 Do your research before ordering a ride through one of the apps. Although Grab and Gojek are officially legal in Bali, local transport organisations have 'banned' them in some tourist centres such as Ubud and Canggu's Batu Bolong area so traditional taxi drivers don't lose business.
It's also advisable to pick up a local sim card when you arrive. The Internet has significantly improved in Bali over the last few years but it does have a tendency to cut out even at the cafes and guesthouses with the best Wi-Fi. A 4G back-up for a couple of quid from national network Telkomsel certainly can't hurt.

Have a comment or question about this article? You can contact us on Twitter or Facebook.