How to do Dubai on a budget

December 21, 2019

By Lara Brunt
Dubai means seven-star hotels, private butlers and caviar facials, right? Well, yes… and no.
The Post Office's most recent Long Haul Holiday Report revealed that prices in the Middle Eastern city had dropped by 9% compared to a year earlier, and expats based there have shared some great tips with us on how to enjoy the famously over-the-top emirate on a modest budget.
Look hard enough and you'll find a city bursting with amazing ethnic eats, generous happy hours and even a dash of culture, without a sprinkling of gold leaf in sight.


Discounted views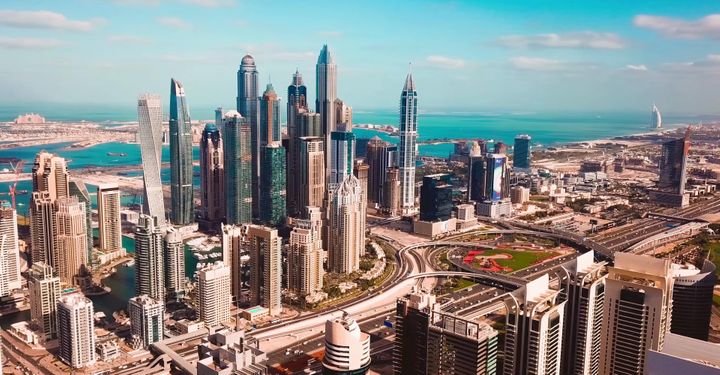 Soaring 828m (2,717 ft) into the sky, Burj Khalifa is one of Dubai's biggest draws. A high-speed elevator delivers you to the observation decks at level 124 and 125, or level 148, and floor-to-ceiling glass provides a 360-degree view over the sea of skyscrapers below.
Pre-purchase your tickets to guarantee the time you'd like (you can book up to 90 days in advance) and visit outside of the prime viewing hours of 9.30am-6pm, and you can save yourself around £18pp.
Don't bother with level 148 either – you'll often fork out more than double the price for a similar view.


BOGOF bargains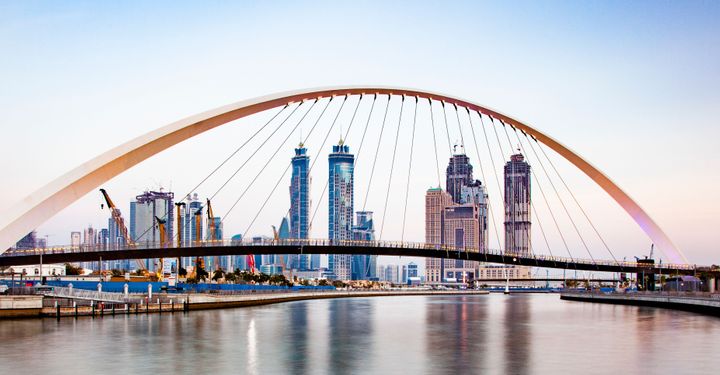 "The Entertainer app is hugely popular among expats and has more than 4,200 buy-one-get-one-free vouchers for restaurants and attractions," says Dubai resident Tanya Wright.
The app is free to download then you can choose bundles depending on your preferences, such as the Dubai Classic option or the Fine Dining option. You'll need a Wi-Fi or 3G connection to redeem offers.
Before you buy any packages, take a look through the potential offers and savings attached to them to ensure you save more than you've paid.


Cut-price culture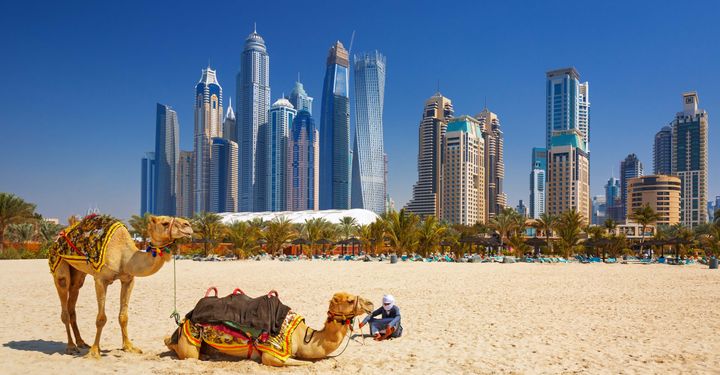 Before the mega malls and supercars, Dubai was a pearling and trading village set around the Creek. The Sheikh Mohammed Centre for Cultural Understanding leads walking tours of the narrow sikkas (alleyways) and restored barjeels (wind towers) of the Al Fahidi district, followed by a no-holds-barred Q&A session on local culture (£20pp with tours on Saturdays at 9am and Sundays, Tuesdays and Thursdays at 10:30am).
Then take an abra (water taxi) across the Creek to the spice and gold souks of Deira for just 20 pence each way.
The city also has a blossoming contemporary arts scene. There are a dozen swanky galleries in Gate Village (Dubai International Financial District) that you can visit for free, while Alserkal Avenue (Al Quoz) has around 15 edgier galleries housed in converted warehouses. Join a free tour of the current exhibitions every Saturday from 4-5pm.


Kitschy fun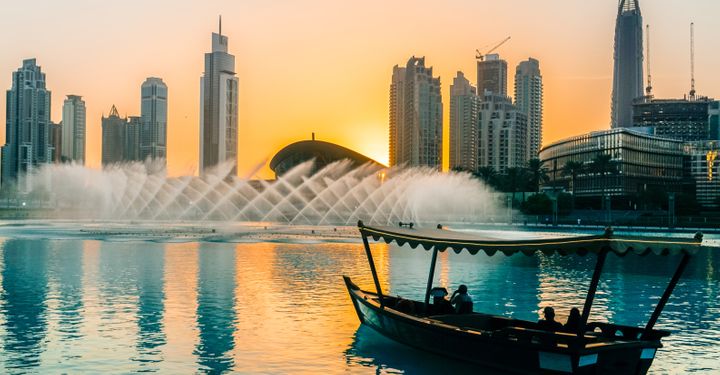 Dubai Garden Glow (Zone B, Zabeel Park) is a fun, neon-lit attraction. The glow-in-the-dark garden's theme this season (2019/20) is environmental sustainability – expect vivid creations made out of recycled materials, as well as food stalls and live music (£13.50 per person; free for under-3s).
At the foot of Burj Khalifa, meanwhile, is a 24-acre lake containing the Dubai Fountain – the world's largest, naturally – which shoots water 140m (450ft) into the air while 'dancing' to Arab pop songs and Lionel Richie numbers.
Watch the free evening shows every 30 minutes from 6pm–11pm outside the entrance to The Dubai Mall.


Cheap eats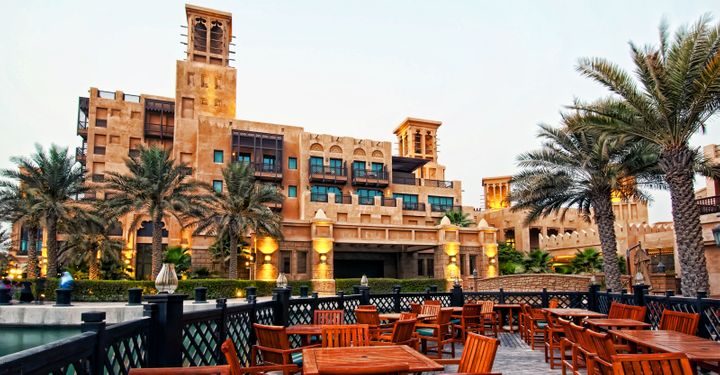 Indians and Pakistanis are the biggest expat communities in Dubai, so you'll find plenty of budget-friendly fare. Ravi Restaurant (near Satwa roundabout, Satwa; note that addresses in Dubai are usually given by reference to the nearest landmark) is a Dubai institution where you can dine out on Pakistani curries for less than £9 a head.
Nearby, 2nd of December Street is lined with good budget options such as Al Mallah (Lebanese) and Noodle Bowl (Cantonese).
Emirati food is surprisingly hard to come by, but other low-priced Middle Eastern cuisine is widely available. Take a seat at the buzzy outdoor terrace at Aroos Damascus (Al Muraqqabat Road, Deira) and feast on hot and cold Arabic mezze and grilled meats for around £30 for two.
Or grab a shawarma (pitta bread with shaved meat, garlic sauce and salad) for around £2. "My favourite is the chicken shawarma from Al Safadi near Financial Centre metro," says Dubai-based fashion designer Meher Mirchandani.


Budget booze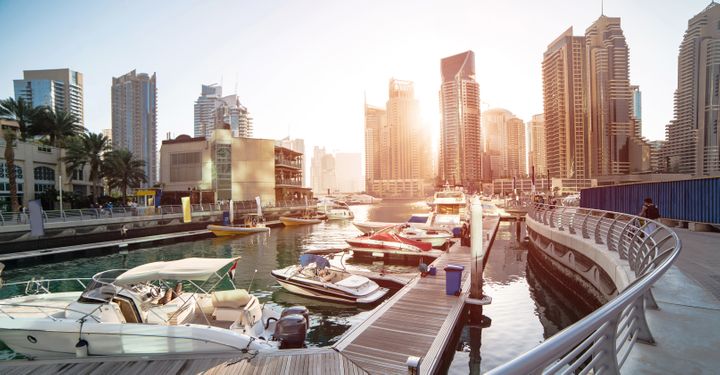 Alcohol is only served in restaurants and licensed premises, which basically means a hotel.
Most bars have a happy hour – one of the best is Cargo (Pier 7, Dubai Marina), a​ warehouse-style bar with an outdoor terrace overlooking Dubai Marina. It has selected drinks for £5.50 every evening from 5-8pm. Ladies' nights, usually on Tuesdays, mean women get free, or heavily discounted, drinks at venues around the city.
For drinking while dining, Friday brunch – an all-you-can-eat, all-you-can-drink lunchtime feast – is your best-value option. Try the laidback Urban Picnic by the pool at Vida Downtown Dubai (Mohammed Bin Rashid Boulevard). For £70, you get unlimited drinks and salads, and meat from the barbeque from 1-5pm on Fridays.


Low-cost rooms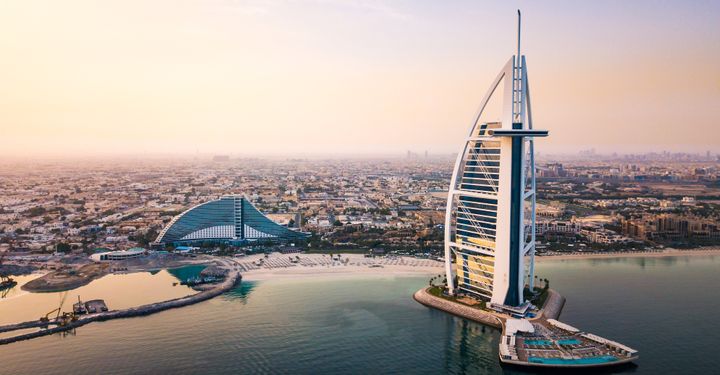 The emirate is full of expensive places to stay, such as The Burj Al Arab Jumeirah in Dubai, commonly referred to as the world's most luxurious hotel.
More modest digs can be found in the older parts of town around Bur Dubai and Deira – the four-star Hyatt Place Dubai/Al Rigga (from £35 per room per night) is within easy reach of the airport and has smart rooms and an outdoor pool.
"For friends on a budget, I always recommend Citymax Al Barsha," says expat resident Elena Lowe. "It's got spotless rooms, three restaurants and a small rooftop pool, plus it's close to the mall, metro and Jumeirah Beach." (From £37.50 per room per night).


Have a comment or question about this article? You can contact us on Twitter or Facebook.