October 20, 2017

With its picture-perfect palm trees and golden beaches, you'd be forgiven for thinking you can't afford Jamaica.
Joanna Booth reveals how to holiday on this beautiful Caribbean island without needing to do a Usain Bolt when you see the bill…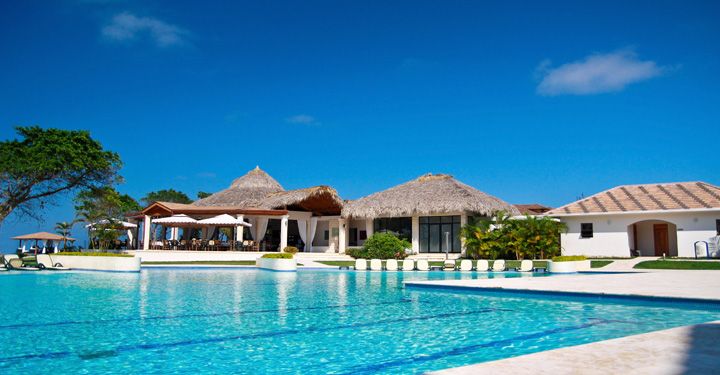 Money don't make you rich – to paraphrase Bob Marley – and it's a view that's a little easier to understand when you're in his home country of Jamaica.
This little slice of Caribbean paradise gives a lot without asking for a dime in return: the sun, the sand, the lapping waves, and its lesser-visited wild interior, carpeted with rainforest.
However, there's no escaping the fact that it's far, far away from the UK, and flights don't come for free. This year sees an increase in airlift to the island, though, and increased supply should see seat prices stay stable.
British Airways is adding a fourth weekly flight from Gatwick to Kingston from April 2017, and from the summer of 2017 TUI will have the capacity to carry around 7,000 extra passengers to Montego Bay on its Dreamliners flying out of Glasgow and Stansted.
Where to stay on a budget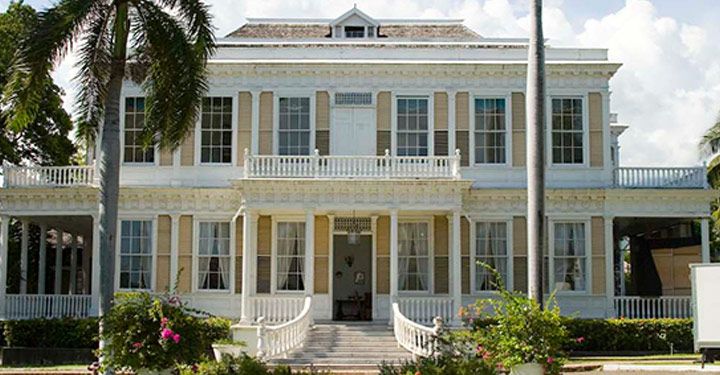 From mid-December to mid-April, the island enjoys its best weather, so this is when you'll find prices at their highest. Try travelling outside this bracket to enjoy better bargains – a decent trade off for a little rain. Rainfall peaks in October to November, but temperatures stay high year round, so you'll always be able to sunbathe.
Hotels from big brands often bring a premium price, although larger properties can offer significant price drops in quieter seasons, when they have beds to fill. Look out for more reasonably priced guesthouses, which are often friendly and family-run, or hostels offering dorm rooms if you're travelling in a group.
The bulk of the island's accommodation is found in the 'Big Three' resorts on the north coast. Montego Bay is party central, with its 'Hip Strip' of clubs and bars, more restaurants than you can shake a fork at, and nearby duty-free shopping and golf. It's also just 15 minutes from Sangster International Airport, so it's perfect if you don't want to waste a minute of holiday time on your transfers. Rooms at the Royal Decameron are a little old fashioned, but it's one of the best-value all-inclusives on the island.
Negril isn't called 'the Capital of Casual' for nothing. It's one of the most laid-back places in Jamaica, centred on Seven Mile Beach, a stretch of sand which is lined with bars and hotels. Fly and flop here, or nearby in the West End area, which is famed for its clifftop setting. Rick's Café is an island institution, with sunset parties and a spot to dive off the cliffs into a pool below. Stay nearby at the cute, rustic cottages of Catcha Falling Star, which are also perched up on the rocks.
Ocho Rios is the place to be if you like a little action alongside your beach time – it's the best base if you want to splash around in Dunn's River Falls, swim with your own Flipper at Dolphin Cove, or head to Mystic Mountain for an adrenaline-filled day of zip-lining and bob-sledding through the forest canopy. Rooms On The Beach is designed for travellers who want just this – no frills, but a decent spot to sleep.
For something a little different, try Jake's in Treasure Beach. This quiet spot on the south coast is a corner of old-fashioned Jamaica, and the quirky, friendly hotel has everything from relatively reasonably-priced rooms to some deluxe cottages where celebrities stay. It's a true one-off.
Where to eat on a budget
Where to eat on a budget
Where to eat on a budget
Where to eat on a budget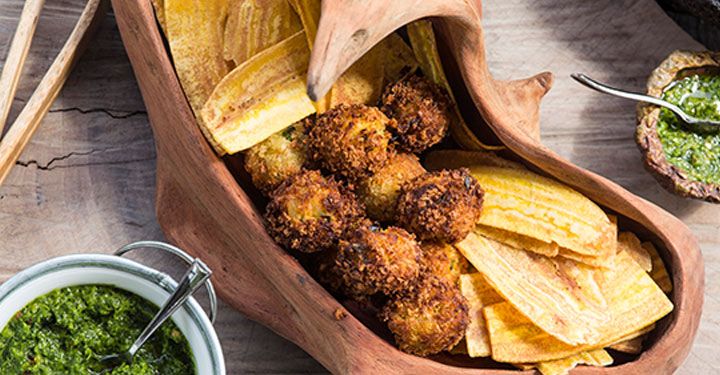 Jamaica invented the all-inclusive holiday, and while that board basis does give you a predictable spend ahead of travel – and works brilliantly if you genuinely want to have everything within reach of your sun-lounger – you can easily spend less on dining by booking room only or B&B. Jamaica is filled with good value cafes and shacks serving island staples such as escovitch fish with bammy, or curry lobster with rice and peas.
Scotchies is the place for authentic jerk chicken or spicy barbecued pork. Order your choice with some roasted yam and a couple of festivals – fried dumplings – and sit in the open air under a thatched shade with a Red Stripe. Mains come in around $10 and there are branches in Montego Bay and Ocho Rios.
In Negril, pick up an ackee and saltfish loaf from tiny, unassuming Out Of Town Pastry for just a couple of dollars, or sit at one of the brightly coloured wooden tables outside Miss T's Kitchen in Ocho Rios for home-style Jamaican food like curry goat and oxtail with an old-time Jamaican soundtrack. Dinner for two with beer will set you back about $25.
Don't miss the I-Scream ice cream at Devon House, a museum in Kingston – it's been voted fourth best in the world by National Geographic!
What to do on a budget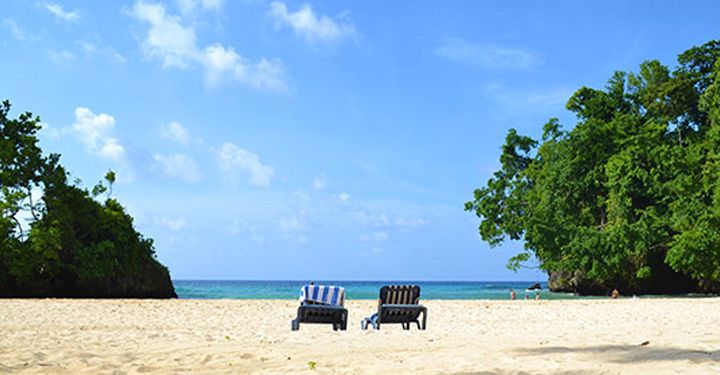 You can while away many a happy hour on Jamaica's beaches without spending a penny. Some of the best public beaches include Seven Mile Beach in Negril – a wide, white stretch of sand, and west-facing so renowned for its sunsets. Doctor's Cave Beach offers a similar experience in Montego Bay, and the UDC Beach in Ocho Rios.
For something more secluded, try Frenchman's Cove in Port Antonio. Enclosed by forested headlands, it's one of the island's prettiest spots.
Dunn's River Falls is perhaps Jamaica's most famous attraction, and it's undeniably stunning. However, it gets very busy, and at $20, it's not cheap. For a waterfall with an entry fee that's half that, and is just as pretty, with a fraction of the crowds, head to Reach Falls, 45 minutes east of Port Antonio. First discovered by runaway slaves, it's a natural paradise with birds flitting around and even the odd wild pig trotting past.
No reggae fan could visit Jamaica without paying homage at the Bob Marley Museum in Kingston. The star's former home is open for insightful tours, for $25 for an hour and 15 minutes, where visitors can see the bullet holes in his bedroom from an assassination attempt, and his favourite star-shaped guitar.
Also in Kingston and just $10 to visit (including a scoop of ice-cream) is the aforementioned Devon House, a beautiful colonial mansion built in 1881 by the first black millionaire in Jamaica, George Stiebel. Full of antiques, it has large gardens and a gambling room hidden away in the attic.
How to get around on a budget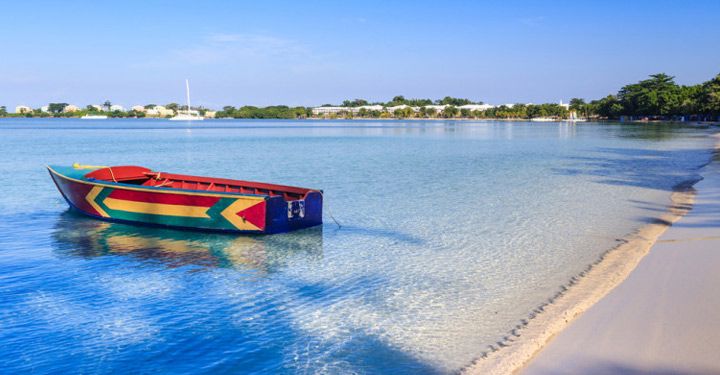 There are two types of official taxis in Jamaica: charter taxis and route taxis. Both will have red license plates with white digits – anything with white plates isn't officially a taxi.
Charter taxis are like taxis in the UK, in that they're for private hire. Hiring one from a taxi stand will cost less than getting the hotel to arrange one, but negotiate the fare before you ride – it's usually in US dollars.
Route taxis are public and stop at the places listed on the side, rather like small buses, and fares are in Jamaican dollars, per person, and are set by law.
Knutsford Express coach buses run between popular towns all over the island, and are one of the most comfortable and affordable ways of getting around. Fares are in Jamaican dollars.
Insider tips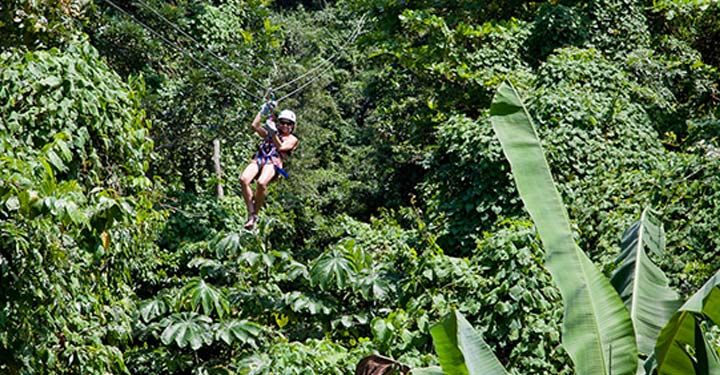 Buy fiery peppered shrimp from a roadside stall, but use the plastic bag your portion comes in to peel the prawns – it'll keep the scotch bonnet off your fingertips.
Take a midnight swim in the Luminous Lagoon and watch sparks run down your body. Microorganisms in the water produce photochemical reactions when stirred around, so the water glows green. Take a boat ride to reach the bioluminescent spots from Glistening Waters Marina near Falmouth.
Have a comment or question about this article? You can contact us on Twitter or Facebook.