How to do Orlando on a budget
Updated December 21, 2021
(Published January 3, 2020)

A trip to Orlando can quickly become very expensive, with theme park access, dining and getting around to think about - and that's on top of the flights and accommodation that may already have taken a big chunk out of your holiday budget.
With that in mind, we've put together some top money-saving tips for checking out the world's theme park capital.


Where to stay on a budget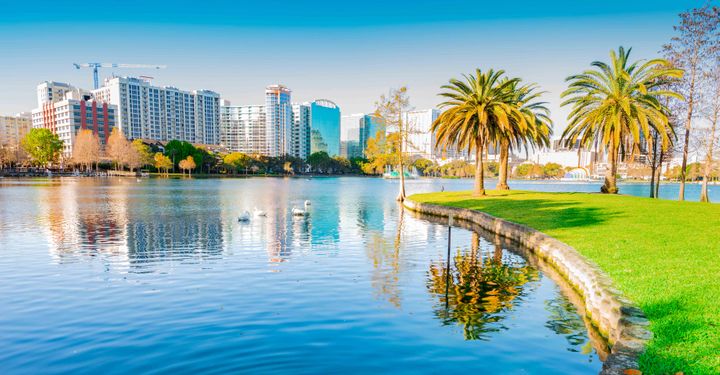 If you're planning to hit the theme parks, consider a hotel that offers ticket packages and priority park access. For example, if you choose one of Universal Orlando's hotels, you'll get free transportation to their theme parks and CityWalk entertainment complex, along with early admission to the Wizarding World of Harry Potter.
Additionally, some of the most family-friendly options are also the most wallet-friendly. At the fabulously retro Cabana Bay Beach Resort (from £102 per room per night, based on a 4-night stay), the family suites have kitchenettes complete with a microwave - perfect for preparing breakfasts or quick bites during the day - so you can save by preparing meals in the comfort of your own room.
However, getting around Orlando is easy, and hotels away from the International Drive area are often significantly cheaper. They're less likely to offer extras like complimentary shuttle services, but if you're hiring a car, it's an extra you might not need.
For example, a double room at the Extended Stay America hotel on Major Blvd, just a few kilometres from the main theme parks, starts from only £55 per night.
Where to eat on a budget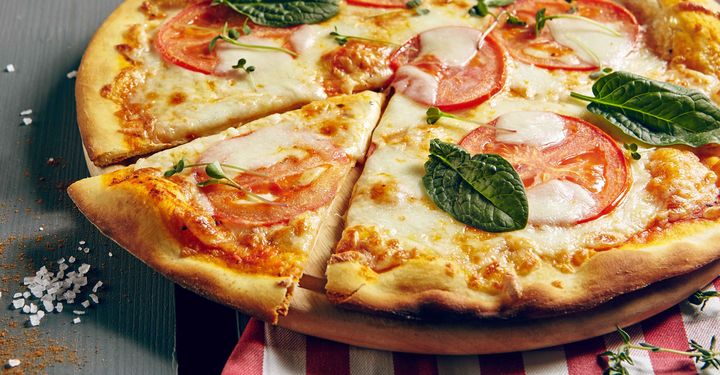 If you're heading to the theme parks, why not take a picnic? You can bring your own food and drink - apart from alcohol or anything that requires heating - as food served on-site is usually extortionately priced.
If you would prefer to eat in the parks' restaurants, investigate the dining schemes on offer. For example, 'Disney Dining Plans', which includes packages to suit all budgets, are set to return in 2022 for guests at Disney Resort Hotels.
Families should also sign up for Orlando's 'Kids Eat Free' card, which allows younger visitors to eat for free at over a hundred restaurants. Don't just focus on the restaurants closest to your hotel, either. You can make serious savings by heading to areas such as family-friendly downtown Orlando or the beautiful Winter Park neighbourhood. The latter is known for its gastro-pubs, including the Ravenous Pig - famous for its Tuesday to Friday happy hours.
Downtown Orlando is where you'll find some of the city's most popular chain restaurants - including the California Pizza Kitchen and the Cheesecake Factory - most of which offer great kids' meals for just a few dollars.
Finally, remember that unlimited soft drink refills are standard in the US. This doesn't just apply to restaurants but the majority of major hotels and theme parks, where you'll often just need to purchase a special souvenir cup.
What to do on a budget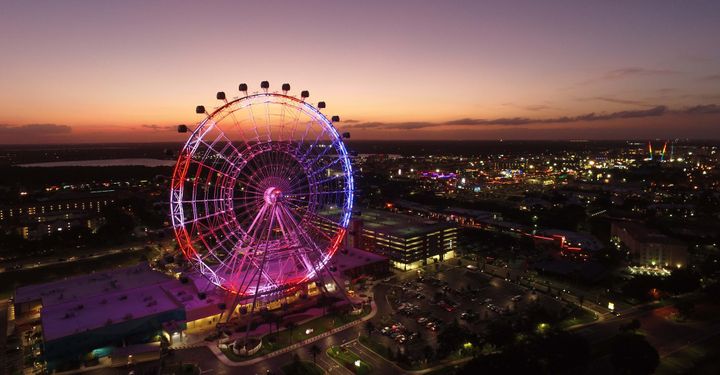 Orlando might well be the world's theme park capital, but there's much more to keep you occupied in this chunk of Florida. Take Winter Park, a beautiful town to the south of Orlando. It's home to a number of museums, galleries and farmers' markets, and the quaint high street is filled with quirky boutiques and gorgeous cafes, such as the Briarpatch, known for its delicious ice cream and pastries.
You can sign up for a Scenic Boat Tour (from £6.05 for a child) of Winter Park's interconnected lakes, where some of Orlando's wealthiest residents live - the architecture is stunning, and you can spot the former homes of various celebrities, including Tom Hanks.
Lake Eola Park in downtown Orlando is a beautifully landscaped area popular with picnicking families who come to feed the ducks and ride in swan-shaped pedalos (£11.30 per 5-person boat). Equally beautiful are the Harry P. Leu Gardens - admission is free on certain days throughout the year, so check the website before you visit.
You may also want to invest in a Go Orlando card (from £34 per child). There are two, three and five-day passes and, depending on the package you choose, you'll get free or discounted access to Orlando's top museums and attractions. This excludes Disney and Universal theme parks but covers the majority of Orlando's biggest attractions and tours, including the Orlando Eye, Legoland, Winter Park Scenic Boat Tours and the Fun Spot America theme park.


How to get around on a budget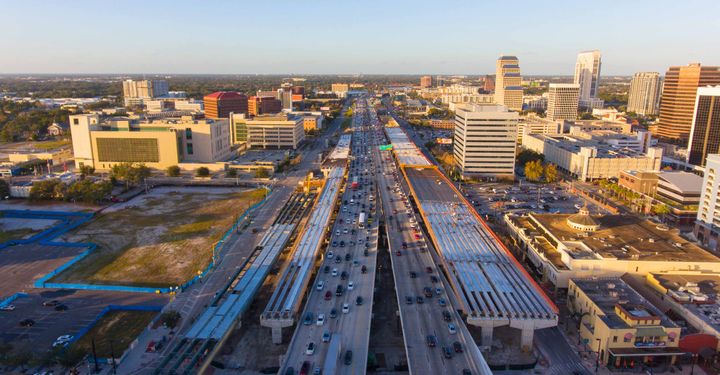 Today, the majority of people waiting for transport outside any Orlando hotel will be waiting for an Uber. It's the easiest and cheapest way to get around, and most attractions and shopping malls have designated Uber pick-up points.
It's always worth asking if your hotel offers a complimentary shuttle service to nearby theme parks or attractions, as often only the most popular shuttle routes are advertised. Even if you're not staying at one of the hotels offering such a service, find out which ones do - they might be just a short walk away and you don't need to be a hotel guest to use them.
If you're exploring the downtown area, take advantage of the LYMMO service - a complimentary shuttle that you can use to explore downtown Orlando. The I-Ride is a similar service that operates on International Drive, ferrying visitors between the theme parks and outlet malls. Fares start from just $1 for kids between 3 and 9, and $2 for adults.
For getting to and from the airport, always opt for Uber over a regular taxi, or book your transfer with Mears, which operates shared shuttle services there and back. They depart every few minutes and serve the vast majority of Orlando's hotels - you just need to book ahead, stating the name of your hotel.
Insider tips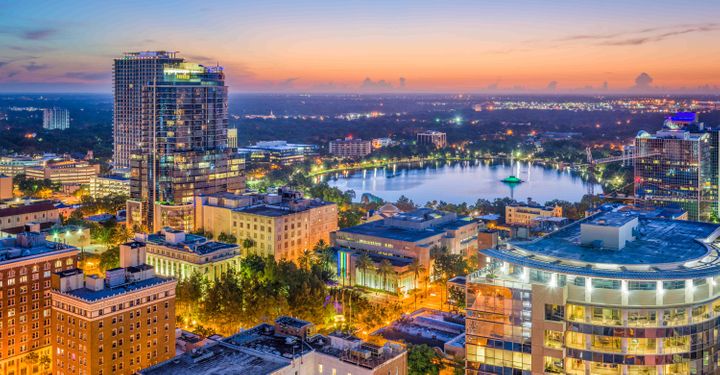 Book in advance
Don't assume that purchasing your theme park tickets at the last minute will save you cash - you'll actually pay significantly more. Whether you're putting together your own itinerary or opting for a package holiday, always arrange theme park tickets in advance.
Venture beyond International Drive and the theme park bubble
It's easy to forget that there's a world outside of the International Drive bubble, but a little exploration can save you serious amounts of cash. Restaurants away from this area are significantly cheaper, and if you're stocking up on supplies, you can make huge savings by visiting supermarkets or local stores instead of the shops inside your resort.
Be a savvy shopper
If you're planning on hitting the shops, find out what discount cards are available. At Orlando International Premium Outlets, for example, you'll get a huge book of coupons if you sign up for the VIP Club.
Be prepared
If you're visiting the theme parks, don't forget to keep some essentials to hand - a rain poncho, sun cream and bottled water should be top of your list. They're all readily available inside the theme parks but at very inflated prices.

Have a comment or question about this article? You can contact us on Twitter or Facebook.