How to do the Maldives on a budget
Updated January 21, 2021
(Published November 7, 2019)
By Katie McGonagle
The Maldives is the epitome of luxury travel, but don't count it out if you're on a less-than-lavish budget. With a bit of know-how, these Indian Ocean islands are more affordable than you might think.
How to do the Maldives on a budget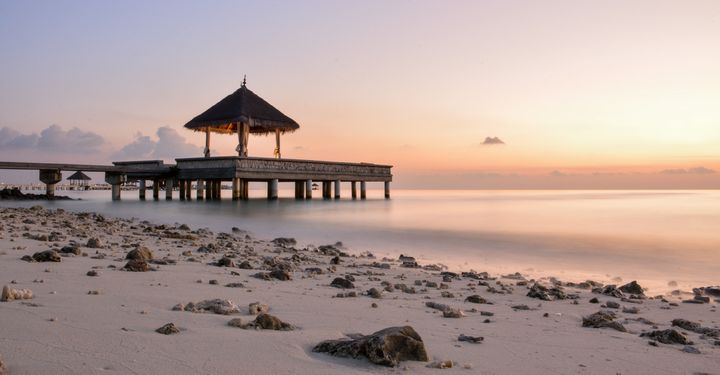 Mention 'the Maldives' and most people's minds go straight to images of over-water villas perched on wooden stilts above a clear, turquoise sea. Bonus cliché points if there's an untouched stretch of soft white sand in the background, a few swaying palms, and an impossibly attractive couple sunbathing on the deck.
So far, so predictable, and there's no denying the Maldives has cornered the market on luxurious private-island resorts, offering the ultimate in high-end escapes – with a price tag to match.
Yet the Maldives has plenty to offer more budget-conscious travellers too, with independent accommodation and local restaurants providing a completely different experience from the big-brand resorts.
It's still the Indian Ocean, so it's never going to be bargain basement, but if you want to see these islands without busting your bank balance, have a read of our handy guide to budget-friendly holidays in the Maldives.
Where to stay in the Maldives on a budget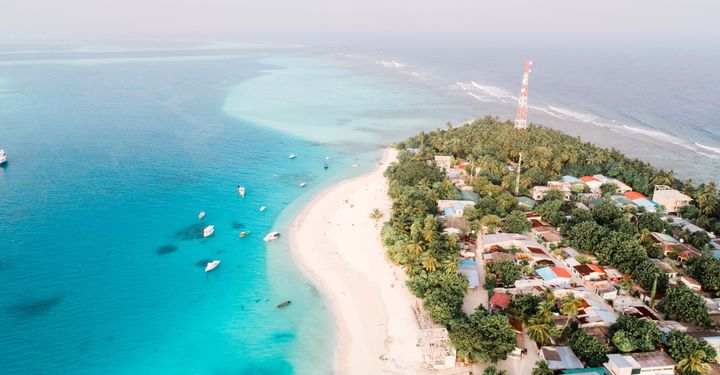 The Maldives is like a who's who of luxury hotels, with one international chain after another dotted across its tiny atolls, all promising the best diving, most extravagant accommodation or most personalised service – provided you're willing to part with hundreds of pounds a night for the privilege.
But since the Maldivian government relaxed its accommodation rules around five years ago, sparking a massive growth in the number of independent guesthouses, the choice of low-cost lodgings has helped open the islands up to those on a shoestring.
These can be found on 'local' islands where Maldivians live, rather than the one-resort private islands. Maafushi is the biggest, home to a decent showing of three-star options such as Arena Lodge Maldives, Picnic Inn and Whiteshell Island Hotel & Spa. But there are numerous other islands – Fulidhoo on Vaavu Atoll, home to tiny Thundi Guest House, or Ukulhas in the North Ari Atoll where the friendly Ukulhas Inn is just minutes from the beach – which can help visitors keep their budget in check.
If that resort vibe is a must, the best alternative is to look for off-season deals that make the islands' four- and five-star properties that much more affordable. While the majority of tourists arrive in the peak period between December and March, the May-to-November rainy season represents outstanding value as resorts often halve their prices and offer great deals for families looking to travel in the school summer holidays.
Don't be fussy on the room type either – a beachfront suite is a serious saving compared with expensive over-water villas, and still comes with all the benefits of a luxury resort.
Where to eat in the Maldives on a budget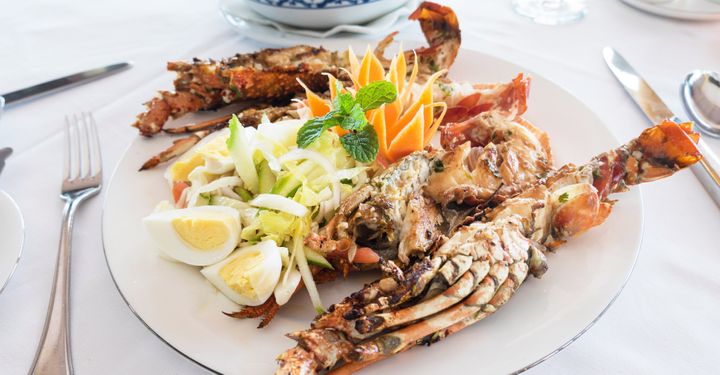 Dining options very much depend on the accommodation. If you opt for a resort-style holiday, be sure to check out the restaurants on-site; what seems like a bargain price for a bed-and-breakfast stay could end up a lot less pocket-friendly if you're shelling out £100 a head for dinner and drinks each night. And if you're on a one-resort island, it's not like you can go out and find a cheaper alternative.
All-inclusive packages can be a better option, as you can set a budget up-front without worrying about an unexpected bill at checkout. There are four-star options such as Kuredu Island Resort & Spa, where the all-inclusive gold package covers wine and spirits, meals at specified restaurants and afternoon tea each day, plus a host of included activities.
Even if you edge into five-star territory, the list of inclusions covered by some all-inclusive packages can make these remarkably good value. Kihaa Maldives, for example, includes meals, drinks, afternoon tea and tapas, plus minibar and kids' club; while Centara Grand Island Resort & Spa covers drinks, champagne breakfast, a choice of restaurants and daily-refilled minibar.
For those who go the local island route, most guesthouses have a restaurant serving classic Maldivian dishes – expect fish in every form, plus plenty of curry and rice – for less than £10. On larger islands like Maafushi, there are also a handful of local restaurants to choose from, which won't necessarily be any cheaper than the guesthouse, but offer more variety.
What to do in the Maldives on a budget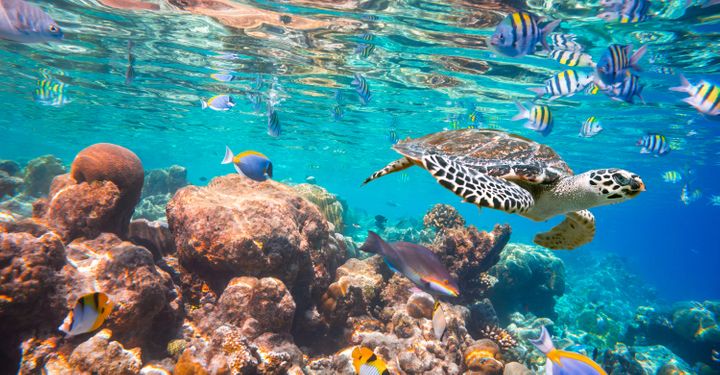 The Maldives is known for its beach breaks, but there are plenty of activities for those who don't want to be stuck on a sun-lounger all day.
Capital Malé isn't exactly sightseeing central, but it has enough to amuse transiting passengers who want to overnight on the main island. Visit the golden domes of the Islamic Centre (open to non-Muslims outside prayer times), take a wander through the pleasant surroundings of Sultan Park (free), or try your hand at haggling in Malé market.
When you get out into the islands, though, the real fun can begin: the Maldives is 99% sea and just 1% land, so it's no surprise its watersports are second-to-none, with classics, such snorkelling, scuba diving and stand-up paddleboarding, available.
And for those keen on looking under the surface, there's colourful coral, more than 2,000 species of tropical fish, plus stingrays, sea turtles, whale sharks and more.
Many resorts provide non-motorised watersports free, but charge for specialist pursuits such as scuba diving, so find out if there's any saving to be made by booking in advance or reserving several dives at once.
For those staying in smaller guesthouses, it's generally better to wait until you arrive as there's every chance the proprietor can recommend a local operator with competitive rates for boat trips or other excursions.
How to get around the Maldives on a budget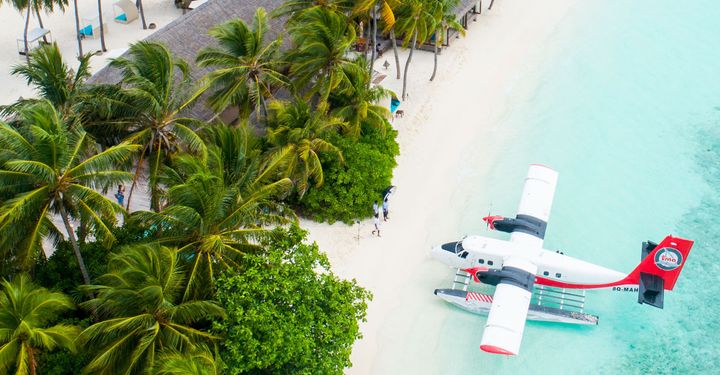 One of the most prohibitive costs for holidaying in the Maldives is transfers – even after you've shelled out the international airfare, you arrive at the airport on Hulhule Island and still have to pay through the nose to get to your resort.
Those overnighting in Malé will find the ferry from the airport to the capital a cheaper choice, with departures every 10 to 15 minutes costing around a pound. There's also a decent ferry network to reach other main islands, though the timetables aren't always reliable.
If you're staying on one of the resort islands, there's very little choice but to dig deep and pay for a private transfer. To offset the costs, ask if it's possible to get a shared transfer, and aim for a resort that's reachable by speedboat rather than by more expensive seaplane.
Insider tips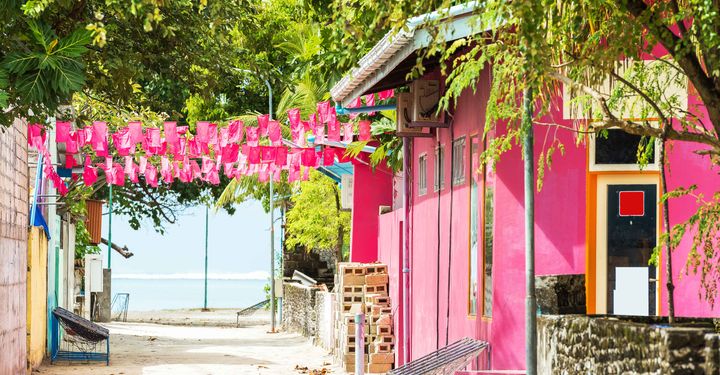 Anyone opting to stay outside the main resorts should be aware of the etiquette on 'local' islands, as guests should respect the Maldives' Muslim way of life here.
You won't find bars and restaurants serving alcohol, and visitors will need to cover up anywhere but designated tourist beaches such as Bikini Beach on Maafushi. If the island doesn't have a tourist beach, some guesthouses have sunbathing areas where it's perfectly acceptable to strip down to swimwear.
If browsing the net is as essential to a holiday as sun-worshipping, fear not – a local SIM card is about £2, and a one-off data package should cost just over £10 for 3GB. For even more browsing time, a tourist SIM with 17GB with main provider Dhiraagu should cost around £22. Coverage is pretty much universal across the islands, so there's no limit on how many envy-inducing snaps you can plaster across social media.
Have a comment or question about this article? You can contact us on Twitter or Facebook.