Marrakech for less: 10 ways to keep it cheap in the 'Red City'
December 4, 2018
By Heidi Fuller-love
From super cheap snacking in Jemaa el-Fnaa square, to great value social restaurants and the city's new bike share scheme, an insider's guide to getting more bang for your buck.

1. Travel out of season
Marrakech is a bargain at any time of the year but if you want the pick of places to stay on a budget it's better to travel between October and February when you can expect warm days, blue skies and fewer tourists.


2. Shop out of centre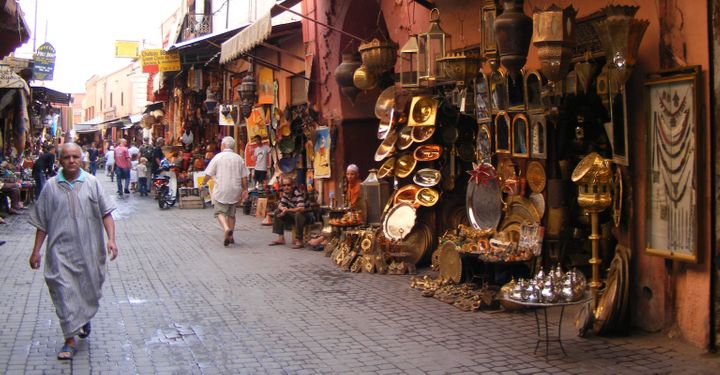 Souks are a super option when it comes to getting bargains, but for best-value buys it's better to head away from the main squares where vendors apply 'tourist prices'.
Try shopping near Ben Youssef Madrasa or around Rahba Kedima Square for your silks, leather, silver and spices – you could save as much as fifty per cent on tourist prices, but you will need to haggle.
Don't fancy braving the souks on your own? Join a free shopping tour with Freetour.
3. Cue those cut price attractions
With entry to most sites only costing a handful of dirhams, sightseeing in Marrakech can be done for a song.
Entry to the sumptuously tiled Bahia Palace, the impressive ruins of 16th century El Badi Palace and the striking Saadian tombs will only cost you £1-2.
Admission to the exciting new museum dedicated to Yves Saint Laurent is slightly more expensive, but still pretty good value because for your £9 fee also gives access to the fish-filled ponds and exotic plant-strewn alleys of Majorelle garden.
4. Head out on foot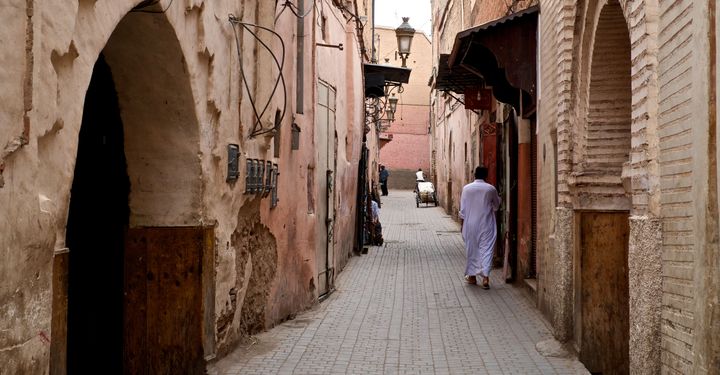 Flat and fairly compact, Marrakech is a surprisingly stroll-friendly city, if you watch out for rickshaws and donkey carts.
Slip on sturdy footwear and get lost in the labyrinth of lanes lined with traditional houses in the old Medina; wander over to the modern Gueliz area to browse the work of local artists in a string of art galleries or join a free tour with local company Guru Walk.
5. Picnic in a garden
If you're seeking a no cost spot to escape the heat and dust you can't do better than one of the Red City's glorious green spaces. Pick up a cheap snack of flaky pastry chicken b'stilla or stuffed pancake m'smen and picnic in the glorious 12th century Menara botanical gardens whose mirrored lake reflects the majestic Atlas Mountains, or in the Unesco Heritage-listed Agdal (route des ramparts) with its groves of lemon, fig and pomegranate trees.
Alternatively, hop on one of the buses heading to Anima Garden, said to be one of the most beautiful and imaginative gardens in the world. Entry costs £10, but the shuttle to get there is free.
6. Pick up a bike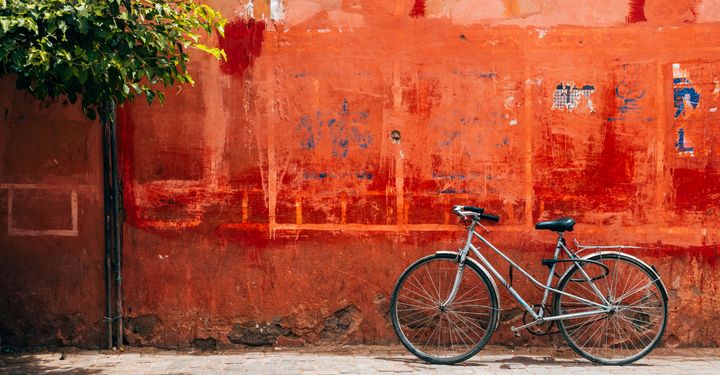 Transport in Marrakech tends to be cheap, especially if you take a petite taxi (make sure the meter is turned on). For best value, however, you can't beat Africa's first bike sharing scheme Medina Bike.
Just pick up a bike at one of the stations dotted across town, ride to your destination then drop the bike off at a station nearby. A three hour pass costs less than £1 and it will allow you to visit the city's main sights.
7. Hang out in a hammam
There are plenty of expensive spas in town, but if you want to save money join locals as they head for one of the city's neighbourhood hammams where you can enjoy an authentic Moroccan massage and steam bath for a fraction of the price charged in a spa.
It costs about £1 to enter, and another £3-5 for a full body scrub. To keep prices really low visit a local store to buy your own kessa scrubbing glove and bar of black sabon beldi soap, then make your way to Hammam Dar el-Bacha (20، Rue Lalla Fatima Zahra), or Hammam Essalama (Avenue Prince Moulay Abdellah) and enjoy your cut price treatment.
8. Eat like a local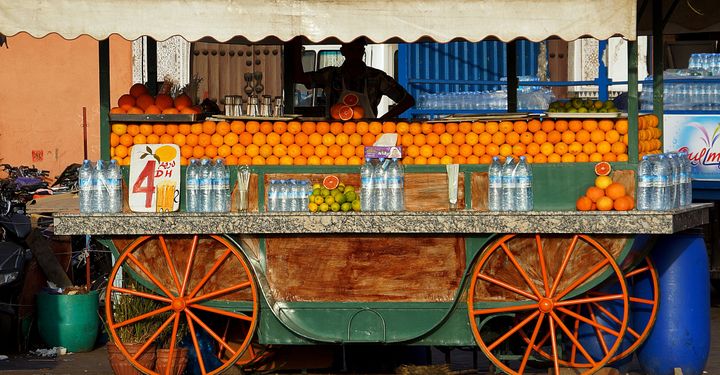 Home of snake charmers, palm readers and henna artists, Jemaa el-Fnaa square is also the place to find some of the cheapest street eats in town. Start with a fresh orange juice for less than 50p, then treat yourself to a hearty vegetable- or meat- stew tagine for two cooked in clay pots (£4), or a baguette stuffed with minced beef, sardines or vegetables (£1-2).
If you fancy a sit down meal there are plenty of budget restaurants serving good value local food, including La Table de Marrakech (rue Bahia Bab Mellah, menus from £5) and Corner Café (18 bis Kenaria Dabachi, dishes from 50p).
For best socially conscious dining on a budget make a beeline for Amal (menus from £3) in Gueliz, where you can enjoy delicious local food for pennies, whilst giving a helping hand to the disadvantaged women who train in cooking and waitressing here.
9. Stay in budget style
Choosing to stay near the city centre will help reduce transport costs and you'll find plenty of cheap-as-chips hostels, sometimes with breakfast included. Hostels that come highly recommended include The Backpackers Grapevine a two minute stroll from Jemaa el-Fnaa where prices in a mixed dorm with breakfast included start at £3.70, and party-loving Kaktus hostel which has it own bar, and where beds in a a mixed dorm start at £3.
Marrakech is also famed for its traditional riad hotels and although they're more expensive than hostels they can be pretty good value, too. Pick of the crop here is the centrally situated Riad Tizwa (double rooms from £45, breakfast included). Another great value find is Riad Shukran, which even has a courtyard plunge pool (double rooms with breakfast included from £35).
10. Avoid the scams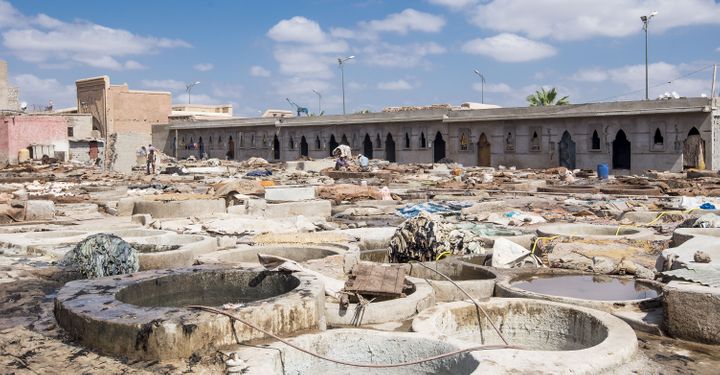 Marrakech is a pretty safe place, but do remember that most services have a price tag. A favourite scam is offering to take you to see the Berber tanneries (be warned: it's a very long walk) and then insisting on a huge fee.
If you really want to visit this strong smelling site make sure to negotiate a price with your 'guide' first. Useful tip: if you take photos they will ask for extra payment.

Have a comment or question about this article? You can contact us on Twitter or Facebook.