Two days in Naples: Pizza, passion and plenty more besides…

With its perfect pizzas, passionate people and thousands of battered, beeping scooters, Naples is a delightfully chaotic place. The port city hugs the curve of the Bay of Naples, where elegant boulevards and hectic, twisting alleys sprawl under the ominous shadow of Mount Vesuvius.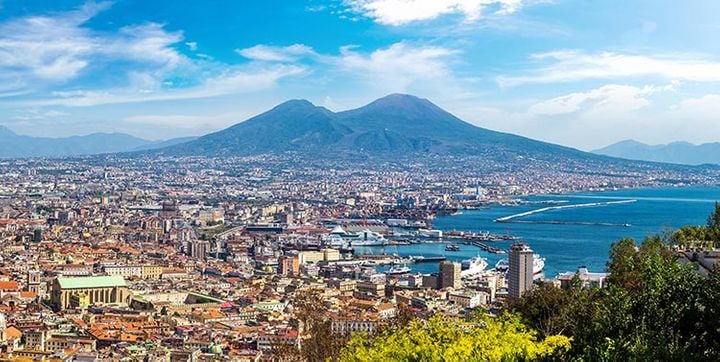 Italy's third-largest city was a popular stop on the Grand Tours undertaken by upper-class young chaps in times past, but today it's noticeably less touristy than the high-culture Renaissance cities of the north – and certainly less demure. It's refreshingly gritty and considerably easier on the wallet: you'll get change from a fiver for a round of drinks or a tasty street-food lunch for two.
With a world-famous coastline and remarkable archaeological sites on the doorstep, it's impossible to cram everything on offer in and around Naples into two days, but if that's all the time you have then we've squeezed the best bits into this 48-hour guide.
Day One
Morning
Naples can be overwhelming in both size and intensity, so begin by getting your bearings. The main drag, Spaccanapoli, means 'split Naples', and this dead-straight, narrow street literally splits the centro storico (the historical centre) in two. From here, the Spanish Quarter lies to the west and the train station to the east.
Near the station, Attanasio Sfogliatelle has a cult following among Neapolitans and savvy tourists for its sfogliatella: clam-shaped pastries filled with ricotta and cinnamon, served warm from the oven. Take one to go, and head westwards along the bustling Spaccanapoli, devouring breakfast en route. Stop for an espresso at SpazioNea, a hybrid cafe, art gallery and event space popular with art students and just a stone's throw from the archaeology museum.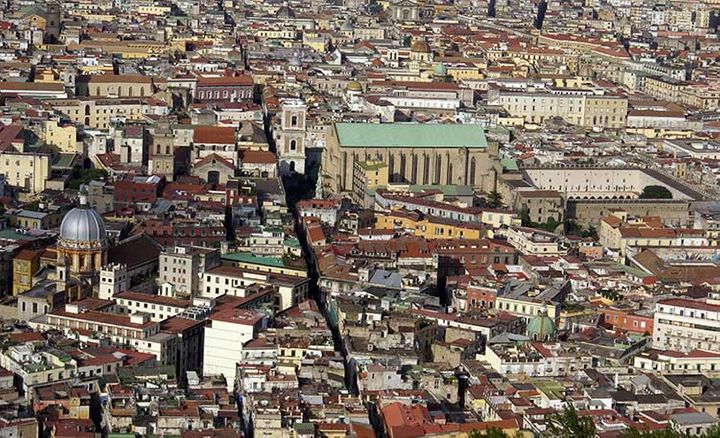 If you have more than the two days outlined in this guide, Pompeii (around 40 minutes from Stazione Garibaldi beneath Napoli Centrale) is obviously well worth a visit; if not, you can find a gigantic replica of the city at the Museo Archeologico Nazionale (€12 admission), one of the best museums of its kind in the world. There are hundreds of relics from the lost city on display, including coins, medical instruments and mosaics that were buried in the eruption of AD79.
Grown-ups may venture into the Gabinetto Segreto, or 'secret cabinet', which is home to the more risqué paintings and erotic objects recovered from Pompeii. The room has been under lock and key since the 19th century, when access was restricted to respectable gentlemen of high social standing. The infamy only made the collection more famous, and it became a sort of rite of passage for European travellers on their Grand Tours.
Afternoon:
It's lunchtime, so head to Via dei Tribunali to experience one of the city's best pizzerias: Sorbilla. It's a hectic place and you'll almost definitely have to queue for a table, but it's well worth it – the Marinara (tomato, oil, garlic, oregano, basil) is just €3.
Nearby, the church of Il Pio Monte della Misericordia is home to Caravaggio's spine-tingling masterpiece 'The Seven Works of Mercy'. He completed the work while on the run from a murder charge in Rome, and it hangs at the altar. Get the best view of the painting from the upstairs rooms overlooking the chapel. On the other side of Via dei Tribunali is the Duomo cathedral, where glass vials containing the blood of San Gennaro, the city's patron saint, are locked behind the altar.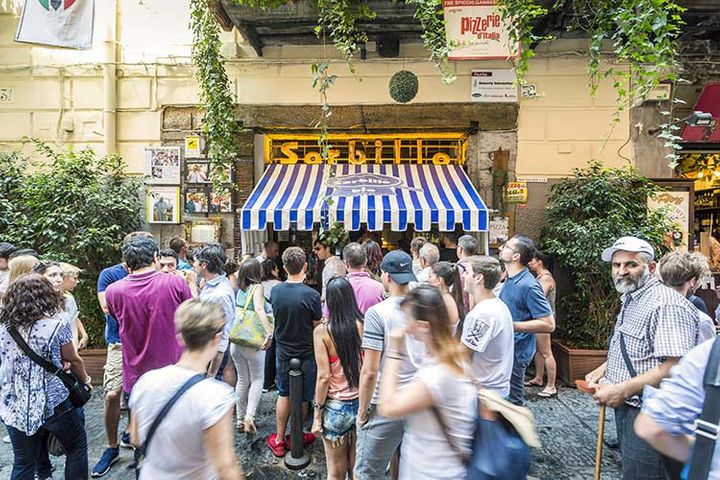 Evening:
Start the evening at Caffè dell'Epoca (also known as Peppe Spritz) for a pre-dinner tipple. The ubiquitous orange cocktail (aperol or campari, prosecco and soda water) is more typical to northern Italy, but in Naples, Peppe is the king of the spritz. At just €2 a pop, the ridiculously low prices attract a young, creative crowd.
For dinner, head to Ristorante Bellini for tasty and keenly-priced Neapolitan fare (two courses with wine is around €20 per person). It's an old fashioned place with excellent fish and pasta dishes. Those in-the-know come here especially for the linguine al cartoccio: a generous bundle of seafood and pasta wrapped in paper and cooked in the oven.
The hotel scene in Naples lags annoyingly behind its counterparts of Florence, Rome and Milan, but there are some charming B&Bs and well-located independent hotels that represent good value for money. B&B del Corso (double rooms from €49 incl. breakfast) is one of the more affordable options, and is conveniently located near the station. Near the waterfront and with lovely views over the bay, the four-star Hotel Royal Continental (double rooms from €109 incl. breakfast) has a rooftop pool.
If you can afford to spend a little more, Costantinopoli 104 (double rooms from €220 including breakfast) is a charming small hotel with peaceful gardens and a pool, where it's easy to forget you're right in the middle of town.
Day Two
Morning:
Start the day at Gran Caffè Gambrinus on Piazza del Plebiscito, which has to be one of the most beautiful squares in Italy. Over the centuries, the marble-clad coffeehouse has been a popular meeting spot for intellectuals and artists, and the likes of Oscar Wilde have thrown back an espresso here. Be sure to bag a table outside as it's an excellent spot for people-watching.
Minutes from here is Italy's largest and oldest opera house, Teatro San Carlo. While tickets will set you back around €100, it's possible to book a guided tour of the theatre for just €7, which may well include a glimpse of rehearsals and backstage bustle.
Afternoon:
Da Michele is another of Naples' legendary pizzerias – the two included in this guide usually wrestle for top spot. Again, expect to wait at least half an hour for a table as they don't accept reservations, but the eager crowd of locals should assure you that it's worth the wait. If you don't fancy pizza again, grab some street food from the counter at Pizzeria di Matteo on Via Tribunali, where pizza fritta (fried dough stuffed with cheese and ham), arancini (fried risotto balls) and crochette (fried mashed potato) are a couple of euros to take away.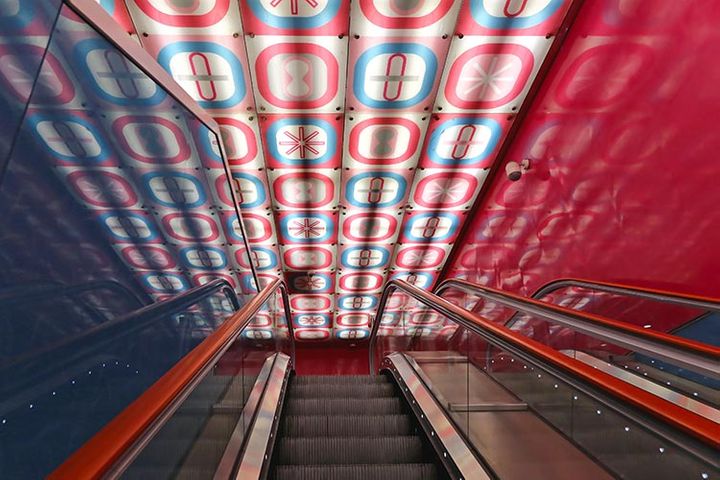 It might seem lazy to ride the metro for one stop, but you should do it anyway to see the impressive 'art stations' on line one. The ambitious public art project in the underground train system has involved both local artists and internationally-celebrated architects since the late 1980s. Hop on at Università, where designer Karim Rashid has created a psychedelic riot of colour and mirrors, and alight at Municipio, where renovations were delayed after several Roman ships were discovered on-site. A single ticket costs €1.10.
Wander down the high street drag of Via Chiaia to Fantasia Gelati, where a scoop of Naples' best ice cream is €3. Continue to Park Villa Communale to join well-heeled locals on their evening passeggiata, or pre-dinner walk, along the seafront. There are wonderful views of Mount Vesuvius, and the island of Capri in the distance.
Evening:
This evening, it's time to explore the fashionable area surrounding Castel dell'Ovo ('Egg Castle'), which is perched on a tiny island that comes to life at night with lively bars and restaurants. For a pre-dinner drink, descend the small steps to Caffè al Barcadero – this hidden gem is tucked under the bridge with tables by the water and its clinking fishing boats. It's also a cool spot for late night cocktails.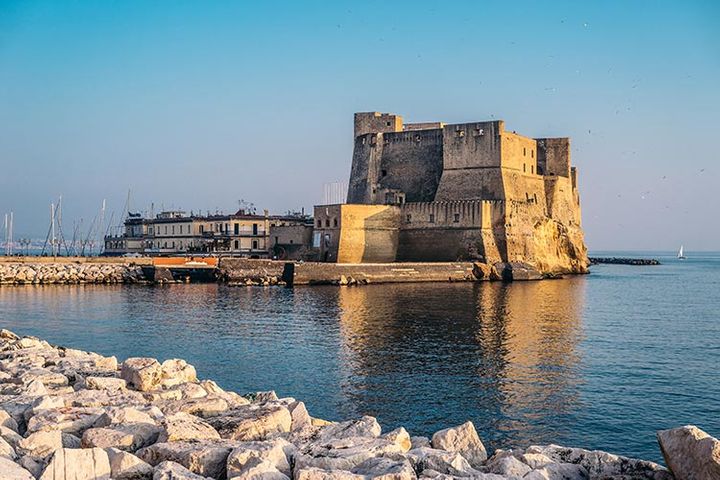 Hidden among the overpriced, touristy restaurants in the area is the no- frills Trattoria dell'Ovo (Via Luculliana, 28). Sit on the quayside and enjoy homemade pasta, fresh fish and seafood from the bay.
Dishes are around €10, and half a litre of house white wine just €3. Most of the places we've recommended here – Trattoria dell'Ovo included – don't accept card payments, so make sure you have cash on you.
Have a comment or question about this article? You can contact us on Twitter or Facebook.