April 8, 2021

If you're looking for the perfect Greek island idyll, Mykonos ticks all the boxes. There's a harbour village where dazzlingly white buildings rise like a pile of sugar cubes above a pretty blue bay; a café-lined waterfront where resident pelicans waddle from table to table in search of treats; fabulous sandy beaches; glitzy nightlife; and some of the best restaurants in the Aegean. It's tiny – no more than 16km (10 miles) across – so wherever you stay, all Mykonos's attractions are within easy reach.


Best for nightlife and parties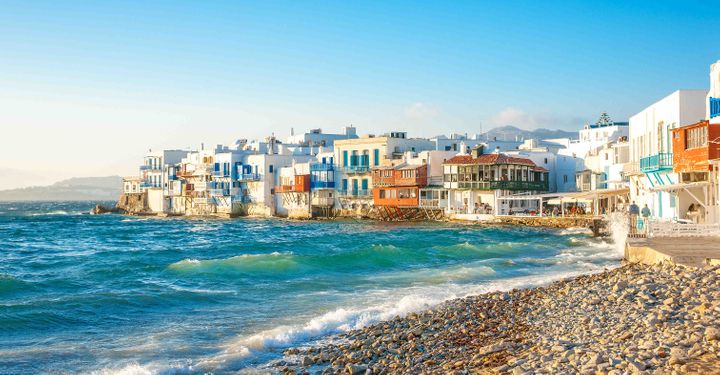 Paradise (Kalamopodi) and Super Paradise (Plindiri)
Paradise (officially called Kalamopodi, but its original name is almost forgotten) has been party central since the 1960s. Legendary Paradise Beach, its largest indoor and outdoor multi-space dance club, has room for up to 5,000 hedonists to rave and chill, with the world's top DJs providing the soundtrack throughout the summer.
Partying starts at Paradise well before sundown, with bars and clubs pumping up the volume from late afternoon and happy hour cocktails to get you in the mood. But it's not just about nightlife here: watersports on offer include banana boat rides, parasailing and water-skiing.
A little further east, Super Paradise is even more fabulous, with yet another south-facing sandy beach crammed with loungers and umbrellas, lots of watersports and a club and bar scene that rocks around the clock. For a spot of retail therapy, Chora and its shopping streets is just a 20-minute bus ride away.
Mykonos Town (Chora)
The island's capital has its own bar and nightlife scene, with nightspots that range from cheap and cheerful boozers to elegant wine bars serving fine vintages from Greece and from all over the world to the sounds of soft piano jazz or classical music. Raucous and raunchy Skandinavian bar-and-disco complex – a byword for great nights out since the 1970s where happy hour seems to last most of the evening – is the answer to the former.
The Alefkandra waterfront district (also called 'Little Venice') is a pleasant place for an evening bar-hopping, with streets lined with laidback café-bars and restaurants such as Caprice, a long-established favourite among sunset-watchers, or Babylon, one of the hubs of Chora's sophisticated gay scene. Fancy a night at the movies? Cine Manto, an open-air cinema with its own garden bar, shows the latest releases throughout the summer.


Best for couples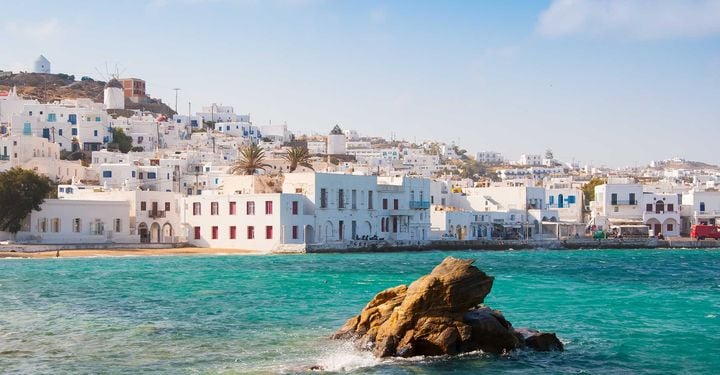 Mykonos Town (Chora)
Couples are spoilt for choice in Mykonos's ridiculously pretty island capital. It's full of chic boutique hotels where everything is carefully designed to kindle (or re-kindle) romance. You'll find artisan jewellery (Mykonos is renowned for its silversmiths) and surprisingly affordable linen and cotton wear in ultra-chic shops along Matogianni Street, in the heart of the village.
Of course, there are dozens of casual café-bars for breakfast a deux or sundown cocktail along the crescent waterfront and in the maze of narrow streets behind it. Looking for a candle-lit dinner for two from a world-class fusion menu, spotless white linen, fine wines from all over the world? Not a problem. Playmates who like to groove until dawn will find nightspots where the playlist spans anthems, rock classics and the latest in club sounds from around the world.
For the perfect selfie, pose in front of Chora's famous windmills. A day trip to Delos, where the ruins of ancient temples lie scattered around slopes covered with wild flowers, provides a glimpse of the island's deep history.
Ornos
For barefoot luxury, Ornos is hard to beat. This south-facing bay, about 3km (2 miles) from Chora, is where to find boutique hotels that offer perks like fluffy bathrobes, in-room massage, poolside yoga classes and more.
The resort straddles a neck of land with beaches either side – Ornos beach is sheltered and lined with loungers, umbrellas and beach bars, while Korfos, on the north side of the isthmus, is more exposed and so perfect for a spot of windsurfing when the meltemi breeze blows up (regular as clockwork) in the afternoon. Water taxis whisk you to other south coast beaches, and excursion boats shuttle you to Delos with its ancient ruins and avenue of marble lion statues, some 2,600 years old.


Best for activities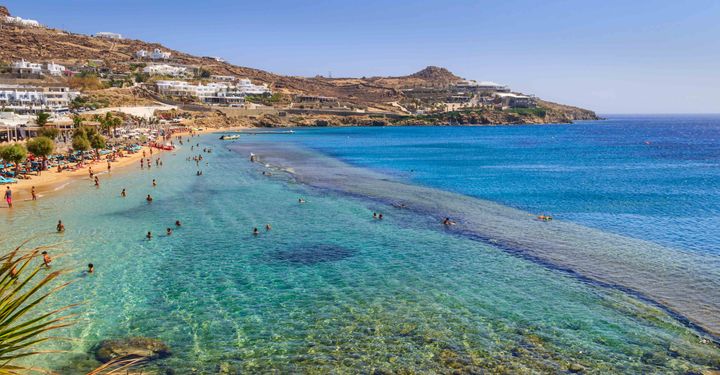 Panormos
Oh-so-cool Chora and the south coast party scene hog the Mykonos limelight, but if you're looking to be blown away by Aegean breezes, head north.
Panormos Bay takes a deep bite out of the island's north coast, and its bright blue waters offer sheltered waters where beginners can learn the basics of windsurfing, bouncier waters where experts can catch some air, and some of the biggest waves in Greece offshore from Ftelia, at the foot of the bay.
You'll find plenty of places renting all the kit you need here, and at beaches such as Kalafatis. Chora is just a 15-minute drive away.
Paradise (Kalamopodi)
Paradise lives up to its reputation as Mykonos's hedonism hub, but it's also a base for underwater adventures in Aegean waters that offer superb submarine visibility. The resort has several fully certified PADI dive centres where absolute beginners can learn the basics and – by the end of their holiday – dive over reefs and shipwrecks.
Not far offshore lie wrecks like the Anna II, which went down in 1995, and Peloponisos, which sank in 1926. Both have become havens for a rich menagerie of sea creatures.


Best for families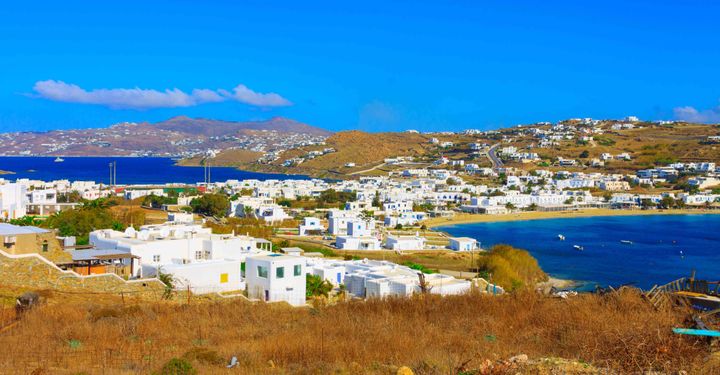 Platis Gialos
On a south-facing bay just a couple of miles south of Chora, Platis Gialos is one of Mykonos's biggest resorts, with an array of hotels scattered along a wide sandy bay. It's sheltered, and the water is shallow, so it's quite tot-friendly, while many hotels also have kids' pools as well as full-sized pools.
For families with restless teens, there's a wide choice of watersports, from water-skiing to canoes, paddleboards and banana boats. There are plenty of restaurants serving familiar favourites that won't challenge picky young eaters, and local mini-markets provide soft drinks, snacks, and necessities like nappies and sunscreen.
For days out, there are water taxis to nearby beaches and buses to Chora, where kids can pose for selfies with the pelican family who patrol the harbourside.
Agios Ioannis
It's not always easy for families to find peace and quiet on the Aegean's liveliest party island. However, Agios Ioannis, with its soft yellow sand, avoids the full-on party frenzy. Comfort zones for families include hotels with kids' pools, toddler clubs and services like child-minding and baby-sitting, so mums and dads can even enjoy a night out without the kids in Chora.
For a real family time-trip, hop on a boat to Delos, where young Doctor Who fans can discover ancient ruins and get a taste of the ancient Greek world. Back in Chora, the Folk Museum, housed in one of the island's iconic windmills, reveals what life was like on Mykonos before tourism – a real eye-opener for 21st-century kids.


Have a comment or question about this article? You can contact us on Twitter or Facebook.