10 Things to do in Cancun

It's Mexico's favourite party town, packed with all-inclusive resorts that many visitors never feel the need to leave, writes Anthea Gerrie.
But those who confine themselves to their compounds are missing out; Cancun is on the doorstep of spectacular Mayan ruins, a world-class diving reef and freestanding pleasure palaces worth shelling out the price of a drink for to enjoy the fabulous setting.
Mexico has made it easy for tourists to get from Cancun to its neighbouring islands and archaeological sites, and there's plenty to do in town too. Here we look at the 10 experiences most worth leaving your sun-lounger for.
Discover Cancun's own Mundo Maya
Even without their fabulous pyramids, the Mayans would be worth celebrating just for discovering chocolate and bringing it to the world. The Maya Museum tells the story of this ancient people and includes an exhibition of 350 tribal artefacts.
You don't even need to leave the resort area to get a waft of Mayan culture; the El Rey site, an easy stroll from the Hilton Club, has been woven into the fabric of the Sheraton Cancun resort, and there's even a temple buried in the greens of the Pok ta Pok golf course.
Swim with the fishes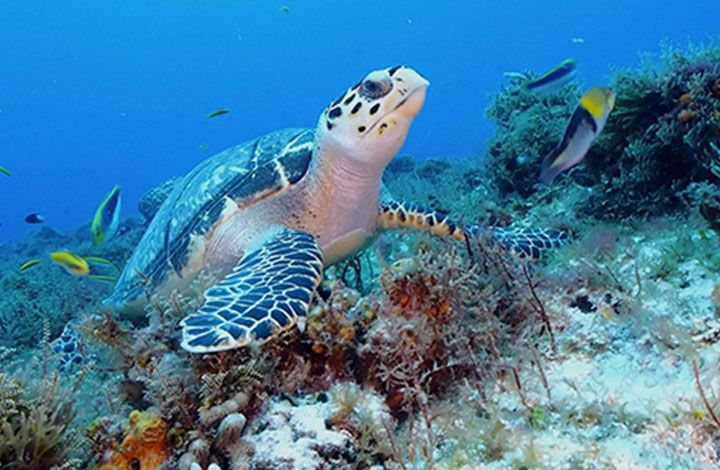 Cancun's interactive aquarium offers the chance to get up close and personal with all manner of fishy creatures instead of just staring at them through the glass. You can handle stingrays, turtles and sea cucumbers and admire trickier species like jellyfish, barracuda and tiger sharks from a safe distance, while the aquarium also offers tailored programmes for those with special needs.
The aquarium is also one of several places in the resort where you can swim with dolphins; others include Delphinus World at Dreams Cancun, which offers a true one-to-one experience – one guest, one trainer and one dolphin partnered up for an hour – and Dolphinaris, where it's possible for those with the stamina to shadow a dolphin trainer for a full eight-hour day. Both attractions offer a full range of dolphin encounter programmes.
Boogie till dawn
You haven't done Cancun until you've slammed some shots at CoCoBongo, which has done more than any other venue to give the town its nickname of Vegas-on-Sea.
Part theatre, part circus, this raucous club puts on dazzling shows incorporating acrobatics as well as choreography, but also fields a dance floor where disco divas gyrate till dawn, sprinkled intermittently with everything from bubbles to confetti.
Enjoy steak with a staggering seaside view
It may be Argentinian in concept, but Puerto Madero consistently tops the list when it comes to eating out in Cancun.
That's not down just to the beef, but also gorgeous surroundings, with outdoor tables skirting the lagoon and an interior sparkling with candlelight and crystal.
Discover a calm and clean beach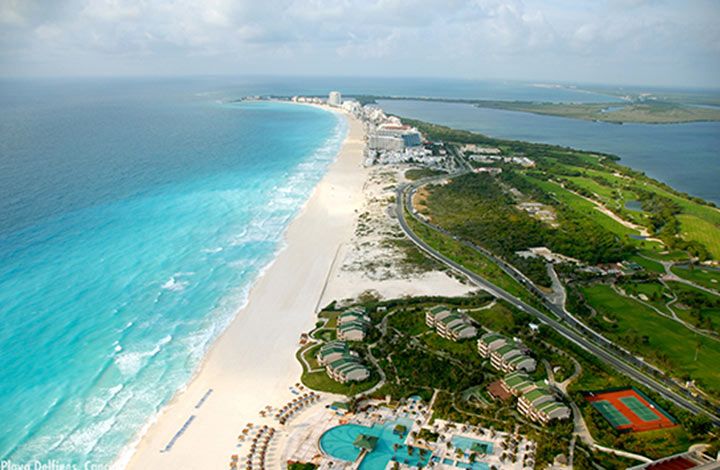 Many visitors prefer calm and delightful Playa Tortuga to the private beaches at their hotels, which are often situated along a 14-mile stretch where waves can get very choppy. Tortuga, meanwhile, has long been a favourite with locals due to its clean sand and calm water.
A profusion of alfresco restaurants also makes this a good choice for casual dining on a balmy evening, as well as swimming or floating by day.
Visit delightful Isla Mujeres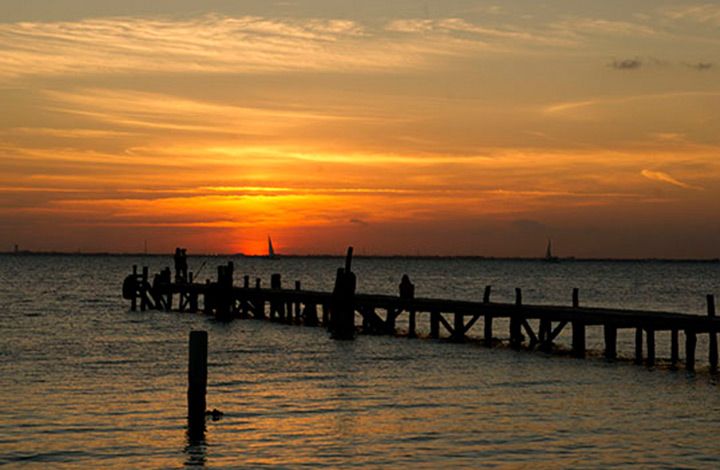 A well-kept secret in the hippy era, this delightful island is now easily accessed from Cancun by an easy ferry ride from the hotel zone, and offers snorkelling off the Great Mesoamerican Reef at El Garrafon National Park. Many visitors travel there just to swim with the dolphins at the Dolphin Discovery attraction, or join guided whale shark swims in wilder waters.
The island, a lush tropical jungle, also has its own Mayan ruins and impressive natural rock formations at Punta Sur on the southern tip. But for those without families to entertain, it's also a place to just hang out, enjoying the authentic fishing village atmosphere and witnessing amazing sunsets.
Head to the reef from Playa del Carmen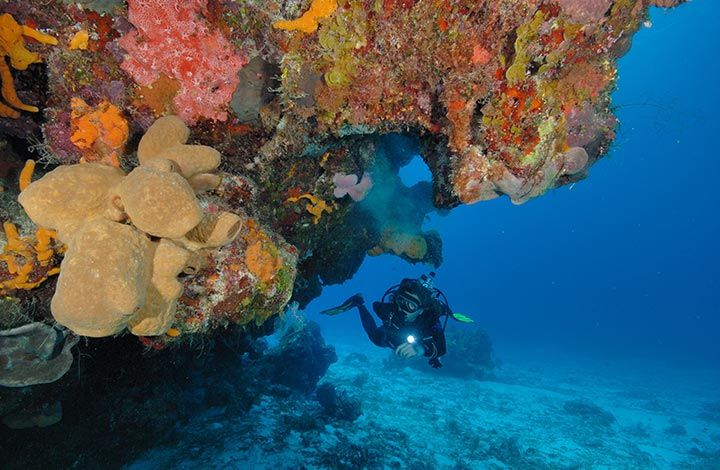 Ever-expanding but still far less built up than Cancun, Playa del Carmen is reminiscent of a European beach resort, not least because of the plethora of Italian restaurants and funky boutiques.
As well as offering a great night out in its own right, the resort is also the jumping-off point for ferries to Cozumel, a sophisticated island with an eponymous coral reef where snorkelling and glass-bottomed boats are on offer, a cultural centre and the San Gervasio archaeological site, as well as some lively nightlife.
Enjoy culture and thrills at Xcaret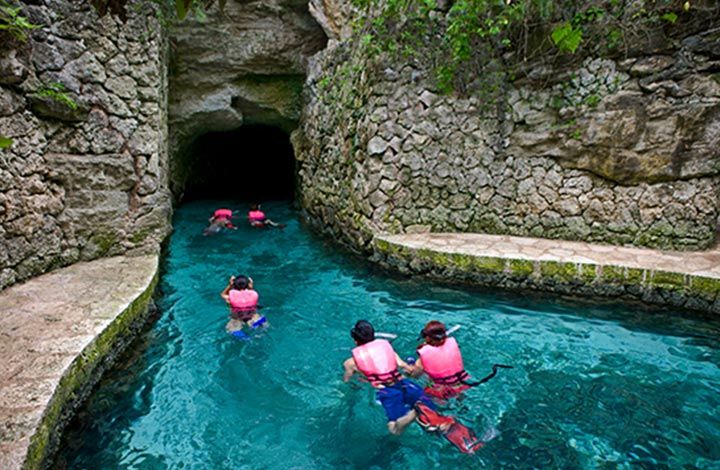 Is it a nature reserve, a museum or a Mayan theme park? Xcaret actually manages to be all three, offering a wealth of activities for all the family. There are rides on an underground river – life-jackets provided – but those who are crowd-averse may prefer to relax on Xcaret's own stretch of Caribbean beach. There are also exhibits devoted to Mayan culture and a highly-rated evening show.
Getting to Xcaret is easiest by cab from nearby Playa del Carmen – or hire a car for a day from Cancun
Tour the lost city of Tulum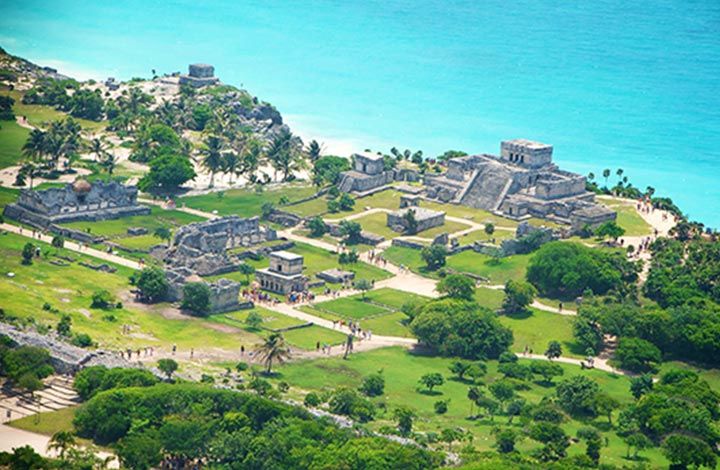 The most stunningly-situated lost city in all Mexico, Tulum sits on the Caribbean coast 80 miles from Cancun, about an hour south of Playa del Carmen. Relics of the 13th century seaport include limestone pillars, temples, castles and other stony outcrops where mediaeval fishermen and traders once lived, played ball and worshipped the rain gods.
After visiting the ruins, scramble down to the beach and enjoy the fabulous photo opportunities from below. Bring a bathing suit, hat and sunblock to make the most of the opportunity for a dip in the Caribbean before leaving the ancient site.
Colectivos – shared taxis – are an inexpensive way of getting between Cancun, Tulum and Playa del Carmen, but there are also many organised tours of the Tulum ruins. The even more famous ruins at further-flung Chichen Itza are also bookable from Cancun.
Explore Sian Ka'an
This beautiful "biosphere", a 5,000 square-kilometre natural paradise of jungle, mangroves and marshland designated a World Heritage Site, offers experiences from kayaking down primeval waterways to speeding across a broad lagoon or picnicking on its tranquil shores.
Although there are organised tours available to Sian Ka'an, it would be worth renting a car so you can linger at your leisure to enjoy all it has to offer. It's easy to combine with a trip to Tulum, allowing the chance to stroll the beach below the ruins at leisure after taking in the ancient stones.
For more information visit visitmexico.com/en/cancun and cancun.travel
Have a comment or question about this article? You can contact us on Twitter or Facebook.