Hello hydration! Where to find free water refill stations at the airport

November 15, 2019
Not only is the post-security water run bad for your wallet, all that plastic is hardly doing wonders for the environment. Luckily, more aviation hubs are installing free water fountains and instructing their restaurants and bars to refill passengers' water bottles free of charge.
Here's where to get your water fix at 13 of the UK's biggest airports.

Where to find free water refill stations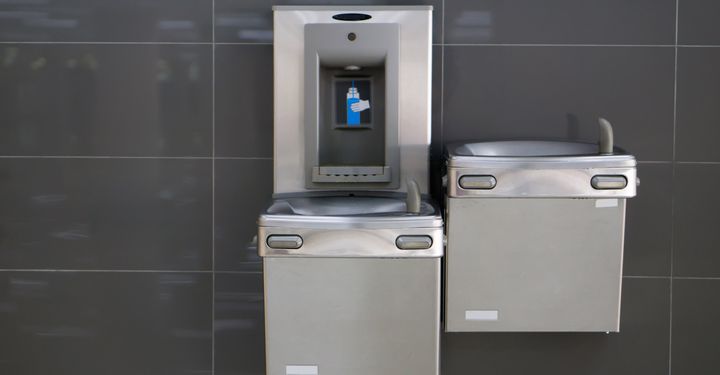 London Heathrow
Wondering where to find free water fountains in Heathrow? You won't have to go far – there are a whopping 107 water fountains spread across the five terminals.
There are also multiple drainage points before all of the security checkpoints, allowing passengers to empty bottles without having to gulp a gallon of water in a pre-security check panic.
London Gatwick
Although Gatwick won't confirm the number or location of their water fountains, there are several beyond the security checkpoints (in both terminals).
If you can't find them, all food and drink outlets will refill water bottles, too.
London Luton
A poor show from Luton airport - it has just one water fountain, which you can find after security, next to the elevators.
On the plus side, both the airside and landside branches of Pret a Manger have self-service taps, and all food and drink outlets will provide drinking water free of charge.

London Stansted
There are eight water fountains located throughout Stansted airport, including in the international departure lounge, the passport control area and the baggage reclaim area.
For water without the walk, your nearest food and drink outlets will provide passengers with the stuff for free.
You can also check the exact location of the airport's water fountains using this handy map.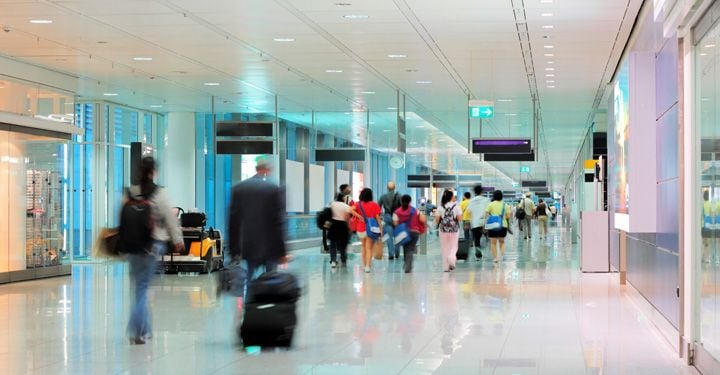 London City
Surprisingly, London City airport hasn't got a single water fountain.
However, several food and drink outlets – including Café Nero and Brick Lane Brews – provide jugs of water so that passengers can help themselvess.
Should they fail, all other outlets also provide free drinking water.
Manchester
For those leaving from Manchester airport, you'll have six fountains at your disposal – two in each of its three terminals.
Locations include just after the security area in T1, and T3's baggage reclaim hall.
Birmingham
Birmingham boasts a number of water fountains throughout the terminal.
If you need to quench your thirst before the rigmarole of security, you'll find a fountain at the OCS Special Assistance Area. Once you're through, there are two in the main departures lounge; one near Bottega Prosecco Bar & Cafe and the other by No1 Lounge.

Glasgow
Going from Glasgow airport? You'll find a water fountain (marked 'Bottle Refill') just after duty-free, next to the Travelex store.
Your fellow travellers have also confirmed that food and drink outlets - notably Starbucks - will fill your bottle for free.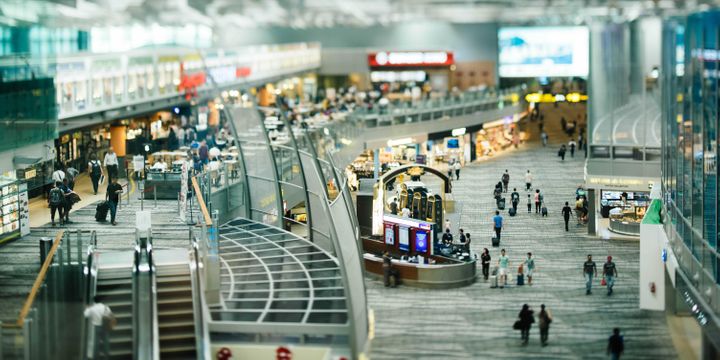 Edinburgh
You'll find Edinburgh's two water fountains just after the World Duty Free store. All food and drink outlets will happily fill water bottles or provide free water.
Bristol
Bristol gets a gold star for having no fewer than six water fountains dotted around the airside and landside areas. All food and drink outlets will provide free drinking water and top up water bottles on request.
It's also worth noting that Bristol is going above and beyond when it comes to other water-related issues, too – their new car rental centre, which opens in December 2019, will have rainwater harvesting tanks.
Belfast International Airport
Tut tut, Belfast! Northern Ireland's main airport doesn't have any free water fountains, which means passengers' only option is to take containers to the airport's bars or restaurants for free water refills.
However, there are plans to install water fountains by the end of the 2019.
Liverpool
Liverpool airport is another one which won't be drawn on the number or location of their water fountains, but point out that there are several throughout the airport, and that restaurant staff will happily refill water bottles.
Cardiff
There are three water fountains at Cardiff airport, including one in the arrival area's baggage hall and one in the departure lounge. All of the airport's food and drink outlets will refill water bottles on request.

5 things to know about carrying water on planes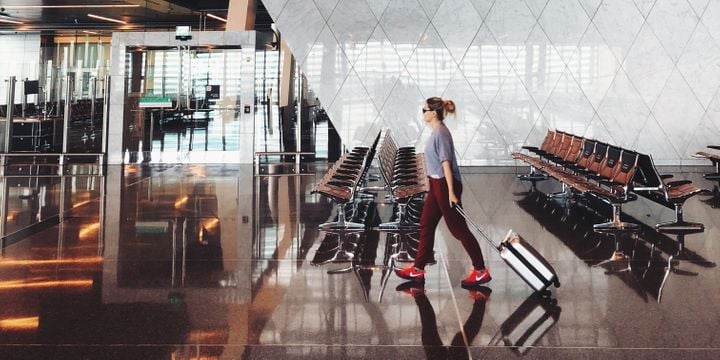 1. Is water free on a plane?
Yes, although whether you'd want to drink the non-bottled stuff is another matter.
A recent EPA (the United States' Environmental Protection Agency) study found that onboard water supplies on one in seven commercial planes in the US failed to meet federal standards. There were also several positive tests for coliform – a bacteria found in human faeces.
Similar studies have yet to be carried out here, although given the above, we'd suggest sticking with the bottled stuff, and ensuring you've refilled water bottles airside before boarding.
2. Can I bring refillable water bottles onboard a plane?
Absolutely. And staff will happily refill them too, although due to concerns about water quality, we recommend filling them up before you board.
3. Can I take water for my baby onto a plane?

In a nutshell yes, because you can take water onto a plane. However, if you're travelling with sterilised water, you won't be able to take more than 100ml through security.
4. Can I take sealed bottles of water through security?

Sadly not. It doesn't matter if the bottle is sealed or unsealed; if the bottle is over 100ml in size and contains liquid, it's not getting through.
5. Where else can I find water fountains?
Wondering where to find airport water fountains? Download this fantastic free app created by Refill, a scheme set up to promote and identify free tap water dispensing points in the UK.
It highlights the location of water fountains – not just in airports but across the UK. Find it here.
Have a comment or question about this article? You can contact us on Twitter or Facebook.