Covid-19 advice:
Where you can go on holiday | Check FCDO updates before you travel
Find out more
Luxury Once In A Lifetime Holidays For Less
Luxury for less: 11 once-in-a-lifetime holidays for all budgets

November 29, 2019
Holidays of a lifetime don't need to break the bank. Opt for a package deal (that's accommodation and air travel) and you can save serious amounts of cash.
Not convinced? Check out these fantastic deals. There's something for every type of traveller, from hard-core sun worshippers dreaming of the Maldives to retail therapy addicts keen to splash the cash at Dubai's most luxurious shopping malls.
*All deal pricing below is accurate as of November 29, 2019. Prices are subject to change. Deals are subject to the partners' T&Cs.

1. Marrakech, Morocco: La Sultana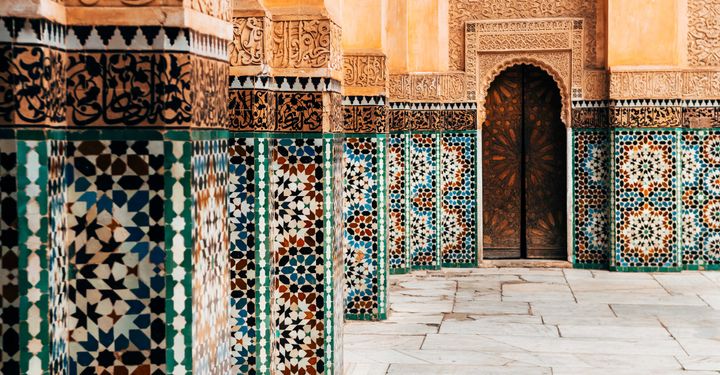 Riads, palatial private homes turned beautiful boutique-style hotels, are one Marrakech's best luxury offerings.
You'll find this particular one just outside the Medina, within walking distance of Marrakech's top attractions, including Saadien's Tombs, with its stunning Hall of Twelve Columns, and the historic the Bahia Palace, famous for its marble-clad Grand Courtyard.
When the chaos of the medina gets too much, retreat to the fragranced haven of La Sultana's sprawling spa.

2. Phuket, Thailand: The Village Coconut Island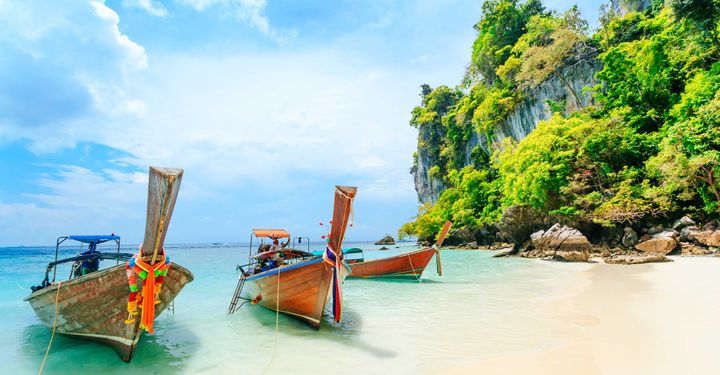 Basing yourself in Phuket means you'll have easy access to its idyllic surrounding islands as well as its famously lively nightlife.
But if you're looking for more of the former, head to The Village Coconut Island located just off the coast of Phuket on the eponymous island. It's part of the Mueang District, known for its colourful mish-mash of colonial-style houses, laidback beach and Phuket's best night markets (we recommend Chillva Market Phuket, where beautiful handicrafts are sold out of rainbow-hued shipping containers).
You won't have to go far to sample some delicious local food, either – dining options at the resort include KOKO and Kabang Restaurant, which serve up delicoius Asian fuision and traditional Thai dishes respectively. And given that there's a new James Bond film out next year, we also recommend a day trip to Phang Nga Bay, made famous thanks to its starring role inThe Man with the Golden Gun.

3. Khao Lak, Thailand: Khaolak Merlin Resort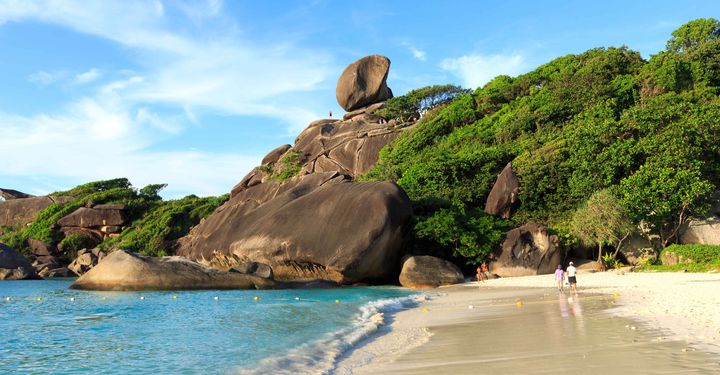 Check in to this resort to laze on Khao Lak's golden beaches and head beneath the waves of some of Thailand's best diving spots. Consider conquering the waters surrounding the Similan Islands, famous for their bright turquoise waters and fantastic range of marine life, on a one-day dive trip
Prefer to stay dry? Community-based tour groups such as Andaman Discoveries organise everything from traditional village visits to treks through the Khao Sok National Park rainforest.

4. Dubai, UAE: Rixos The Palm Hotel & Suites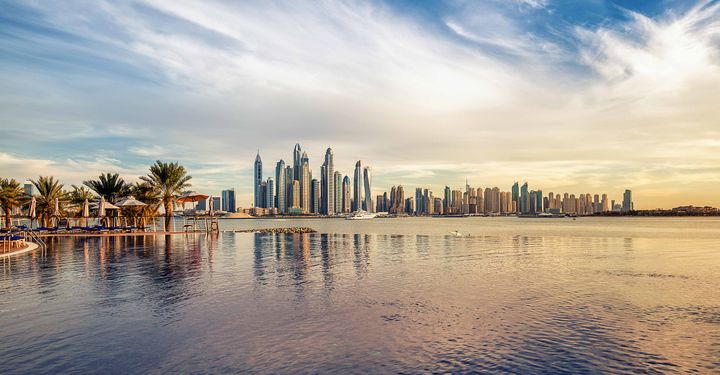 The Palm – instantly recognisable, thanks to its manmade, supersize fronds - is where you'll find some of Dubai's best hotels, shopping malls and restaurants (including Nobu and 101 Dining Lounge).
The beautiful Rixos The Palm hotel was one of the first to open, and its views are hard to beat; think sparkling skylines, the Arabian gulf or the breath-taking architecture of the Palm itself.
The hotel also regarded as one of Dubai's best all-inclusive properties. Opt for an all-inclusive deal and you'll enjoy complimentary food and drink at any of the hotel's 11 bars and restaurants, as well as access to the waters ports centre and Turkish spa.

5. The Bahamas: Meliá Nassau Beach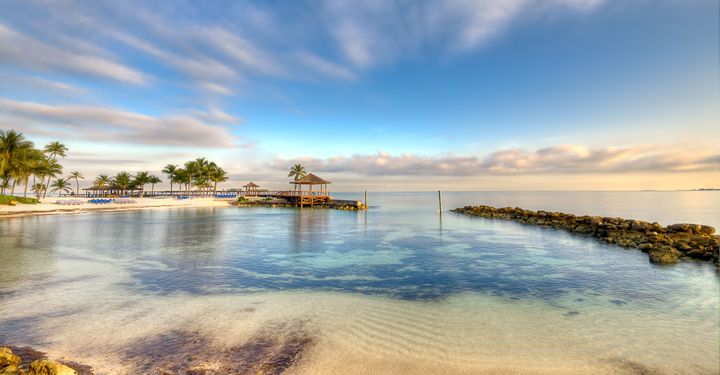 Base yourself at this beautiful hotel in the Bahamas' rum-soaked capital and you'll enjoy easy access to some of the region's most stunning beaches along with its best bars and restaurants, including the colourful jerk food stalls clustered around Arawak Cay.
Other nearby highlights include Graycliff Cigar Co, with its beautiful mosaic floors and army of lightning-fast cigar rollers, and the National Art Gallery of the Bahamas, inside the beautiful 1860s-era Villa Doyle.

6. The Maldives: Adaaran Select Meedhupparu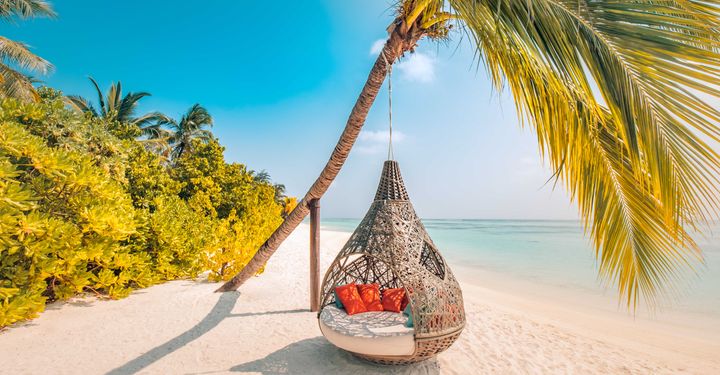 You'll find the Adaaran Select Meedhupparu on the gorgeous Raa Atoll, a 45-minute sea plane journey from Malé, the Maldives' capital.
It's one of the best diving spots in the Maldives, thanks to the huge coral reef metres from the beach, easily accessible to both snorkellers and scuba divers.
Beginners keen to venture beneath the waves can sign up for lessons at the on-site PADI dive school, and there's an enormous spa for those seeking something a little less strenuous.

7. Barbados: Savannah Beach Hotel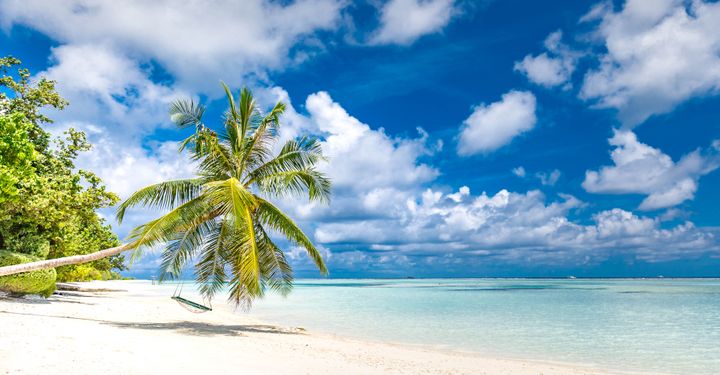 You can't beat Barbados for a sun-soaked beach break – not least because every single beach on the island is public, which means plenty of space to spread out your sun towel.
The Savannah Beach Hotel is on the largely untouched south coast, and it's incredibly family-friendly – there's a tech-filled Teen's Hangout Den and a Kids' Club for toddlers.

8. Grenada: Radisson Grenada Beach Resort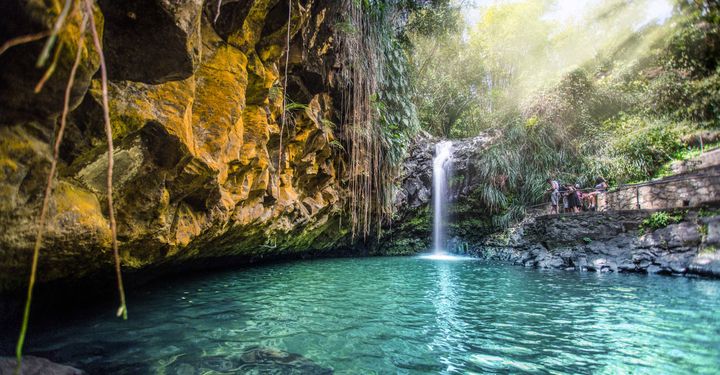 One of the lesser-known Caribbean islands, Grenada (otherwise known as the Spice Island due to its huge nutmeg plantations) is an Isle of Wight-sized chunk of paradise with a lush, forested interior and a rich history.
Our favourite activities include hikes through the wildlife-filled Grand Etang National Park and sunbathing sessions on Grand Anse beach, which, rather handily, is just a few metres from this particular hotel.

9. Bali, Indonesia: Grand Mirage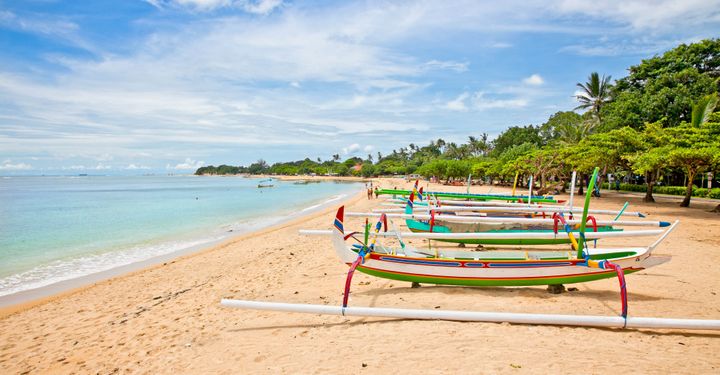 This hotel is up there with the best in Nusa Dua, one of the most popular areas of Bali. Despite its proximity to the airport – it's just a 25-minute drive away – you'll enjoy easy access to some of Bali's best beaches as well as gorgeous ocean views.
And although it's close to some of the island's liveliest areas, it retains a sense of tranquillity which you'll struggle to find elsewhere in Bali. If you do fancy a night on the town, Kuta, with its bars, nightclubs and beach parties, is just 30 minutes' away.
Our top tip? Take the time to cycle or walk about the beachfront boardwalk, before checking out one of the local markets.

10. Cancun, Mexico: Excellence Playa Mujeres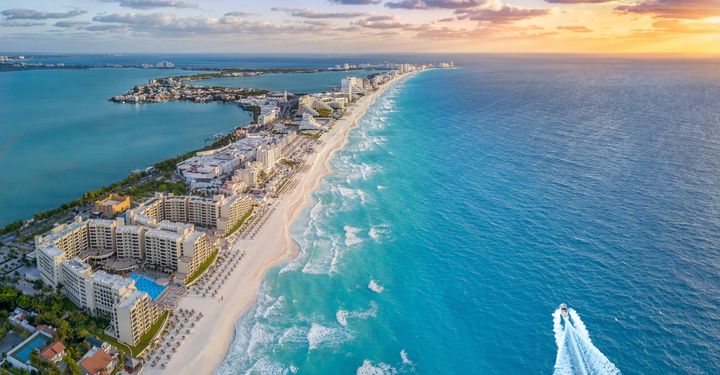 For the ultimate beach getaway, consider seven nights in Cancun, Mexico – more specifically the breathtakingly beautiful Playa Mujeres area. That's exactly where you'll find this five-star hotel.
The two-mile stretch of sand is considered one of Mexico's best beaches, while the property is also famous for its Miilé Spa (we recommend the luxurious marine salt glow exfoliation) and its restaurants – there are ten to choose from, including ones which specialise in Spanish, Italian and Asian cuisine.

11. Mauritius: LUX* Grand Gaube
A palm-fringed paradise in the Indian Ocean, Mauritius has it all: mountains for those keen to offset the inevitable indulgences (the island's rich heritage means you'll find cuisine from all corners of the world here), the gorgeous beaches and some of the world's most stylish hotels.
The LUX* Grand Gaube is a case in point. Interior designer Kelly Hoppen is responsible for its design – an achingly cool combination of retro chic and luxurious sophistication. Other perks include direct access to two beaches which are perfect for both sunbathing and snorkelling (thanks to the shallow, clear water) and the packed calendar of activities. It's also incredibly popular with sporty types – facilities include a tennis academy and water sports centre.

Have a comment or question about this article? You can contact us on Twitter or Facebook.
Sign up. Be inspired. Travel.
Subscribe now for hand-picked holiday deals, inspiration and the latest travel tips, straight to your inbox.