July 31, 2019
You can tell a lot about a city by the price of its beer; generally, it's a good mark of how cheap it is. And the lower the better we say.
So, we looked at our most popular city breaks, to work out which is the cheapest place for a pint – and where to find the best beers. Cheers!

1. Prague, Czech Republic
Average price of a pint in Prague: £1.36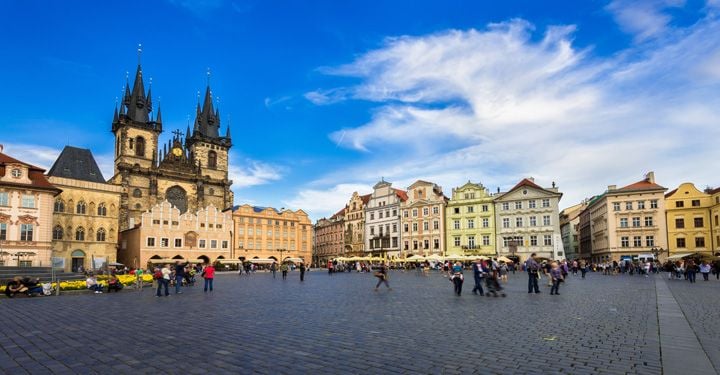 Prague is often touted as a budget traveller's dream city break destination, offering the perfect blend of culture, history and cheap nights out. And if beer is your tipple, you'll have plenty of local brews to try.
Pilsner Urquell and Krusovice are the famous pivo (that's beer in Czech) picks, but the craft beer craze is really starting to make its mark on a city famed for its ale. Try Matuska or head U Fleků when you want to 'splurge'. Beers here hover around the 69 Kč or £2.41 mark.
For cheaper classics, hit up the Letna Beer Garden in the summer and Propaganda Bar in the evenings.
How to order a couple of beers in Czech: "dvě piva prosím."

2. Budapest, Hungary
Average price of a pint in Budapest: £1.42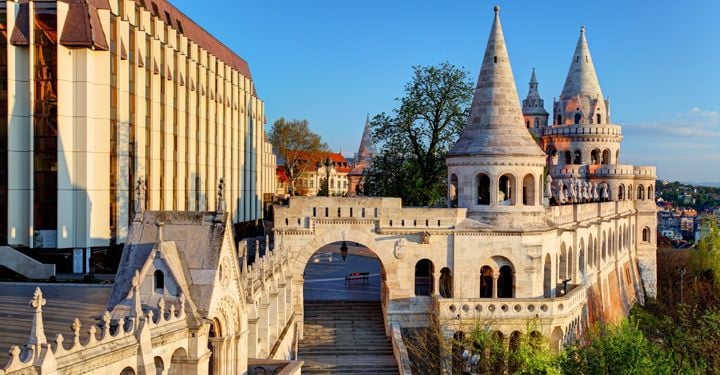 If you visit just one watering hole on your Budapest city break, make it a 'ruin pub' in the seventh district. They've mostly set up shop in the abandoned areas behind the Great Synagogue and with an eclectic mish-mash of dated décor, certainly live up to their name. Try favourites Szimpla Kert, Rácskert and Most for cheap pints and friendly vibes.
As for which beers to choose, the locals favour domestic brews Dreher, Soproni and Arany Ászok, while craft beers include the 38-strong Legenda Sörfőzde range and the refreshing Fóti Zwickl.
How to order a couple of beers in Hungarian: "két sört kérek."

3. Krakow, Poland
Average price of a pint in Krakow: £1.75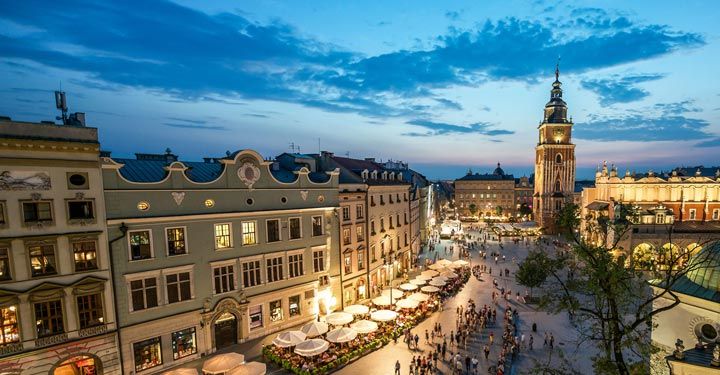 You'll be hard-pressed to find a pub that doesn't stock Poland's most popular beers, Zywiec, Tyskie and Okocim, and you can often snap them up at a bargain. Dobry Kumpel, an underground pub in Stare Miasto, is a local favourite for a cheap pint, as is the cosy Banialuka a few streets over.
For beer enthusiasts, pick up a pint (or three) of budget-friendly craft brews at the impressively-stocked House Of Beer or go hunting for Multi Qlti Tap Bar tucked away in the streets of the Old Town.
How to order a couple of beers in Polish: "dwa piwa proszę."

4. Lisbon, Portugal
Average price of a pint in Lisbon: £1.91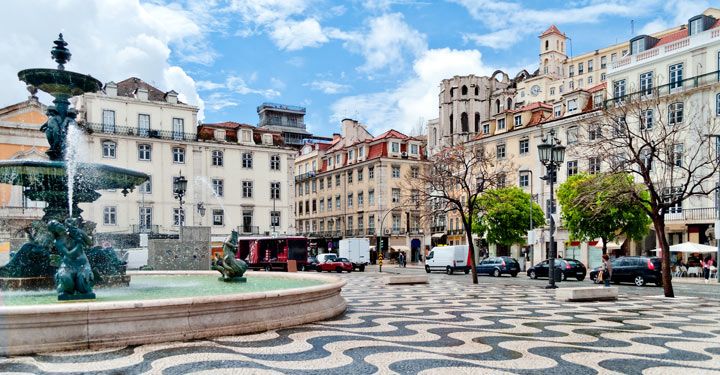 Spilling onto the narrow streets of Lisbon's Bairro Alto neighbourhood are a myriad of bars, pubs and restaurants where you can eat, drink and be merry without breaking the bank.
Here, Super Bock and Sagres are the local big beer brands to look out for but craft beer fans will have plenty to choose from, too.
There's the capital's first craft brewery, Cerveteca Lisbon, the Portuguese-only stockist Duque Brewpub and the laidback The Beer Station with a great outdoor space.
How to order a couple of beers in Portuguese: "duas cervejas por favor."

5. Berlin, Germany
Average price of a pint in Berlin: £3.00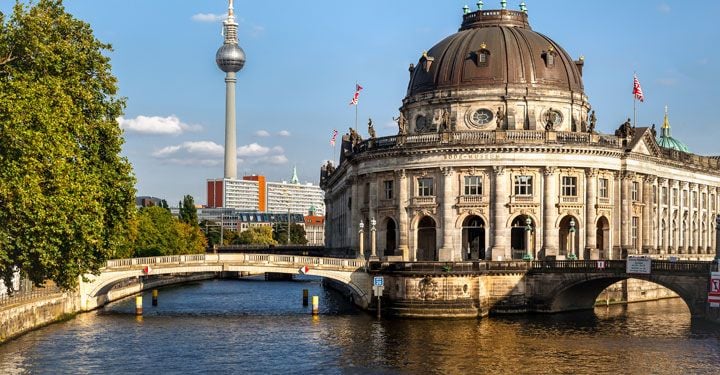 Germany is renowned for its thriving beer culture – it is, after all, home to the biggest beer festival in the world.
So it'll come as no surprise that there'll be more native brews than you can feasibly try on a Berlin city break. You can't miss the opportunity to taste the local Berliner Kindl Weiss or the Munich-brewed Augustiner. Erdinger Hefeweizen is also a popular pick.
In the craft beer world, BRLO and Straßenbräu near Gleisdreieck Park and in Friedrichshain respectively, are some of the top contenders.
How to order a couple of beers in German: "zwei bier bitte."

6. Barcelona, Spain
Average price of a pint in Barcelona: £3.71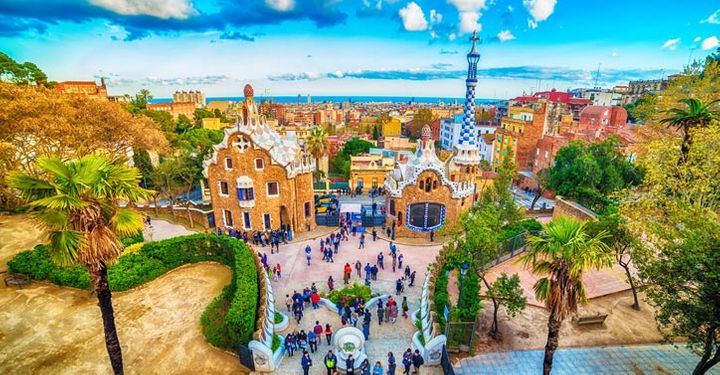 Spain is one of the most prolific beer producers in the world so you'll want to sink a few cervezas while you're visiting Barcelona.
Estrella is a perennial favourite, and you'll usually find it in pubs for a steal alongside other big Spanish brands, Alhambra and San Miguel.
Meanwhile, Eixample is where you'll want to be for craft beer as there's brewery after brewery in this neighbourhood. Keep an eye out for Garage Beer Co, BierCab and L'Espumossa.
How to order a couple of beers in Spanish: "dos cerveza por favour."

7. Amsterdam, the Netherlands
Average price of a pint in Amsterdam: £3.98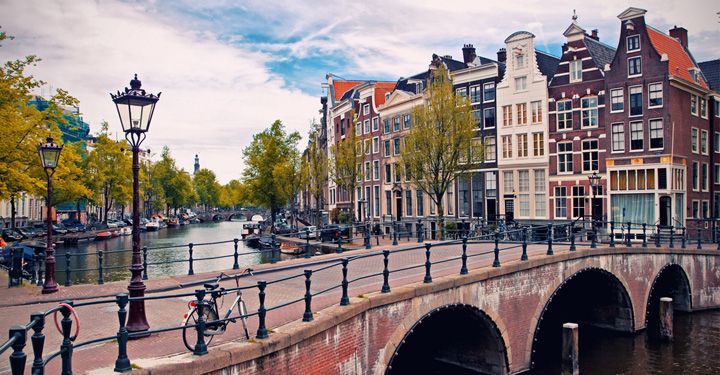 It would be criminal to talk about Amsterdam without mentioning Dutch juggernaut Heineken, but instead of splashing out on the brand's tour in the city, try one of the many craft brewers to get an authentic flavour of the country.
The beer-loving capital has plenty dotted about the city including local favourites Brouwerij 't IJ, located underneath Amsterdam's tallest windmill, Craft and Draft, with 40 taps on rotation, and Butcher's Tears, pouring such creatively-named pints as Waning Gibbous and Ditchwitch. Proost!
How to order a couple of beers in Dutch: "twee bier alstublieft."


8. Venice, Italy
Average price of a pint in Venice: £4.26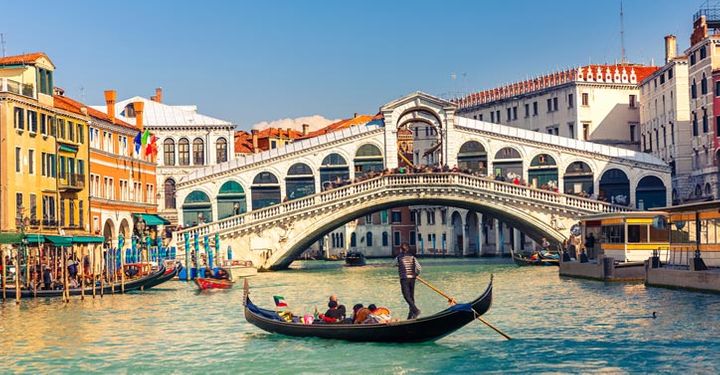 Cruising the Venetian canals with a bottle of beer in hand? It isn't quite the picture you'd conjure up of this romantic Italian city, especially as the local wine is so tasty and pairs so well with the cuisine.
But there are a few Italian brews worth seeking out when on their home turf. The most popular are, of course, Peroni, Nastro Azzurro and Birra Moretti and you can usually pick them up, on average, for the same price you'd expect to pay in London.
In terms of craft beer, however, your options are limited. Santo Bevitore is championed by most international travellers for its great range, but you'll also find options in Birraria La Corte and Birre Da Tutto Il Mundo.
How to order a couple of beers in Italian: "due birre per favore."


9. Rome, Italy
Average price of a pint in Rome: £4.46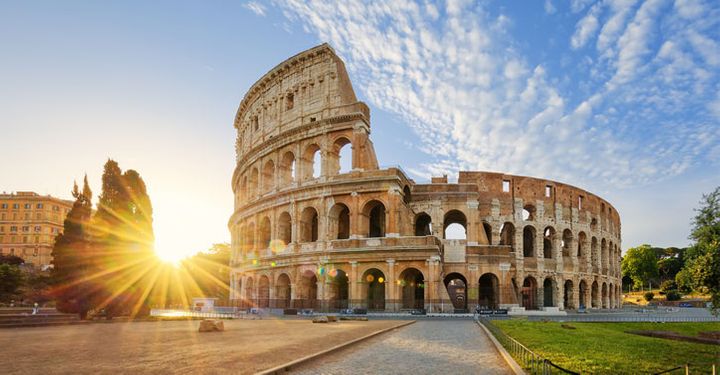 You can expect to pay a bit more on average for a beer in Rome than in the aforementioned Venice, but that's because there's a lot more variety to be found in the capital.
While it's true that wine also reigns supreme as beverage of choice here, you'll still find the iconic Italian brands in most bars and pubs.
But to really treat your taste buds (and your Instagram feed), hop to craft beer hotspots Open Baladin, Ma Che Siete Venuti A Fa' or Birra Più for cosy, friendly spaces and lots of boozy options.
How to order a couple of beers in Italian: "due birre per favore."

10. Las Vegas, USA
Average price of a pint in Las Vegas: £4.54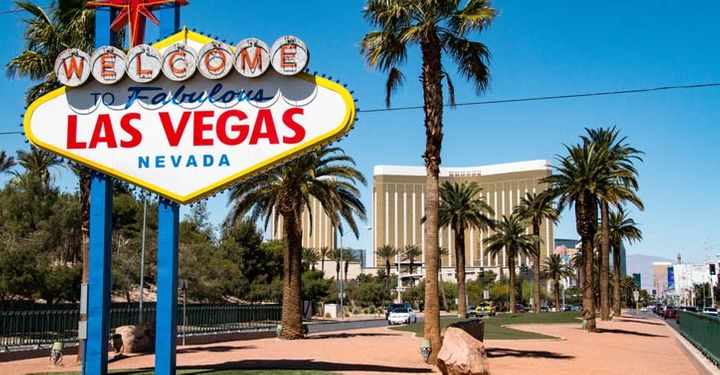 Booze, gambling, big shows… whatever you're looking for, you'll probably find it in Vegas. So if a classic American lager doesn't quite do it for you (think Budweiser and Coors Light), there's plenty of craft breweries in town, though you'll have to stray from The Strip to find them.
Aces & Ales frequently tops most lists for the best in the city, but if you want to veer from the tourist trail, try one of the PKWY Taverns – it offers over 250 brews!

11. Dublin, Ireland
Average price of a pint in Dublin: £5.29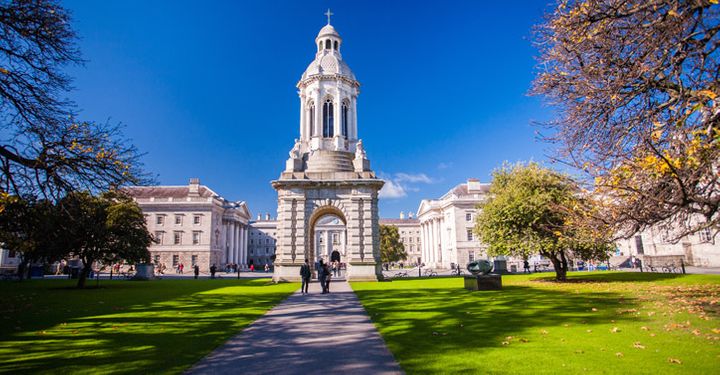 The Irish are so famous for their watering holes, you can find replicas all over the world in places as unlikely as Wuhan in central China and Namche Bazaar in Nepal (the latter has snow-capped mountains right outside its doorstep!).
You would be doing yourself an injustice, therefore, not to visit one on your Dublin city break.
A hearty stout, such as the country's iconic Guinness, is the obvious choice here, but Murphy's is also a worthy contender. Another popular one is Smithwick's, a red ale.
As for where to go, Temple Bar has plenty of choice, but for a hefty price, so head to local winners The Long Stone, Mulligan's or The Cobblestone.
How to order a couple of beers in Irish Gaelic: "dhá beers le do thoil."


12. Paris, France
Average price of a pint in Paris: £5.87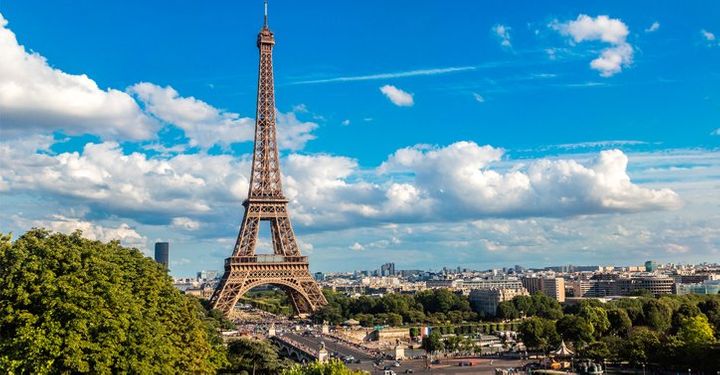 You'd be forgiven for not knowing many French beers. It is, after all, the wine that often makes international headlines. But if you prefer a bière to a vin, look out for big brands Kronenbourg 1664 and Pelforth and as many microbreweries as you can find!
In Paris, Brasserie de l'Etre in the 19th arrondissement is the highly lauded new kid on the block while mainstays Brasserie de la Goutte d'Or and Frog Brew Pubs won't fail to satisfy.
How to order a couple of beers in French: "deux bières s'il vous plait."


13. New York City, USA
Average price of a pint in New York: £5.88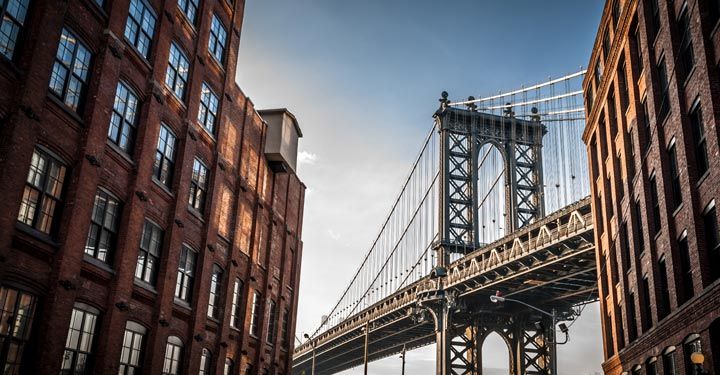 You might be able to score a cheap New York city break but remember to budget for your nights out, because drinking in the Big Apple could run you quite a bill!
Bud Light and Millers are the big brands New Yorkers love and hover on the cheaper end but to really drink like a local, craft brew, Brooklyn, is the undisputed favourite.
Craft beer is also the order of the day at upscale pubs Harlem Hops and Bondurants. The latter also specialises in bourbon if you want to shake it up.

14. Reykjavik, Iceland
Average price of a pint in Reykjavik: £8.09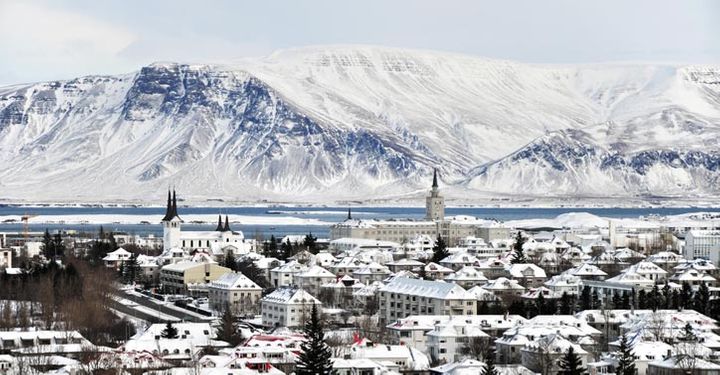 Icelandic beer is everything you'd expect from an icy Nordic island. It's hearty, warming and packed with rich flavours. It'll also cost you a pretty penny, but real lager lovers won't baulk at the price after trying some of the national brews.
Lava Beer, Gædingur Stout and Leifur are three natives worth seeking out. The latter is brewed with Arctic Thyme and heather for true Icelandic flavours.
As for craft beer, Reykjavik locals swear by Skúli Craft Bar, MicroBar, and Mikkeller & Friends. They're all within walking distance of each other for the ultimate pub crawl.
How to order a couple of beers in Icelandic: "tveir bjór vinsamlegast."


15. Dubai, United Arab Emirates
Average price of a pint in Dubai: £9.54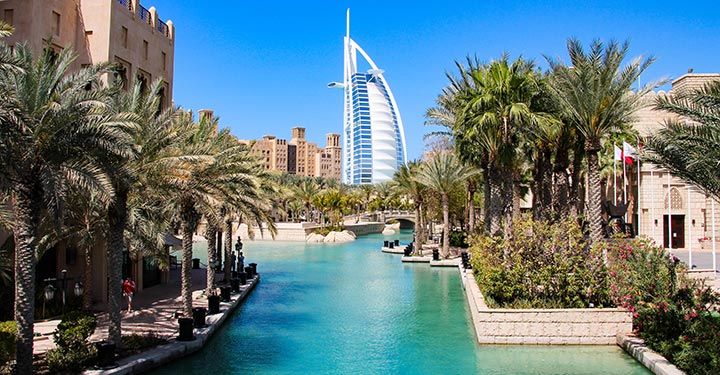 It's pricey to knock back a brew in Dubai with a pint coming in at just under a tenner each. And if you're really hankering for a bevvie, you'll have to seek out either a licensed night club, pub or hotel bar.
But if you're going to splurge here, you may as well go all-out. Some popular hotspots are the Belgian Beer Café and the retro Stereo Arcade but cocktails are the real order of the day and Dubai happily obliges tourists here. Find next-level drinks at the lavish Coya or the rooftop Mercury Lounge.
How to order a couple of beers in Arabic: "jaeatan min fadlik."
Please note the prices in this story are indicative only. Prices were averaged from cost of living data websites, Numbeo and Expatistan, on July 31, 2019.
Have a comment or question about this article? You can contact us on Twitter or Facebook.