Why Porto should be your next city break destination

August 23, 2019
(Updated February 21, 2020)

By Joey Tyson
River cruises through stunning UNESCO-heritage wine country, a colourful, lively old town, and food and drink so cheap you'll double take at every bill, Portugal's second city is fast becoming a city break favourite.
Here's why you should visit Porto.
It might have the prettiest old town in Portugal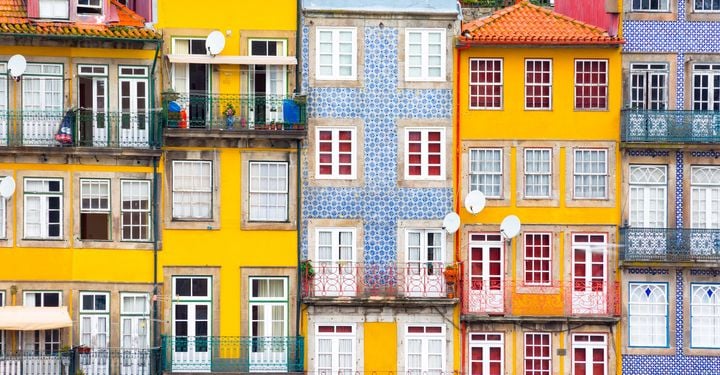 Clambering implausibly up from the banks of the Douro, Porto's historic Ribeira is the city's centrepiece. Tall, 18th-century townhouses rub up against each other, a patchwork of pastel reds, bright yellows and ornate blue-and-white azuelo tiles, overlooking the scenic waterfront.
On weekends, its tiny alley cafes and bars are crammed full of people sipping port and munching grilled sardines. It's busy, but good busy – atmosphere as opposed to overcrowded – a sign of the district's ongoing revival from run down fishing town to UNESCO-listed tourist attraction.
Still, it's not hard to escape the bustle – just take any one of the steep, narrow alleys that wind up to the city's hilltop cathedral. A network of sleepy medieval streets draped with drying washing and vines of incandescent wildflowers, this is where old Porto still functions much as it always has.
It's the home of port wine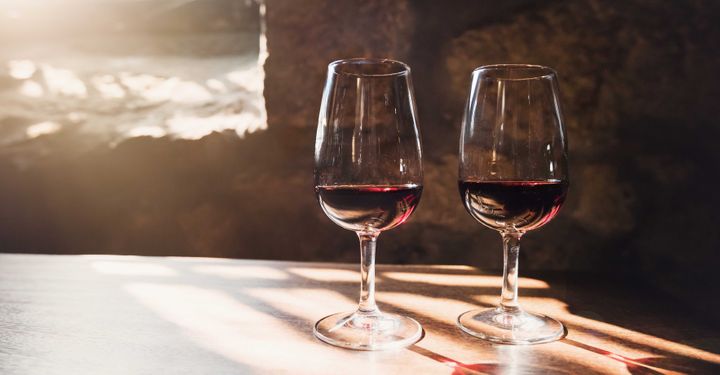 Port wine is, unsurprisingly, one of Porto's biggest draws. Aged tawnies, rich rubies, even delicate whites – you can't really avoid the stuff.
Oddly though, the vast bulk of the major cellars aren't actually in Porto – they're across the Douro in Vila Nova de Gaia. Take the short river taxi over the river – or walk across the bridge – and you'll find a warren of port warehouses, distinctively marked by the enormous black-and-white signs that top their clay-coloured roofs.
Tasting tours are cheap and easy to arrange, with Ferreira, Taylor's, Sandeman and Offley, being some of the most popular houses.
The latter, set up by Yorkshireman Joseph Forrester, has particular historical significance. After setting up shop in 1737, the man from Hull would revolutionize the port game, earning himself the title of baron in the process. For €17, you'll get a history lesson, cellar tour, and, most importantly, 3 glasses of different ports. Before you knock back three in a row, just remember, it's fortified.

You're right on the Douro Valley's doorstep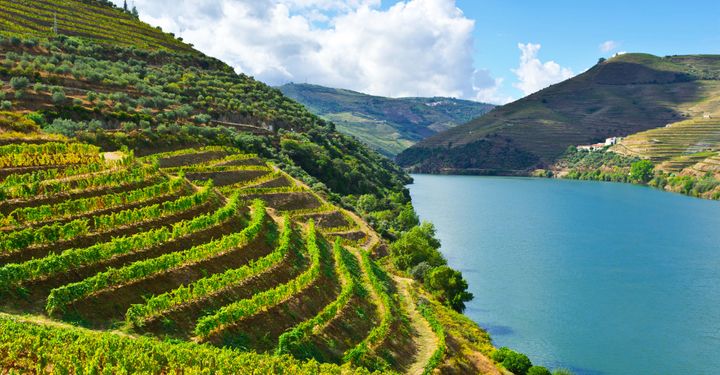 Porto sits at the entrance to one of Europe's great natural landscapes: the Douro Valley, a long, serpentine river, enclosed either side by steep hills.
Only a river cruise shows the true enormity of this remarkable UNESCO-listed wine region. A never-ending blanket of twisting greenery, where vineyards blend into new vineyards, each bend in the river reveals yet more hills, neatly terraced with grapes. Every so often the landscape is punctuated by enormous white-washed quintas, the elegant farm houses that produce the wine.
Day cruises from Porto take you up to either Régua or Pinhão, a charming little town in the heart of the valley. From here, you'll be whisked to a nearby winery for a taste test. Rota do Douro run day cruises starting at €83. The return leg is by train, which offers a different perspective of this beautiful valley.
Eating out is super cheap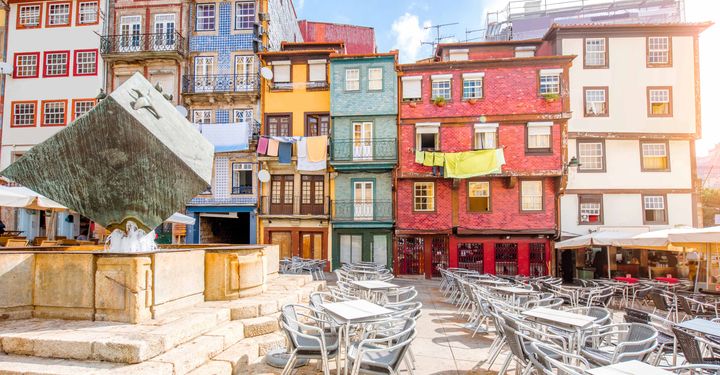 At a time when the pound is in a particularly pitiful state, Porto is a refreshingly affordable city, especially for food and drink.
With the Douro and the Minho (the home of vinho verde, Portugal's unique green wine) regions nearby, good wine practically flows into the city. Stick with the house, and you won't go far wrong.
When it comes to eating out, sardines – a Portuguese favourite to an almost fanatical extent – are a super cheap way to eat. Toca do Coelho (Largo Sampaio Bruno 2), a no-frills café over in Gaia, serves them up in the traditional style, battered and tasty. The beer is cheap, too.
Restaurante Porto Antigo ( R. de Cimo de Vila 74), meanwhile, is the perfect example of a Porto cheap eat: you can get a simple two-course set menu lunch (soup followed by meat or fish) with massive potions for €7. Add a bottle of wine, and the bill still comes in at under €25.
For the evening, try Adega Sau Nicolau, a popular place in the Ribeira district that specialises in fresh seafood. They serve ridiculously big portions, so come hungry.
How Porto compares to other similar city breaks

City

Cost of 3-course meal for 2 (prices from Numbeo)

Porto

£30

Lisbon and Valencia

£35

Madrid and Barcelona

£40

Marseille and Paris


£50

You can visit the book shop that may (or may not) have inspired JK Rowling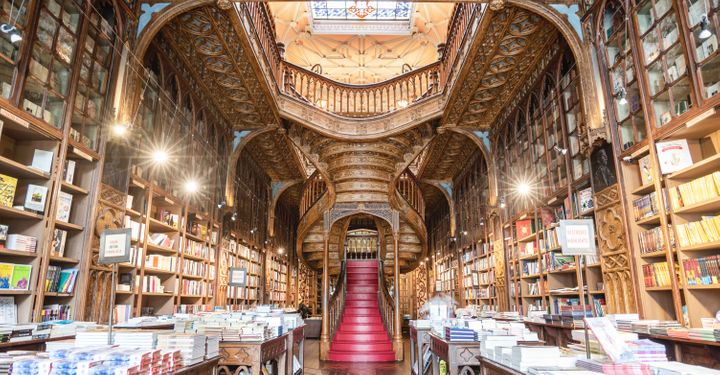 With spectacular neo-Gothic touches and an enormous stained-glass ceiling, Livraria Lello is just a bit fancier than your local Waterstones.
The shop's quirky trains, once used to carry books, and its elaborate twisting central staircase are said to have inspired JK Rowling, who was known to frequent the library when she lived in Porto in the 90s.
Hordes of Harry Potter fans do make the shop a bit of a circus, so try to get in very early or just before it closes. To avoid the big queues, get your ticket online (€5) before you go. The cost of the ticket is deducted from anything you buy in the shop.
Wizardry aside, it is truly beautiful; wall to wall, floor to ceiling, it's packed with books. There's a good collection of English classics, plus some English language translations of famous Portuguese writers, such as Jose Saramago. Oh, and Harry Potter. There's loads of Harry Potter.
There's remarkable architecture absolutely everywhere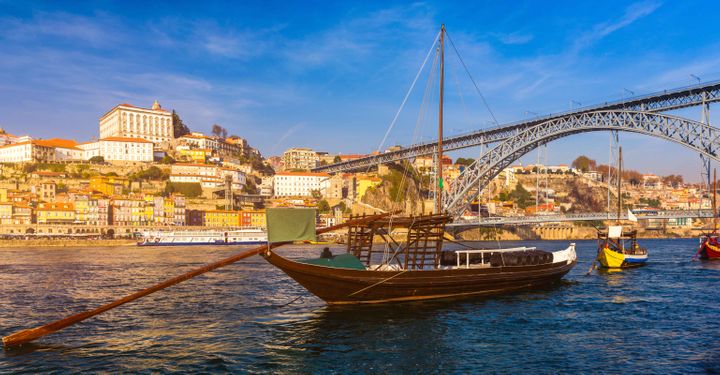 A masterpiece of neoclassical and Baroque styles, Porto's splendid architecture is reason enough to visit Portugal's second city.
For a start, its churches are some of the finest in the country. The Chapel of Souls, its exterior completely covered in intricate azuelo tiles, Porto Cathedral, with its lofty cloisters, and Clérigos, which offers incredible views out over the entire city are just a few examples of its remarkable variation.
But for all its elegance, Porto's most iconic structures are practical. An intricate web of arched steel, the two-tiered Dom Luis I bridge is the first thing you'll notice when visiting the city. There are another five in total, one of which, the Ponte Dona Maria Pia, was designed by Gustav Eiffel.
See the best bit of the city with a free walking tour.
Have a comment or question about this article? You can contact us on Twitter or Facebook.
Sign up. Be inspired. Travel.
Subscribe now for hand-picked holiday deals, inspiration and the latest travel tips, straight to your inbox.