December 28, 2022
Fancy a walk on the wild side? Learn about one of the world's most biodiverse regions with a visit to an eco-lodge deep in the heart of the Amazon rainforest!
Many of these lodges support local communities, so you'll not only gain a fantastic insight into the flora and fauna found here, but your hard-earned cash will go towards a host of worthwhile causes and help protect this incredibly important ecosystem, too.


1. Tambopata Research Center, Tambopata National Reserve, Peru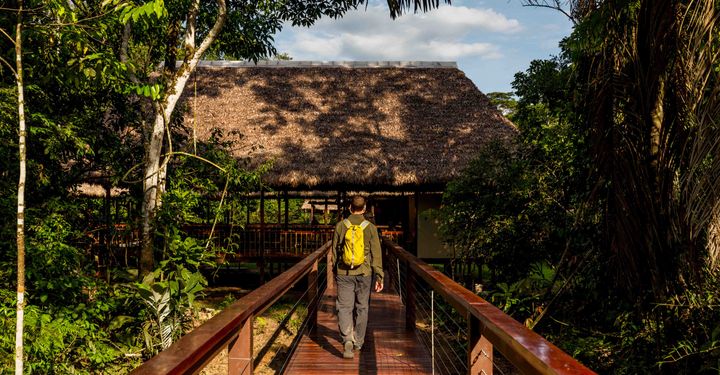 This eco-lodge is the only one inside Tambopata National Reserve, a remote conversation area in the Peruvian Amazon. The centre, which was founded as a base for scientists studying the wildlife, has plenty of opportunities to get involved in conservation work and its activities – from wildlife spotting to rainforest hikes – are led by indigenous guides from communities supported by the lodge.
Rooms are open sided but luxurious (get lucky and you'll find a standalone bathtub on your decking). They're all connected to the lush public areas via a network of raised boardwalks that weave through the rainforest. Location-wise, it's hard to beat – some of South America's biggest clay licks are just a short boat ride away.


2. Napo Wildlife Center, Yasuní National Park, Ecuador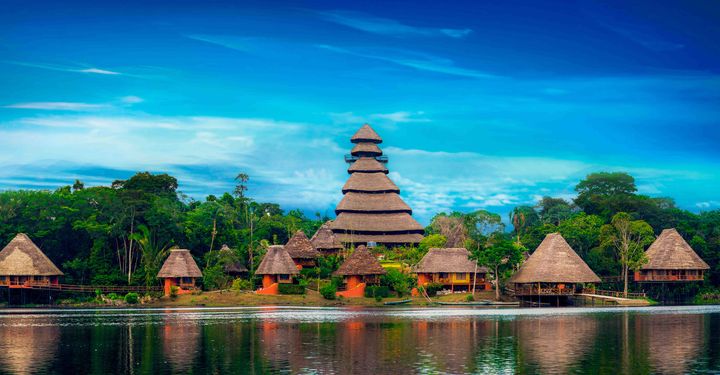 You'll find this lodge in Yasuní National Park, one of the world's most biodiverse areas. It's one of the top birdwatching spots in Ecuador (there are over 600 bird species here), although other residents include spider monkeys, tapirs, peccaries, capybaras and pink dolphins.
The lodge is owned by the local Kichwa Añangu community, which ploughs profits back into community projects, including renewable energy and healthcare. As for activities, there are kayaks to rent and observation towers to climb, and regular excursions to the local clay lick, where parrots and macaws gather to nibble at the sodium-rich clay.


3. Cristalino Lodge, Cristalino State Park, Brazil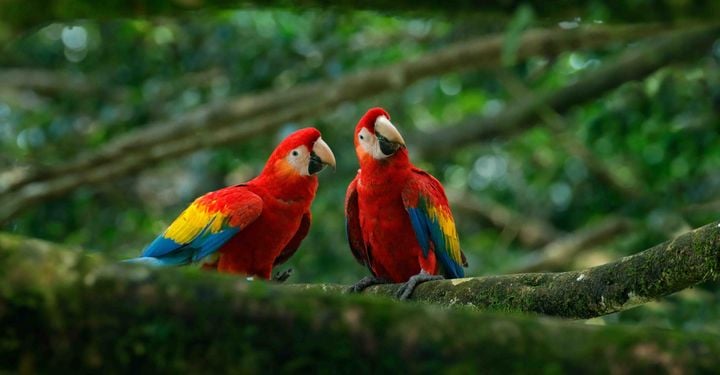 Considered one of the best eco-lodges for birdwatching in Brazil, the Cristalino Lodge is in the middle of a reserve that's twice the size of Manhattan. Named after the Amazon tributary that runs past the property, the lodge is a popular destination for photographers, and you can follow in the footsteps of legendary snappers on assignment for National Geographic as well as keen amateurs to capture close-ups of the world's rarest animals.
Two 50m (164ft) observation towers means getting that perfect shot is significantly easier here – keep an eye out for macaws, tanagers, cotingas and white-whiskered spider monkeys.


4. Posada Amazonas, Tambopata National Reserve, Peru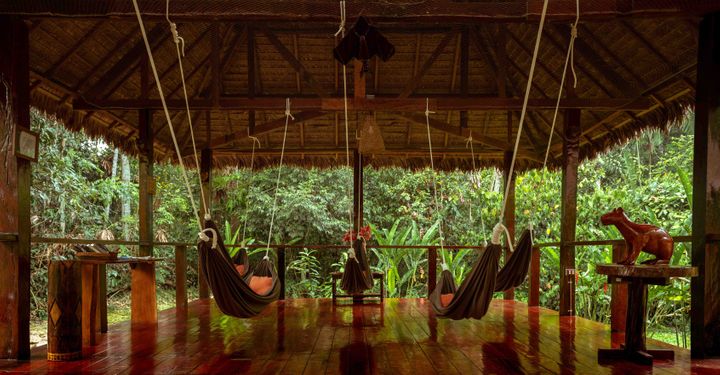 Stay at this beautiful lodge and you'll still get the chance to experience the wonderful wilderness of the Amazon rainforest, without the longer journey times required to reach some of Peru's more remote lodges – from Puerto Maldonado it's a one-hour drive, followed by a one-hour boat journey.
That's said, it's still wonderfully remote, and provides a brilliant opportunity to learn about Peru's indigenous groups – the lodge is in the heart of a 9,500-hectare reserve owned by the Ese Eja community of Infierno. Activities include raft-building workshops, piranha fishing masterclasses and guided night hikes. Fancy some pedal power? Hop on a mountain bike and explore the lodge's 10km (6.2 miles) network of jungle trails.


5. Irapay Amazon Lodge, Rio Momon, Peru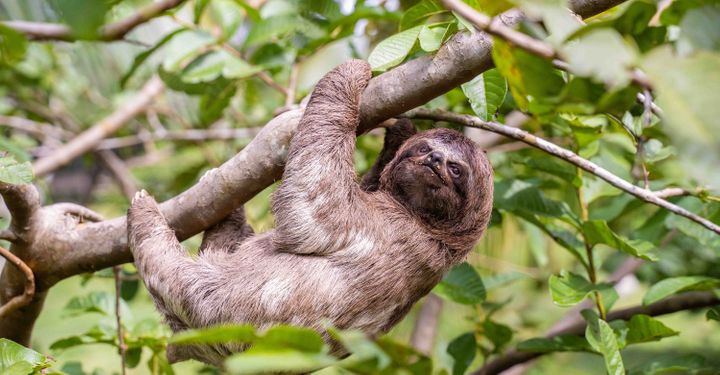 At just 20 minutes from the city of Iquitos, on the banks of the Rio Momon, this lodge is ideal if you just want to dip a toe into the wonders of the mighty Amazon. It's one of the more modern eco-lodges in the rainforest, with suites that overlook your own private pool and even a gym.
Night hikes, sunrise boat tours and visits to local communities are all on the agenda at Irapay, but if you prefer to simply chill out, the lodge's beautiful, thatched cabins surround a gorgeous lagoon-style pool. Bonus points if you spot a sloth – this part of Peru is one the best places to see them.


6. Refugio Amazonas, Tambopata National Reserve, Peru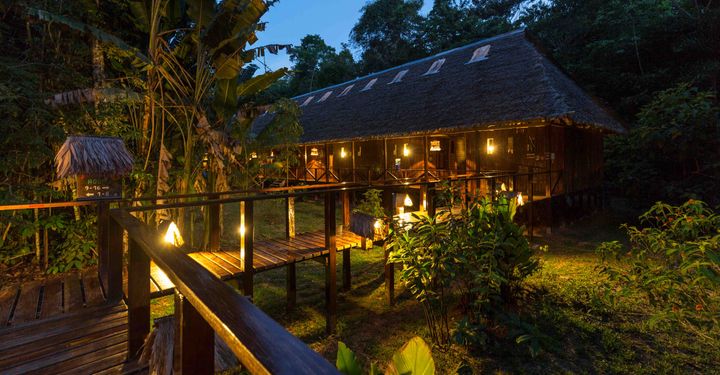 Refugio Amazonas is in the buffer zone just outside of the Tambopata National Reserve, a three-hour journey from Puerto Maldonado. It's a brilliant eco-lodge for families – guests can contribute to citizen science projects, and there are dedicated children's trails to explore (the highlight of which is the huge, hollow tree youngsters can step inside). Activities are designed to showcase the region's flora and fauna, whether it's during fireside storytelling sessions or visits to a local farm.
Got a head for heights? Head to the top of the 30m observation tower. Its uppermost platform sits above tree canopy, so it's a great place to gain a new perspective on the rainforest.


7. Sani Lodge, Yasuní National Park, Ecuador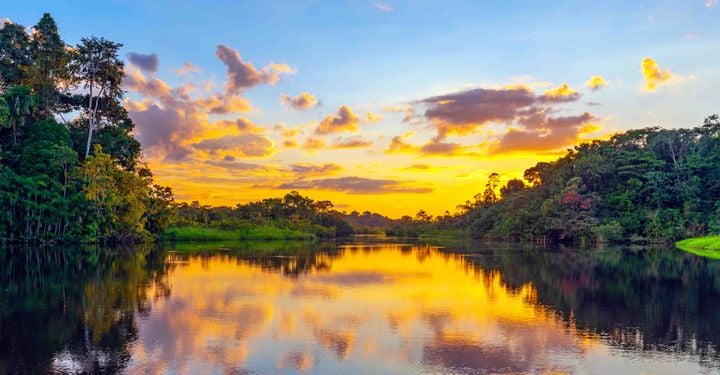 This lodge is tucked between two wildlife havens – the Yasuní National Park and the Cuyabeno Reserve – and is owned by members of the local Sani Isla Kichwa community, many of whom work as guides here. You'll need them too – this part of Ecuador is thriving with flora and fauna, and you'll want to learn about it all. If you love a stat (or five), there's 1,500 species of trees, 64 species of stingless bees, 550 species of tropical birds, 13 species of monkeys and 1,000 species of butterflies in the area.
Sustainability is key at Sani. Food is sourced locally, and you'll have plenty of opportunities to learn about the indigenous groups that live here, whether it's during talks by elders or (our favourite) blow dart masterclasses.


8. Anavilhanas Lodge, Anavilhanas National Park, Brazil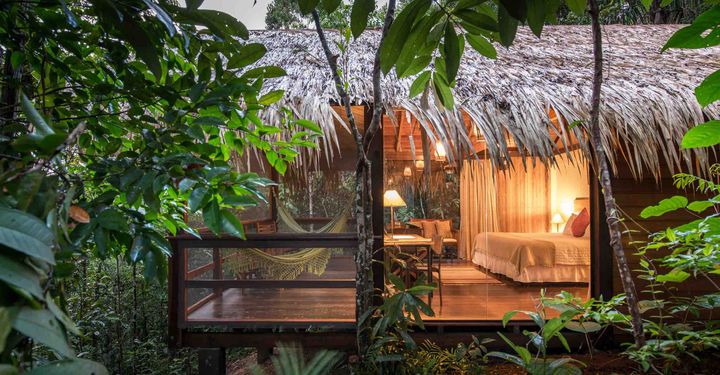 Love the rainforest but fancy a little luxury too? Consider this gorgeous lodge, where you can end a kayaking session along the Rio Negro with a drink at the lodge's floating bar or sprawl on a sun-lounger next to an infinity pool overhanging the river.
Accommodation comes in three categories: cottages, bungalows and panoramic. If you want to go all out, choose the latter. The panoramic rooms have enormous decking areas and floor-to-ceiling windows, all to ensure you don't miss that jaguar slinking past your room. Food is delicious, beautiful and locally sourced – think delicate pastries made with Brazil nuts and ceviche made with fish plucked from the Rio Negro.


Have a comment or question about this article? You can contact us on Twitter or Facebook.