November 28, 2020
Ceredigion is a place where literary landmarks snooze by the seaside, forest rambles leave boots mud-splashed, and hospitality has a rough-edged charm. It's easygoing by nature, but the views are beautifully wild. To locals, there can be no doubt: theirs is the most remarkable corner of 'God's country' (translation: Wales).
Covering 688 verdant square miles, Ceredigion stretches from the sweep of Cardigan Bay to the Cambrian Mountains. You'll find medieval castles, sheepy hills and sandy coves that beg for bucket-and-spade family holidays. It's easy to reach by car (two or three hours' drive from Birmingham or Manchester). Or you can jump on a train to Aberystwyth and start your exploration from there. Not yet convinced? Here's why should visit Ceredigion.


You can cruise from castle to coast in Cardigan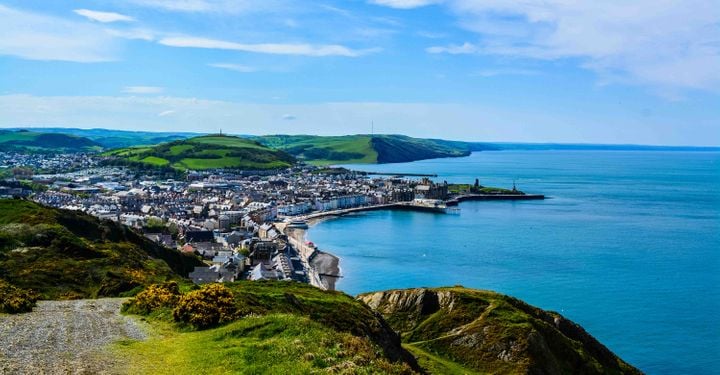 Cardigan, the second-largest town in Ceredigion, has two major claims to fame: stunning coast and romantic ramparts. Nine centuries of history are revealed at Cardigan Castle, so take the time to marvel at medieval walls, amble Grade II-listed gardens, and admire Georgian rooms. To soak up the atmosphere fully, stay the night: the castle has cosy quarters overlooking the River Teifi. This is also the place where Wales' famous music festival, the Eisteddfod, began in the year 1176.
Historical cravings sated, it's only a few kilometres in either direction to the arc of Cardigan Bay. Just 8km (5 miles) north of town is Mwnt, where a sandy beach is bookended by two grass-cloaked cliffs (look for seals and dolphins frolicking in the water). More golden sands await further east: 20 minutes' drive from Cardigan town reaches Tresaith Beach, popular with families for its sheltered bay and rock pools. A little further along is pretty Penbryn – stop for cakes at The Plwmp Tart after taking a stroll along its mile-long stretch of sand.


You can cycle steep hills and sheep-speckled pathways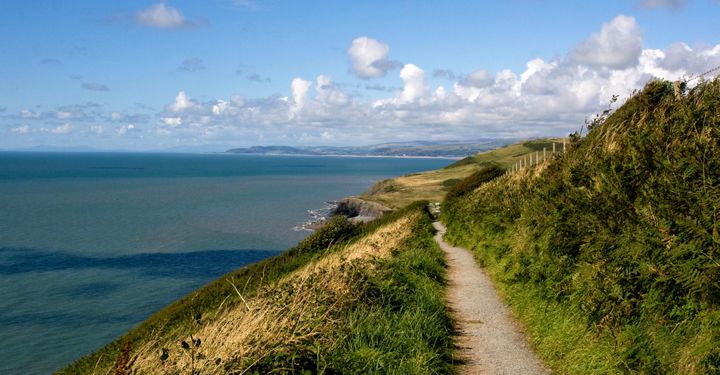 Whether you're a hardened mountain biker or prefer a light pootle, Ceredigion is fantastic for cycling. For a short, family-friendly cycle ride from Cardigan, cycle south for 5km (3 miles) to the sombre 13th-century ruin of Cilgerran Castle. For another short, mostly flat ride, tackle the 3km (2-mile) Aeron Trail, which winds through peaceful lanes from harbour town Aberaeron to the manor house at Llanerchaeron. Experienced cyclists can embark on the 32km (20-mile) Ystwyth Trail between Aberystwyth and the charming inland market town of Tregaron.
Not sweaty enough for you? Use Aberystwyth as your base for even more challenging mountain-biking rides – there are trails carved into steep hills at Bwlch Nant yr Arian Forest, overlooking magnificent wilderness.


You can steep yourself in Welsh culture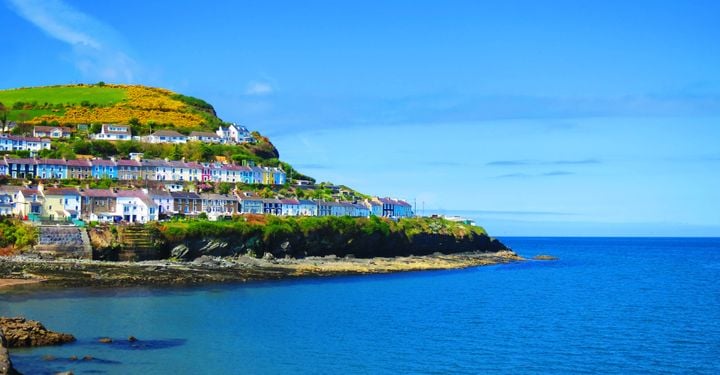 Ceredigion's evocative landscapes have inspired both bygone poets and modern screenwriters. Dylan Thomas wrote his masterworks, including Under Milk Wood, along the Ceredigion coast – look for blue plaques at pubs and landmarks in the coastal towns Aberaeron and New Quay. Ceredigion's raw, rural beauty became the filming location of Welsh noir series Hinterland (Y Gwyll), set in and around Aberystwyth. The university town of Lampeter has cultural clout, too: it's the birthplace of rugby in Wales, where the first ever match was thrashed out in 1866.
Wherever you roam, this is a rewarding region in which to perfect your pronunciation of bore da and iechyd da (hello and cheers). More than 50% of people in Ceredigion speak Welsh (compared to Wales' average, less than one-third of the population).


You can experience Aberystwyth's history and majesty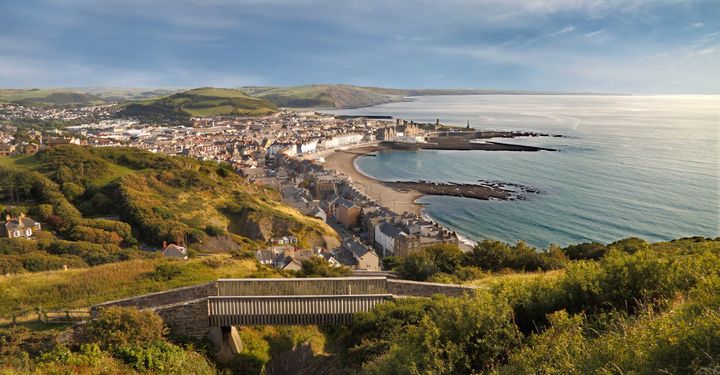 Buzzy Aber (as it's known) is the closest you'll get to a party town in Ceredigion – and it's a stunner. It's the largest town in the region, made famous by its Victorian promenade and pier, built in 1864. Take a stroll along this nostalgic scene; as you face the water, look to the right, where you'll see Constitution Hill at the north end of the beach. You can walk uphill for a beautiful lookout over Aberystwyth or trundle to the top on Great Britain's longest electric funicular railway, which has been clattering to the summit since the late 19th century.
And if the kids still aren't tired? Drive 20 minutes inland to Llywernog, where witty guides lead the way into the 250-year-old mine. The Dragon's Tale tour, in pursuit of a shy dragon, suits children under eight years old.


You can descend into legend at Devil's Bridge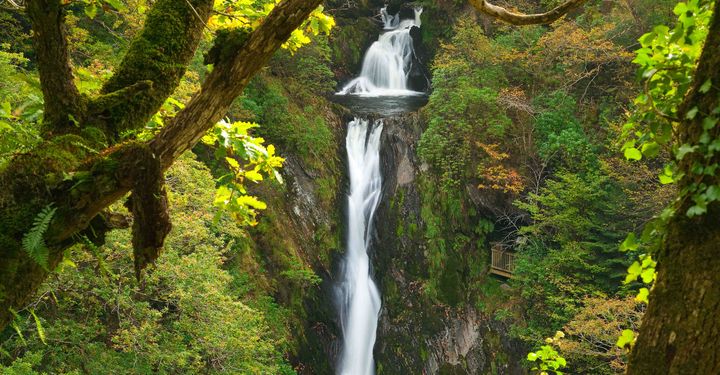 Just 19km (12 miles) away at Pontarfynach are the Devil's Bridge Waterfalls – all rushing water, moss-clung boulders and fragrant air. No wonder this spot has been inspiring poets for centuries: in an ode penned in 1824, William Wordsworth described this as the 'dread chasm, woods climbing above woods'. And the diabolical name? It dates back to a legend where an old woman outwitted the devil, who built her a bridge and then fled shamefacedly from Wales.
Three superimposed bridges are on show, the oldest (and most devilish, one presumes) dating back to medieval times. As centuries passed, wider and stronger bridges were built to account for horses and carriages, and then motorised vehicles. For a quick glimpse of the bridges, take the Punchbowl Walk (300 stairs). But it's worth lingering over the Nature Trail (allow an hour to explore). The steam Vale of Rheidol Railway is a spectacular way to travel between Aberystwyth and Devil's Bridge.


You can discover poetry and gastronomy in Aberaeron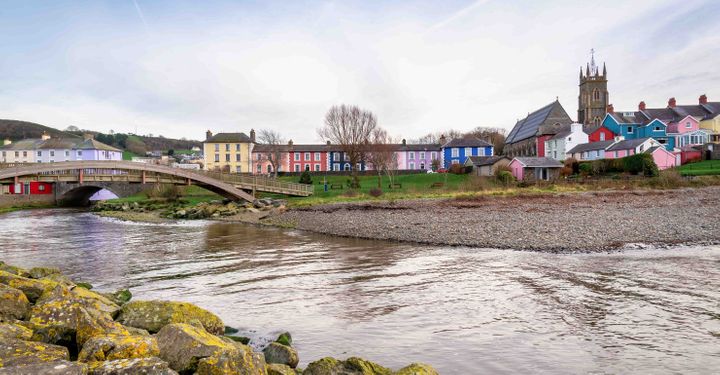 Aberaeron is Ceredigion's most inspiring beach town. Wordsmiths Dylan Thomas and TS Eliot holidayed here, and a rainbow of Regency-style houses adorns the harbour.
Founded in 1897, the town has kept its antique character. Wander round and admire Aberaeron's 248 listed buildings; splashes of paint, in shades from butterscotch to navy blue, give each jaunty house a distinctive character. For a longer hike, there are walking trails that follow the pebble beach and slice into the surrounding hills.
Worked up a hunger? Perhaps a trio of Welsh lamb would hit the spot, at the critically acclaimed Cellar. Another top lunch spot is the nautically themed Harbourmaster Pub, serving local crab cakes, beer-battered haddock, and leek risotto. Leave space for a scoop of honey ice cream at The Hive – this orange-painted building on the harbour is like a beacon summoning the sweet-toothed.


You can spot wildlife by land and sea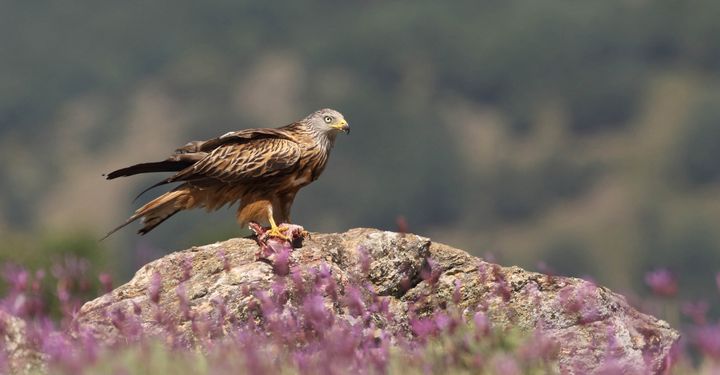 Pack your binoculars! New Quay, a traditional fishing town on Cardigan Bay, is a prime location to view somersaulting bottlenose dolphins. You can also spot these famous residents up close on a Dolphin Survey Boat Trip. Mwnt is another superb location to watch for seals and dolphins frolicking in the water. Sightings are possible year-round but your best odds are in summer.
Bird watchers will have plenty of reasons to prime their zoom lenses, too. Buzzards and peregrine falcons take to the air above the Cors Caron wetland (also a haven for otters). Near Aberystwyth is the Red Kite Sanctuary, where daily feedings offer the chance to see as many as 150 birds of prey swooping in for a meaty morsel.


You can walk windswept trails in Llangrannog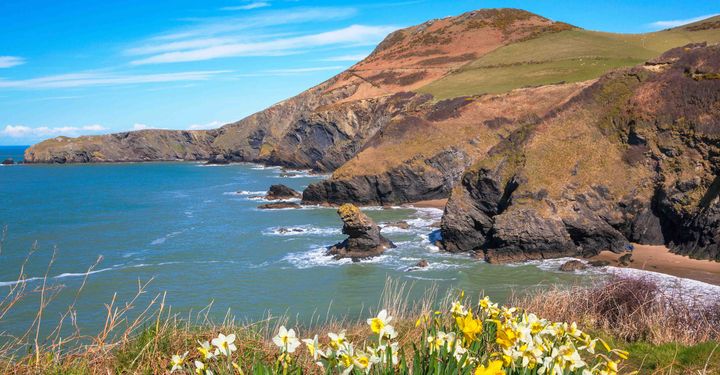 Stretching for 1400km (870 miles), the Wales Coast Path is the only coastal walking route to hem a country's entire coastline. We think some of the most wave-lashed, windswept views are in Ceredigion.
Llangrannog, a fishing town in the Hawen River Valley, is an excellent place to tackle a section of the trail. Climb the path from the beach, whose landmark crag of rock is known as Carreg Bica: the tooth of the legendary giant. Views only get more special from the wind-buffeted cliffs. Wherever you're bedding down for the night, it's worth noting that Wales' first distillery, Dà Mhìle, is only 20 minutes' drive from Llangrannog. Finish the day with bottles of rum, seaweed gin and single malt clanking in the boot, pondering what adventures tomorrow may bring.

Have a comment or question about this article? You can contact us on Twitter or Facebook.