November 4, 2019

By Mary Novakovich
Classy, civilised Vienna lures you in with its enticing combination of culture, coffeehouses and cake. Its handsome Habsburg architecture, beautifully landscaped parks and relaxed pace of life make Austria's capital an excellent choice for a weekend break.
But, it can come at a price - Vienna isn't a cheap place to visit, after all. There are, however, ways of seeing this elegant city without spending a fortune.

Where to stay in Vienna on a budget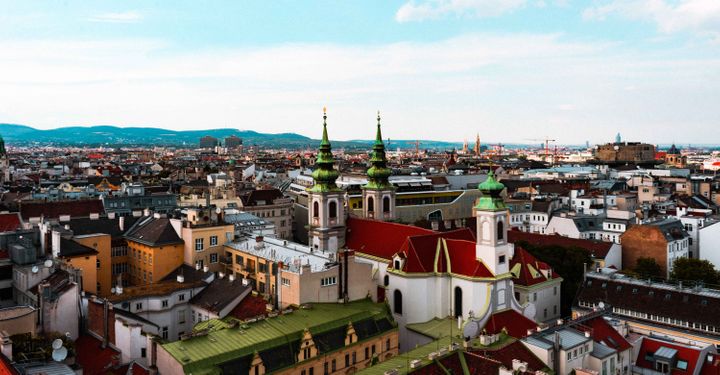 Vienna isn't exactly lacking in luxury hotels set in grand palaces. Most visitors' first impulse is to stay in Vienna's old town, Innere Stadt, which is enclosed by the Danube Canal on one side and the Ringstrasse – the city's stately ring road – on the other three. It's packed with many of Vienna's top sights, and while it's the natural home of upmarket hotels, there's also some affordable accommodation.
The Starlight Suiten group of apartment hotels has a couple of properties in the Innere Stadt. They come in at the upper end of the budget range, but they also include kitchenettes so you can save by self-catering. Another central option is the genteel Aviano Boutique Hotel, which, despite having boutique in its name, has rooms that often come in under £100. It's also a short walk from the Vienna Opera House.
You don't have to venture too far beyond the Ringstrasse to find good-quality budget accommodation. Budget chain hotels such as Ibis are located slightly beyond the centre, but are close to metro stops. For something more individual, check out Vienna's growing number of trendy hostels. Wombat's has a hostel near the Naschmarkt – which you'll certainly be visiting – where you can choose from private rooms to seven-bed dorms with panoramic views. There's a second branch, City Lounge, further out but it's right by the Westbahnhof train and metro stations.

Where to eat in Vienna on a budget
The Naschmarkt should be high on your list for cheap eats. Vienna's largest urban food market has more than 100 stalls stretching over half a kilometre, as well as delis, restaurants and fast-food stalls. If your hotel doesn't offer free breakfast, have a jumbo breakfast or brunch here – try the Naschmarkt Deli. Or make the most of the market's multi-ethnic mix and go for Vietnamese, Italian or Indian.
If you don't mind having lunch as your main meal, take advantage of the reduced menu prices most restaurants offer. They usually feature a fixed-price lunch menu of two courses, and work out much cheaper than eating à la carte. Then have something lighter for dinner, or stop by an imbissstube (local snack bar) or a würstelstand for giant sausages.
A traditional Viennese tavern is known as a beisl, and it's often a cheaper place to try Austrian cuisine in cosy surroundings. Expect to pay about €10 to €15 for a main course of hearty meat dishes including pork knuckle and the ubiquitous (but delicious) wiener schnitzel (veal coated in bread crumbs). Steman is a classic example of a beisl, and it's about a 20-minute walk beyond the Ringstrasse.
For an unusual lunch experience, join civil servants and police officers at the workers' canteen, Justizcafe, at the Ministry of Justice – which is open to the public and offers well-priced meals (from €8 for a menu of the day). As it's on the fifth floor of the Justice Palace, you get gorgeous views to go with your lunch.
You can't come to Vienna without chilling out with a coffee and a cake in a coffeehouse. One of the most famous is Café Central, but its soaring vaulted ceilings and piano player come with a high price tag – not to the mention a large numbers of tourists. Try the laid-back atmosphere (and wallet-friendly prices) at Café Benno instead, where you can play board games while nursing your wiener melange – a Viennese blend of coffee, milk and cream.

What to do in Vienna on a budget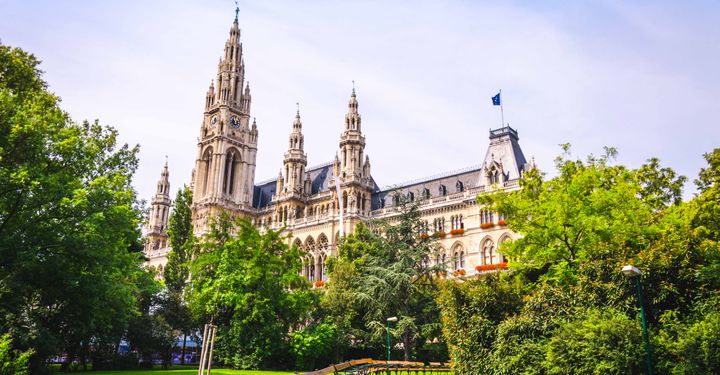 With such magnificent architecture that you can see for free, much of the pleasure of Vienna lies in strolling the streets. Take advantage of the free guided tour of Vienna's city hall, the splendid neo-Gothic Rathaus, which is offered every Monday, Wednesday and Friday at 1pm. Just meet at the City Information office at Friedrich-Schmidt Platz 1.
Vienna is rich in public parks, and there are long stretches of the Danube to explore, including a summertime beach on the river island. The Schönbrunn Palace was the home of the ruling Habsburgs, and while tickets to the palace start at €16, you can wander around its lavish park and some of the gardens for free.
Enjoy lovely views of Vienna's rooftops from the terrace of the Sky Restaurant and Bar on top of the department store on Kärntnerstrasse. While the food isn't cheap, it's worth the price of a coffee to soak up those views. And you'll be halfway between the vast greenery of the Volksgarten and the Stadtpark, both of which are worth seeing.

How to get around Vienna on a budget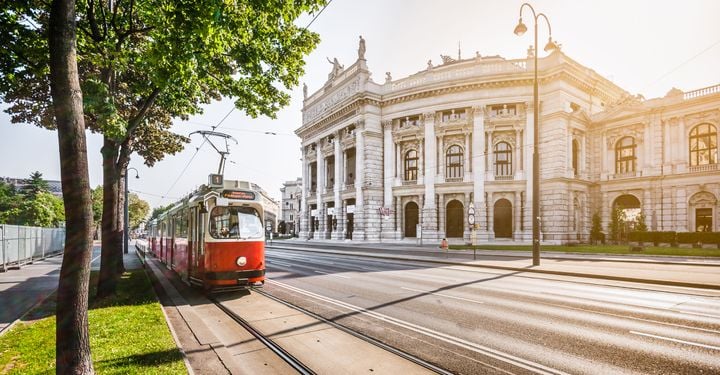 You can save money as soon as you arrive in Vienna airport. Instead of paying €12 (one way; €21 return) for a ride on the City Airport Train (CAT), take the S7 express train and pay €4.20 (one way) instead.
Although you'll want to explore as much of Vienna as you can on foot, there will be times when you'll want to hop on the bus, tram or metro (U-Bahn). Single tickets cost €2.40, which can quickly add up if you plan to do a lot of travelling. A 24-hour ticket costs €8, while a 48-hour one costs €14.10. Many visitors opt for the weekly card of €17.10, which costs the same amount as the 72-hour card. You can pre-book tickets online here.
Insider tips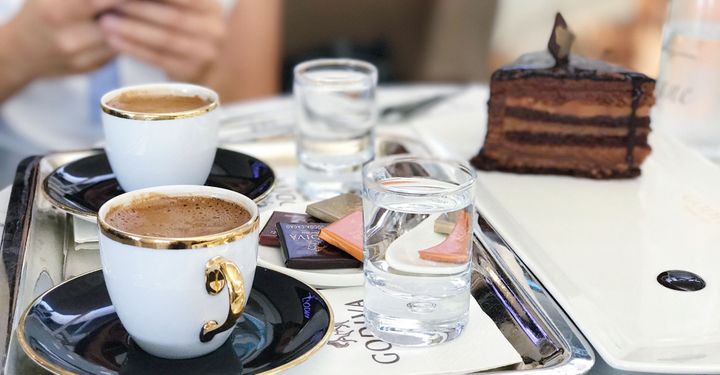 Tipping in Vienna can be complicated. Most restaurants will add a service charge to the bill, so you can just round up the amount – say, from €26 to €30. If there's no service charge, you can add an extra 15%. When you tip, don't leave the money on the table. You're expected to add it to the amount that's due. And don't say "thank you" (or "danke") when you hand over a note, as you won't get the change back – unless, of course, that was your intention.
If you do succumb to an expensive coffee and cake in one of Vienna's celebrated coffeehouses, don't be in a rush to leave. The understanding is that your €12 coffee and cake combo has bought you the chance to linger as long as you like – within reason.
Have a comment or question about this article? You can contact us on Twitter or Facebook.