London is electric; a city of non-stop action and endless activity. A frenetic current runs through its streets 24 hours a day, with an eclectic restaurant scene, fascinating history and exciting cultures new and old constantly charging the generator.
With so much going on, you can pack a tremendous amount into a two-day trip, but you'll need to use the frantic pace of the capital as your ally. No one stands still too long in London, so you'll want to follow suit to make the most of a short break here.
Day one
Morning
Kick off your first day with a healthy breakfast at New Zealand fusion-food specialists Kopapa (32-34 Monmouth Street, Seven Dials, Covent Garden, WC2H 9HA). Excellent kiwi coffee and hearty portions should keep you ticking over nicely for an action-packed day, starting with a visit to the Queen.
Whether you go gaga for Prince George and the Royals or not is irrelevant; the Changing of the Guard is a must for any first-time visitor to the capital. Quintessentially British in every sense, this grandiose spectacle epitomises London's historic connections with the monarchy and shows off two of the capital's grandest icons: Buckingham Palace and Horse Guards Parade. It takes place daily at 11.30am from April until the end of July and every other day for the rest of the year from 11.30 am. Find out more here.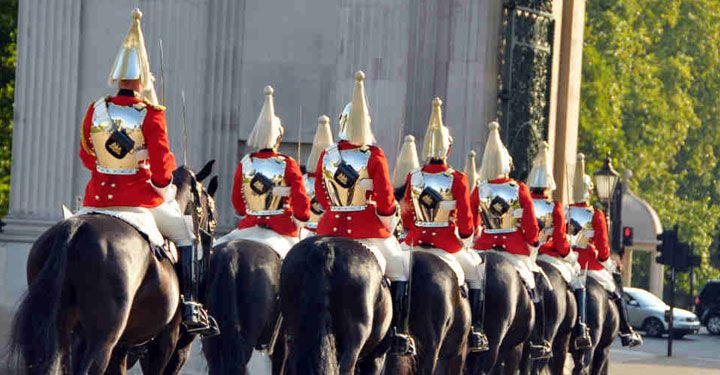 Once the guard has changed and you're satisfied that the Queen is safe and sound again, you can take a stroll down Whitehall, passing Number 10 on the way, to see other musts: Big Ben, Westminster Palace and the River Thames.
Afternoon
After your sightseeing fun, it's time for a well-earned break before more culture at the British Museum. Walk back up Whitehall until you get to Trafalgar Square. Hop on the Northern Line (black) at Charing Cross and ride to Tottenham Court Road.
From here, you're close to The Newman Arms (23 Rathbone Street, W1T 1NG; 020 3643 6285), an old haunt of George Orwell's and provider of authentic Cornish fare – grab yourself a pint of Cornish Gold with lunch – or Cookhouse Joe's (55 Berwick Street, London W1F 8SP; 07970 555355), a chicken house with a great atmosphere and tasty comfort food.
Once you've filled up, you're ready to tackle the British Museum (Great Russell St, London, WC1B 3DG) in full. This vast temple of human history and art is home to more than eight million works and pieces, making it one of the biggest collections in the world. Enter for free and explore the pasts of Assyria, Egypt, North America, Britain and many other intriguing cultures.
Evening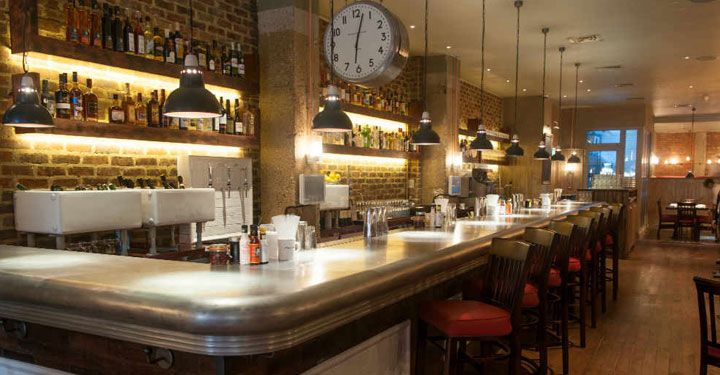 As night falls in the capital, the real fun starts. Make a quick costume change in your hotel and head on to Soho; one of London's liveliest (to put it mildly) areas.
Burger & Lobster (36-38 Dean St, London W1D 4PS; 020 7432 4800) exploded on to the central London scene a couple of years back with its quirky, crustacean themed set menu; a burger, a lobster or a lobster burger. The novelty still hasn't worn off, with people still flocking to fill their bellies with good seafood at a decent price (£20). You can't book so get in early and, of course, get the lobster.
Not your thing? No problem. Just round the corner, Pizza Pilgrims (11 Dean St, Soho W1D 3RP; 0207 287 8964) offers real, authentic Neapolitan style pizza at reasonable prices. The Smoked Napoli is an awesome take on the classic pizza.
After dinner, it's time to catch a show. The Prince Edward Theatre and the Prince of Wales Theatre are both close at hand in Soho. The former is currently playing the traditional Miss Saigon, while the latter is showing the anything-but-traditional Book of Mormon. Book online in advance for the best ticket deals.
Day two
Morning
Today, head east and see a different side of London. Catch the Circle (yellow) or District (green) lines over to Monument and grab a quick breakfast in The Folly (41 Gracechurch St, EC3V 0B); a healthy option with an excellent egg selection. A short walk away, you'll find Tower Pier, where your next adventure begins.
Jump aboard Thames Circular Cruise (first departure at 10am) and see the city from the waters of the iconic Thames. The 45-minute round trip from Tower Bridge to Westminster and back takes you past HMS Belfast, the Tate Modern, Houses of Parliament, Somerset House, London Eye and more.
Afternoon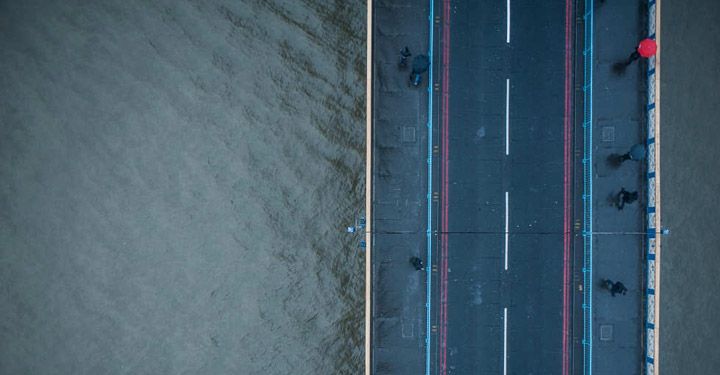 Once you're back on dry land, it's time to leave it again. Make your way up the Tower Bridge for a view of London with a stomach-turning twist. The tower's new 42-metre high glass walkway is not for the faint of heart, but it's a great way to see the city from one of its best-known icons.
After a return to terra firma, spoil yourself for choice yet again, and grab lunch on the go in Borough Market. Just walk south over Tower Bridge and follow the signs until you find yourself among the throngs of other hungry tourists on their way to the Victorian foodie mecca.
There's food from Italy to Thailand on offer in this bustling market place, while you can also pick up a few treats and gifts for friends and family. Usually, fresh paella is my go to choice, but there's so much on offer you just have to follow your gut instinct. As the market can get notoriously busy around lunch time, it's best to leave it a little later (say 2pm) or go around 11.30am to beat the rush.
Evening
In the evening, stay east and lose yourself amid a sea of top knots and fixie bikes in Shoreditch. You can reach the well-known hipster haunt by London Overground (orange line) to Shoreditch High Street.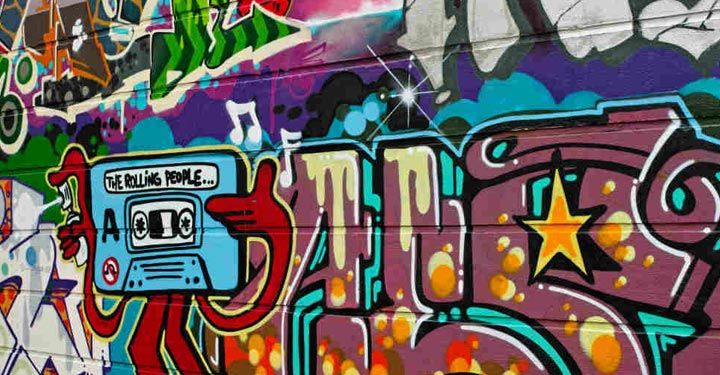 First, check out a different kind of art gallery as you stroll round this quirky part of town. The walls of Brick Lane and the surrounding area are covered in elaborate street art that reflect the area's rise to creative prominence and its urban roots. Meanwhile, spoil yourself a bit and browse Shoreditch's niche boutiques and shops. For the ultimate quirky shopping experience, browse the Box Park: the world's hippest pop-up mall, probably.
Next, it's time to eat again. With so much choice on offer in the capital, it can sometimes be hard to make a choice. Thankfully, Shoreditch's weekly Urban Food Fest (Euro Car Park, 162-167 Shoreditch High Street, Shoreditch, London, E1 6HU) tackles this issue in the best way possible: it gives you all the choice. Vendors from all over the world (of London) come to peddle their tasty international food, and you can try as many different stalls as you want. Cocktails, craft beer and international cuisine: it's almost the most fun you can have in a car park.
If you feel like keeping the night going, head back down the road to The Drunken Monkey (221-222 Shoreditch High St, London E1 6PJ; 020 7392 9606), a cocktail bar with great dim sum, or a dim sum place with great cocktails; whatever The Drunken Monkey is, it's all good fun. Gaudy paper lanterns and red lighting give it a seedy yet fun feel, while the long weekend happy hours and DJs will keep you out all night.
If you just fancy a couple of beers, a few doors down you'll find the Crown and Shuttle (226 Shoreditch High Street, London E1 EPJ; 020 7375 2905), a beer drinker's paradise that comes complete with a massive covered (and heated if it's a little chilly) beer garden. The pub's ace in the whole is definitely its impressive cask ale selection which changes regularly.
Top tip
Grab yourself an Oyster card for the Tube, trains and buses. It's quick, easy and cost-effective. If you have a contactless debit card, you can also use this for all your travel.
Have a comment or question about this article? You can contact us on Twitter or Facebook.