Think of Majorca, and perhaps you think of out-of-control teens on the rampage or beaches crammed with sun-loungers. But there's another side to the island, only half an hour away from the fleshpots.
But to see it, you need to take to the road.


First, grab your ride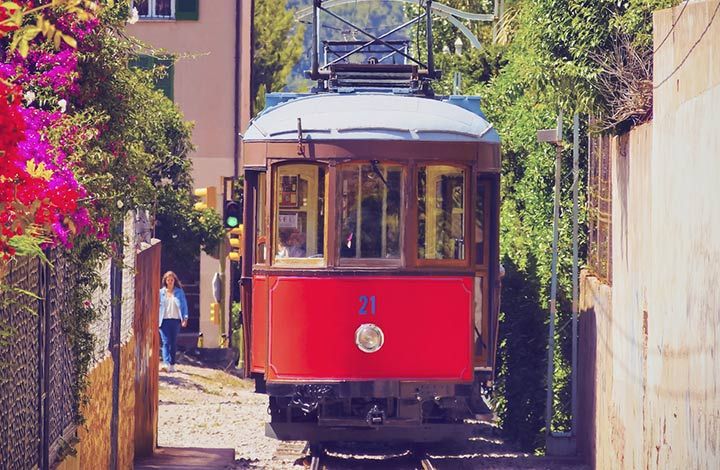 Palma's Son Sant Joan airport, five miles south-east of town, has a good range of car rental companies, if you haven't done the sensible thing and pre-booked.
Either way, once you've got your ride, aim west on the MA19 ring road – towards the best bits of one of the Med's most beautiful islands.
About 20 minutes north of Palma, the Serra Tramuntana looms. You can go over this formidable range – or under it.
The quick route takes you via the MA11 through the Soller tunnel, an engineering marvel that carries you beneath the mountains in less than five minutes to emerge near the charming mountain town of Soller.


Med view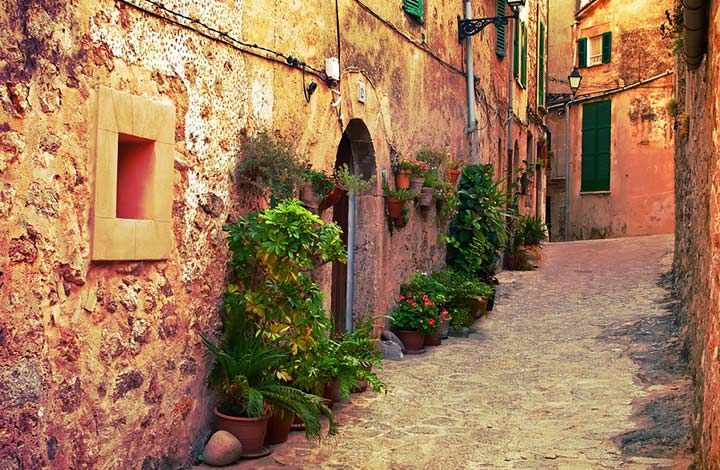 But if you're not in a hurry, take the scenic MA1110 over the hills through Valldemossa, a breezy hill town that's a pleasant place for a pit-stop, before following the coast road on to ever-so-chic Deià.
Ensconced among orchards and cypress trees, Majorca's most stylish village looks out over the Med.
Its streets are lined with artisans' studios and art galleries. Poet and author Robert Graves (best remembered for his bloody Claudius novels of the Roman empire), who lived here from 1946 until his death in 1985, put the place on the map, and his grave in the churchyard attracts literary pilgrims.
Hedonists stay at the luxurious Belmond La Residencia to bliss out by the pool and enjoy some of the best food on the island. A double room here costs around £200.
MORE: 7 car hire rip-offs and how to avoid them


Oranges and lemons
The winding MA10 takes you to Soller, a charming mountain town that grew prosperous in the 19th century from its orange, lemon and olive groves. Grand old townhouses line the city-centre streets.
The MA10 gets even more serpentine as you head north-west to the Santuari de Lluc. Majorca's holiest shrine – a grand Baroque church within an imposing 18th century monastery – houses a reputedly miracle-working black stone image of the Virgin.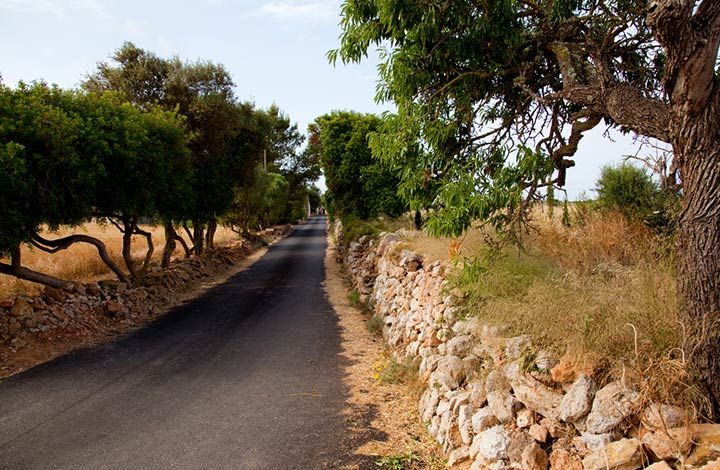 Es Guix in nearby Escorca, is one of the island's classiest restaurants, with gardens and a pool fed by cold springs where you can take a pre-lunch dip. Expect to pay around £25-£30 each for a meal.
The road slopes downhill to Pollença, then through lush fields and orchards to Port de Pollenca, a lively resort on a sandy, horseshoe-shaped bay.
There are lots of places to stay and eat here – try the Hotel Sis Pins (doubles from around £130) for a stylish overnight stay by the sea , and dine at Celler La Parra where you can sample frito Mallorquin (lamb's liver, heart and kidneys fried with garlic and peppers) and other typical Majorcan nosh.


End of the road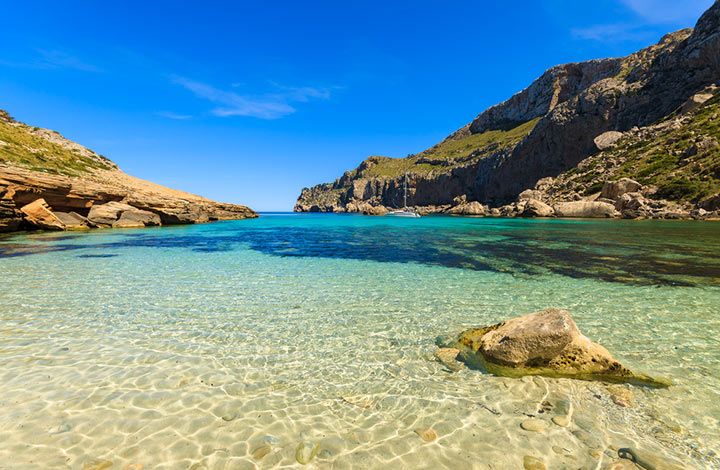 Next day, head out along the MA2210 to Cap de Formentor, a long, rocky peninsula with fabulous views.
Platja de Formentor (about five miles from Port de Pollenca) is a half-mile long stretch of white sand with loungers to rent, a bar restaurant, showers and WCs.
Another six miles on brings you to the lighthouse at the north-east tip of Majorca – literally, the end of the road.


Rampart it up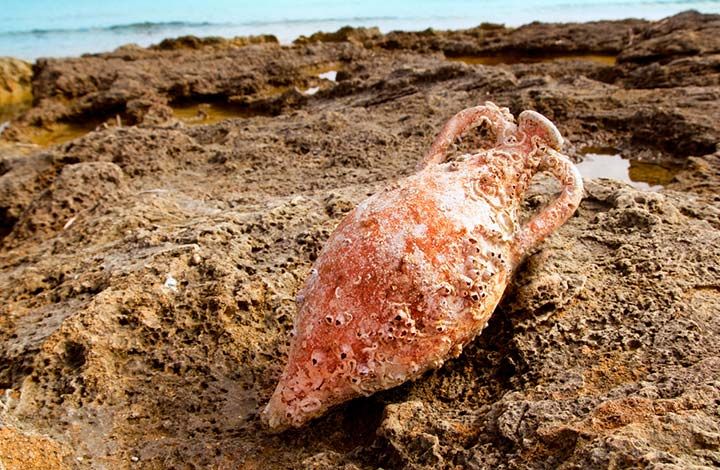 Drive back to Port de Pollenca, then turn south along the coast for about six miles to Alcúdia, a historic town surrounded by 14th century ramparts. Park outside the walls and walk through the imposing medieval gateway to explore.
The town was founded by the Romans (who built an impressive open-air theatre nearby), and you'll find Roman relics in the Centro Cultural de Pollenca.


Homeward stretch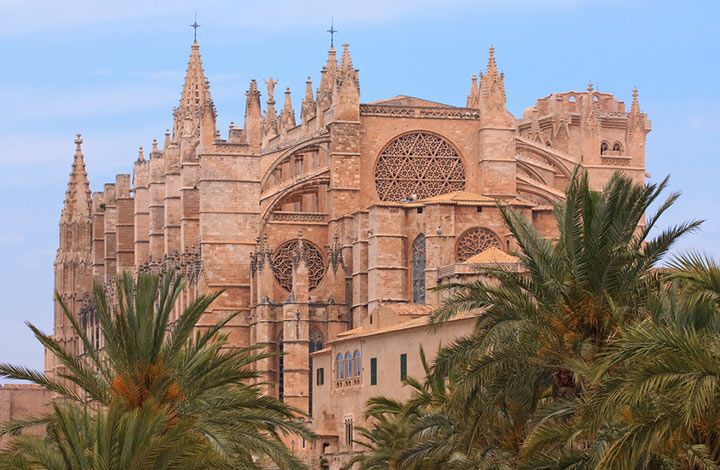 After the hairpin bends of the Tramuntana and the north coast, the road back to Palma makes a change.
All but the first 10 miles out of Alcúdia are on motorway, and you'll be back in town in around 45 minutes and at the airport in under an hour.


When in Majorca…
Drive on the right. The islands' roads are generally good, but there are some tight bends up in the hills
Budget €10 (£8) for motorway tolls if going via Valdemossa and €13.50 if taking the Soller tunnel
Speed limits are 120kmh (75mph) on motorways; 100kmh on major roads; 90kmh on minor roads; 60kmh in towns and 40kmh in villages
Driver and all passengers must wear seatbelts
Cars must be equipped with spare tyre, high-visibility vests for driver and all passengers and two warning triangles
Do not drink and drive. Spanish drink-driving rules are tighter than in the UK – a blood alcohol level of 50g per 100ml, equivalent to one glass of wine, will take you over the limit. Police operate random alcohol tests
Have a comment or question about this article? You can contact us on Twitter or Facebook.